Transforming universities in Texas
SPOTLIGHT ON TEXAS, USA
Major state funding initiatives are helping bolster research at public institutions in Texas
IN 2009 a group of universities in Texas were presented with a golden opportunity. The state legislature passed House Bill 51, a stimulus package including a fund worth more than $400 million designed to boost the number of nationally ranked tier-one research institutions in Texas. The state's higher-education regulator designated seven public universities that would be eligible for funding from the bill once they attained certain benchmarks. Now two of the chosen institutions, Texas Tech University and the University of Houston, have seized the opportunity and met the grade — more than two years ahead of schedule.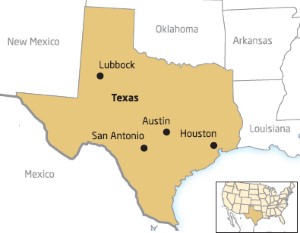 The funding from House Bill 51 is part of a comprehensive plan to raise the profile of public universities in Texas. Institutions are capitalizing on various initiatives to hire faculty, build new facilities and train graduate students — even in the midst of a sluggish economy. "It's very exciting," says Guy Bailey, who was president of Texas Tech University until he moved to the University of Alabama, taking over the presidency there last month. "Everybody understands the importance of the situation. You get one chance to get it right."
Reaching the top tier
"One of the reasons why these programmes work well in Texas is that we collaborate. David Gorenstein, University of Texas Health Science Center at Houston"
Texas already has three tier-one research universities: the University of Texas at Austin, Texas A&M University and the private Rice University. But California boasts nine, and New York has seven. Texan legislators deemed that having only three tier-one universities in such a large state was unacceptably low. As part of House Bill 51 they passed a constitutional amendment that repurposed a dormant US$425 million higher-education fund into the National Research University Fund (NRUF). The Texas Higher Education Coordinating Board (THECB) nominated seven emerging research universities (ERUs) that could compete for funds: the University of Houston, Texas Tech University, the University of Texas at Arlington, the University of Texas at Dallas, the University of Texas at San Antonio, the University of Texas at El Paso and the University of North Texas. In January 2012, Texas State University-San Marcos was added to the list. To receive payouts from the NRUF, these universities need to spend at least US$45 million on research for two consecutive years and satisfy four out of a further six criteria, also for two consecutive years. The criteria include having an endowment of at least $400 million, awarding at least 200 doctoral degrees and achieving certain measures of quality for students, faculty and graduate programmes.
"When these funds were established in 2009, none of these universities met [the criteria]," says Bailey, formerly of Texas Tech. "It was anticipated that it would take at least five years." But in May this year, both Texas Tech and the University of Houston passed muster and gained access to the funds. Bailey anticipates that the payout will be about US$7 to $9 million per year initially — essential seed money to help build research capacity.
House Bill 51 also provided immediate support through the Texas Research Incentive Program (TRIP) to give all the ERUs a head-start towards reaching the main funding criteria. TRIP set aside US$50 million to match private gifts designated for research, including endowed chair equipment, graduate stipends or fellowships. That promise of matching funds helped schools in their private fundraising efforts. "Private donors see that they're getting two dollars for every dollar they put in. It helped enormously," Bailey says. "Many of our biggest donors had major gifts they were going to give to athletics, and they put those off to support the research efforts."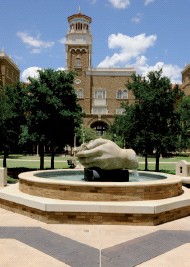 Texas Tech's plans to reach tier-one status include recruiting 500 new faculty members by 2020 — 50 per year in addition to replacements — as well as 1,000 graduate assistants. "Some strategic hires will help us move our research programmes forward," explains Bailey, adding that the strength of these initial appointments should act as leverage to attract further high-quality staff. The university has a number of endowed chairs to fill, mostly in engineering. The expansion of faculty will be accompanied by a concerted push for increased student enrollment over this decade, from 32,000 currently to 40,000 by 2020. Most of that increase will be in the graduate student population, says Taylor Eighmy, Texas Tech's former senior vice-president for research, now at the University of Tennessee. And NRUF funds aside, the university has significantly bolstered its research budget: total money spent increased from US$86 million in 2009 to US$143 million in 2012, growth of more than 66 percent.
The University of Houston is already well on the way to being accepted as a tier-one university. In January 2011 the Carnegie Foundation, a policy and research centre that evaluates universities, awarded the institution the highest classification given to research universities — one of several accolades that confer recognized tier-one status.
Towards financial security
The NRUF funding model is not a new approach: Texas has a long history of committing state revenues to higher education. The constitution of 1876 established the Permanent University Fund (PUF), a public endowment that provides income from oil, gas and other mineral resources to the University of Texas and Texas A&M University systems. At the end of 2011, the market value of the fund was more than US$12 billion. This year, the fund will pay out US$576 million to 24 institutes and agencies within the two university systems.
The state also offers money through the Competitive Knowledge Fund, which gives research universities $1 for every $10 in external research grants they receive. "It's a tremendous incentive," says Jeffrey Seemann, vice president for research of Texas A&M University. "You can see that this state is doing a number of things to provide for its tier-one, flagship research institutions, even in these difficult financial times."
As part of the current strategy that includes the NRUF, Texas is also pushing for more general investment in research in the state. In October 2000, THECB adopted an initiative called Closing the Gaps by 2015: the Texas Higher Education Plan. It outlined plans to narrow gaps between Texas and other states in four areas: student enrollment, granting of degrees, excellence and research. Public universities and health-related institutions are setting an example for the rest of the state: by 2008 they had already exceeded their allocated target of US$3 billion spent on R&D and as of 2010 the expenditure totalled $3.55 billion, well above the projected target. The Closing the Gaps initiative also aims to increase Texas' share of federal money for science and engineering research and development (R&D) from 5.5 percent of the national total in 2000 to 6.5 percent by 2015.
Prioritizing cancer research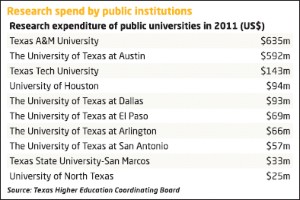 Another state research initiative is the Cancer Prevention and Research Institute of Texas (CPRIT). Created in 2007 after a constitutional amendment, CPRIT acts as a state funding agency for cancer research. The institute issues grants from a US$3 billion pot, making it the second-largest source of funding for cancer research in the United States — second only to the National Cancer Institute (NCI).
CPRIT prioritizes basic science, clinical research and cancer prevention programmes, awarding $300 million a year for cancer-related research to public and private entities in Texas. Bill Gimson, executive director of CPRIT, says the agency sees research as vital to state infrastructure. "What we build today will still be bringing returns to the state of Texas for the next 30 years," he says. CPRIT's biggest achievement to date has been to establish the US$25-million Statewide Clinical Trials Network of Texas. The network will match patients to appropriate clinical trials based on individual cancer profiles obtained by geneticists from Baylor College of Medicine in Houston.
CPRIT's grants are highly competitive and equally prestigious. Instead of replacing federal funding, the two work in synergy, explains David Gorenstein, associate dean for research at the University of Texas Health Science Center at Houston (UTHealth) Medical School. "One helps fund the other, and then you become more competitive," he says. "Te focus is to really make the Houston area, and Texas in general, one of the major cancer research centers in the country."
Translational medicine — getting new drugs and therapies into clinical use — is a major focus for CPRIT It encourages universities and research institutes to recruit talent from industry to work alongside academics. "[You need] a different skill-set to understand what it takes to develop a new antibody or small-molecule drug and translate it into a clinical effort," says Gorenstein. "It takes large teams and major investments."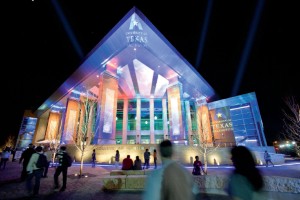 As well as expanding the state's research capabilities and creating high-quality jobs, CPRIT also attracts top talent to Texas through its Scholar in Cancer Research Program, which provides support for faculty at all levels from junior professors to established investigators. CPRIT has helped universities to fund 56 scholars so far, contributing 50 percent of each compensation package. "We are bringing people from all over the country to Texas to make us number one," Gimson says.
The close collaboration between institutions in Texas helps ensure that CPRIT funds make the biggest possible impact. For example, in March 2011 it awarded more than US$12 million to the Gulf Coast Consortia (GCC), which comprises Baylor College of Medicine, Rice University the University of Houston, the University of Texas Health Science Center at Houston, the University of Texas Medical Branch at Galveston and the University of Texas MD Anderson Cancer Center. The GCC used the funds to launch a high-throughput drug screening programme that provides its researchers with equipment and processes usually only available to scientists in large pharmaceutical companies.
Universal ambition
The state's commitment to research is a welcome boost for many Texan institutions, both public and private. "Te economic climate in our country, Texas included, has made it harder to get philanthropic support in virtually every institution," says James Willerson, president and medical director of the Texas Heart Institute at St Luke's Episcopal Hospital in Houston.
With the help of state funding, tier-one Texas A&M continues to build upon its established research strengths. "We are focused on maintaining and trying to match our excellence in agriculture and engineering with new capacities in the life and biomedical science arenas," says Seemann.
Texas Tech, located in Lubbock in north-west Texas, is planning to invest strategically in 13 areas including renewable energy neuroscience, bioinformatics and cancer research. "Our internal goals are very integrated with the desires of the state," Eighmy says. The university will also need a million square feet of additional space, adds Bailey, much of that devoted to research labs. Plans are in place to establish a research park on the western edge of the campus, with construction scheduled to start in 2013.
Although Texas Tech and the University of Houston won the race for NRUF funds, their fellow ERUs are still working toward this goal, and the state's institutions recognize the need for a team effort. "One of the reasons why these programmes work well in Texas is that we collaborate," says UTHealth's Gorenstein. "We're still competitive but we also realize that working together makes us successful."
Related links
Related links
Related external links
About this article
Cite this article
Spotlight on Texas. Nature (2012) doi:10.1038/nj0391
Comments
By submitting a comment you agree to abide by our Terms and Community Guidelines. If you find something abusive or that does not comply with our terms or guidelines please flag it as inappropriate.