The role of technology and innovation in science events
EVENTS FEATURE
Apps, e-posters and other innovations are becoming a feature of scientific conferences. How will they change the nature of events?
PICTURE THE scene: you've just arrived for registration at your discipline's main annual event. There are several thousand participants, multiple parallel sessions and dozens of rooms. The venue is a maze. Your lab could only afford to send you, so not only must you bone up on your research specialty, you also have to give a comprehensive report to your colleagues afterwards. Rather than panicking, you turn to technology.
Instead of flipping through an inch-thick programme, you take out your smartphone or tablet and open the event's dedicated app. A map shows your position in the conference venue and directs you to the registration desk. After you register, you check your schedule, created by the app using keywords to personalize the conference programme. Messages pop up telling you a session you had planned to attend has been cancelled, and that the room has changed for another. In the first talk, you make notes directly on to your own digital copy of the slides and send a question to the moderator using the venue's wi-fi. During the coffee break, the app broadcasts your networking interests to fellow attendees and shows you the current location of potential contacts. Later, you stop by an e-poster session to speak to the author about one of the animations that's playing. When you return to your lab, you share a video of the talks with your colleagues instead of submitting a lab report.
Much of the technology required for this scenario exists and in the past few years has begun to feature in scientific events. "For each of the ways we present information in conferences, there is a technology available today that can allow us to go to the next step," says Pavlos Moustakidis, a physician and e-poster entrepreneur based in Greece. So which technology trends are worth watching?
From trees to screens
For scientists and physicians, poster creation and conference preparation tend to be squeezed into packed schedules. Moustakidis became inspired to develop new tools to create and manage scientific posters while experiencing this pressure one morning in 2000. The physician — then at Washington University in St. Louis, Missouri — scrambled to finish several posters within a few hours, then proofed, printed and carried the posters to multiple conferences. To make matters worse, such frenetic activity often makes only a fleeting impression. "All this information was basically lost" once the conferences were over, Moustakidis says. "The only thing I have now is the abstract."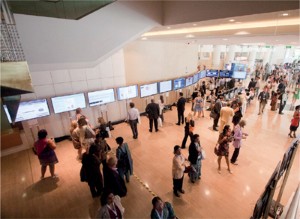 When there is a technology trend, if you resist and don't follow it, you are going to fail. Pavlos Moustakidis, SciGen Technologies
In 2007 Moustakidis moved back to Greece and founded SciGen Technologies, which offers two poster products: a software tool called PosterGenius that enables researchers to create professional scientific posters quickly and easily, and an e-poster platform called ePostersLive that manages the submission of posters and their presentation online, on mobile devices and at conferences via PC workstations and high-definition screens. The ePostersLive platform has been featured at a variety of conferences in Europe, Asia and the United States; conferences booked for 2012 include the American Society of Anesthesiologist's annual meeting in October in Washington DC.
Other scientific event organisers are also considering the use of e-posters. The conference team at the European Molecular Biology Laboratory (EMBL) Advanced Training Centre in Heidelberg, Germany, hired six LCD screens as a trial run for e-posters at their Visualizing Biological Data (VIZBI) event in 2012. All six screens were used by presenters and based on the success of the pilot, EMBL hopes to offer the e-poster option again in the future. "Participants can show movies and 3D images as part of their 'poster'," says Sally Boehm, head of EMBL's course and conference office. The American Heart Association's e-posters platform allows presenters at its Scientific Sessions meeting to upload their posters online. Attendees can ask questions and receive answers from presenters via an online forum, and scan a QR code on the posters to listen to an audio recording or watch a video uploaded by the presenter.
Moustakidis says the response to e-posters from the scientific community has been positive, and believes that their incorporation is a "one-way road" because it aligns with general advances in technology. "When there is a technology trend, if you resist and don't follow it, you are going to fail," he says. Boehm agrees that the use of e-posters is becoming more widespread. "We know this because participants have started asking about facilities for presenting them," she says.
An app for that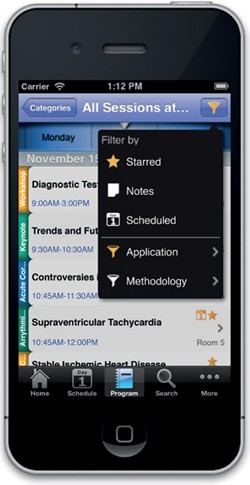 What happens to your conference programme after you've lugged it around the event with you? Chances are it will end up in the bin or left behind in your hotel room. That wouldn't be the case if you'd been using a conference app. "Nobody is going to throw away their iPhone," says Silke Fleischer, chief executive and co-founder of event-app company ATIV Software. At the European Society for Human Genetics (ESHG), complaints about the weight of conference materials were one of several factors that contributed to the decision to ditch the printed abstract book for the society's annual conference. Maintaining a physical programme takes "a lot of money and a lot of paper," says ESHG executive officer Jerome del Picchia. This decision, combined with feedback from past conferences, prompted the society to develop an app for its 2012 event. "It was an obvious choice for us," says del Picchia.
The features of ESHG's app, launched in June at the society's conference in Nuremberg, Germany, include a scientific programme that can be viewed chronologically or by session type, a full text search for both the programme and abstracts, and the ability to make notes on presentations that can be transferred into an email. The app is native, which means it works offline — without the need for a wi-fi connection — but is set up to detect any updates when wi-fi is available. The society is already planning additional features for version 2.0. "A lot is possible," says del Picchia. "It's a matter of budget."
Fleischer, whose company produces the EventPilot app software, agrees that offline functionality is particularly important for scientific events because of the volume of reference material required. "We've just done a test for one event that has 15,000 abstracts — and that's all [handled] natively in the app," she says. Other features that can be included in EventPilot apps are a Q&A tool for submitting and moderating questions via wi-fi, and a built-in Twitter client. In future, Fleischer predicts that event apps might incorporate a GPS system that could help guide people around a multistorey venue. Thanks to a more generous screen size, tablet apps in particular could eventually replace printed programmes altogether, says del Picchia — provided that enough scientists buy tablets.
Formats and facilities
Innovation in events is not restricted to new technology platforms. Creative tweaks to established presentation methods can also refresh the conference experience. Events at EMBL's Advanced Training Centre, for example, may incorporate a 'fast-forward' poster session where presenters gather in the main auditorium to give a brief summary of their poster — 30 seconds to one minute — to the audience. "It makes the posters three-dimensional," says Boehm. Moustakidis says e-posters also offer the option of a hybrid model between poster and oral presentations, as several presenters can converge on one or two screens and discuss their findings with the aid of a moderator.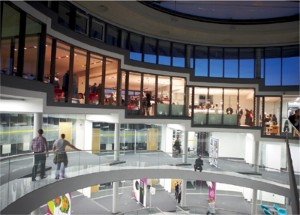 At Cold Spring Harbour Laboratory (CSHL), in Long Island in New York, conferences can be "pretty intense" because there are no parallel sessions, explains David Stewart, executive director of CSHL's meetings and courses programme. For this reason, Stewart explains, the laboratory will record certain talks and — with permission from presenters— post the videos online for conference attendees to screen afterwards. "You can review talks and share with colleagues back in your own lab," he says. CSHL also ensures its wi-fi network is operating throughout the conference area, and, as far as possible, outside the venue. "That's just the nature of conferences these days," says Stewart. "People expect to be connected."
Having a connected audience can present challenges, particularly when it comes to managing social media activity around unpublished data. To help with this issue, Fleischer says EventPilot apps can protect slides with password encryption. At CSHL, which is keen to promote the presentation and discussion of unpublished data, event organisers apply social media policies depending on the research community.
Community-driven growth
The appetite for the use of technology in events varies between research communities. Stewart at Cold Spring Harbour, for example, says those working in genomics are particularly tech-savvy because of the need for advanced computational skills in the field. "They are probably the most connected life-science community that I'm aware of," he says. EMBL's Boehm found the VIZBI attendees to have a strong interest in technology. As event organisers are generally responding to the needs of their audience, this means certain events are likely to adopt new technology faster than others. But one thing seems clear: the adoption of new technology does not spell the end for traditional conferences. Attending events in person offers both networking opportunities and the chance to escape your everyday routine, says Moustakidis, and "the combination of the two is very strong". Del Picchia of ESHG agrees, quoting a common saying about the value of networking at scientific events: "The most important part of the conference is the coffee break." In future, event technology may even augment these low-tech meetings by using GPS technology to bring two people together, ensuring rapid data sharing between the parties, and facilitating electronic follow-up after the event. Tools that facilitate conference coffee-break meetings might be the most powerful event apps of all.
About this article
Cite this article
Spotlight on Events. Nature (2012). https://doi.org/10.1038/nj0379
Published:

DOI: https://doi.org/10.1038/nj0379