Biotechnology in London - a rapid growth sector
There are currently 84 biotech companies in London, which is an increase of about 40% since 2001, showing a significant spurt in the growth of biotechnology companies in London. The majority of these new companies are university spin-outs.
Most of the biotech companies in London are still at an early stage; over 70% of the companies are start-ups employing fewer than 10 people. Then there is a smaller group (22%) of quickly growing companies as well as a much smaller group (8%) of more 'mature' companies, employing over 30 people. Currently there are 8 publicly listed companies based in London with a range of market capitalisation values up to around £40 million for the largest companies, for instance Antisoma. The companies' main focus areas are very varied, but new cancer and cardiac therapies are perhaps the most prevalent. Other areas range from inflammatory diseases, to bio-informatics, genomics and tissue engineering. The majority of the companies are focussed on new medical therapies, stemming from their origins in the medical schools in London.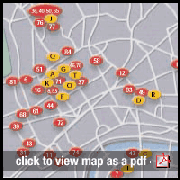 LBN's BioMap , shows the biotechnology companies (red dots) mapped against the key research centres (yellow dots) in London. It shows the companies are clustered close to the academic research centres in central London and also predominately towards the West of London. This to a large extent reflects the origins of biotechnology companies spinning out from the medical schools and universities of central London and migrating westwards as they grow. London has a natural cluster of bioscience research within its medical schools, universities and hospitals - in fact probably the largest in Europe. The spin out companies naturally like to remain geographically close to their academic centres, as they retain links as they grow. Most of the biotechnology companies in London have spun out of Imperial College, King's, Guy's & St Thomas Medical School and University College London, although there are some spin outs from St George's Medical School and Queen Mary, University of London. These 3 universities have well-developed technology transfer companies who actively promote the commercialisation of research by forming spin-out companies or by the licensing of technology.
London's biotech universities and their spin out companies
Imperial College Medical School
spins out more companies than any other university in Europe. New companies are currently being spun out at a rate of two per month, the half of which are in biotechnology or healthcare related areas. Imperial opened an Entrepreneurship Centre in 2001 which apart from it's academic remit aims to enhance the entrepreneurial culture within Imperial College by providing students with the opportunity to explore entrepreneurial ideas and develop practical entrepreneurial skills. Recent spin-outs from Imperial College, assisted by its technology transfer company Imperial College Innovations Ltd include; Gene Expression Technologies, PhotoBiotics and Biogeny.
University College London
was one of the first universities in the UK to establish a unit dedicated to technology licensing and the creation of spin-out companies. University College London Ventures was founded in 1989 and is responsible for the management, protection and commercialisation of UCL's intellectual property. UCLv has been increasingly involved in the creation of start-up companies. It has created 35 such companies, which have raised more than £25 million in capital. UCLv has also established two £4-million seed investment funds, aimed at providing very early stage capital to biomedical and information-technology start-up companies. Recent spin-outs from UCL include Spirogen, Genexsyn, Nervation and Inpharmatica.
King's, Guy's & St Thomas Medical School
established KCL Enterprises in 1993 to promote the College's intellectual assets in the marketplace. Recent spin-outs include; Immune Regulation Ltd, Cerestem, MedPharm and Immexis.
The School of Pharmacy, University of London
have recently opened laboratories which house spin-out, Spirogen. Another recent spin-out is PharMaterials.
Recent Leading Spin-outs in London
Gene Expression Technologies Ltd (GET)
is a biopharmaceutical company established to develop and commercialise Gene ICE™, a unique and proprietary platform for gene expression regulation. Gene ICE™ was developed at London's Imperial College School of Medicine, and GET was spun-out of Imperial College in October 2000. During February 2002 GET successfully completed a private placement to secure first round funding. The Company is now located in Central London, at the London BioScience Innovation Centre. Gene ICE™ is also now available to pharmaceutical and biotech partners for the fast, specific and efficient functional validation of drug targets.
Xcellsyz
(a UCL spin-out) is an Anglo-Spanish company founded in 2000. The company is developing cell based platform technologies that will be of great utility in the drug development and discovery processes. Value will be derived from the fact these systems will speed up these processes and allow identification and validation of drug candidates and novel drug targets that would not be identified using traditional methods. The potential value of this approach is demonstrated by the fact that Xcellsyz has already made several significant deals to license its technology to major pharmaceutical companies including Glaxo SmithKline and Novo-Nordisk. Xcellsyz recently secured £500,000 from Japanese corporation, ITX.
Immexis
was founded in 2000 by scientists at the Royal Veterinary College and King's College London. It is focused on the development of new vaccine technologies. It's mission is to become one of Europe's leading vaccine development companies by means of strategic alliances with vaccine manufacturers dedicated to the development of therapeutic vaccines against long term viral diseases. It is located within the London BioScience Innovation Centre.
Mature Biotechnology Companies
London is also home to a group of older, and more established biotech companies which have out grown their incubator roots and are expanding rapidly, Arrow Therapeutics are one example of this.
Arrow Therapeutics
Arrow span out of UCL in 1998 and is already making a significant contribution to anti-infective drug discovery. Since its foundation Arrow has been well supported by a consortium of international investors who have provided over $40million in funding. This backing has allowed Arrow to develop and reap the benefits of a formidable platform of technologies that sets it apart from any of its competitors. Arrow's essential gene discovery technology has recently been augmented by the acquisition of the best DNA array technology available together with licence agreements from Agilent, Rosetta and OGT covering their proprietary ink jet technology.
After three years in Surrey, Arrow moved in October 2001 to state of the art laboratories in central London. Despite the perception that London is difficult to exist in as a biotech company because of difficulties in finding suitable laboratory space and the price of land, Arrow moved back to London because it's Chief Executive Professor Ken Powell was convinced that London was the place in which he wanted to do business.
"Rather than go to Oxford or Cambridge where many of our counterparts have chosen, we decided to locate Arrow in central London. The key reasons for this included the ability to attract high calibre staff from the excellent universities and pharmaceutical companies in London and the South East, accessibility to visitors from home and abroad, proximity to the City and better value for money in terms of premises. We couldn't claim that it was an easy exercise but it has certainly been well worth the effort." Ken Powell, CEO, Arrow Therapeutics. Another of London's successful biotech companies is Antisoma plc.
Antisoma plc.
Antisoma is a biopharmaceutical company focused on cancer drug development. The Company's shares are traded on NASDAQ Europe, the pan-European stock exchange, and on the London Stock Exchange, where they are included in the TechMARK 100 index. Established in 1988, Antisoma has in-licensed much of its intellectual property, including clinical development candidates pemtumomab (formerly known as Theragyn), DMXAA and Therex, from cancer research and other academic institutions. Pemtumomab is in a Phase III study in ovarian cancer and a Phase II study in advanced gastric cancer. DMXAA has completed two Phase I studies. Therex is completing a Phase I study in breast cancer and TheraFab has started a Phase 1 biodistribution study in non-small cell lung cancer. There are five other development programmes.
"London offers us unrivalled access to Europe's most important capital market, which proved invaluable for us earlier this year when we raised £24min extremely challenging market conditions. It is also home to many of the world's leading medical research institutions and hospitals, which are an important source of new technologies and products, as well as world-class scientists and staff."
Glyn Edwards, CEO, Antisoma plc
Trigen
was founded in 1992 to invest in and develop the drug discovery technologies of the world-renowned Thrombosis Research Institute ("TRI") in London. It develops drugs for the treatment of cardiovascular diseases with a focus on thrombosis. Trigen has two products in clinical trials from its lead drug development programme; an intravenous, anti-coagulant, direct thrombin inhibitor in Phase II and an oral formulation which has completed Phase I.
In addition, Trigen also has two other programmes focused on atheroma and thrombosis in pre-clinical development. In January 2002 Trigen announced that it had raised £7.1 million ($10 million) in a first round financing lead by international biotech investor, HealthCap of Sweden.
Overseas investors
There are a number of overseas biotech companies in London. London offers access to investors, a pool of high calibre potential employees, and a thriving bioscience community built around the medical schools and universities. Some of these inward investors are Chiron (USA), Sosei (Japan), Verigen (Denmark) and Ingenovis (India). The London Biotech Network works closely with London First Centre (the inward investment agency for London) in attracting new companies into London.
Sosei
is a leading private Japanese product focused biopharmaceutical company, operating to a global standard. Sosei opened it's European HQ in London in October 2001 with the help of London First Centre. It is housed in the London BioScience Innovation Centre and plans to expand to employ 20 staff over the next 3 years. Shinichi Tamura, Co-founder and CEO of Sosei explains why they chose to locate in London,
"London is the jumping-off point for many US business travellers. We are conveniently located for all the London airports and the City for financial discussions. We can access many potential partners, when they already find themselves passing through London. London organisations are very supportive to companies like Sosei looking to start up operations and the emergence of affordable and well-equipped incubation centres such as LBIC in central London helped us to get up and running quickly. While Cambridge and Oxford are major innovation hubs in the UK, we think more and more companies like Sosei will see the attractions of locating in London."
The London Biotechnology Network (LBN)
was set up in June 2000 to provide a co-ordinated approach to bioscience in London. Its main goals are to network the biotech-nology community, provide access to investors, help locate and develop new laboratory premises and act as an information source to London, UK and overseas organisations. The membership has risen to 550 organisations making it the largest network in the UK. The LBN's monthly meetings, BioWednesdays, are something of a phenomenon. They are always over-subscribed with attendances of over 200 every month which bears testimony to the huge active interest and participation in biotechnology in London.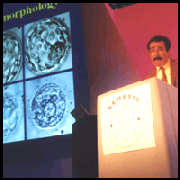 We also hold an annual Conference in December - Genesis. It is the largest one-day biotechnology event in the UK, bringing UK and European biotechnology companies to London to meet with fellow scientists and businesses. This year it is on December 11th at the QE II Conference Centre in Westminster.
New Laboratory Facilities
Historically, biotechnology companies have found it difficult to find laboratory facilities in London. This has been due to a number of factors including; the high property values in London; the poor covenants of most biotechnology companies; the inability of companies to pay full commercial rentals; the lack of critical mass of demand for laboratory space. Two of those factors have now changed as the companies are now better funded and can afford commercial rentals and the demand is extremely high. The growth of the biotechnology sector in London means that there are some 90 companies looking for either incubator or grow on space and from a survey we carried out, there will be a demand for 350,000 sq ft of laboratory facilities over the next two years from these alone.
So in trying to provide new laboratory space for biotechnology companies in London, there are two main factors to consider. One is the huge demand from companies for facilities from within London, and from the UK and overseas. The other factor is that academic and NHS institutions want to gain revenue from biotechnology companies taking tenancy in their facilities. These new laboratories may be part of new research facilities or purely as a commercial enterprise.
When we first looked at developments for London, our vision was for 4 small incubators for small to medium sized companies and also a larger science park on the outskirts of London for the more mature companies and inward investors. That vision is now becoming nearer a reality. From our survey, the London companies want facilities in both central and to the West of London and of the leading developments, two are in central London and two are in West London. There is also a proposed medical science park in the outskirts of West London.
The London BioScience Innovation Centre
in central London is London's first dedicated commercial biotechnology incubator. It is the brainchild of Professor colin Howard at the Royal Veterinary College and now houses several biotech companies, is taking new tenants and developing further facilities on site.
The LBN's role is to help fund feasibility studies in cases where we feel there is a genuine chance of success with a project, and project managing this stage where appropriate. It is also to provide market analysis of demand and stimulate awareness of both the demand and rewards of providing facilities.
Financing companies
London is home to all the major players in the biotechnology investment community in the UK. This ranges from the business angels to the venture capitalists to the investment banks. Access to these companies is vital to biotechnology companies and having them on your doorstep makes approaching them easier. The London Biotechnology Network helps companies find finance by running specific investor meetings where we give the chance for 10 companies per meeting to pitch to potential funders. We also embed these company presentations in two other of our events, so getting around 40 companies in front of investors during the year.
Related links
Related links
Related links in Nature Research
About this article
Cite this article
Tarpey, S., Podd, H. Spotlight on London. Nature (2002) doi:10.1038/nj0029
Comments
By submitting a comment you agree to abide by our Terms and Community Guidelines. If you find something abusive or that does not comply with our terms or guidelines please flag it as inappropriate.