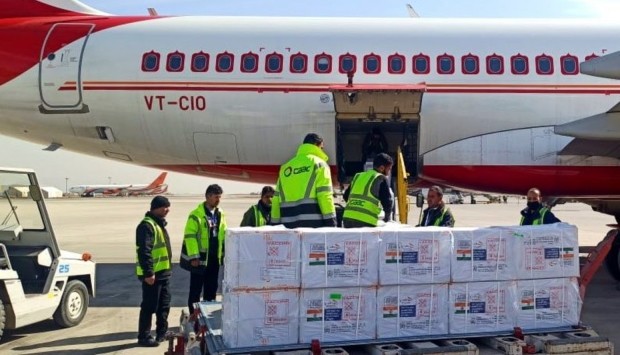 After rolling out its country-wide inoculation programme in January 2021, India has sent out 5.6 million doses of anti-COVID-19 vaccines as gifts to needy countries. Regarded as the world's vaccine manufacturing hub, India also shipped 10 million commercial units to 17 neighbouring states, West Asia, Africa, and Latin America early this year.
With the 'Vaccine Maitri' (maitri is Hindi for friendship) diplomatic mission, launched on 20 January 2021, India is aiming to bridge the world's vaccine divide. The mission includes vaccine gifts to needy neighbours Bhutan (0.15 million doses), Maldives (0.1 million), Nepal (1 million), Bangladesh (2 million), Myanmar (1.5 million), Mauritius (0.1 million), Seychelles (0.05 million), Sri Lanka (0.5 million), Bahrain (0.1 million) and Oman (0.1 million). Other beneficiaries of India's strength in vaccine production are the Caribbean Community (CARICOM) countries (0.5 million doses), Nicaragua and the Pacific Island states (0.2 million doses each). India will also supply affordable vaccines to Saudi Arabia, Canada and Mongolia. Under the GAVI-COVAX alliance, India hopes to supply 10 million doses to Africa and 1 million to UN health workers.
According to India's Minister of External Affairs Subrahmanyam Jaishankar, 25 countries are in the queue to receive vaccines from India in three categories – poor countries, countries which are price sensitive, and those directly buying from the vaccine manufacturers. India has also supported the temporary suspension of COVID-19 vaccine intellectual property rights pledging international cooperation for fair and equitable access to vaccines. The country's National Group on Vaccine Administration for COVID-19 (NEGVAC) provides export clearances after securing adequate doses for domestic purposes.
Vaccine diplomacy is not new. It has been a part of science and health diplomacy since the discovery of the smallpox vaccine in 1798. Britain's Edward Jeener discovered the smallpox vaccine and offered advice on its administration to countries like Russia, Turkey, Spain, Canada, and Mexico. The creation of a network of laboratories in Francophone countries, Indochina and North Africa to prepare and administer the rabies vaccine by the French Pasteur Institute in the late 1800s is another example of vaccine diplomacy. The eradication of poliovirus from the world was largely made possible due to the scientific collaboration between the American-Polish developer of the oral polio vaccine Albert Sabin and Soviet virologists during the Cold War.
India is the largest hub of pharmaceuticals and meets 20 per cent of the world's demand for generic medicines, and more than 60 per cent of the global demand for vaccines1. Despite domestic demand, India supplied hydroxychloroquine, remdesivir, and paracetamol tablets, as well as diagnostic kits, ventilators, masks, gloves, and other medical supplies to many countries in the fight against COVID-19. According to one estimate, India has spent more than $16 million on therapeutics, test kits, and other medical equipment for about 90 countries during the current pandemic2.
Two vaccines – Covishield by Serum Institute in collaboration with AstraZeneca and Covaxin by Bharat Biotech – are available for use in India after regulators granted them emergency use approval earlier this year. The approval for Covaxin for 'restricted use in emergency under clinical trial mode' pending phase three clinical trial data faced some criticism. The vaccine, rolled out in the country-wide inoculation drive under clinical trial mode after regulators considered it safe based on phase two clinical trial results, is being monitored for adverse events. According to India's Health Minister Harsh Vardhan, seven other vaccines are in the pipeline in India and, if successful, will be added to India's vaccine repertoire to meet both domestic and global demand. Indian vaccines are easier to distribute as they can be stored in ordinary refrigerators at 2 to 8 degrees Celsius in contrast to vaccines that require expensive deep-freeze chains for storage at -20 to -70 degrees Celsius.
Building clinical trial capacity in neighbouring countries and low- and middle-income countries (LMICs) is also a priority for India, according to Department of Biotechnology secretary Renu Swarup. Her department is working with India's external affairs ministry to facilitate phase III clinical trials of Covaxin in Bangladesh and Myanmar. India is training several neighbouring countries to strengthen their clinical capabilities under the Partnerships for Accelerating Clinical Trials (PACT) and Indian Technical and Economic Cooperation (ITEC) programmes.
The World Health Organsation recently recognised India's vaccine altruism as a facilitator of equitable access to COVID-19 vaccines. Though, how long India can shoulder the financial burden of providing free vaccine doses to neighbouring countries is still a question.
(The authors are from the International Division of the Department of Science and Technology, Government of India.)
References
1. India 'pharmacy of the world' during Covid-19 crisis, says SCO Secy General. Business Standard (2021) Link
2. India sends hydroxychloroquine to Africa in war on coronavirus. Nikkei Asia (2021) Link