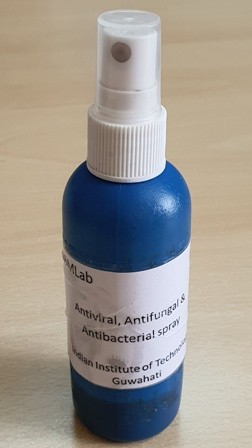 Researchers from the Indian Institute of Technology in Guwahati have developed an inexpensive spray-based antimicrobial coating for personal protective equipments (PPEs) such as face masks. Such a coating may kill microbes like the novel coronavirus on the outer surfaces of masks.
The researchers have also designed a 3D-printed ear guard that can make mask-wearing comfortable for wearers, particularly healthcare workers who wear masks for hours.
The guard, designed to fit everyone, holds the face mask strap in a place without giving pressure, pain or discomfort to the ears.
PPEs protect the wearers against infectious microbes, including viruses present in droplets. Microbes, including the novel coronavirus, might stick to the surfaces of PPEs. These pieces of equipment, when disposed of using wrong protocols, increase the risks of spread of the microbes.
To minimise such risks, the scientists, led by Biman B. Mandal, prepared the spray-based coating using a cocktail of metal nanoparticles and other ingredients. Copper and silver nanoparticles present in the spray act as antimicrobial agents.
The antimicrobial agents are known to kill microbes on the surfaces, allowing reuse of masks and other PPEs. This will reduce the need for millions of masks, which are generally thrown away after single use.
Such spray-coated masks, Mandal says, will restrict the spread of bacteria and viruses to fingers when users unmindfully touch masks. It will also reduce virus transmission after waste disposal.
Currently, the researchers are validating the safety of the spray-based product and its antimicrobial action specifically against coronavirus at a government facility, he adds. The team has filed for a provisional patent for the product.
[Nature India's latest coverage on the novel coronavirus and COVID-19 pandemic here. More updates on the global crisis here.]