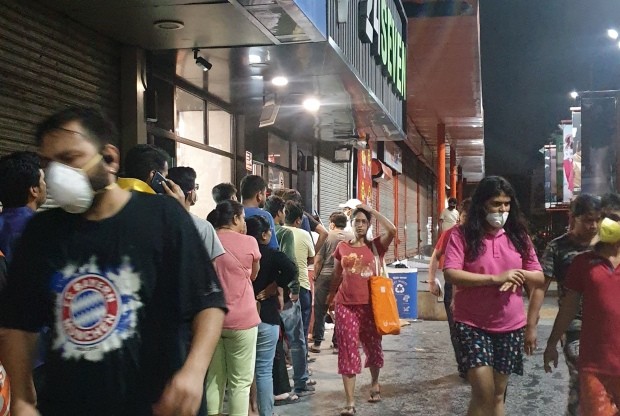 India announced a complete lock down for 21 days beginning midnight of 24 March 2020 as an all-out measure to tackle the spread of the novel coronavirus disease COVID-19.
"Some of the most empowered nations have become helpless in the face of the pandemic....social distancing is the only option for India to combat the coronavirus," Prime Minister Narendra Modi said in a televised address to the nation.
The three week lock down follows Modi's call for a day-long self-imposed curfew on 22 March. The 21 day lock down will be more stringent as the phase is very crucial to break the cycle of infection, he said, citing global infection figures from the World Health Organisation (WHO). During his speech, the Prime Minister also held up a poster that expanded "Corona" in Hindi to 'Koi Road pe na Nikle' (no one should venture out).
The announcement at 8 pm India time triggered panic buying of groceries and medical supplies across the country. The Prime Minister and the Ministry of Home Affairs later clarified that essentials like groceries, milk and medicines will still be available to buy during the lock down.
Gautam Menon, a professor of physics and biology at Sonepat-based Ashoka University in Haryana said the move to lock the country down has the potential to slow, perhaps drastically, the spread of this disease and will give the public health system crucial time to prepare for it. "But particular attention must be paid to those living in poverty and at the margins – the burden of this step will fall most heavily on them," he said.
"The lock down is essential," said Gagandeep Kang, a clinician-scientist and a professor in the Department of Gastrointestinal sciences at CMC, Vellore. Firstly, infected people will transmit to fewer people and that will slow the spread of infection. Secondly, it will help identify the infected and facilitate testing to know the total number of people with the infection. "This needs new processes for identification and testing and we have a short window to implement this essential approach," she said.
The apex biomedical research body Indian Council for Medical Research (ICMR) said a total of 22,694 samples from 21,804 people had been tested for COVID-19 as on 24 March 2020 till 8 pm. In all, 536 people had been confirmed positive till then in India from among suspected cases and contacts of known positive cases. A total of 118 laboratories were included in the ICMR network of COVID-19 testing with a capacity to test 12,000 samples per day. In the last five days, on an average 1338 samples were being tested per day. Besides, 22 private lab chains had registered with ICMR (till March 24, 2020) for COVID-19 testing.
Mathematical modelling by ICMR suggested that screening of travellers entering India with COVID-19-like symptoms delayed the introduction of the virus into the community by three days to three weeks. Strictly implemented social distancing measures such as home quarantine of symptomatic patients and suspected cases could reduce the overall expected number of cases by 62 per cent and the peak number of cases by 89 per cent thus "flattening" the curve and providing more opportunities for interventions, ICMR sources said. These model projections were, however, subject to uncertainty.
Strategic changes
On 22 March, India had 396 people infected with SARS-CoV-2, 77 out of which tested positive just a day before, the country's largest single-day jump in cases till that time. The jump in numbers prompted the health ministry to advice that no suspected COVID-19 patient should be turned away from any hospital.
"…all pneumonia patients will also be notified to the National Centre for Disease Control or the Integrated Disease Surveillance Programme so that they can be tested for novel coronavirus," a health ministry advisory said. This was a significant development as it hinted that transmission in the community may have begun. The ICMR, however, claims that there is no evidence of community transmission — when there is exponential spread of the virus in the community and positive cases are not linked to those with travel history or their contacts — according to sentinel surveillance tests.
The previous policy mandated testing only for those with international travel history or immediate contacts of positive cases if they showed symptoms of infection, and health care workers managing severe respiratory illnesses if they were symptomatic.
India's lock down comes at a time when experts are concerned that the country may have a limited window to contain the spread of the virus and minimise community transmission. With sporadic reports of Indians resisting and escaping quarantine and some returnees from abroad taking paracetamol to avert detection by temperature scanners, the fear was that the numbers of those infected could increase exponentially. Following this, India also declared it would penalise people who flout quarantine norms.
ICMR's earlier advisory mandated free testing for the novel coronavirus. Apart from ICMR labs, others such as that of Council of Scientific and Industrial Research, Department of Biotechnology (DBT) and NABL-accredited private labs have been roped in to augment testing capacity. ICMR-National Institute of Virology (NIV), Pune, the nodal testing facility, has placed orders to increase the existing stockpile of reagents to one million tests. The country has also requested the World Health Organization (WHO) to provide an additional a million probes for testing.
The Drugs Controller General of India (DCGI) is expediting import of diagnostic kits from countries like China, South Korea and Taiwan, by bypassing stability studies and performance evaluation tests. NIV-Pune, which isolated the novel coronavirus strain earlier this month, is in the process of evaluating two new indigenous diagnostic tests for detection of the virus.
In the meantime, ICMR has scaled up to its sentinel surveillance to include more areas, in particular those where COVID-19 cases have been reported. Health experts in India have been worried that the country is not testing enough. In the US, community transmission was prevalent way before it was detected. Something similar may be happening in India since a few cases with no travel history or contact with COVID-19 patients have tested positive, says Rajeev Narang, a professor of cardiology at the All India Institute of Medical Sciences (AIIMS). He, however, adds that aggressive preventive measures should be able to control the spread.
The India government's strategies are geared towards preventing community transmission, says K. Anand, a professor at the AIIMS Centre for Community Medicine. "We are going about it in a graded, gradual way as it is not possible to take swift drastic steps like China." He, however, adds that lack of hygiene sense and shortage of water in various parts of India may be an impediment to enforcement of repeated handwashing.
Narang says that all hospitals are taking extra care to prevent overcrowding. Many of them have curtailed routine OPD services. "OPD attendance has reduced drastically in the last few days," he says. A multidisciplinary COVID-19 Response team at AIIMS, New Delhi meets every morning to take stock of the situation.
Modelling lessons for India
A study1 on the early transmission dynamics of COVID-19 in Wuhan, China, the epicentre of the current pandemic, indicates an estimated basic reproduction number (R0) of 2.2, which implies that on average, each infected person spreads the infection to two more persons. The study suggests that until this number falls below 1.0, the outbreak will probably continue to spread. The efficiency of transmission has important implications for containment and mitigation strategies. This is the science behind social distancing, says Anand.
Specialists who mathematically model infectious diseases2 to determine trends consider deaths to be the vital data point for disease modelling. WHO estimates the current case fatality rate to be about 2 per cent3 , though specialists around the globe seem to indicate that the true case-fatality ratio is nearer to 1 per cent.
Considering that it takes 15 days for an infected person to die, one death today means that 100 people were probably infected in that area 15 days ago. Assuming that it takes 5 days for cases to become double, modellers then estimate that over those 15 days the number of cases reached 800. This implies that for every death in a region, 800 others are already infected, many of whom remain undetected. Such a pattern was identified in Italy. Such mathematical modelling could help inform government policy.
An Imperial College modelling study4 led by Neil Ferguson proposes two strategies—mitigation, which focuses on slowing but not stopping the spread of the outbreak. This reduces peak healthcare demand and suppression, which aims at reversing the epidemic, reducing case numbers to low levels and maintaining that situation indefinitely.
Mitigation policies (combining home isolation of suspect cases, home quarantine of those living in the same household as suspect cases, and social distancing of the elderly and others at most risk of severe disease) could possibly reduce peak healthcare demand by two-thirds and deaths by half but still likely result in a large number of deaths and overwhelming of healthcare systems. The study also warns that without a vaccine, as soon as drastic restrictions are lifted, a second wave of infections could ensue.
[Nature India's latest coverage on the novel coronavirus and COVID-19 pandemic here . More updates on the global crisis here .]
References
1. Li, Q. et al. Early transmission dynamics in Wuhan, China, of novel coronavirus–infected pneumonia. N. Engl. J. Med. (2020) [e-pub]. doi: 10.1056/NEJMoa2001316
2. Adam, D. Modelers Struggle to Predict the Future of the COVID-19 Pandemic. The Scientist (2020)
3. Coronavirus disease 2019 (COVID-19): situation report - 36. Geneva: World Health Organization (2020)
4. Ferguson, N.M. et al. Impact of non-pharmaceutical interventions (NPIs) to reduce COVID19 mortality and healthcare demand. Imperial College COVID-19 Response Team (2020) doi: https://doi.org/10.25561/77482