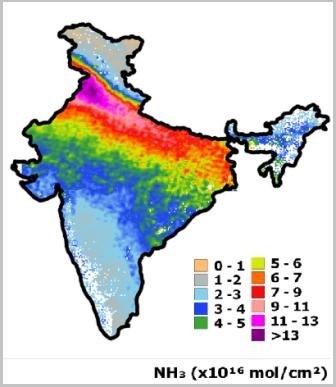 The Indo-Gangetic Plains (IGP) in India have become a global hotspot of ammonia emission, thanks to intense agricultural activities and a large concentration of fertiliser industries, according to research at the Indian Institute of Technology- Kharagpur1.
Atmospheric ammonia over India has reached 'record high levels', particularly so over the IGP region, where its level is higher than anywhere on the globe. This makes the north India river plain region one of the largest and rapidly growing ammonia hotspots of the world, the researchers say.
Ammonia is a gaseous compound of nitrogen that combines with other pollutants in the air to form aerosols which affect public health and the climate. Agriculture contributes significantly to the atmospheric emission of gaseous ammonia, says the report by Jayanarayanan Kuttippurath and his colleagues.
Using satellite observations, the researchers found that fertiliser consumption was directly linked to the amount of ammonia in the air. An increasing trend in atmospheric ammonia during the kharif agriculture season (June-September) established this link between agricultural activities and ammonia release.
As party to the Paris Agreement to combat climate change, India faces the challenge of meeting the growing demand for food while keeping a check on atmospheric emissions. One way to do this, the researchers suggest, is to regulate the amount of fertilisers used in cropping seasons by adopting precision farming. Such farming methods keep in mind the actual demand of the plant for fertilisers rather than using conventional blanket fertilisation practices.
The findings seem to fit well with insights from the Indian Nitrogen Assessment, which revealed that chemical fertilisers are the largest contributors to nitrogen emission, says Nandula Raghuram, professor of biotechnology at Guru Gobind Singh Indraprastha University in Delhi and Chair of the International Nitrogen Initiative.
"Ammonia emissions are clearly correlated with urea fertiliser use and stubble burning," he told Nature India. Raghugram said while governments are encouraging moderation of fertilisers and crop diversification, farmers have not sufficiently adopted these ideas."Soil amendments for prevention of alkanisation in Punjab, Haryana and possibly western Uttar Pradesh, may be another important intervention to reduce ammonia emissions in these states."
While it is easy to attribute ammonia levels to the easily available fertiliser data, more rigorous analysis of ammonia emissions from solid and liquid waste and their trends over time are needed, he added.
References
1. Kuttippurath, J. et al. Record high levels of atmospheric ammonia over India: Spatial and temporal analyses. Sci. Total Env. 740 (2020) doi: 10.1016/j.scitotenv.2020.139986