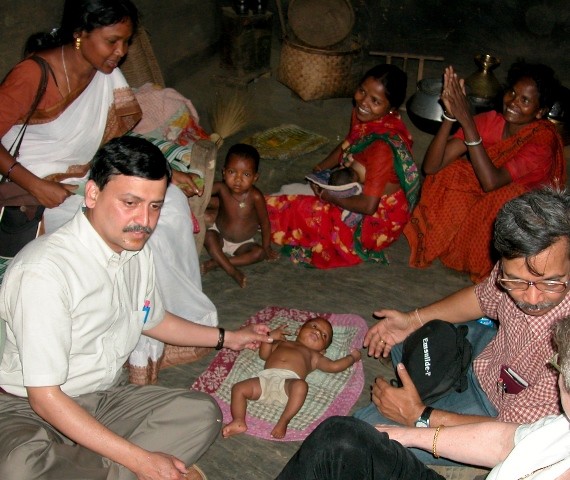 A clinical trial on over 4500 newborns in rural India has found that a 'probiotic' given orally for one week after birth can help prevent sepsis — a horrible infant disease that kills millions worldwide1.
The trials are the first such in probiotics conducted since 2008 in villages of the eastern state of Odisha by a team of Indian and US scientists.
'Probiotics' are supposedly useful bacteria which, when administered in adequate amounts, can beneficially tune the body's immune system and offer protection from diseases. The leading probiotics commercially available are generally drawn from a narrow range of organisms that may not work for all diseases. The trick is to find the right strains, and help them establish themselves in the gut.
For the Odisha baby trial, researchers led by Pinaki Panigrahi at the University of Nebraska Medical Center in the US used a strain of Lactobacillus plantarum they isolated from the stool collected from healthy volunteers. The preventive therapy tested on the babies, called "synbiotic treatment", is a combination of probiotic bacteria ( Lactobacillus plantarum ) — which had earlier been found to have good gut-colonizing properties in newborns — and "fructooligosaccharide", a plant-derived sugar chosen to nourish the probiotic bacteria. The "synbiotic cocktail" was given to the newborns two days after birth for a week in addition to breast milk which is known to contain prebiotics as well as other molecules that provide immunity to babies.
The team followed the infants by tracking whether or not they were admitted to local hospitals for bacterial infections or other illnesses over a 60-day period. Follow-up showed that the therapy reduced the risk of sepsis or death by 40 percent in babies who took this concoction for a week compared to those who were on placebo. It even reduced the risk of pneumonia and other infections of the airways by 34 percent, says their report, suggesting that the "synbiotic cocktail" may be altering the nature of the systemic immune response, bolstering immunity against infections other than those arising from the gut.
"Apart from saving babies from sepsis and respiratory tract infection, this type of intervention has much bigger and wider ramification," Panigrahi told Nature India . "The most relevant is its impact on stunting. Stunted children are destined to have low cognition and chronic disease such as hypertention and diabetes in young adulthood."
Early infections and continued exposure to a large bacterial load during the first two years of life results in tropical enteropathy in India and 40% of under-two are stunted, he said. "Early and continued therapy such as ours and other non-antibiotic modalities will help this population immensley," he said.
The affordable intervention — a week-long course costs just one U.S. dollar — would also reduce the use of antibiotics, and slow the spread of drug-resistant infections, the authors say. The team would now like to test it in other parts of the world.
The Odisha trial had some limitations however. It only included healthy full-term babies and not weaker or pre-term babies, who are more prone to sepsis. Panigrahi says this needs to be tested in different settings.