Book Review
Nature in the City: Bengaluru in the Past, Present, and Future Harini Nagendra, Oxford University Press India: 2016.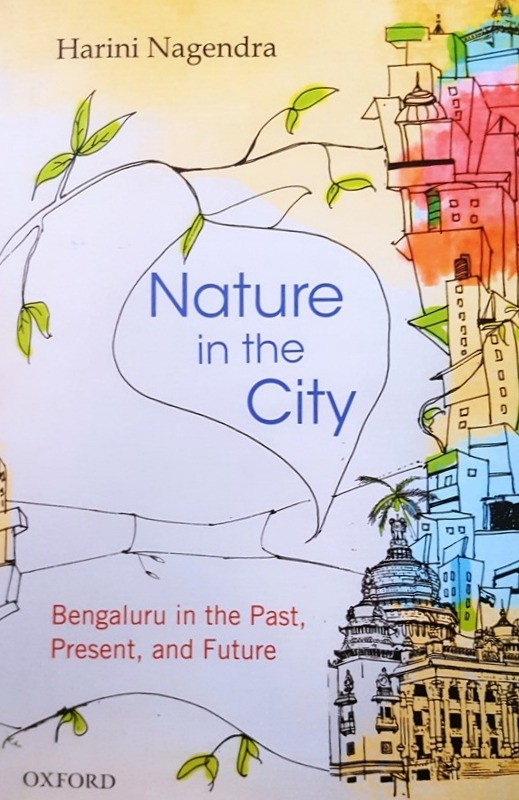 One day in June 2016, citizens of Silicon City Bengaluru and Millennium City Gurugram got talking. They were united in pain – flooded out with a spell of heavy monsoon rains. The country saw unbelievable visuals on television of two inundated cities – one with rafts on the street to ferry people out of submerged homes and the other with mega traffic gridlocks that kept commuters on the roads for more than 10 hours.
Gurugram's police issued an advisory for people to work from home the next day. Capital Delhi bore the brunt of Gurugram's potholed fate. Not that Delhi's rainwater drainage capabilities are any better. The breached, frothing lakes of Bengaluru were also not a surprise anymore. There were debates galore on television and jokes aplenty on Twitter to hammer into our heads how badly run India's metro cities are.
And that was that. Life came back to normal in a couple of days – people still looking skywards to choose their day's mode of transport. Traffic jams, which the city's people have grudgingly learnt to live with, came back to 'normal' – a 30 kilometre stretch in 2 hours is normal. A senior colleague from Bengaluru went on to say that unless absolutely necessary, he doesn't go out for meetings even on normal days, he prefers the phone or Skype. A self-imposed house arrest or office arrest in our cities? That's what our smart cities have become – submerged in rains, unbreathable in winters, unbearable in summers and generally filthy year-round.
Bengaluru, Delhi and Gurugram are wonderful examples of what's gone wrong with urban planning and civic infrastructure. Harini Nagendra, who grew up in Delhi and Bengaluru has been stirred into writing a book highlighting another aspect of this hydra-headed story – the urban ecology of Bengaluru that could easily find a mirror image in any of India's village-turned-mega cities ballooning up unsmartly to accommodate more buildings and many more people.
Nagendra is a professor of sustainability at Bengaluru's Azim Premji University and is neck deep into 'urban ecology' – now a well-recognised field of study. After a decade of research and 25 scientific publications, Nagendra has found out, sadly, that research in this area is limited in India. Cities haven't been on the priority list of ecologists, who prefer to research places "less visibly impacted by humans".
'Nature in the City ', Nagendra's macroscopic view of Bengaluru's trees and bees, charts the story of any growing city anywhere in the developing world, with some reassuring exceptions. Nagendra pulls out the city's ecological history dating back to the 12 th century. In lore and legend, research papers and records, the city has been variously called the 'Metropolis of Monkeys', 'Garden City' and 'City of Lakes'. Its villages were once named after the predominant native trees and animals – so, Halasur is believed to have come from the jackfruit tree ( halasu mara ) and Nagarabhavi from snakes ( naga ) and wells ( bhavi ). The book is amply spiced with historic nuggets from the times of rulers Hyder Ali and Tipu Sultan and their emphasis on the importance of forests.
From the creation of the Garden City to cultivation of home gardens, from apartments to slums and streets to public spaces like parks, Nagendra tracks the diminishing greens, creepy-crawlies and other animals. She tracks the changed social function of Bengaluru's lakes – from being biodiversity-rich essential water reservoirs to collectors of sewage and valuable potential real estate.
Bengaluru, once counted among dream cities to live in, thanks to its perennially pleasant weather, now faces challenges of rapid urbanisation into a state where "people have attained complete control over nature", Nagendra says. However, during extreme weather events, Nature still has the last word – floods make a comeback every monsoon, sewage dumps itself into the lakes, outbreak of vector-borne diseases increases in intensity every year and groundwater runs dry in summer leading to acute water shortage.
For the future, one can learn from cities that have successfully overcome the effects of such lop-sided urban planning. Nagendra offers the examples of restoration of urban nature in Bogota city, Colombia and the South African city of Cape Town, which yielded admirably to civic pressure to conserve its biodiversity. With all the benefit of hindsight, the book, however, does not offer much in terms of a way forward for Bengaluru – something that Nagendra is well placed to do. Perhaps that warrants another tome.