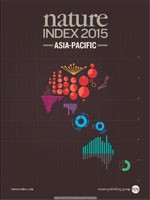 Indian scientists published far less science papers than China in 2014 and trailed behind Japan, South Korea and Australia, according to an analysis of scientific output from countries in the Asia-pacific region.
The Nature Index — Asia-Pacific provides absolute counts of high-quality papers published by scientists in this region in 68 top natural science journals. It is a measure of scientific productivity at the institutional and national level, and is an indicator of high-quality research output across the countries in the region.
According to the analysis, China with 8632 papers is placed second in the world after USA for the total number of science papers published in 2014. It leads the Asia-Pacific region ranking ahead of Japan (4973), Australia (2496), South Korea (1966) and India. With 1483 papers, India ranks fifth among the ten nations included in the analysis.
The study notes that the number of publications (3114) from ChineseAcademy of Sciences alone was more than twice the output from all the scientific institutions in India.
"China has been increasing research spending over the past decade and the financial input has already yielded results," according to the study. "There are clear signs of a concerted push for more indigenous innovation in China taking place across the board, from basic research funding to industrial reform."
But other countries in the region have more uncertain futures, the study notes. "In Japan, significant government funding and policy reforms are needed to keep the country at the top end of science and technology." Amid sweeping funding cuts, Australia's science leaders are looking outward for collaborations.
Referring to India, the Nature Index analysis says that many of its scientists had hoped for more favourable science and technology policies after the election of Prime Minister Narendra Modi (in May 2014) but their "hopes (were) shaken by funding shortfalls."
"They were disappointed when the increase in research spending in his first budget did not even keep up with inflation – not a good start. It remains to be seen if Modi's election platform will translate into results," the study said pointing out that India spends less than 0.88% of its Gross Domestic Product on science research compared with 2.76% for the United States and 4.04% for South Korea.
For some countries in this index, success comes through specialized forms of research. For instance, almost half of South Korea's published articles are in physical sciences. In India, about half of the articles explore topics in chemistry. New Zealand, on the other hand, publishes across a much broader range of topics.
The Nature Index noted that even Asia-Pacific's smaller players — notably Singapore, Taiwan and New Zealand — "work to improve their scientific and technical capabilities, while several tiny nations in the region are beginning to shine."