Climate change is triggering a silent yet drastic livelihood change in the agricultural fields and water bodies of Sundarbans, the world heritage mangrove tiger-land that spans 10,000 square kilometres across the Indo-Bangladesh border. As agriculture and fishing become increasingly unviable in the island conglomerate battered by extreme weather events and salt water ingression, a sizeable number of farmers are turning into migrant labours or are forced to work in the hundreds of brick kilns that have mushroomed on both sides of the border.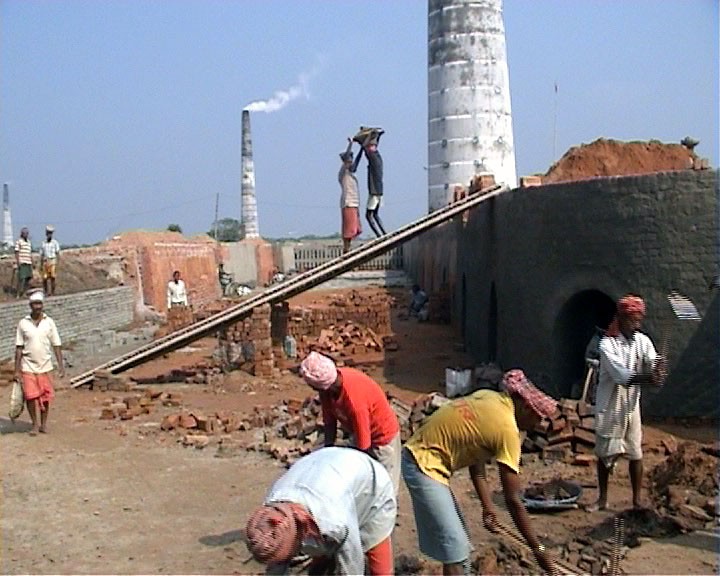 These farmers, earlier tending to crops and fishes, are now finding refuge in construction and mining jobs in faraway Mauritius or in the Indian states of Kerala, Gujarat, Karnataka and Maharashtra. Many others, unable to make ends meet, are opting to work in the polluting brick kilns, which have replaced water bodies that earlier dotted the estuarine topography.
A World Bank supported household survey conducted in 2011 in the Indian Sundarbans, one of the most underdeveloped areas of the country housing more than 4.4 million people, found that at least 30% of households had one member migrating in search of work. It also reported that 93% of the 2188 households surveyed did not want to remain dependent on forest resources if other livelihood opportunities were available.
Many women, not employed as domestic workers, end up in sex trade. According to a study by Kolkata-based NGO Jayaprakash Institute of Social change, 20% of households reported child migrant labourers.
"Though no formal studies have been conducted lately, roughly 60% of the male workforce in the Indian Sundarbans is estimated to be migrating out. They are forced to take up awkward jobs unheard of in the delta earlier," says Subhas Acharya, a former administrator of the Sundarban affairs department of West Bengal state in India. The working population in the region, according to the 2011 government census, was 1.2 million men and 0.3 million women.
"Now, we can neither be sure of our crop yields nor fish yields. What else can we do but get jobs elsewhere to make ends meet?" asks Nitai Mondol of Gosaba island, who works at a nearby brick kiln and earns just about enough to support his family of four. His younger brother and cousins, who earlier looked after a couple of small family owned water bodies, have all taken up jobs as masons and construction workers in Bengaluru, Karnataka.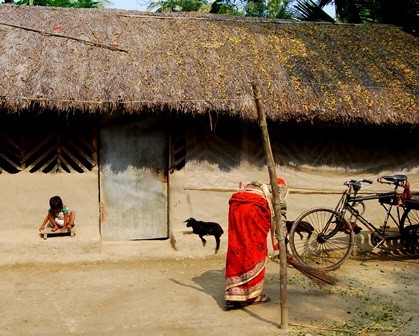 As the men folk get driven out of their homes, climate change is slowly carving another major social change – the socio-economics of the region is largely being handled by women, Acharya, who hails from one of the Sundarban island of Patharpratima and has family living there, says.
Across South Asia, close to 50 million people are estimated to have been displaced due to climate related disasters such as floods, windstorms, earthquakes or droughts since 2008. These people who are compelled to leave their homes are particularly vulnerable and need effective rehabilitation, says Walter Kaelin of the Swiss-Norwegian Nansen Initiative which protects people displaced across borders due to disasters and the effects of climate change.
Agriculture, fisheries make for uncertain livelihoods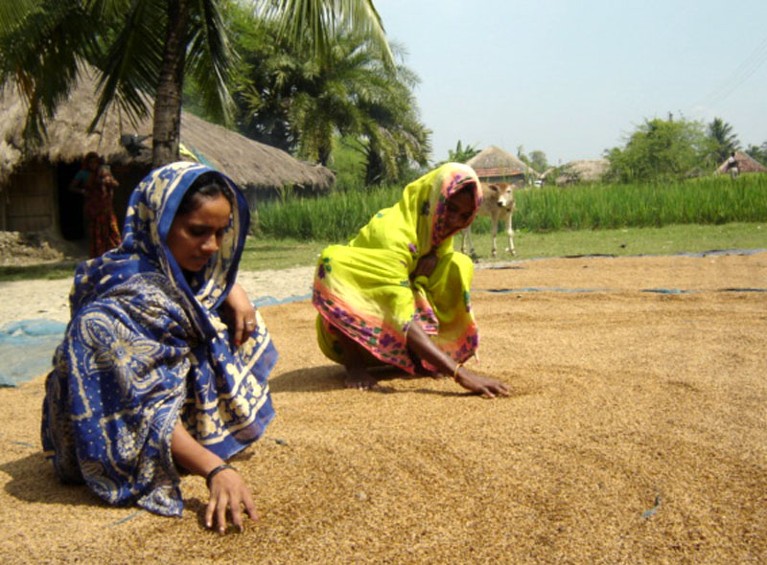 Traditionally, the Sundarbans region is characterised by small-scale farmers and paddy and prawn cultivators. The region has been one of the largest paddy and fish yielding zones of the country. According to the World Bank report, almost 80% of households in Sundarbans pursue livelihood options that involve inefficient production methods in agriculture, fishing and aquaculture.
Between 2001 and 2008, the area under agriculture in the Indian Sundarbans had gone down from 2149 sq km to 1691 sq km. Also, as a result of overexploitation of aquatic species in the last 15 years, coastal fishing has seen a decline in catch-per-unit effort – from 150-200 kg per haul to 58-65 kg per haul. The loss in terms of juvenile species is substantial, and the catch and earnings of fisheries have declined over time.
Adding to the woes is the conversion of many inland water bodies into brick fields in the last few years. According to estimates, out of the 70,000-odd hectares under fish cultivation, over 2,000 hectare have been converted into brick fields, mostly in Minakha, Haroa, Sandeshkhali and Hingalganj areas on the Indian side.
"During extreme events, the centuries-old river embankments give way. Tidal fluctuations are increasing day by. Villages in Sagar, Namkhana and Patharpratima islands are in serious trouble from saline ingression that poses a big question on the livelihoods of people living in the fringes," Acharya notes.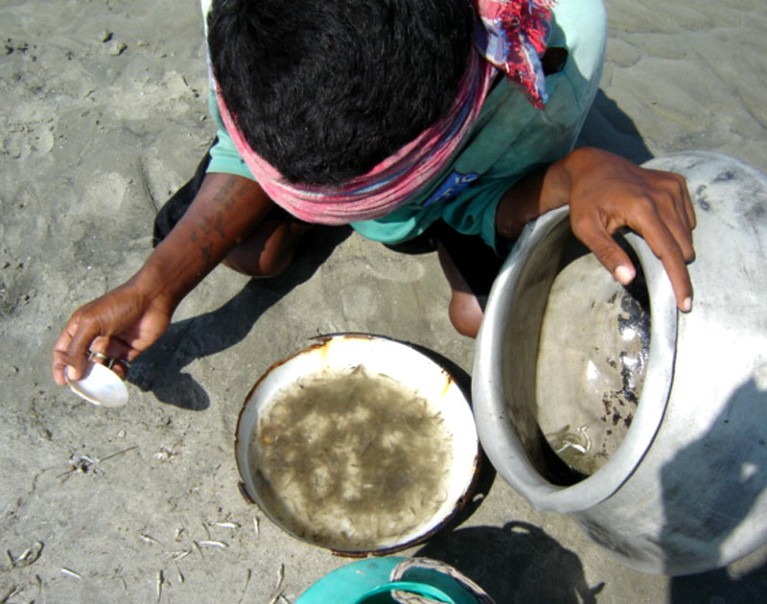 Betel vineyards, one of the other crops in the area, are grazed to the ground during cyclonic storms. The trends in monsoonal rainfall patterns are such that rains come earlier than expected making a hash of the paddy sowing season. The monsoons recede later than normal, culminating in heavy rainfall that see major yield losses. Winters are shorter and farmers are unable to raise a second crop in the following Rabi (summer) season. Rise in summer temperatures has resulted in increase in pest and insect attacks, Acharya says.
Frequent storms and cyclones make agriculture risky business in the islands. After cyclone Aila of 2009, for instance, the salinity in the soil refused to wash off and for two successive cropping seasons forcing many farmers to migrate to Kolkata and other big cities in search of work and return after their fields recovered.
"The salt just wouldn't go from the soil," says Haroon Mollah of Basanti. "We waited for more than a year for the salt to be washed off. But we know this is not the last time our fields will be rendered useless for long periods," he says.
The fishing hotspots of Basanti, Sandeshkhali I and II and Gosaba islands are reporting a decline in edible fish catches, Acharya says. Bacterial and viral diseases in fishes had prompted fishermen to administer antibiotics in their water bodies resulting in rejection of their exports by major importers Japan.
"Many fishermen, who know no other trade, are resorting to catching crabs in the creeks of the mangroves often frequented by the Bengal tigers – this has resulted in overexploitation of the creeks and also increased tiger attacks," Acharya notes.
No salinity map, poor engineering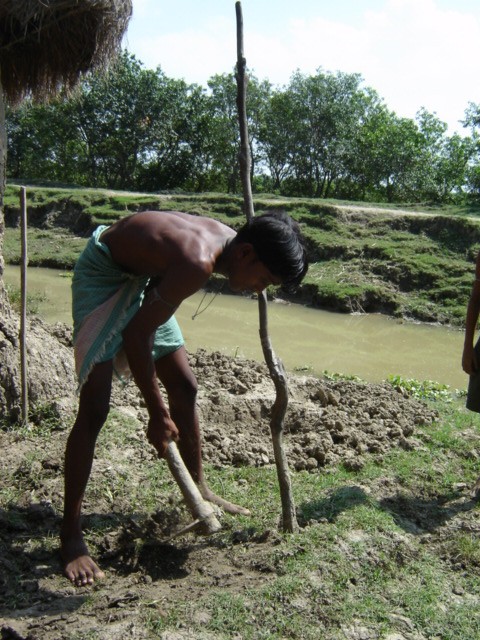 Sugata Hazra, Director of the School of Oceanographic Studies at Jadavpur University in West Bengal's capital Kolkata, says India still does not have a salinity map or catalogue of species diversity in the Sundarbans. "There are action plans for sure – the National Climate Action Plan, the Delta Management Plan and the Coastal Zone Management Plan – but there's no coordination between them. It's time India thought of an ecosystem-based management where people and their livelihoods matter.
Hazra says a proper study of the salinity levels and vulnerability in different parts of Sundarbans might better equip policy makers to earmark places for alternative livelihoods. "Where agriculture and fishery are untenable due to the impacts of climate change, it would be worth suggesting other livelihoods," he says.
Ecological engineering could also play a major role in restoring some farming livelihoods, says Jayanta Bandyopadhyay, a visiting professor at the Centre for Studies in Science Policy at New Delhi's Jawaharlal Nehru University. Sundarban-specific engineering of embankments could protect the delta from frequent storm surges and salinity ingression. "We have simply applied our knowledge of engineering on terrestrial landmasses to a complex non-terrestrial area – this makes for unreliable engineering that does not take into account the needs of this natural ecosystem."
River expert and Chairman of the West Bengal Pollution Control Board Kalyan Rudra says there is 'dramatic lack of understanding' of the geomorphological crisis that the Sundarban islands are faced with. "Some of the basic things we know about Sundarbans are wrong – for instance, the active delta embankment is somewhere between 18,000 to 20000 km but we continue to count it as 3500 km in all reports. Also the number of islands have gone up as new creeks cut through the existing landmass – so the number of small inhabited islands in Sundarbans is now about 33. All these small islands need to be given equal importance in livelihood planning."
Restoring livelihoods
Large and uncontrolled aquaculture development, encouragement to 'high yield' varieties of paddy and a false sense of security provided by the repair of embankments has resulted in 'maladaptations' that do not contribute meaningfully the livelihoods of the people, says Tapas Paul, a senior environment specialist with the World Bank.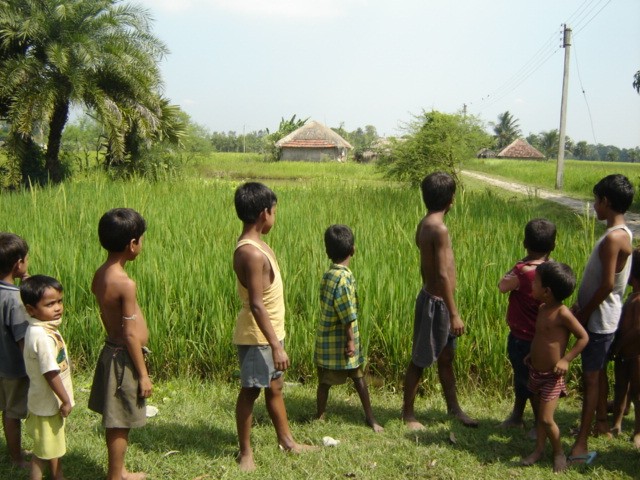 Paul says cyclones alone account for about 45% of all losses in the Sundarbans. Since some areas of the island-conglomerate are far more vulnerable to extreme climate conditions, he advocates planned migration of people from such areas to the more stable zones and urban areas outside Sundarbans. This would significantly decrease the population at risk, he says and help lands left behind to be converted into protected areas.
"Irrespective of how much money we put into these vulnerable areas, we will not be able to make them safe. Instead, it would be pertinent to develop and support the stable areas such as Jaynagar, Hashnabad and Haroa to create smart cities that can support additional populations."
"That won't be such a bad idea – after all one has to survive," says Lakshmi Mahato of Sagar island. "Ten years back, when our neighbours moved out of our village to Kolkata, we persuaded them not to, but failed. Today, we realise if we don't leave our home, there might be no homes left to live in a few years from now," she rues.