Abstract
Antigen-specific CD8+ T cells are required for the clearance of most viral infections and several cancers. However, it is not clear in vivo whether CD8+ T cells can engage multiple targets simultaneously, engagement results in the formation of an immunologic synapse or molecules involved in CD8 function are redistributed to the synapse. We used here high-resolution microscopy to visualize interactions between virus-specific effectors and target cells in vivo. Using either in situ tetramer staining or green fluorescent protein–labeled virus-specific T cells, we have shown that a single CD8+ T cell can engage two or three targets, a synapse occurs at the site of engagement and molecules involved in attachment (lymphocyte function–associated antigen 1), signaling (Lck) and lytic activity (perforin) are differentially positioned on the T cell. In addition, we have established an in vivo approach for assessing the intricacies of antigen-specific T cell activation, migration, engagement, memory and other defining elements of adaptive immunity.
Access options
Subscribe to Journal
Get full journal access for 1 year
$225.00
only $18.75 per issue
All prices are NET prices.
VAT will be added later in the checkout.
Rent or Buy article
Get time limited or full article access on ReadCube.
from$8.99
All prices are NET prices.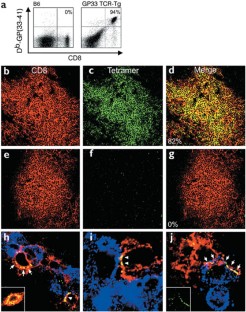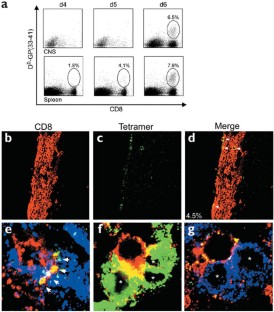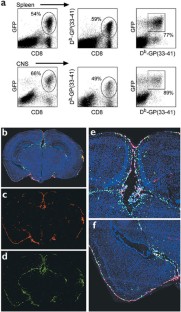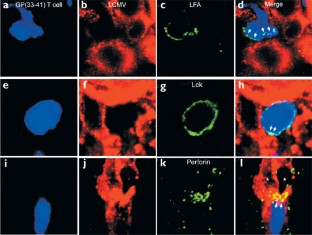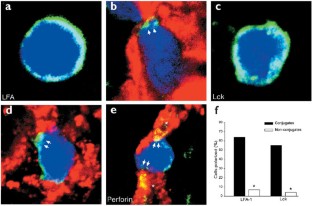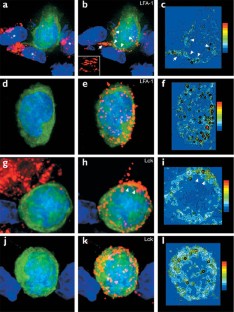 References
1

Zinkernagel, R.M. & Doherty, P.C. Restriction of in vitro T cell–mediated cytotoxicity in lymphocytic choriomeningitis within a syngeneic or semiallogeneic system. Nature 248, 701–702 (1974).

2

Kagi, D., Ledermann, B., Burki, K., Zinkernagel, R.M. & Hengartner, H. Molecular mechanisms of lymphocyte-mediated cytotoxicity and their role in immunological protection and pathogenesis in vivo. Annu. Rev. Immunol. 14, 207–232 (1996).

3

von Andrian, U.H. & Mackay, C.R. T-cell function and migration. Two sides of the same coin. N. Engl. J. Med. 343, 1020–1034 (2000).

4

Skinner, P.J., Daniels, M.A., Schmidt, C.S., Jameson, S.C. & Haase, A.T. Cutting edge: In situ tetramer staining of antigen-specific T cells in tissues. J. Immunol. 165, 613–617 (2000).

5

Haanen, J.B. et al. In situ detection of virus- and tumor-specific T-cell immunity. Nature Med. 6, 1056–1060 (2000).

6

Flugel, A. et al. Migratory activity and functional changes of green fluorescent effector cells before and during experimental autoimmune encephalomyelitis. Immunity 14, 547–560 (2001).

7

Reinhardt, R.L., Khoruts, A., Merica, R., Zell, T. & Jenkins, M.K. Visualizing the generation of memory CD4 T cells in the whole body. Nature 410, 101–105 (2001).

8

Allan, J.E., Dixon, J.E. & Doherty, P.C. Nature of the inflammatory process in the central nervous system of mice infected with lymphocytic choriomeningitis virus. Curr. Top. Microbiol. Immunol. 134, 131–143 (1987).

9

Fung-Leung, W.P., Kundig, T.M., Zinkernagel, R.M. & Mak, T.W. Immune response against lymphocytic choriomeningitis virus infection in mice without CD8 expression. J. Exp. Med. 174, 1425–1429 (1991).

10

Kagi, D. et al. Cytotoxicity mediated by T cells and natural killer cells is greatly impaired in perforin–deficient mice. Nature 369, 31–37 (1994).

11

Joly, E., Mucke, L. & Oldstone, M.B. Viral persistence in neurons explained by lack of major histocompatibility class I expression. Science 253, 1283–1285 (1991).

12

Gallimore, A. et al. A protective cytotoxic T cell response to a subdominant epitope is influenced by the stability of the MHC class I/peptide complex and the overall spectrum of viral peptides generated within infected cells. Eur. J. Immunol. 28, 3301–3311 (1998).

13

van der Most, R.G. et al. Identification of Db- and Kb-restricted subdominant cytotoxic T-cell responses in lymphocytic choriomeningitis virus-infected mice. Virology 240, 158–167 (1998).

14

Gairin, J.E., Mazarguil, H., Hudrisier, D. & Oldstone, M.B. Optimal lymphocytic choriomeningitis virus sequences restricted by H-2Db major histocompatibility complex class I molecules and presented to cytotoxic T lymphocytes. J. Virol. 69, 2297–2305 (1995).

15

Pircher, H., Burki, K., Lang, R., Hengartner, H. & Zinkernagel, R.M. Tolerance induction in double specific T-cell receptor transgenic mice varies with antigen. Nature 342, 559–561 (1989).

16

Janes, P.W., Ley, S.C. & Magee, A.I. Aggregation of lipid rafts accompanies signaling via the T cell antigen receptor. J. Cell. Biol. 147, 447–461 (1999).

17

Monks, C.R., Freiberg, B.A., Kupfer, H., Sciaky, N. & Kupfer, A. Three-dimensional segregation of supramolecular activation clusters in T cells. Nature 395, 82–86 (1998).

18

Sanderson, C.J. The mechanism of T cell mediated cytotoxicity. II. Morphological studies of cell death by time-lapse microcinematography. Proc. R. Soc. Lond. B 192, 241–255 (1976).

19

Rothstein, T.L., Mage, M., Jones, G. & McHugh, L.L. Cytotoxic T lymphocyte sequential killing of immobilized allogeneic tumor target cells measured by time-lapse microcinematography. J. Immunol. 121, 1652–1656 (1978).

20

Hahn, K. et al. Antigen presentation and cytotoxic T lymphocyte killing studied in individual, living cells. Virology 201, 330–340 (1994).

21

Okabe, M., Ikawa, M., Kominami, K., Nakanishi, T. & Nishimune, Y. 'Green mice' as a source of ubiquitous green cells. FEBS Lett. 407, 313–319 (1997).

22

Kucik, D.F., Dustin, M.L., Miller, J.M. & Brown, E.J. Adhesion-activating phorbol ester increases the mobility of leukocyte integrin LFA-1 in cultured lymphocytes. J. Clin. Invest. 97, 2139–2144 (1996).

23

Krummel, M.F. & Davis, M.M. Dynamics of the immunological synapse: finding, establishing and solidifying a connection. Curr. Opin. Immunol. 14, 66–74 (2002).

24

Stinchcombe, J.C., Bossi, G., Booth, S. & Griffiths, G.M. The immunological synapse of CTL contains a secretory domain and membrane bridges. Immunity 15, 751–761 (2001).

25

Kane, L.P., Lin, J. & Weiss, A. Signal transduction by the TCR for antigen. Curr. Opin. Immunol. 12, 242–249 (2000).

26

Veillette, A., Bookman, M.A., Horak, E.M. & Bolen, J.B. The CD4 and CD8 T cell surface antigens are associated with the internal membrane tyrosine-protein kinase p56lck. Cell 55, 301–308 (1988).

27

Bachmann, M.F. et al. Developmental regulation of Lck targeting to the CD8 coreceptor controls signaling in naive and memory T cells. J. Exp. Med. 189, 1521–1530 (1999).

28

Yannelli, J.R., Sullivan, J.A., Mandell, G.L. & Engelhard, V.H. Reorientation and fusion of cytotoxic T lymphocyte granules after interaction with target cells as determined by high resolution cinemicrography. J. Immunol. 136, 377–382 (1986).

29

Kuhn, J.R. & Poenie, M. Dynamic polarization of the microtubule cytoskeleton during CTL-mediated killing. Immunity 16, 111–121 (2002).

30

Grakoui, A. et al. The immunological synapse: a molecular machine controlling T cell activation. Science 285, 221–227 (1999).

31

Bromley, S.K. et al. The immunological synapse. Annu. Rev. Immunol. 19, 375–396 (1902).

32

Miller, M.J., Wei, S.H., Parker, I. & Cahalan, M.D. Two-photon imaging of lymphocyte motility and antigen response in intact lymph node. Science 296, 1869–1873 (2002).

33

Stoll, S., Delon, J., Brotz, T.M. & Germain, R.N. Dynamic imaging of T cell-dendritic cell interactions in lymph nodes. Science 296, 1873–1876 (2002).

34

Bousso, P., Bhakta, N.R., Lewis, R.S. & Robey, E. Dynamics of thymocyte-stromal cell interactions visualized by two-photon microscopy. Science 296, 1876–1880 (2002).

35

Busch, D.H., Pilip, I.M., Vijh, S. & Pamer, E.G. Coordinate regulation of complex T cell populations responding to bacterial infection. Immunity 8, 353–362 (1998).
Acknowledgements
Supported by NIH grant AI09484, training grant AG00080 (to D. B. M.) and Juvenile Diabetes Research Foundation Award 3-2000-510 (to U. C.)
Ethics declarations
Competing interests
The authors declare no competing financial interests.
Supplementary information
About this article
Cite this article
McGavern, D., Christen, U. & Oldstone, M. Molecular anatomy of antigen-specific CD8+ T cell engagement and synapse formation in vivo. Nat Immunol 3, 918–925 (2002). https://doi.org/10.1038/ni843
Received:

Accepted:

Published:

Issue Date: