Abstract
Variable-(diversity)-joining (V(D)J) recombination at loci encoding the immunoglobulin heavy chain (Igh) and immunoglobulin light chain (Igk) takes place sequentially during successive stages in B cell development. Using three-dimensional DNA fluorescence in situ hybridization, here we identify a lineage-specific and stage-specific interchromosomal association between these two loci that marks the transition between Igh and Igk recombination. Colocalization occurred between pericentromerically located alleles in pre–B cells and was mediated by the 3′ Igk enhancer. Deletion of this regulatory element prevented association of the Igh and Igk loci, inhibited pericentromeric recruitment and locus 'decontraction' of an Igh allele, and resulted in greater distal rearrangement of the gene encoding the variable heavy-chain region. Our data indicate involvement of the Igk locus and its 3′ enhancer in directing the Igh locus to a repressive nuclear subcompartment and inducing the Igh locus to decontract.
Access options
Subscribe to Journal
Get full journal access for 1 year
$209.00
only $17.42 per issue
All prices are NET prices.
VAT will be added later in the checkout.
Rent or Buy article
Get time limited or full article access on ReadCube.
from$8.99
All prices are NET prices.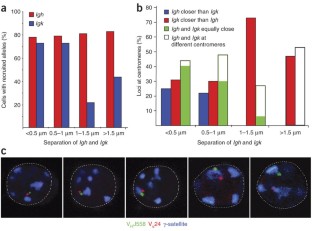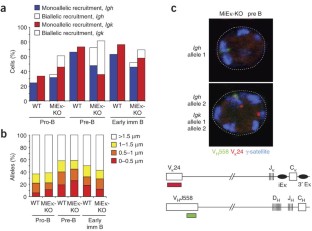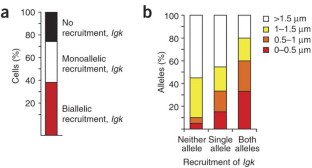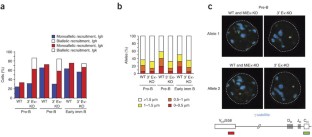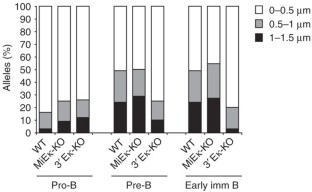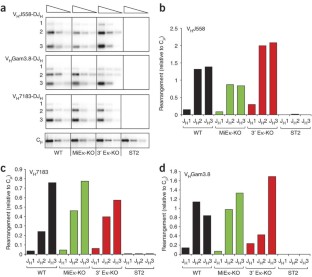 References
1

Alt, F.W. et al. Ordered rearrangement of immunoglobulin heavy chain variable region segments. EMBO J. 3, 1209–1219 (1984).

2

Jung, D., Giallourakis, C., Mostoslavsky, R. & Alt, F.W. Mechanism and control of V(D)J recombination at the immunoglobulin heavy chain locus. Annu. Rev. Immunol. 24, 541–570 (2006).

3

Kosak, S.T. et al. Subnuclear compartmentalization of immunoglobulin loci during lymphocyte development. Science 296, 158–162 (2002).

4

Roldan, E. et al. Locus 'decontraction' and centromeric recruitment contribute to allelic exclusion of the immunoglobulin heavy-chain gene. Nat. Immunol. 6, 31–41 (2005).

5

Geier, J.K. & Schlissel, M.S. Pre-BCR signals and the control of Ig gene rearrangements. Semin. Immunol. 18, 31–39 (2006).

6

Fitzsimmons, S.P., Bernstein, R.M., Max, E.E., Skok, J.A. & Shapiro, M.A. Dynamic changes in accessibility, nuclear positioning, recombination, and transcription at the Igκ locus. J. Immunol. 179, 5264–5273 (2007).

7

Gorman, J.R. et al. The Igκ enhancer influences the ratio of Igκ versus Igλ B lymphocytes. Immunity 5, 241–252 (1996).

8

Inlay, M., Alt, F.W., Baltimore, D. & Xu, Y. Essential roles of the κ light chain intronic enhancer and 3′ enhancer in κ rearrangement and demethylation. Nat. Immunol. 3, 463–468 (2002).

9

Inlay, M.A., Lin, T., Gao, H.H. & Xu, Y. Critical roles of the immunoglobulin intronic enhancers in maintaining the sequential rearrangement of IgH and Igk loci. J. Exp. Med. 203, 1721–1732 (2006).

10

Stanhope-Baker, P., Hudson, K.M., Shaffer, A.L., Constantinescu, A. & Schlissel, M.S. Cell type-specific chromatin structure determines the targeting of V(D)J recombinase activity in vitro. Cell 85, 887–897 (1996).

11

Skok, J.A. et al. Nonequivalent nuclear location of immunoglobulin alleles in B lymphocytes. Nat. Immunol. 2, 848–854 (2001).

12

Goldmit, M. et al. Epigenetic ontogeny of the Igk locus during B cell development. Nat. Immunol. 6, 198–203 (2005).

13

Fuxa, M. et al. Pax5 induces V-to-DJ rearrangements and locus contraction of the immunoglobulin heavy-chain gene. Genes Dev. 18, 411–422 (2004).

14

Sato, H., Saito-Ohara, F., Inazawa, J. & Kudo, A. Pax-5 is essential for kappa sterile transcription during Igκ chain gene rearrangement. J. Immunol. 172, 4858–4865 (2004).

15

Skok, J.A. et al. Reversible contraction by looping of the Tcra and Tcrb loci in rearranging thymocytes. Nat. Immunol. 8, 378–387 (2007).

16

Rolink, A., Grawunder, U., Winkler, T.H., Karasuyama, H. & Melchers, F. IL-2 receptor α chain (CD25, TAC) expression defines a crucial stage in pre-B cell development. Int. Immunol. 6, 1257–1264 (1994).

17

Chowdhury, D. & Sen, R. Transient IL-7/IL-7R signaling provides a mechanism for feedback inhibition of immunoglobulin heavy chain gene rearrangements. Immunity 18, 229–241 (2003).

18

Spilianakis, C.G., Lalioti, M.D., Town, T., Lee, G.R. & Flavell, R.A. Interchromosomal associations between alternatively expressed loci. Nature 435, 637–645 (2005).

19

Ling, J.Q. et al. CTCF mediates interchromosomal colocalization between Igf2/H19 and Wsb1/Nf1. Science 312, 269–272 (2006).

20

Xu, N., Tsai, C.L. & Lee, J.T. Transient homologous chromosome pairing marks the onset of X inactivation. Science 311, 1149–1152 (2006).

21

Bacher, C.P. et al. Transient colocalization of X-inactivation centres accompanies the initiation of X inactivation. Nat. Cell Biol. 8, 293–299 (2006).

22

Lomvardas, S. et al. Interchromosomal interactions and olfactory receptor choice. Cell 126, 403–413 (2006).

23

Campbell, R. Statistics for Biologists 3rd edn. 107–117 (Cambridge University Press, 1989).

24

Schlissel, M.S., Corcoran, L.M. & Baltimore, D. Virus-transformed pre-B cells show ordered activation but not inactivation of immunoglobulin gene rearrangement and transcription. J. Exp. Med. 173, 711–720 (1991).
Acknowledgements
We thank P. Lopez for expertise and contribution to flow cytometry. F. Alt (Harvard University) provided 3′Eκ-knockout mice. Supported by the Wellcome Trust, New York University School of Medicine and the National Institutes of Health (RO1 HL48702 and RO1 AI40227 to M.S.S.).
Supplementary information
About this article
Cite this article
Hewitt, S., Farmer, D., Marszalek, K. et al. Association between the Igk and Igh immunoglobulin loci mediated by the 3′ Igk enhancer induces 'decontraction' of the Igh locus in pre–B cells. Nat Immunol 9, 396–404 (2008). https://doi.org/10.1038/ni1567
Received:

Accepted:

Published:

Issue Date: