Abstract
Dendritic cell (DC) presentation of self antigen to thymocytes is essential to the establishment of central tolerance. We show here that circulating DCs were recruited to the thymic medulla through a three-step adhesion cascade involving P-selectin, interactions of the integrin VLA-4 with its ligand VCAM-1, and pertussis toxin–sensitive chemoattractant signaling. Ovalbumin-specific OT-II thymocytes were selectively deleted after intravenous injection of antigen-loaded exogenous DCs. We documented migration of endogenous DCs to the thymus in parabiotic mice and after painting mouse skin with fluorescein isothiocyanate. Antibody to VLA-4 blocked the accumulation of peripheral tissue–derived DCs in the thymus and also inhibited the deletion of OT-II thymocytes in mice expressing membrane-bound ovalbumin in cardiac myocytes. These findings identify a migratory route by which peripheral DCs may contribute to central tolerance.
This is a preview of subscription content
Access options
Subscribe to Journal
Get full journal access for 1 year
$59.00
only $4.92 per issue
All prices are NET prices.
VAT will be added later in the checkout.
Tax calculation will be finalised during checkout.
Buy article
Get time limited or full article access on ReadCube.
$32.00
All prices are NET prices.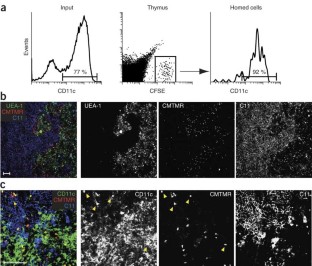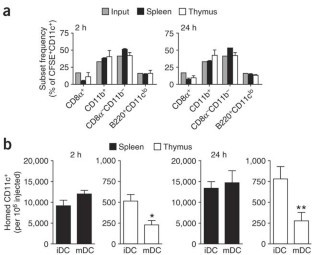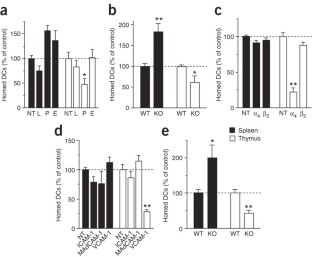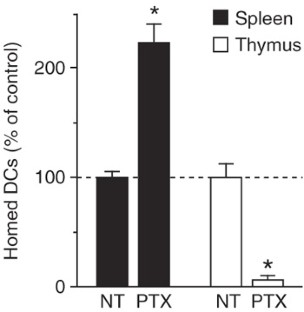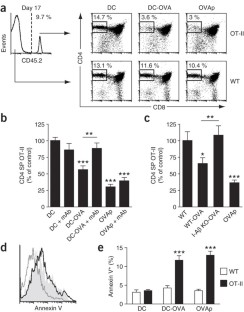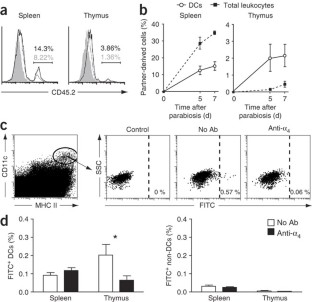 References
Palmer, E. Negative selection–clearing out the bad apples from the T-cell repertoire. Nat. Rev. Immunol. 3, 383–391 (2003).

Jordan, M.S. et al. Thymic selection of CD4+CD25+ regulatory T cells induced by an agonist self-peptide. Nat. Immunol. 2, 301–306 (2001).

Sakaguchi, S. Naturally arising CD4+ regulatory T cells for immunologic self-tolerance and negative control of immune responses. Annu. Rev. Immunol. 22, 531–562 (2004).

Anderson, M.S. et al. Projection of an immunological self shadow within the thymus by the aire protein. Science 298, 1395–1401 (2002).

Kyewski, B. & Derbinski, J. Self-representation in the thymus: an extended view. Nat. Rev. Immunol. 4, 688–698 (2004).

Banchereau, J. et al. Immunobiology of dendritic cells. Annu. Rev. Immunol. 18, 767–811 (2000).

Steinman, R.M., Hawiger, D. & Nussenzweig, M.C. Tolerogenic dendritic cells. Annu. Rev. Immunol. 21, 685–711 (2003).

Cavanagh, L.L. et al. Activation of bone marrow-resident memory T cells by circulating, antigen-bearing dendritic cells. Nat. Immunol. 6, 1029–1037 (2005).

Bonasio, R. & von Andrian, U.H. Generation, migration and function of circulating dendritic cells. Curr. Opin. Immunol. 18, 503–511 (2006).

Wu, L. & Shortman, K. Heterogeneity of thymic dendritic cells. Semin. Immunol. 17, 304–312 (2005).

Shortman, K. & Liu, Y.J. Mouse and human dendritic cell subtypes. Nat. Rev. Immunol. 2, 151–161 (2002).

Iwasaki, A. & Kelsall, B.L. Localization of distinct Peyer's patch dendritic cell subsets and their recruitment by chemokines macrophage inflammatory protein (MIP)-3α, MIP-3β, and secondary lymphoid organ chemokine. J. Exp. Med. 191, 1381–1394 (2000).

Mora, J.R. et al. Reciprocal and dynamic control of CD8 T cell homing by dendritic cells from skin- and gut-associated lymphoid tissues. J. Exp. Med. 201, 303–316 (2005).

Cavanagh, L.L. & von Andrian, U.H. Travellers in many guises: The origins and destinations of dendritic cells. Immunol. Cell Biol. 80, 448–462 (2002).

von Andrian, U.H. & Mackay, C.R. T-cell function and migration. Two sides of the same coin. N. Engl. J. Med. 343, 1020–1034 (2000).

Berlin, C. et al. α4 integrins mediate lymphocyte attachment and rolling under physiologic flow. Cell 80, 413–422 (1995).

Mazo, I.B. et al. Hematopoietic progenitor cell rolling in bone marrow microvessels: Parallel contributions by endothelial selectins and VCAM-1. J. Exp. Med. 188, 465–474 (1998).

Barnden, M.J., Allison, J., Heath, W.R. & Carbone, F.R. Defective TCR expression in transgenic mice constructed using cDNA-based α- and β-chain genes under the control of heterologous regulatory elements. Immunol. Cell Biol. 76, 34–40 (1998).

Martin, S. & Bevan, M.J. Antigen-specific and nonspecific deletion of immature cortical thymocytes caused by antigen injection. Eur. J. Immunol. 27, 2726–2736 (1997).

van Santen, H.M., Benoist, C. & Mathis, D. Number of T reg cells that differentiate does not increase upon encounter of agonist ligand on thymic epithelial cells. J. Exp. Med. 200, 1221–1230 (2004).

Donskoy, E. & Goldschneider, I. Two developmentally distinct populations of dendritic cells inhabit the adult mouse thymus: demonstration by differential importation of hematogenous precursors under steady state conditions. J. Immunol. 170, 3514–3521 (2003).

Randolph, G.J., Angeli, V. & Swartz, M.A. Dendritic-cell trafficking to lymph nodes through lymphatic vessels. Nat. Rev. Immunol. 5, 617–628 (2005).

Grabie, N. et al. IL-12 is required for differentiation of pathogenic CD8+ T cell effectors that cause myocarditis. J. Clin. Invest. 111, 671–680 (2003).

Volkmann, A., Zal, T. & Stockinger, B. Antigen-presenting cells in the thymus that can negatively select MHC class II-restricted T cells recognizing a circulating self antigen. J. Immunol. 158, 693–706 (1997).

Gallegos, A.M. & Bevan, M.J. Central tolerance to tissue-specific antigens mediated by direct and indirect antigen presentation. J. Exp. Med. 200, 1039–1049 (2004).

Balazs, M., Martin, F., Zhou, T. & Kearney, J. Blood dendritic cells interact with splenic marginal zone B cells to initiate T-independent immune responses. Immunity 17, 341–352 (2002).

del Hoyo, G.M. et al. Characterization of a common precursor population for dendritic cells. Nature 415, 1043–1047 (2002).

Naik, S.H. et al. Intrasplenic steady-state dendritic cell precursors that are distinct from monocytes. Nat. Immunol. 7, 663–671 (2006).

Nakano, H., Yanagita, M. & Gunn, M.D. CD11c+B220+Gr-1+ cells in mouse lymph nodes and spleen display characteristics of plasmacytoid dendritic cells. J. Exp. Med. 194, 1171–1178 (2001).

Fong, L., Brockstedt, D., Benike, C., Wu, L. & Engleman, E.G. Dendritic cells injected via different routes induce immunity in cancer patients. J. Immunol. 166, 4254–4259 (2001).

Thurner, B. et al. Vaccination with Mage-3A1 peptide-pulsed mature, monocyte-derived dendritic cells expands specific cytotoxic T cells and induces regression of some metastases in advanced stage IV melanoma. J. Exp. Med. 190, 1669–1678 (1999).

Duncan, S.R., Capetanakis, N.G., Lawson, B.R. & Theofilopoulos, A.N. Thymic dendritic cells traffic to thymi of allogeneic recipients and prolong graft survival. J. Clin. Invest. 109, 755–764 (2002).

Scimone, M.L., Aifantis, I., Apostolou, I., von Boehmer, H. & von Andrian, U.H. A multistep adhesion cascade for lymphoid progenitor cell homing to the thymus. Proc. Natl. Acad. Sci. USA 103, 7006–7011 (2006).

Matzinger, P. & Guerder, S. Does T-cell tolerance require a dedicated antigen-presenting cell? Nature 338, 74–76 (1989).

Ardavin, C., Wu, L., Li, C.L. & Shortman, K. Thymic dendritic cells and T cells develop simultaneously in the thymus from a common precursor population. Nature 362, 761–763 (1993).

Goldschneider, I. & Cone, R.E. A central role for peripheral dendritic cells in the induction of acquired thymic tolerance. Trends Immunol. 24, 77–81 (2003).

Kamath, A.T., Henri, S., Battye, F., Tough, D.F. & Shortman, K. Developmental kinetics and lifespan of dendritic cells in mouse lymphoid organs. Blood 100, 1734–1741 (2002).

Miller, M.J., Hejazi, A.S., Wei, S.H., Cahalan, M.D. & Parker, I. T cell repertoire scanning is promoted by dynamic dendritic cell behavior and random T cell motility in the lymph node. Proc. Natl. Acad. Sci. USA 101, 998–1003 (2004).

Kurts, C., Kosaka, H., Carbone, F.R., Miller, J.F. & Heath, W.R. Class I-restricted cross-presentation of exogenous self-antigens leads to deletion of autoreactive CD8+ T cells. J. Exp. Med. 186, 239–245 (1997).

Klein, L., Klugmann, M., Nave, K.A., Tuohy, V.K. & Kyewski, B. Shaping of the autoreactive T-cell repertoire by a splice variant of self protein expressed in thymic epithelial cells. Nat. Med. 6, 56–61 (2000).

Huseby, E.S., Sather, B., Huseby, P.G. & Goverman, J. Age-dependent T cell tolerance and autoimmunity to myelin basic protein. Immunity 14, 471–481 (2001).

Bullard, D.C. et al. P-selectin/ICAM-1 double mutant mice: acute emigration of neutrophils into the peritoneum is completely absent but is normal into pulmonary alveoli. J. Clin. Invest. 95, 1782–1788 (1995).

Mayadas, T.N., Johnson, R.C., Rayburn, H., Hynes, R.O. & Wagner, D.D. Leukocyte rolling and extravasation are severely compromised in P-selectin-deficient mice. Cell 74, 541–554 (1993).

Koni, P.A. et al. Conditional vascular cell adhesion molecule 1 deletion in mice. Impaired lymphocyte migration to bone marrow. J. Exp. Med. 193, 741–754 (2001).

Mombaerts, P. et al. RAG-1-deficient mice have no mature B and T lymphocytes. Cell 68, 869–877 (1992).

Boes, M. et al. T cells induce extended class II MHC compartments in dendritic cells in a Toll-like receptor-dependent manner. J. Immunol. 171, 4081–4088 (2003).

Mora, J.R. et al. Selective imprinting of gut-homing T cells by Peyer's patch dendritic cells. Nature 424, 88–93 (2003).

Porritt, H.E., Gordon, K. & Petrie, H.T. Kinetics of steady-state differentiation and mapping of intrathymic-signaling environments by stem cell transplantation in nonirradiated mice. J. Exp. Med. 198, 957–962 (2003).

Farr, A.G. & Anderson, S.K. Epithelial heterogeneity in the murine thymus: fucose-specific lectins bind medullary epithelial cells. J. Immunol. 134, 2971–2977 (1985).

Wright, D.E., Wagers, A.J., Gulati, A.P., Johnson, F.L. & Weissman, I.L. Physiological migration of hematopoietic stem and progenitor cells. Science 294, 1933–1936 (2001).
Acknowledgements
We thank G. Cheng for technical support; L. Cavanagh, T. Junt and I.B. Mazo for discussions; and S. Massberg for contributing thoracic duct lymph data. Supported by the National Institutes of Health (AI061663, AR42689 and HL56949 to U.H.v.A.; and HL072056 and AI059610 to A.H.L.), the Giovanni Armenise-Harvard Foundation (R.B.) and the Schweizerische Stiftung für medizinisch-biologische Stipendien (P.S.).
Ethics declarations
Competing interests
The authors declare no competing financial interests.
Supplementary information
Fully differentiated DCs in blood and thoracic duct lymph. (PDF 174 kb)
Clonal deletion of OT-II cells by adoptive transfer of different doses of DCs. (PDF 102 kb)
About this article
Cite this article
Bonasio, R., Scimone, M., Schaerli, P. et al. Clonal deletion of thymocytes by circulating dendritic cells homing to the thymus. Nat Immunol 7, 1092–1100 (2006). https://doi.org/10.1038/ni1385
Received:

Accepted:

Published:

Issue Date:

DOI: https://doi.org/10.1038/ni1385