Abstract
Interleukin 17 (IL-17) has been linked to autoimmune diseases, although its regulation and function have remained unclear. Here we have evaluated in vitro and in vivo the requirements for the differentiation of naive CD4 T cells into effector T helper cells that produce IL-17. This process required the costimulatory molecules CD28 and ICOS but was independent of the cytokines and transcription factors required for T helper type 1 or type 2 differentiation. Furthermore, both IL-4 and interferon-γ negatively regulated T helper cell production of IL-17 in the effector phase. In vivo, antibody to IL-17 inhibited chemokine expression in the brain during experimental autoimmune encephalomyelitis, whereas overexpression of IL-17 in lung epithelium caused chemokine production and leukocyte infiltration. Thus, IL-17 expression characterizes a unique T helper lineage that regulates tissue inflammation.
Relevant articles
Open Access articles citing this article.
Ivana Lazarevic

,

Sasha Soldati

…

Britta Engelhardt

Fluids and Barriers of the CNS Open Access 01 June 2023

Wen-Lan Yang

,

Weinan Qiu

…

Yun-Gui Yang

Nature Communications Open Access 16 February 2023

Chalerm Liwsrisakun

,

Supansa Pata

…

Watchara Kasinrerk

Immunity & Ageing Open Access 24 May 2022
Access options
Subscribe to this journal
Receive 12 print issues and online access
$189.00 per year
only $15.75 per issue
Rent or buy this article
Get just this article for as long as you need it
$39.95
Prices may be subject to local taxes which are calculated during checkout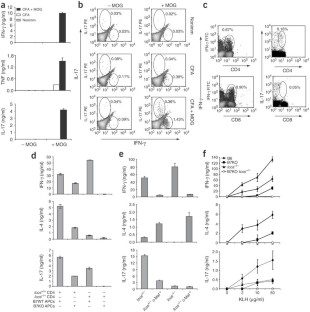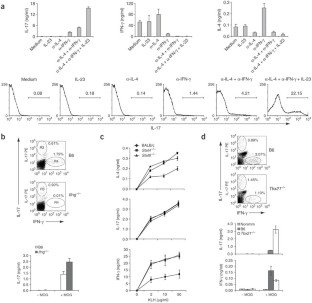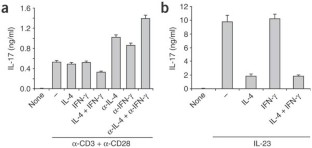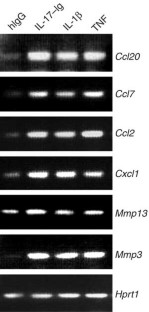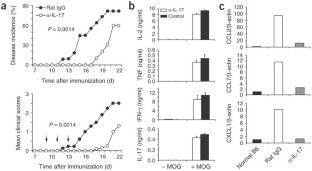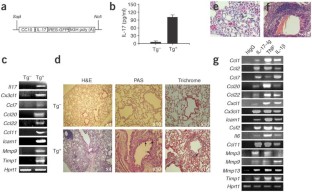 References
Mosmann, T.R. & Coffman, R.L. TH1 and TH2 cells: different patterns of lymphokine secretion lead to different functional properties. Annu. Rev. Immunol. 7, 145–173 (1989).

Lenschow, D.J., Walunas, T.L. & Bluestone, J.A. CD28/B7 system of T cell costimulation. Annu. Rev. Immunol. 14, 233–258 (1996).

Dong, C. & Nurieva, R.I. Regulation of immune and autoimmune responses by ICOS. J. Autoimmun. 21, 255–260 (2003).

Szabo, S.J., Sullivan, B.M., Peng, S.L. & Glimcher, L.H. Molecular mechanisms regulating Th1 immune responses. Annu. Rev. Immunol. 21, 713–758 (2003).

Trinchieri, G., Pflanz, S. & Kastelein, R.A. The IL-12 family of heterodimeric cytokines: new players in the regulation of T cell responses. Immunity 19, 641–644 (2003).

Robinson, D.S., O'Garra, A., Steinman, L. & Gijbels, K. Further checkpoints in Th1 development: CD4+ T-cell subsets in autoimmunity. Immunity 16, 755–758 (2002).

Cua, D.J. et al. Interleukin-23 rather than interleukin-12 is the critical cytokine for autoimmune inflammation of the brain. Nature 421, 744–748 (2003).

Murphy, C.A. et al. Divergent pro- and antiinflammatory roles for IL-23 and IL-12 in joint autoimmune inflammation. J. Exp. Med. 198, 1951–1957 (2003).

Glimcher, L.H. & Murphy, K.M. Lineage commitment in the immune system: the T helper lymphocyte grows up. Genes Dev. 14, 1693–1711 (2000).

Zheng, W. & Flavell, R.A. The transcription factor GATA-3 is necessary and sufficient for Th2 cytokine gene expression in CD4 T cells. Cell 89, 587–596 (1997).

Ho, I.C., Hodge, M.R., Rooney, J.W. & Glimcher, L.H. The proto-oncogene c-maf is responsible for tissue-specific expression of interleukin-4. Cell 85, 973–983 (1996).

Kim, J.I., Ho, I.C., Grusby, M.J. & Glimcher, L.H. The transcription factor c-Maf controls the production of interleukin-4 but not other Th2 cytokines. Immunity 10, 745–751 (1999).

Aggarwal, S. & Gurney, A.L. IL-17: prototype member of an emerging cytokine family. J. Leukoc. Biol. 71, 1–8 (2002).

Moseley, T.A., Haudenschild, D.R., Rose, L. & Reddi, A.H. Interleukin-17 family and IL-17 receptors. Cytokine Growth Factor Rev. 14, 155–174 (2003).

Kolls, J.K. & Linden, A. Interleukin-17 family members and inflammation. Immunity 21, 467–476 (2004).

Schwandner, R., Yamaguchi, K. & Cao, Z. Requirement of tumor necrosis factor receptor-associated factor (TRAF)6 in interleukin 17 signal transduction. J. Exp. Med. 191, 1233–1240 (2000).

Ye, P. et al. Requirement of interleukin 17 receptor signaling for lung CXC chemokine and granulocyte colony-stimulating factor expression, neutrophil recruitment, and host defense. J. Exp. Med. 194, 519–527 (2001).

Nakae, S. et al. Antigen-specific T cell sensitization is impaired in IL-17-deficient mice, causing suppression of allergic cellular and humoral responses. Immunity 17, 375–387 (2002).

Nakae, S., Nambu, A., Sudo, K. & Iwakura, Y. Suppression of immune iInduction of collagen-induced arthritis in IL-17-deficient mice. J. Immunol. 171, 6173–6177 (2003).

Bush, K.A., Farmer, K.M., Walker, J.S. & Kirkham, B.W. Reduction of joint inflammation and bone erosion in rat adjuvant arthritis by treatment with interleukin-17 receptor IgG1 Fc fusion protein. Arthritis Rheum. 46, 802–805 (2002).

Yao, Z. et al. Human IL-17: a novel cytokine derived from T cells. J. Immunol. 155, 5483–5486 (1995).

Aggarwal, S., Ghilardi, N., Xie, M.H., De Sauvage, F.J. & Gurney, A.L. Interleukin-23 promotes a distinct CD4 T cell activation state characterized by the production of interleukin-17. J. Biol. Chem. 278, 1910–1914 (2003).

Langrish, C.L. et al. IL-23 drives a pathogenic T cell population that induces autoimmune inflammation. J. Exp. Med. 201, 233–240 (2005).

Seder, R.A. & Ahmed, R. Similarities and differences in CD4+ and CD8+ effector and memory T cell generation. Nat. Immunol. 4, 835–842 (2003).

Yang, J., Murphy, T.L., Ouyang, W. & Murphy, K.M. Induction of interferon-γ production in Th1 CD4+ T cells: evidence for two distinct pathways for promoter activation. Eur. J. Immunol. 29, 548–555 (1999).

Prasad, D.V., Richards, S., Mai, X.M. & Dong, C. B7S1, a novel B7 family member that negatively regulates T cell activation. Immunity 18, 863–873 (2003).

Ruddy, M.J. et al. Functional cooperation between interleukin-17 and tumor necrosis factor-α is mediated by CCAAT/enhancer-binding protein family members. J. Biol. Chem. 279, 2559–2567 (2004).

Sun, M. et al. Characterization of mouse and human B7–H3 genes. J. Immunol. 168, 6294–6297 (2002).

Ransohoff, R.M. The chemokine system in neuroinflammation: an update. J. Infect. Dis. 186, S152–S156 (2002).

Huang, D., Wang, J., Kivisakk, P., Rollins, B.J. & Ransohoff, R.M. Absence of monocyte chemoattractant protein 1 in mice leads to decreased local macrophage recruitment and antigen-specific T helper cell type 1 Immune response in experimental autoimmune encephalomyelitis. J. Exp. Med. 193, 713–726 (2001).

Vignola, A.M. et al. Sputum metalloproteinase-9/tissue inhibitor of metalloproteinase-1 ratio correlates with airflow obstruction in asthma and chronic bronchitis. Am. J. Respir. Crit. Care Med. 158, 1945–1950 (1998).

Beeh, K.M., Beier, J., Kornmann, O. & Buhl, R. Sputum matrix metalloproteinase-9, tissue inhibitor of metalloprotinease-1, and their molar ratio in patients with chronic obstructive pulmonary disease, idiopathic pulmonary fibrosis and healthy subjects. Respir. Med. 97, 634–639 (2003).

Infante-Duarte, C., Horton, H.F., Byrne, M.C. & Kamradt, T. Microbial lipopeptides induce the production of IL-17 in Th cells. J. Immunol. 165, 6107–6115 (2000).

Linden, A. Role of interleukin-17 and the neutrophil in asthma. Int. Arch. Allergy Immunol. 126, 179–184 (2001).

Stark, M.A. et al. Phagocytosis of apoptotic neutrophils regulates granulopoiesis via IL-23 and IL-17. Immunity 22, 285–294 (2005).

Zhu, Z. et al. Pulmonary expression of interleukin-13 causes inflammation, mucus hypersecretion, subepithelial fibrosis, physiologic abnormalities, and eotaxin production. J. Clin. Invest. 103, 779–788 (1999).

Ideker, T., Thorsson, V., Siegel, A.F. & Hood, L.E. Testing for differentially-expressed genes by maximum-likelihood analysis of microarray data. J. Comput. Biol. 7, 805–817 (2000).

Dong, C. et al. ICOS co-stimulatory receptor is essential for T-cell activation and function. Nature 409, 97–102 (2001).
Acknowledgements
We thank L. Glimcher and I.-C. Ho for Maf-transgenic mice; L. Glimcher and C. Wilson for T-bet-deficient mice; J. Elias for the Cc10 promoter construct; A. Farr for guidance in animal work; and the Dong lab for help and discussions. Supported by the National Institutes of Health (C.D.), Arthritis Foundation (S.H.C., R.N. and C.D.), Cancer Research Institute (C.D.) and MD Anderson Cancer Center (C.D.).
Ethics declarations
Competing interests
The authors declare no competing financial interests.
Supplementary information
Anti-IL-17 antibody specifically blocks IL-17 biological activity. (PDF 11373 kb)
Blockage of IL-17 after disease onset reduces inflammation during EAE. (PDF 7419 kb)
Summary of TH differentiation. (PDF 3099 kb)
About this article
Cite this article
Park, H., Li, Z., Yang, X. et al. A distinct lineage of CD4 T cells regulates tissue inflammation by producing interleukin 17. Nat Immunol 6, 1133–1141 (2005). https://doi.org/10.1038/ni1261
Received:

Accepted:

Published:

Issue Date:

DOI: https://doi.org/10.1038/ni1261