Abstract
Sepsis induces lymphocyte apoptosis and prevention of lymphocyte death may improve the chances of surviving this disorder. We compared the efficacy of a selective caspase-3 inhibitor to a polycaspase inhibitor and to caspase-3−/− mice. Both inhibitors prevented lymphocyte apoptosis and improved survival. Caspase-3−/− mice shared a decreased, but not total, block of apoptosis. The polycaspase inhibitor caused a very substantial decrease in bacteremia. Caspase inhibitors did not benefit RAG-1−/− mice, which had a >tenfold increase in bacteremia compared to controls. Adoptive transfer of T cells that overexpressed the anti-apoptotic protein Bcl-2 increased survival. T cells stimulated with anti-CD3 and anti-CD28 produced increased interleukin 2 and interferon γ by 6 h. Thus, caspase inhibitors enhance immunity by preventing lymphocyte apoptosis and lymphocytes act rapidly, within 24 h, to control infection.
Access options
Subscribe to Journal
Get full journal access for 1 year
$59.00
only $4.92 per issue
All prices are NET prices.
VAT will be added later in the checkout.
Tax calculation will be finalised during checkout.
Rent or Buy article
Get time limited or full article access on ReadCube.
from$8.99
All prices are NET prices.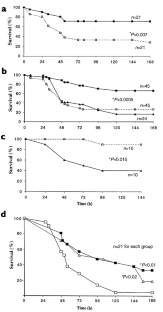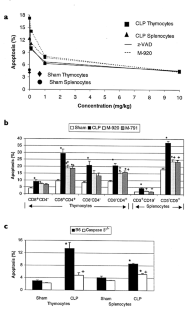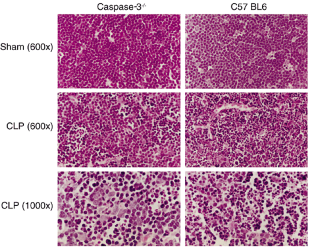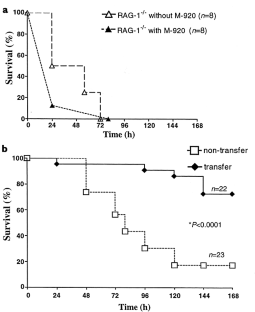 References
1

Wang, S. D., Huang, K. J., Lin, Y. S. & Lei, H. Y. Sepsis-induced apoptosis of the thymocytes in mice. J. Immunol. 152 , 5014–5021 (1994).

2

Ayala, A., Herndon, C., Lehman, D. & Chaudry, I. H. Differential induction of apoptosis in lymphoid tissue during sepsis: variation in onset, frequency and nature of the mediators. Blood 87, 4261–4275 (1996).

3

Hotchkiss, R. S. et al. Apoptosis in lymphoid and parenchymal cells during sepsis: Findings in normal and T- and B-cell deficient mice. Crit. Care Med. 25, 1298–1307 ( 1997).

4

Hotchkiss, R. S. et al. Apoptotic cell death in patients with sepsis, shock, and multiple organ dysfunction. Crit. Care Med. 27, 1230 –1251 (1999).

5

Thornberry, N. A. & Lazebnik, Y. Caspases: enemies within. Science 281, 1312– 1316 (1998).

6

Nicholson, D. W. Caspase structure, proteolytic substrates, and function during apoptotic cell death. Cell Death Differ. 6, 1028– 1042 (1999).

7

Endres, M. et al. Attenuation of delayed neuronal death after mild focal ischemia in mice by inhibition of the caspase family. J. Cere. Blood Flow Metabol. 18, 238–247 ( 1988).

8

Fukuzuka, K. et al. Caspase-3-dependent organ apoptosis early after burn injury . Ann. Surg. 229, 851–858 (1999).

9

Grobmeyer, S. R. et al. Peptidomimetic fluoromethylketone rescues mice from lethal endotoxic shock. Mol. Med. 5, 585– 594 (1999).

10

Hotchkiss, R. S. et al. Prevention of lymphocyte cell death in sepsis improves survival in mice. Proc. Natl Acad, Sci. USA 96, 14541 –14546 (1999).

11

Varfolomeev, E. E. et al. Targeted disruption of the mouse caspase 8 gene ablates cell death induction by the TNF receptors, Fas/Apo1 and DR3 and is lethal prenatally . Immunity 9, 267–276 (1998).

12

Kuida, K. et al. Reduced apoptosis and cytochrome c-mediated caspase activation in mice lacking caspase 9. Cell 94, 325– 337 (1998).

13

Hakem, R. et al. Differential requirement for caspase 9 in apoptotic pathways in vivo. Cell 94, 339– 352 (1998).

14

Zheng, T. S., Hunot, S., Kuida, K. & Flavell, R. A. Caspase knockouts: matters of life and death. Cell Death Differ. 6, 1043–1053 (1999).

15

Kuida, K. et al. Decrease apoptosis in the brain and premature lethality in CPP32-deficient mice. Nature 384, 368–372 (1996).

16

Woo, M. et al. Essential contribution of caspase 3/CPP32 to apoptosis and its associated nuclear changes. Genes Dev. 12, 806–819 (1998).

17

Garcia-Calvo, M. et al. Inhibition of human caspases by peptide-based and macromolecular inhibitors. J. Biol. Chem. 273, 32608– 32613 (1998).

18

Baker, C. C., Chaudry, I. H., Gains, H. O. & Baue, A. E. Evaluation of factors affecting mortality rate after sepsis in a murine cecal ligation and puncture mode. Surgery 94, 331–335 (1983).

19

Remick, D. G., Newcomb, D. E., Bolgos, G. L. & Call, D. R. Comparison of the mortality and inflammatory response of two models of sepsis: lipopolysaccharide versus cecal ligation and puncture. Shock 13, 110–116 ( 2000).

20

Hotchkiss, R. S. et al. Overexpression of Bcl-2 in transgenic mice decreases apoptosis and improves survival in sepsis. J. Immunol. 162, 4148–4156 (1999).

21

Hotchkiss, R. S. et al. Evaluation of the role of cellular hypoxia in sepsis by the hypoxic marker [18F]fluoromisonidazole. Am. J. Physiol. 30, 965–972 (1991).

22

Janicke, R. U., Sprengart, M. L., Wati, M. R. & Porter, A. G. Caspase-3 is required for DNA fragmentation and morphological changes associated with apoptosis. J. Biol. Chem. 273, 9357 –9360 (1998).

23

Medzhitov, R., Janeway, C. Innate immunity. N. Engl. J. Med. 343, 338–344 ( 2000).

24

Abbas, A. K., Lichtman, A. H. & Pober, J. S. in Cellular and Molecular Immunology 4th edn, 4 (W. B. Saunders Co., Philadelphia, 2000).

25

Janeway, C. A., Travers, P., Walport, M. & Capra, J. D. in Immunobiology: The immune system in health and disease 4th edn, 219 (Current Biology Publications, London, 1999).

26

Braun, J. S. et al. Neuroprotection by a caspase inhibitor in acute bacterial meningitis. Nature Med. 5, 298– 302. (1999).

27

Oberholzer, A., Oberholzer, C. & Moldawer, L. L. Cytokine signaling- regulation of the immune system in normal and critically ill states. Crit. Care Med. 28, S3 (2000).

28

Yagupsky, P. & Notte, F. S. Quantitative aspects of septicemia . Clin. Microbiol. Rev. 3, 269– 279 (1990)

29

Bell, L. M., Alpert, G., Campos, J. M. & Plotkin, S. A. Routine quantitative blood cultures in children with Haemophilus influenzae or Streptococcus pneumoniae bacteremia. Pediatrics 76, 901–904 ( 1985).

30

Goronzy, J., Weyand, C., Quan, J., Fathman, C. G. & O'Hanley, P. Enhanced cell-mediated protection against fatal Escherichia coli septicemia induced by treatment with recombinant IL-2 . J. Immunol. 142, 1134– 1138 (1989).

31

Docke, W. E. et al. Monocyte deactivation in septic patients: restoration by IFN-γ treatment. Nature Med. 3, 678– 681 (1997).

32

Garcia-Calvo et al. Inhibition of human caspases by peptide-based and macromolecular inhibitors . J. Biol. Chem. 273, 32608– 32613 (1998).

33

Garcia-Calvo, M. et al. Purification and catalytic properties of human caspase family members. Cell Death Differ 6, 362– 369 (1999).
Acknowledgements
We thank M. Laregina, Assistant Director, Diagnostic Services, Division of Comparative Medicine and the Barnes Jewish Hospital Microbiology Laboratory, Washington University School of Medicine for their help with the bacteriological studies. Supported by Merck Frosst (NIH GM44118 and GM 55194) and the Alan A. and Edith L. Wolff Foundation.
Supplementary information
Caspase inhibition by M-920 does not decrease TNF-a or IL1b. Mice underwent CLP and were treated with M-920 (20 mg/kg body weight) or diluent 90 min after surgery. A second dose of M-920 or diluent was administered at 12 h after surgery and mice were killed a 20 h after CLP. Plasma samples were obtained at various time points and the two groups of mice and TNF-a or IL1b determined by ELISA. There was a progressive increase in TNF-a or IL1b that was not affected by M-920 treatment.
About this article
Cite this article
Hotchkiss, R., Chang, K., Swanson, P. et al. Caspase inhibitors improve survival in sepsis: a critical role of the lymphocyte. Nat Immunol 1, 496–501 (2000). https://doi.org/10.1038/82741
Received:

Accepted:

Issue Date: