Abstract
IgM is the first antibody to be produced in a humoral immune response and plays an important role in the primary stages of immunity. Here we describe a mouse Fc receptor, designated Fcα/μR, and its human homolog, that bind both IgM and IgA with intermediate or high affinity. Fcα/μR is constitutively expressed on the majority of B lymphocytes and macrophages. Cross-linking Fcα/μR expressed on a pro-B cell line Ba/F3 transfectant with soluble IgM or IgM-coated microparticles induced internalization of the receptor. Fcα/μR also mediated primary B lymphocyte endocytosis of IgM-coated Staphylococcus aureus. Thus, Fcα/μR is involved in the primary stages of the immune response to microbes.
Relevant articles
Open Access articles citing this article.
Joshua A. Taylor

,

Mark A. Hutchinson

…

Robert W. Maul

Immunity & Ageing Open Access 02 December 2022

Marta Riba

,

Joan Campo-Sabariz

…

Carme Pelegrí

Cell & Bioscience Open Access 28 October 2022

Ivo S. Hansen

,

Dominique L. P. Baeten

&

Jeroen den Dunnen

Cellular and Molecular Life Sciences Open Access 29 November 2018
Access options
Subscribe to this journal
Receive 12 print issues and online access
$189.00 per year
only $15.75 per issue
Rent or buy this article
Get just this article for as long as you need it
$39.95
Prices may be subject to local taxes which are calculated during checkout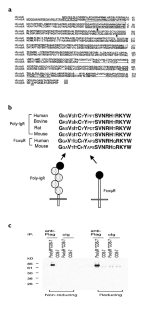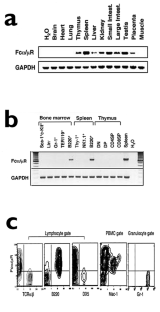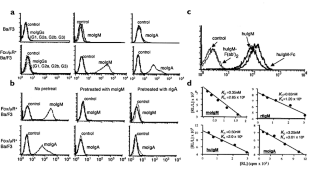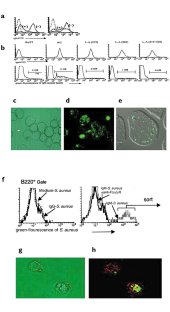 References
Ravetch, J. V. & Clynes, R. A. Divergent roles for Fc receptors and complement in vivo. Annu. Rev. Immunol. 16, 421–432 (1998).

Ravetch, J. V. Fc receptors. Curr. Opin. Immunol. 9, 121 –5 (1997).

Daeron, M. Fc receptor biology. Annu. Rev. Immunol. 15, 203–234 (1997).

Dombrowicz, D. et al. Abolition of anaphylaxis by targeted disruption of the high affinity immunoglobulin E receptor α chain gene. Cell 75, 969–976 (1993).

Takai, T. et al. FcR γ chain deletion results in pleiotrophic effector cell defects. Cell 76, 519–529 (1994).

Sylvestre, D. L. & Ravetch, J. V. Fc receptors initiate the Arthus reaction: Redefining the inflamatory cascade. Science 265, 1095–1098 ( 1994)

Takai, T. et al. Augmented humoral and anaphylactic responses in Fcγ RII-deficient mice. Nature 379, 346–349 (1996).

Yu, P. et al. Negative feedback regulation of IgE synthesis by murine CD23. Nature 369, 753–756 ( 1994).

Stief, A. et al. Mice deficient in CD23 reveal its modulatory role in IgE production but no role in T and B cell development. J. Immunol. 152, 3378–3390 (1994).

Fujiwara, H. et al. The absence of IgE antibody-mediated augmentation of immune responses in CD23-deficient mice. Proc. Natl Acad. Sci. USA 91, 6835–6839 (1994).

Ochsenbein, A. F. et al. Control of early viral and bacterial distribution and disease by natural antibodies. Science 286, 2156 –2159 (1999).

Whelan, C. A. A functional role for Fcμ receptors on human lymphocytes. Immunol. Lett. 3, 249–254 ( 1981).

Ercolani, L. et al. Expression of Fc mu receptors by human T lymphocytes: effects of enzymes, metabolic inhibitors, and X-irradiation. J. Immunol. 127, 2044–2051 ( 1981).

Mathur, A., Lynch, R. G. & Kohler. G. Expression, distribution and specificity of Fc receptors for IgM on murine B cells. J. Immunol. 141, 1855–1862 (1988).

Ohno, T., Kubagawa, H., Sanders, S. K. & Cooper, M. D. Biochemical nature of a Fcμ receptor on human B-lineage cells. J. Exp. Med. 172, 1165–1175 (1990).

Nakamura, T., Kubagawa, H., Ohno, T. & Cooper, M. D. Characterization of an IgM Fc-binding receptor on human T cells. J. Immunol. 151, 6933–6941 (1993).

Pricop, L. et al. Characterization of the Fcμ receptor on human natural killer cells. Interaction with its physiologic ligand, human normal IgM, specificity of binding, and functional effects. J. Immunol. 151 , 3018–3029 (1993).

Mostov, K. E. Transepithelial transport of immunoglobulins. Annu. Rev. Immunol. 12, 63–84 ( 1994).

Maliszewski, C. R. et al. Expression cloning of a human Fc receptor for IgA. J. Exp. Med. 172, 1665–1672 (1990).

Callen, D. F. et al. Reassessment of two apparent deletions of chromosome 16p to an ins (11;16) and at (1;16) by chromosome painting. Ann. Genet. 33, 219221 (1990).

GenomeNet WWW Server, http://www.genome.ad.jp/kegg2.html

Bakos, M. A., Kurosky, A. & Goldblum, R. M. Characterization of a critical binding site for human polymeric Immunoglobulin on secretory component. J. Immunol. 147, 3419–3426 (1991).

Bakos, M. A., Kurosky, A., Czerwinski, E. W. & Goldblum, R. M. A conserved binding site on the receptor for polymeric Ig is homologous to CDR1 of Ig Vκ domains. J. Immunol. 151, 1346–1352 (1993).

Roe, M., Norderhaug, I. N., Brandtzaeg, P. & Johansen, F. E. Fine specificity of ligand-binding domain 1 in the polymeric Ig receptor: importance of the CDR2-containing region for IgM interaction. J. Immunol. 162, 6046–6052 (1999).

Aiken, C. et al. Nef induces CD4 endocytosis: requirement for a critical dileucine motif in the membrane-proximal CD4 cytoplasmic domain. Cell 76, 853–864 (1994).

Hamer, I. et al. Dual role of a dileucine motif in insulin receptor endocytosis . J. Biol. Chem. 272, 21685– 21691 (1997).

Gabilondo, A. M. et al. A dileucine motif in the C terminus of the β2-adrenergic receptor is involved in receptor internalization. Proc. Natl Acad. Sci. USA 94, 12285–12290 (1997).

Craig, H. M., Pandori, M. W. & Guatelli, J. C. Interaction of HIV-1 Nef with the cellular dileucine-based sorting pathway is required for CD4 down-regulation and optimal viral infectivity . Proc. Natl Acad. Sci. USA 95, 11229– 11234 (1998).

Hunziker, W. & Fumey, C. A di-leucine motif mediates endocytosis and basolateral sorting of macrophage IgG Fc receptors in MDCK cells. EMBO J. 13, 2963–2967 ( 1994).

Gosselin, E. J. et al. Enhancement antigen presentation using human Fcγ receptor (monocyte/macrophage)-specific immunogens. J. Immunol. 149, 3477–3481 (1992).

Amigorena, S. et al. Tyrosine-containing motif that transduces cell activation signals also determines internalization and antigen presentation via type III receptors for IgG. Nature 358, 337– 341 (1992).

Mao, S. -Y., Varin-Blank, N., Edidin, M. & Metzger, H. Immobilization and internalization of mutated IgE receptors in transfected cells. J. Immunol. 146, 958– 966 (1991).

Silvain, C. et al. Altered expression of monocyte IgA Fc receptors is associated with defective endocytosis in patients with alcoholic cirrhosis: potential role for IFN-γ. J. Immunol. 155, 1606 –1612 (1995).

Davis, W. et al. Two distinct regions of FcγRI initiate separate signaling pathways involved in endocytosis and phagocytosis. EMBO J. 14, 432–441 (1995).

Ehrenstein, M. R., O'Keefe, T. L., Davies, S. L. & Neuberger, M. S. Targeted gene disruption reveals a role for natural secretory IgM in the maturation of the primary immune response. Proc. Natl Acad. Sci. USA. 95, 10089–10093 (1998).

Shibuya, A. et al. DNAM-1, a novel adhesion molecule involved in the cytolytic function of T lymphocytes. Immunity 4, 573 –581 (1996).

Shibuya, K. et al. Physical and functional association of LFA-1 with DNAM-1 adhesion molecule. Immunity 11, 615– 623 (1999).
Acknowledgements
We thank A. Iwama, Y. Nakamura, H. Ema, M. Onodera, H. Miyoshi for discussions; Y. Morita and R. Shimamura for assistance with flow cytometry; and M. Ito for secretarial assistance. Supported in part by grants from the Sandler Family Supporting Foundation (to L. L. L.), the Ministry of Education, Science and Culture of Japan (to A. S.), and the Wellcome Trust and the National Health and Medical Research Council of Australia (to G. R. S.). DNAX Research Institute is supported by Schering-Plough Corporation (NJ).
About this article
Cite this article
Shibuya, A., Sakamoto, N., Shimizu, Y. et al. Fcα/μ receptor mediates endocytosis of IgM-coated microbes. Nat Immunol 1, 441–446 (2000). https://doi.org/10.1038/80886
Received:

Accepted:

Issue Date:

DOI: https://doi.org/10.1038/80886