Abstract
We report here the molecular cloning of a newly identified preprotachykinin gene, Pptc, which specifies the sequence for a new preprotachykinin protein and bioactive peptide designated hemokinin 1 (HK-1). PPT-C mRNA was detected primarily in hematopoietic cells in contrast to the previously described Ppta and Pptb genes, which are predominantly expressed in neuronal tissues. HK-1 has several biological activities that are similar to the most studied tachykinin, substance P, such as induction of plasma extravasation and mast cell degranulation. However, HK-1 also has properties that are indicative of a critical role in mouse B cell development. HK-1 stimulated the proliferation of interleukin 7–expanded B cell precursors, whereas substance P had no effect. HK-1, but not substance P, promoted the survival of freshly isolated bone marrow B lineage cells or cultured, lipopolysaccharide-stimulated pre-B cells. N-acetyl-l-trytophan-3,5-bistrifluromethyl benzyl ester, a tachykinin receptor antagonist, increased apoptosis of these cells and in vivo administration of this antagonist led to specific reductions of the B220lowCD43− population (the pre-B cell compartment) in the bone marrow and the IgMhighIgDlow population (the newly generated B cells) in the spleen. Thus, HK-1 may be an autocrine factor that is important for the survival of B cell precursors at a critical phase of development.
Relevant articles
Open Access articles citing this article.
Athanasios Kousathanas

,

Erola Pairo-Castineira

…

J. Kenneth Baillie

Nature Open Access 07 March 2022

Tove J. Grönroos

,

Sarita Forsback

…

Olof Solin

Scientific Reports Open Access 31 December 2019

Kalina R. Atanasova

&

Leah R. Reznikov

Respiratory Research Open Access 06 August 2018
Access options
Subscribe to Journal
Get full journal access for 1 year
$79.00
only $6.58 per issue
All prices are NET prices.
VAT will be added later in the checkout.
Tax calculation will be finalised during checkout.
Buy article
Get time limited or full article access on ReadCube.
$32.00
All prices are NET prices.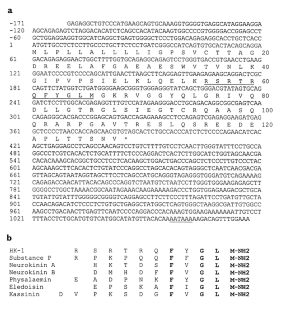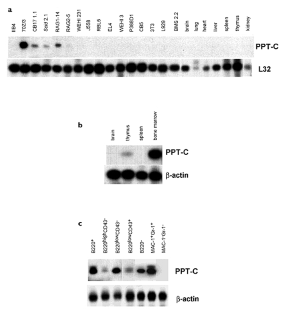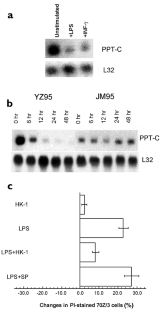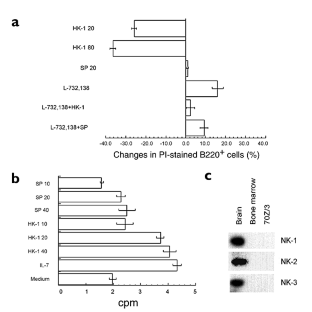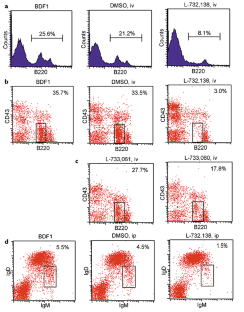 References
Bertaccini, G. Active polypeptides of non-mammalian origin. Pharmacol. Rev. 28, 127–177 (1976).

Erspamer, V. The tachykinin peptide family. Trends Neurosci. 4, 267–269 (1981).

von Euler, U. S. & Gaddum, J. H. An unidentified depressor in certain tissue extracts. J. Physiol. 72 , 74–87 (1931).

Chang, M. M., Leeman, S. E. & Niall H. D. Amino acid sequence of substance P. Nature 232, 86–87 ( 1971).

Kimura, S., Okada, M., Sugita, Y., Kanazawa, I. & Muneketa, E. Novel neuropeptides, neurokinin α and β, isolated from porcine spinal cord. Proc. Jpn. Acad. B 59, 101–104 (1983).

Kangawa, K., Minamino, N., Fukuda, A. & Matsuo, H. Neuromedin K: a novel mammalian tachykinin identified in porcine spinal cord. Biochem. Biophys. Res. Commun. 114, 533– 540 (1983).

Nawa, H., Doteuchi, M., Igano, K., Inouye, K. & Nakanishi, S. Substance K, a novel mammalian tachykinin that differs from substance P in its pharmacological profiles. Life Sci. 34, 1153–1160 (1984).

Douglass, J., Civelli, O. & Herbert, E. Polyprotein gene expression: generation of diversity of neuroendocrine peptides. Annu. Rev. Biochem. 53, 665–715 (1984).

Harris, R. B. Processing of prehormone precursor proteins. Arch. Biochem. Biophys. 275, 315–333 ( 1989).

Nawa, H., Hirose, T., Takashima, H., Inayama, S. & Nakanishi, S. Nucleotide sequences of cloned cDNAs for two types of bovine brain substance P precursor. Nature 306, 32–36 ( 1983).

Kotani, H., Hoshimaru, M., Nawa, H. & Nakanishi, S. Structure and gene organization of bovine neuromedin K precursor. Proc. Natl Acad. Sci. USA 83, 7074–7078 (1986).

Regoli, D., Boudon, A. & Fauchere, L. -L. Receptors and antagonists for substance P and related peptides. Pharmacol. Rev. 46, 551– 599 (1994).

Cao, Y. Q. et al. I. Primary afferent tachykinins are required to experience moderate to intense pain. Nature 392, 390 –394 (1998).

Zimmer, A. et al. Hypoalgesia in mice with a targeted deletion of the tachykinin 1 gene. Proc. Natl Acad. Aci. USA 95, 2630 –2635 (1998).

De Felipe, C. et al. Altered nociception, analgesia and aggression in mice lacking the receptor for substance P. Nature 392, 394–397 (1998).

Bozic, C. R., Lu, B., Hopken, U. E., Gerard, C. & Gerard, N. P. Neurogenic amplification of immune complex inflammation . Science 273, 1722–1725 (1996).

Castagliuolo, I. et al. Neurokinin-1 (NK-1) receptor is required in Clostridium difficile-induced enteritis. J. Clin. Invest. 101 , 1547–1550 (1998).

Bhatia, M. et al. Role of substance P and the neurokinin 1 receptor in acute pancreatitis and pancreatitis-associated lung injury. Proc. Natl Acad. Sci. USA 95, 4760–4765 (1998).

Rameshwar, P., Ganea, D. & Gascon, P. In vitro stimulatory effect of substance P on hematopoiesis . Blood 81, 391–398 (1993).

Rameshwar, P. & Gascon, P. Induction of negative hematopoietic regulators by neurokinin-A in bone marrow stroma. Blood 88, 98–106 (1996).

Rameshwar, P. & Gascon, P. Substance P (SP) mediates production of stem cell factor and interleukin-1 in bone marrow stroma: potential autoregulatory role for these cytokines in SP receptor expression and induction. Blood 86, 482–290 ( 1995).

Manske, J. M., Sullivan, E. L. & Anderson, S. M. Substance P mediated stimulation of cytokine levels in cultured mruine bone marrow stromal cells. Adv. Exp. Med. Biol. 383, 53–64 ( 1995).

Paige, C. J., Kincade, P. W. & Ralph, P. Murine B cell leukemia line with inducible surface immunoglobulin expression. J. Immunol. 121, 641– 647 (1981).

MacLeod, A. M. et al. N-acyl-l-tryptophan benzyl esters: potent substance P receptor antagonists. J. Med. Chem. 36, 2044–2045 (1993).

Cascieri, M. A. et al. Characterization of the interaction of N-acyl- l-tryptophan benzyl ester neurokinin antagonists with the human neurokinin-1 receptor. J. Biol. Chem. 269, 6587– 6591 (1994).

Seabrook, G. U. et al. L-733,060, a novel tachykinin NK1 receptor antagonist; effects in [Ca2+]i mobilisation, cardiovascular and dural extravasation assays. Eur. J. Pharmacol. 317, 129–135 (1996).

ten Botekel, E., Yamagami, T., Andersson J., Rolink, A. G. & Melchers, F. The formation and selection of cells expressing preB cell receptors and B cell receptors. Curr. Top. Microbiol. Immunol. 246, 3–9 (1999).

Pillai, S. The chosen few? Positive selection and the generation of naive B lymphocytes . Immunity 10, 493–502 (1999).

Nussenzweig, M. C. Immune receptor editing: revise and select. Cell 95 , 875–878 (1998).

Rajewsky, K. Clonal selection and learning in antibody system. Nature 381, 751–758 (1996).

Fischer, A. & Malissen, B. Natural and engineered disorders of lymphocyte development. Science 280, 237–243 (1998).

Conley, M. E. & Cooper, M. D. Genetic basis of abnormal B cell development. Curr. Opin. Immunol. 10, 399 –406 (1998).

von Freeden-Feffry, U. et al. Lymphopenia in interleukin (IL)-7 gene-deleted mice identifies IL-7 as a nonredundant cytokine. J. Exp. Med. 181, 1519–1526 (1995).

Peschon, J. J. et al. Early lymphocyte expansion is severely impaired in interleukin 7 receptor-deficient mice. J. Exp. Med. 180, 1955–1960 (1994).

Cao, X. et al. Defective lymphoid development in mice lacking expression of the common cytokine receptor γ chain. Immunity 2, 223–238 (1995).

DiSanto, J. P., Muller, W., Guy-Grand, D., Fischer, A. & Rajewsky, K. Lymphoid development in mice with a targeted deletion of the interleukin-2 receptor γ chain. Proc. Natl Acad. Sci. USA 92, 377– 381 (1995).

Thomis, D. C., Gurniak, C. B., Tivol, E., Sharpe, A. H. & Berg, L. J. Defects in B lymphocyte maturation and T lymphocyte activation in mice lacking Jak3. Science 270, 794–797 (1995).

Nosaka, T. et al. Defective lymphoid development in mice lacking Jak3. Science 270, 800–802 ( 1995).

Grabstein, K. H. et al. Inhibition of murine B and T lymphopoiesis in vivo by an anti-interleukin 7 monoclonal antibody. J. Exp. Med. 178, 257–264 (1993).

Masu, Y. et al. cDNA cloning of substance K receptor through oocyte expression system. Nature 329, 836– 838 (1987).

Yokota, Y. et al. Molecular characterization of a functional cDNA for rat substance P receptor. J. Biol. Chem. 264, 17649– 17652 (1989).

Shigemoto, R., Yokota, Y., Tsuchida, K. & Nakanishi, S. Cloning and expression of a rat neuromedin K receptor cDNA. J. Biol. Chem. 265, 623–628 ( 1990).

Lemback, F. & Holzer, P. Substance P as neurogenic mediator of antidromic vasodilatation and neurogenic plasma extravasation. Naunyn Schmiedebergs Arch. Pharmacol. 310, 175– 183 (1979).

Devillier, P., Renoux, M., Giroud, J. P. & Regoli, D. Peptides and histamine release from rat peripheral mast cells. Eur. J. Pharmacol. 117, 89–96 (1985).

Stoddart, A., Zhang, Y. & Paige, C. J. Molecular cloning of the cDNA encoding a murine sialic acid-specific 9-O-acetylesterase and RNA expression in cells of hematopoietic and nonhematopoietic origin. Nucleic Acids Res. 20, 4003–4008 (1996).

Lu, L. & Osmond, D. G. Apoptosis during B lymphopoiesis in mouse bone marrow. J. Immunol. 158, 5136 –5145 (1997).
Acknowledgements
Supported by the National Cancer Institute of Canada with funds from the Terry Fox Foundation, and the Canadian Institutes for Health Research.
About this article
Cite this article
Zhang, Y., Lu, L., Furlonger, C. et al. Hemokinin is a hematopoietic-specific tachykinin that regulates B lymphopoiesis . Nat Immunol 1, 392–397 (2000). https://doi.org/10.1038/80826
Received:

Accepted:

Issue Date:

DOI: https://doi.org/10.1038/80826