Abstract
T cell–derived cytokines are important in the development of an effective immune response, but when dysregulated they can promote disease. Here we identify a four-helix bundle cytokine we have called interleukin 31 (IL-31), which is preferentially produced by T helper type 2 cells. IL-31 signals through a receptor composed of IL-31 receptor A and oncostatin M receptor. Expression of IL-31 receptor A and oncostatin M receptor mRNA was induced in activated monocytes, whereas epithelial cells expressed both mRNAs constitutively. Transgenic mice overexpressing IL-31 developed severe pruritis, alopecia and skin lesions. Furthermore, IL-31 receptor expression was increased in diseased tissues derived from an animal model of airway hypersensitivity. These data indicate that IL-31 may be involved in promoting the dermatitis and epithelial responses that characterize allergic and non-allergic diseases.
Relevant articles
Open Access articles citing this article.
Young Kyu Kim

,

JuKyung Lee

…

Han Na Suh

Laboratory Animal Research Open Access 20 October 2022

C. Le Gall-Ianotto

,

R. Verdet

…

J. C. Ianotto

Trials Open Access 19 December 2021

Ai Kuzumi

,

Ayumi Yoshizaki

…

Shinichi Sato

Nature Communications Open Access 12 October 2021
Access options
Subscribe to this journal
Receive 12 print issues and online access
$189.00 per year
only $15.75 per issue
Rent or buy this article
Get just this article for as long as you need it
$39.95
Prices may be subject to local taxes which are calculated during checkout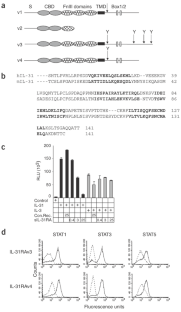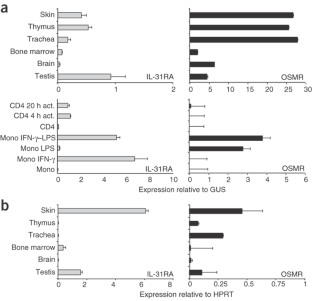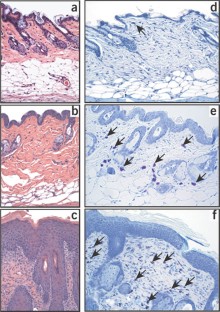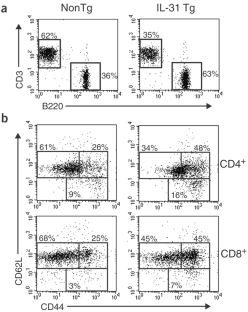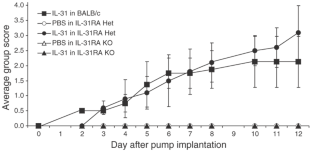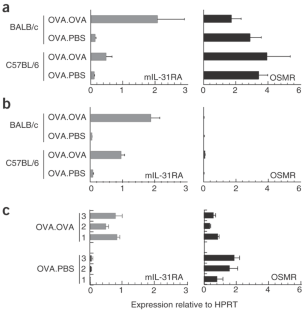 References
Robert, C. & Kupper, T.S. Inflammatory skin diseases, T cells, and immune surveillance. N. Engl. J. Med. 341, 1817–1828 (1999).

Hwang, S.T. Mechanisms of T-cell homing to skin. Adv. Dermatol. 17, 211–241 (2001).

Akdis, C.A. et al. T cells and T cell-derived cytokines as pathogenic factors in the nonallergic form of atopic dermatitis. J. Invest. Dermatol. 113, 628–634 (1999).

Leung, D.Y. & Bieber, T. Atopic dermatitis. Lancet 361, 151–160 (2003).

Boulay, J.L., O'Shea, J.J. & Paul, W.E. Molecular phylogeny within type I cytokines and their cognate receptors. Immunity 19, 159–163 (2003).

Ghilardi, N. et al. A novel type I cytokine receptor is expressed on monocytes, signals proliferation, and activates STAT-3 and STAT-5. J. Biol. Chem. 277, 16831–16836 (2002).

Diveu, C. et al. GPL, a novel cytokine receptor related to GP130 and leukemia inhibitory factor receptor. J. Biol. Chem. 278, 49850–49859 (2003).

Lok, S. et al. Cloning and expression of murine thrombopoietin cDNA and stimulation of platelet production in vivo. Nature 369, 565–568 (1994).

Palacios, R. & Steinmetz, M. Il-3-dependent mouse clones that express B-220 surface antigen, contain Ig genes in germ-line configuration, and generate B lymphocytes in vivo. Cell 41, 727–734 (1985).

Sprang, S.R. & Bazan, J.F. Cytokine structural taxonomy and mechanisms of receptor engagement. Curr. Opin. Struct. Biol. 3, 815–827 (1993).

Uzel, G., Frucht, D.M., Fleisher, T.A. & Holland, S.M. Detection of intracellular phosphorylated STAT-4 by flow cytometry. Clin. Immunol. 100, 270–276 (2001).

Chan, L.S., Robinson, N. & Xu, L. Expression of interleukin-4 in the epidermis of transgenic mice results in a pruritic inflammatory skin disease: an experimental animal model to study atopic dermatitis. J. Invest. Dermatol. 117, 977–983 (2001).

Konishi, H. et al. IL-18 contributes to the spontaneous development of atopic dermatitis-like inflammatory skin lesion independently of IgE/stat6 under specific pathogen-free conditions. Proc. Natl. Acad. Sci. USA 99, 11340–11345 (2002).

Vestergaard, C. et al. A Th2 chemokine, TARC, produced by keratinocytes may recruit CLA+CCR4+ lymphocytes into lesional atopic dermatitis skin. J. Invest. Dermatol. 115, 640–646 (2000).

Tomkinson, A. et al. A murine IL-4 receptor antagonist that inhibits IL-4- and IL-13-induced responses prevents antigen-induced airway eosinophilia and airway hyperresponsiveness. J. Immunol. 166, 5792–5800 (2001).

Schnare, M. et al. Toll-like receptors control activation of adaptive immune responses. Nat. Immunol. 2, 947–950 (2001).

Eisenbarth, S.C. et al. Lipopolysaccharide-enhanced, toll-like receptor 4-dependent T helper cell type 2 responses to inhaled antigen. J. Exp. Med. 196, 1645–1651 (2002).

Dabbagh, K., Dahl, M.E., Stepick-Biek, P. & Lewis, D.B. Toll-like receptor 4 is required for optimal development of Th2 immune responses: role of dendritic cells. J. Immunol. 168, 4524–4530 (2002).

Trautmann, A., Akdis, M., Brocker, E.B., Blaser, K. & Akdis, C.A. New insights into the role of T cells in atopic dermatitis and allergic contact dermatitis. Trends Immunol. 22, 530–532 (2001).

Woodward, A.L. et al. An obligate role for T-cell receptor αβ+ T cells but not T-cell receptor γδ+ T cells, B cells, or CD40/CD40L interactions in a mouse model of atopic dermatitis. J. Allergy Clin. Immunol. 107, 359–366 (2001).

Matsuda, H. et al. Development of atopic dermatitis-like skin lesion with IgE hyperproduction in NC/Nga mice. Int. Immunol. 9, 461–466 (1997).

Nickoloff, B.J. & Naidu, Y. Perturbation of epidermal barrier function correlates with initiation of cytokine cascade in human skin. J. Am. Acad. Dermatol. 30, 535–546 (1994).

Matsushima, H., Hayashi, S. & Shimada, S. Skin scratching switches immune responses from Th2 to Th1 type in epicutaneously immunized mice. J. Dermatol. Sci. 32, 223–230 (2003).

Williams, I.R. et al. IL-7 overexpression in transgenic mouse keratinocytes causes a lymphoproliferative skin disease dominated by intermediate TCR cells: evidence for a hierarchy in IL-7 responsiveness among cutaneous T cells. J. Immunol. 159, 3044–3056 (1997).

Stander, S. & Steinhoff, M. Pathophysiology of pruritus in atopic dermatitis: an overview. Exp. Dermatol. 11, 12–24 (2002).

Nocka, K. et al. Molecular bases of dominant negative and loss of function mutations at the murine c-kit/white spotting locus: W37, Wv, W41 and W. EMBO J. 9, 1805–1813 (1990).

Wilkinson, J., Thomas, S., Lio, P., Holgate, S.T. & Morton, N.E. Evidence for linkage for atopy and asthma to markers on chromosome 12q. Eur. Respir. J. 9, 435s (1996).

Raby, B.A. et al. Chromosome 12q harbors multiple genetic loci related to asthma and asthma-related phenotypes. Hum. Mol. Genet. 12, 1973–1979 (2003).

Gubler, U. & Hoffman, B.J. A simple and very efficient method for generating cDNA libraries. Gene 25, 263–269 (1983).

Chtanova, T., Kemp, R.A., Sutherland, A.P., Ronchese, F. & Mackay, C.R. Gene microarrays reveal extensive differential gene expression in both CD4+ and CD8+ type 1 and type 2 T cells. J. Immunol. 167, 3057–3063 (2001).

Corti, M., Brody, A.R. & Harrison, J.H. Isolation and primary culture of murine alveolar type II cells. Am. J. Respir. Cell. Mol. Biol. 14, 309–315 (1996).

Warshamana, G.S., Corti, M. & Brody, A.R. TNF-α, PDGF, and TGF-β1 expression by primary mouse bronchiolar-alveolar epithelial and mesenchymal cells: TNF-α induces TGF-β1 . Exp. Mol. Pathol. 71, 13–33 (2001).

Taboit-Dameron, F. et al. Association of the 5′HS4 sequence of the chicken β-globin locus control region with human EF1α gene promoter induces ubiquitous and high expression of human CD55 and CD59 cDNAs in transgenic rabbits. Transgenic Res. 8, 223–235 (1999).

Iritani, B.M., Forbush, K.A., Farrar, M.A. & Perlmutter, R.M. Control of B cell development by Ras-mediated activation of Raf. EMBO J. 16, 7019–7031 (1997).

Gross, J.A. et al. TACI and BCMA are receptors for a TNF homologue implicated in B-cell autoimmune disease. Nature 404, 995–999 (2000).

Gross, J.A. et al. TACI-Ig neutralizes molecules critical for B cell development and autoimmune disease: impaired B cell maturation in mice lacking BLyS. Immunity 15, 289–302 (2001).

Seder, R.A. & Ahmed, R. Similarities and differences in CD4+ and CD8+ effector and memory T cell generation. Nat. Immunol. 4, 835–842 (2003).
Acknowledgements
We thank K. Kim, K. Bontadelli and D. Cutler for help with the generation and analysis of the IL-31-transgenic mice; K. Bannink for the IL-31 in vivo treatment studies; T. Whitmore for insights regarding the gene array analysis and genetic linkage analysis; and M. Bernard for assistance in preparing the manuscript.
Ethics declarations
Competing interests
The authors of this manuscript are employed or previously employed by ZymoGenetics Inc. and may or may not benefit financially from the publication of this paper.
Supplementary information
About this article
Cite this article
Dillon, S., Sprecher, C., Hammond, A. et al. Interleukin 31, a cytokine produced by activated T cells, induces dermatitis in mice. Nat Immunol 5, 752–760 (2004). https://doi.org/10.1038/ni1084
Received:

Accepted:

Published:

Issue Date:

DOI: https://doi.org/10.1038/ni1084