The complement inflammatory cascade is crucial to our innate ability to ward off infection. Two papers now provide evidence linking C5 and C3a to murine airway hyperresponsiveness, a partial model of human asthma. Surprisingly, these complement proteins appear to have opposite effects.
Access options
Subscribe to Journal
Get full journal access for 1 year
$79.00
only $6.58 per issue
All prices are NET prices.
VAT will be added later in the checkout.
Tax calculation will be finalised during checkout.
Buy article
Get time limited or full article access on ReadCube.
$32.00
All prices are NET prices.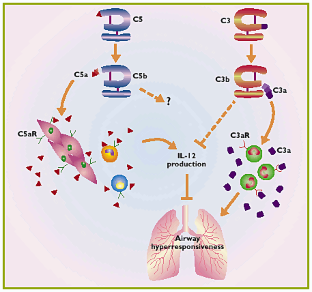 References
Karp, C.L. Nature Immunol. 221–226 ( 2000).

Humbles, A. A. Nature, 406 (in the press, 2000).

Teran, L. M. et al. Clin. Exp. Allergy 27, 396– 405 (1997).

Regal, J. F. & Klos, A. Immunopharmacology 46, 15–28 (2000).

Irvin, C. G., Berend, N. & Henson, P. M. Am. Rev. Respir. Dis. 134, 777–783 (1986).

Hopken, U. E., Lu, B., Gerard, N. P. & Gerard, C. Nature 383, 86–89 (1996).

Sutterwala, F. S., Noel, G. J., Clynes, R. & Mosser, D. M. J. Exp. Med. 185, 1977–1985 ( 1997).

Marth, T. & Kelsall, B. L. J. Exp. Med. 185, 1987–1995 (1997).

Brugman, S. M., Larsen, G. L., Henson, P. M., Honor, J. & Irvin, C. G. Am Rev Respir Dis 147 , 314–320 (1993).
About this article
Cite this article
Henson, P. Complementing asthma. Nat Immunol 1, 190–192 (2000). https://doi.org/10.1038/79723
Issue Date:

DOI: https://doi.org/10.1038/79723