Protection of the small intestine from harmful bacteria is a never-ending job. Paneth cells of the intestinal crypts function as prime producers of defensins in response to the microbial onslaught of the gut.
Relevant articles
Open Access articles citing this article.
Katharina S. Nitsche

,

Iris Müller

…

Hans Bouwmeester

Archives of Toxicology Open Access 01 February 2022
Access options
Subscribe to Journal
Get full journal access for 1 year
$99.00
only $8.25 per issue
All prices are NET prices.
VAT will be added later in the checkout.
Tax calculation will be finalised during checkout.
Buy article
Get time limited or full article access on ReadCube.
$32.00
All prices are NET prices.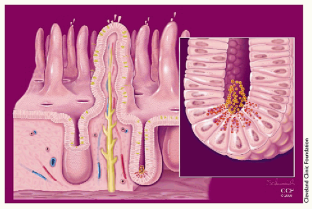 References
Schmidt, G.H., Wilkinson, M.M. & Ponder, B.A. Cell migration pathway in the intestinal epithelium: an in situ marker system using mouse aggregation chimeras. Cell 40, 425–429 ( 1985).

Ayabe, T. et al. Secretion of microbial α-defensins by intestinal Paneth cells in response to bacteria. Nature Immunol. 2, 113–118 (2000).

Satoh, Y. Effect of live and heat-killed bacteria on the secretory activity of Paneth cells in germ-free mice. Cell Tissue Res. 251, 87–93 (1988).

Satoh, Y., Ishikawa, K., Tanaka, H., Oomori, Y. & Ono, K. Immunohistochemical observations of lysozyme in the Paneth cells of specific-pathogen-free and germ-free mice. Acta Histochem. 83, 185–188 (1988).

Ouellette, A.J. et al. Developmental regulation of cryptdin, a corticostatin/defensin precursor mRNA in mouse small intestinal crypt epithelium. J. Cell Biol. 108, 1687–1695 ( 1989).

Jones, D.E. & Bevins, C.L. Paneth cells of the human small intestine express an antimicrobial peptide gene. J. Biol. Chem. 267, 23216–23225 ( 1992).

Qu, X.D., Lloyd, K.C., Walsh, J.H. & Lehrer, R.I. Secretion of type II phospholipase A2 and cryptdin by rat small intestinal Paneth cells . Infect. Immunity 64, 5161– 5165 (1996).

Selsted, M.E., Miller, S.I., Henschen, A.H. & Ouellette, A.J. Enteric defensins: antibiotic peptide components of intestinal host defense . J. Cell Biol. 118, 929– 936 (1992).

Porter, E.M., vanDam, E., Valore, E.V. & Ganz, T. Broad-spectrum antimicrobial activity of human intestinal defensin 5. Infec. Immunity 65, 2396–2401 (1997).

Wilson, C.L. et al. Regulation of intestinal α-defensin activation by the metalloproteinase matrilysin in innate host defense. Science 286, 113–117 (1999).

Garabedian, E.M., Roberts, L.J.J., McNevin, M.S. & Gordon, J.I. Examining the role of Paneth cells in the small intestine by lineage ablation in transgenic mice. J. Biol. Chem. 272, 23729–23740 (1997).

Ganz, T. Extracellular release of antimicrobial defensins by human polymorphonuclear leukocytes. Infect. Immunity 55, 568– 571 (1987).

Lemaitre, B., Reichhart, J.M. & Hoffmann, J.A. Drosophila host defense: differential induction of antimicrobial peptide genes after infection by various classes of microorganisms . Proc. Natl Acad. Sci. USA 94, 14614– 14619 (1997).
About this article
Cite this article
Ganz, T. Paneth cells—guardians of the gut cell hatchery. Nat Immunol 1, 99–100 (2000). https://doi.org/10.1038/77884
Issue Date:

DOI: https://doi.org/10.1038/77884
Further reading
Katharina S. Nitsche
Iris Müller
Hans Bouwmeester

Archives of Toxicology (2022)

Lopa Mishra
Kirti Shetty
Stephen W Byers

Oncogene (2005)

Nature Immunology (2004)