NK cells become cytotoxic upon receiving a signal through their activation receptors. The orphan proteins H-60 and Rae1 have now been identified as ligands for the mouse NKG2D activation receptor. Remarkably they are inducible and may be blocked by a viral protein.
Access options
Subscribe to Journal
Get full journal access for 1 year
$99.00
only $8.25 per issue
All prices are NET prices.
VAT will be added later in the checkout.
Tax calculation will be finalised during checkout.
Buy article
Get time limited or full article access on ReadCube.
$32.00
All prices are NET prices.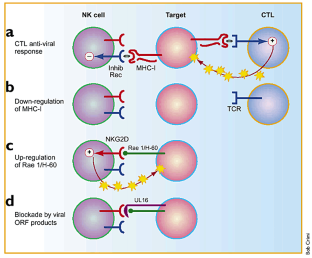 References
Yokoyama, W.M. in Fundamental Immunology Ch. 17(ed. Paul, W. E.) 575– 603 (Lippincott-Raven, New York, 1999).

Karre, K. in Mechanisms of Cytotoxicity by NK Cells (eds Herberman, R.B. & Callewaert, D. M.) 81–92 (Academic Press, Orlando, 1985).

Diefenbach, A., Jamieson, A.M., Liu, S.D., Shastri, N. & Raulet, D.H. Novel ligands for the murine NKG2D receptor: expression by tumor cells and activation of NK cells and macrophages . Nature Immunol. 1, 119– 126 (2000).

Cerwenka, A. et al. Retinoic acid early inducible genes define a ligand family for the activating NKG2D receptor in mice. Immunity 12, 721–727 (2000).

Cosman, D. et al. The human cytomegalovirus (HCMV) glycoprotein, UL16 binds to the MHC class I-related protein, MICB/PerB11, and to two novel, MHC class I-related molecules, ULBP1 and ULBP2 [Abstr.]. FASEB J. 14, A1018 (2000).

Lanier, L.L. Turning on natural killer cells. J. Exp. Med. 191, 1259–1262 (2000).

Bauer, S. et al. Activation of NK cells and T cells by NKG2D, a receptor for stress-inducible MICA. Science 285, 727– 729 (1999).

Wu, J. et al. An activating immunoreceptor complex formed by NKG2D and DAP10 . Science 285, 730–732 (1999).

Brown, M.G., Scalzo, A.A. & Yokoyama, W.M. in Major Histocompatibility Complex: Evolution, Structure, and Function (ed. Kasahara, M.) 287–301 (Springer-Verlag, Tokyo, 2000).

Chalupny, J. et al. Soluble forms of the novel MHC class I-related molecules, ULBP1 and ULBP2, bind to and functionally activate NK cells. FASEB J. 14, A1018 (2000).

Malarkannan, S. et al. The molecular and functional characterization of a dominant minor H antigen, H-60. J. Immunol. 161, 3501–3509 (1998).

Nomura, M., Takihara, Y. & Shimada, K. Isolation and characterization of retinoic acid-inducible cDNA clones in F9 cells: one of the early inducible clones encodes a novel protein sharing several highly homologous regions with a Drosophila polyhomeotic protein. Differentiation 57, 39– 50 (1994).

Tortorella, D., Gewurz, B.E., Furman, M.H., Schust, D.J. & Ploegh, H.L. Viral subversion of the immune system. Annu. Rev. Immunol. 18, 861– 926 (2000).

Holtermann, O. A., Lisafeld, B. A., Klein, E. & Klostergaard, J. Cytocidal and cytostatic effects of activated peritoneal leukocytes. Nature 257, 228–229 ( 1975).

Degos, L. et al. All-trans-retinoic acid as a differentiating agent in the treatment of acute promyelocytic leukemia. Blood 85, 2643–2653 (1995).
About this article
Cite this article
Yokoyama, W. Now you see it, now you don't!. Nat Immunol 1, 95–97 (2000). https://doi.org/10.1038/77878
Issue Date:

DOI: https://doi.org/10.1038/77878
This article is cited by
J R Webb
S H Lee
S M Vidal

Genes & Immunity (2002)

Gavin P. Dunn
Allen T. Bruce
Robert D. Schreiber

Nature Immunology (2002)