Abstract
Programmed death 1 (PD-1)–deficient mice develop a variety of autoimmune-like diseases, which suggests that this immunoinhibitory receptor plays an important role in tolerance. We identify here PD-1 ligand 2 (PD-L2) as a second ligand for PD-1 and compare the function and expression of PD-L1 and PD-L2. Engagement of PD-1 by PD-L2 dramatically inhibits T cell receptor (TCR)-mediated proliferation and cytokine production by CD4+ T cells. At low antigen concentrations, PD-L2–PD-1 interactions inhibit strong B7-CD28 signals. In contrast, at high antigen concentrations, PD-L2–PD-1 interactions reduce cytokine production but do not inhibit T cell proliferation. PD-L–PD-1 interactions lead to cell cycle arrest in G0/G1 but do not increase cell death. In addition, ligation of PD-1 + TCR leads to rapid phosphorylation of SHP-2, as compared to TCR ligation alone. PD-L expression was up-regulated on antigen-presenting cells by interferon γ treatment and was also present on some normal tissues and tumor cell lines. Taken together, these studies show overlapping functions of PD-L1 and PD-L2 and indicate a key role for the PD-L–PD-1 pathway in regulating T cell responses.
Relevant articles
Open Access articles citing this article.
Qing Wu

,

Wei Qian

…

Shaojie Jiang

Journal of Hematology & Oncology Open Access 08 October 2022

Zhenyi Niu

,

Runsen Jin

…

Hecheng Li

Signal Transduction and Targeted Therapy Open Access 05 October 2022

Ching-Tse Wu

,

Cheng-I Chu

…

Chien-Chung Chang

Cell & Bioscience Open Access 30 September 2022
Access options
Subscribe to this journal
Receive 12 print issues and online access
$189.00 per year
only $15.75 per issue
Rent or buy this article
Get just this article for as long as you need it
$39.95
Prices may be subject to local taxes which are calculated during checkout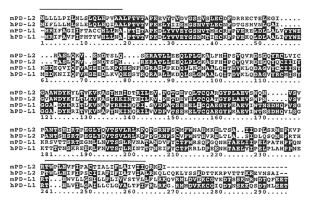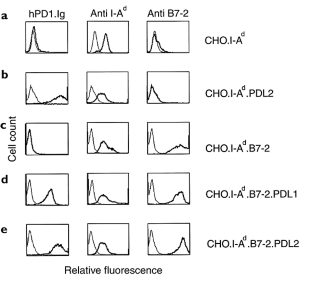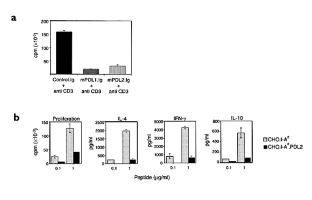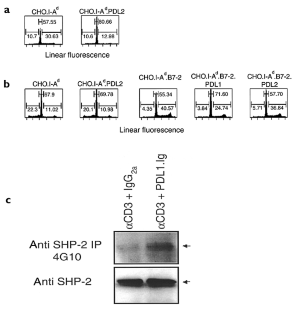 References
McAdam, A. J., Schweitzer, A. N. & Sharpe, A. H. The role of B7 co-stimulation in activation and differentiation of CD4+ and CD8+ T cells>. Immunol. Rev. 165, 231–247 (1998).

Thompson, C. B. & Allison, J. P. The emerging role of CTLA-4 as an immune attenuator. Immunity 7, 445–450 (1997).

Tivol, E. A. et al. Loss of CTLA-4 leads to massive lymphoproliferation and fatal multiorgan tissue destruction, revealing a critical negative regulatory role of CTLA–4. Immunity 3, 541–547 (1995).

Waterhouse, P. et al. Lymphoproliferative disorders with early lethality in mice deficient in Ctla-4. Science 270, 985–988 (1995).

Chambers, C. A., Sullivan, T. J. & Allison, J. P. Lymphoproliferation in CTLA-4-deficient mice is mediated by costimulation-dependent activation of CD4+ T cells. Immunity 7, 885–895 (1997).

Ishida, Y., Agata, Y., Shibahara, K. & Honjo, T. Induced expression of PD-1, a novel member of the immunoglobulin gene superfamily, upon programmed cell death. EMBO J. 11, 3887–3895 (1992).

Agata, Y. et al. Expression of the PD-1 antigen on the surface of stimulated mouse T and B lymphocytes. Int. Immunol. 8, 765–772 (1996).

Nishimura, H., Minato, N., Nakano, T. & Honjo, T. Immunological studies on PD-1 deficient mice: implication of PD-1 as a negative regulator for B cell responses. Int. Immunol. 10, 1563–1572 (1998).

Nishimura, H., Nose, M., Hiai, H., Minato, N. & Honjo, T. Development of lupus-like autoimmune diseases by disruption of the PD-1 gene encoding an ITIM motif-carrying immunoreceptor. Immunity 11, 141–151 (1999).

Nishimura, H. et al. Autoimmune dilated cardiomyopathy in PD-1 receptor deficient mice. Science 291, 319–322 (2001)

Nishimura, H., Honjo, T. & Minato, N. Facilitation of beta selection and modification of positive selection in the thymus of PD-1-deficient mice. J. Exp. Med. 191, 891–898 (2000).

Dong, H., Zhu, G., Tamada, K. & Chen, L. B7-H1, a third member of the B7 family, co-stimulates T-cell proliferation and interleukin-10 secretion. Nature Med. 5, 1365–1369 (1999).

Freeman, G. J. et al. Engagement of the PD-1 immunoinhibitory receptor by a novel B7 family member leads to negative regulation of lymphocyte activation. J. Exp. Med. 192, 1027–1034 (2000).

Okazaki, T. Nishimura, H, & Honjo, T. PD-1 inhibits B cell receptor-mediated signaling by recruiting SHP-2 to phosphotyrosine. J. Exp. Med. (Submitted, 2001).

Chu, C. Q., Wittmer, S. & Dalton, D. K. Failure to suppress the expansion of the activated CD4 T cell population in interferon γ-deficient mice leads to exacerbation of experimental autoimmune encephalomyelitis. J. Exp. Med. 192, 123–128 (2000).

Konieczny, B. T. et al. IFN-γ is critical for long-term allograft survival induced by blocking the CD28 and CD40 ligand T cell costimulation pathways. J. Immunol. 160, 2059–2064 (1998).

Badovinac, V. P., Tvinnereim, A. R. & Harty, J. T. Regulation of antigen-specific CD8(+) T cell homeostasis by perforin and interferon-γ. Science 290, 1354–1358 (2000).

McAdam, A. J. et al. Mouse inducible costimulatory molecule (ICOS) expression is enhanced by CD28 costimulation and regulates differentiation of CD4(+) T cells. J. Immunol. 165, 5035–5040 (2000).

Krummel, M. F. & Allison, J. P. CTLA-4 engagement inhibits IL-2 accumulation and cell cycle progression upon activation of resting T cells. J. Exp. Med. 183, 2533–2540 (1996).

Walunas, T. L., Bakker, C. Y. & Bluestone, J. A. CTLA-4 ligation blocks CD28-dependent T cell activation. J. Exp. Med. 183, 2541–2550 (1996).

Chuang, E. et al. Regulation of cytotoxic T lymphocyte-associated molecule-4 by Src kinases. J. Immunol. 162, 1270–1277 (1999).

Duncan, A. R., Woof, J. M., Partridge, L. J., Burton, D. R. & Winter, G. Localization of the binding site for the human high-affinity Fc receptor on IgG. Nature 332, 563–564 (1988).

Morgan, A. et al. The N-terminal end of the CH2 domain of chimeric human IgG1 anti-HLA-DR is necessary for C1q, Fc γRI and Fc γRIII binding. Immunology 86, 319–324 (1995).

Freedman, A. S., Freeman, G. J., Rhynhart, K. & Nadler, L. M. Selective induction of B7/BB-1 on interferon-γstimulated monocytes: a potential mechanism for amplification of T cell activation through the CD28 pathway. Cell. Immunol. 137, 429–437 (1991).
Acknowledgements
Supported by a Wellcome Trust Travel Fellowship (to Y. L.) and National Institutes of Health grants AI38310, AI40614 (to A. H. S.) and AI39671, AI41584 and CA84500 (to G. J F.).
About this article
Cite this article
Latchman, Y., Wood, C., Chernova, T. et al. PD-L2 is a second ligand for PD-1 and inhibits T cell activation. Nat Immunol 2, 261–268 (2001). https://doi.org/10.1038/85330
Received:

Accepted:

Issue Date:

DOI: https://doi.org/10.1038/85330