Type I IFNs are important in antiviral immunity. Two studies report the identification of another family of molecules that have similar properties to the type I IFNs but are otherwise structurally and genetically distinct.
Access options
Subscribe to Journal
Get full journal access for 1 year
$59.00
only $4.92 per issue
All prices are NET prices.
VAT will be added later in the checkout.
Tax calculation will be finalised during checkout.
Rent or Buy article
Get time limited or full article access on ReadCube.
from$8.99
All prices are NET prices.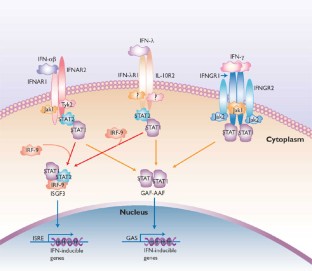 References
1

Biron, C.A. & Sen, G.C. Interferons and other cytokines. in Fields Virology 4th edn. (eds. Knipe, D.M. et al.) 321–351 (Lippincott Willams & Wilkins, Philadelphia 2001).

2

Samuel, C.E. Clin. Microbiol. Rev. 14, 778–809 (2001).

3

Taniguchi, T. & Takaoka, A. Curr. Opin. Immunol. 14, 111–116 (2002).

4

LaFleur, D.W. et al. J. Biol. Chem. 276, 39765–39771 (2001).

5

Oritani, K. et al. Nat. Med. 6, 659–666 (2000).

6

Bazan, J.F. Proc. Natl. Acad. Sci. USA 87, 6934–6938 (1990).

7

Kotenko, S.V. Cytok. Growth Factor Rev. 13, 223–240 (2002).

8

Sheppard, P. et al. Nat. Immunol. 4, 63–68 (2003).

9

Kotenko, S.V. et al. Nat. Immunol. 4, 69–77 (2003).

10

Taga, T. & Kishimoto, T. Curr. Opin. Immunol. 7, 17–23 (1995).

11

Stark, G.R. et al. Curr. Opin. Immunol. 67, 227–264 (1998).

12

Levy, D.E. & Darnell, J.E. Jr., Nat. Rev. Mol. Cell. Biol. 3, 651–662 (2002)
About this article
Cite this article
Vilcek, J. Novel interferons. Nat Immunol 4, 8–9 (2003). https://doi.org/10.1038/ni0103-8