Abstract
Stimulation of macrophages with interferon-γ (IFN-γ) and interleukin 4 (IL-4) triggers distinct and opposing activation programs. During mixed infections or cancer, macrophages are often exposed to both cytokines, but how these two programs influence each other remains unclear. We found that IFN-γ and IL-4 mutually inhibited the epigenomic and transcriptional changes induced by each cytokine alone. Computational and functional analyses revealed the genomic bases for gene-specific cross-repression. For instance, while binding motifs for the transcription factors STAT1 and IRF1 were associated with robust and IL-4-resistant responses to IFN-γ, their coexistence with binding sites for auxiliary transcription factors such as AP-1 generated vulnerability to IL-4-mediated inhibition. These data provide a core mechanistic framework for the integration of signals that control macrophage activation in complex environmental conditions.
Your institute does not have access to this article
Relevant articles
Open Access articles citing this article.
Mariya Misheva

,

Konstantinos Kotzamanis

…

Valerie B. O'Donnell

Nature Communications Open Access 10 January 2022

Antonio Macciò

,

Sara Oppi

&

Clelia Madeddu

Journal of Ovarian Research Open Access 08 February 2021

Andrés R. Muñoz-Rojas

,

Ilana Kelsey

…

Kathryn Miller-Jensen

Nature Communications Open Access 12 January 2021
Access options
Subscribe to Nature+
Get immediate online access to the entire Nature family of 50+ journals
Subscribe to Journal
Get full journal access for 1 year
$59.00
only $4.92 per issue
All prices are NET prices.
VAT will be added later in the checkout.
Tax calculation will be finalised during checkout.
Buy article
Get time limited or full article access on ReadCube.
$32.00
All prices are NET prices.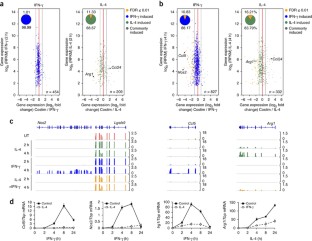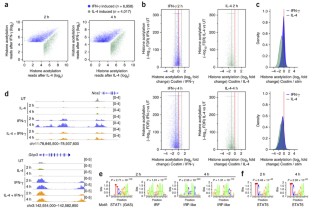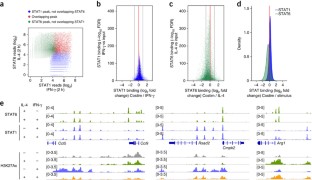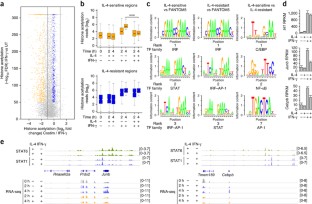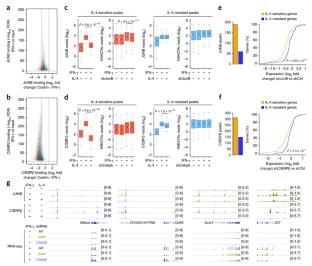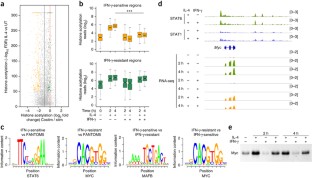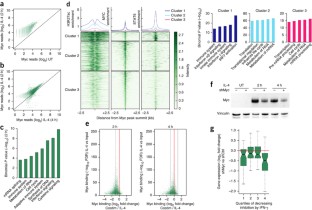 Accession codes
Primary accessions
Gene Expression Omnibus
References
Glass, C.K. & Natoli, G. Molecular control of activation and priming in macrophages. Nat. Immunol. 17, 26–33 (2016).

Murray, P.J. et al. Macrophage activation and polarization: nomenclature and experimental guidelines. Immunity 41, 14–20 (2014).

Sica, A. & Mantovani, A. Macrophage plasticity and polarization: in vivo veritas. J. Clin. Invest. 122, 787–795 (2012).

Lawrence, T. & Natoli, G. Transcriptional regulation of macrophage polarization: enabling diversity with identity. Nat. Rev. Immunol. 11, 750–761 (2011).

Gordon, S. & Martinez, F.O. Alternative activation of macrophages: mechanism and functions. Immunity 32, 593–604 (2010).

Murray, P.J. & Wynn, T.A. Protective and pathogenic functions of macrophage subsets. Nat. Rev. Immunol. 11, 723–737 (2011).

Ostuni, R. et al. Latent enhancers activated by stimulation in differentiated cells. Cell 152, 157–171 (2013).

Monticelli, S. & Natoli, G. Short-term memory of danger signals and environmental stimuli in immune cells. Nat. Immunol. 14, 777–784 (2013).

Netea, M.G. et al. Trained immunity: A program of innate immune memory in health and disease. Science 352, aaf1098 (2016).

Lavin, Y. et al. Tissue-resident macrophage enhancer landscapes are shaped by the local microenvironment. Cell 159, 1312–1326 (2014).

Xue, J. et al. Transcriptome-based network analysis reveals a spectrum model of human macrophage activation. Immunity 40, 274–288 (2014).

Allen, J.E. & Maizels, R.M. Diversity and dialogue in immunity to helminths. Nat. Rev. Immunol. 11, 375–388 (2011).

Elliott, D.E. & Weinstock, J.V. Helminth-host immunological interactions: prevention and control of immune-mediated diseases. Ann. NY Acad. Sci. 1247, 83–96 (2012).

Osborne, L.C. et al. Virus-helminth coinfection reveals a microbiota-independent mechanism of immunomodulation. Science 345, 578–582 (2014).

Reese, T.A. et al. Helminth infection reactivates latent γ-herpesvirus via cytokine competition at a viral promoter. Science 345, 573–577 (2014).

Salgame, P., Yap, G.S. & Gause, W.C. Effect of helminth-induced immunity on infections with microbial pathogens. Nat. Immunol. 14, 1118–1126 (2013).

Harris, J. et al. T helper 2 cytokines inhibit autophagic control of intracellular Mycobacterium tuberculosis. Immunity 27, 505–517 (2007).

Potian, J.A. et al. Preexisting helminth infection induces inhibition of innate pulmonary anti-tuberculosis defense by engaging the IL-4 receptor pathway. J. Exp. Med. 208, 1863–1874 (2011).

Schleicher, U. et al. TNF-mediated restriction of arginase 1 expression in myeloid cells triggers type 2 NO synthase activity at the site of infection. Cell Rep. 15, 1062–1075 (2016).

Ostuni, R., Kratochvill, F., Murray, P.J. & Natoli, G. Macrophages and cancer: from mechanisms to therapeutic implications. Trends Immunol. 36, 229–239 (2015).

Creyghton, M.P. et al. Histone H3K27ac separates active from poised enhancers and predicts developmental state. Proc. Natl. Acad. Sci. USA 107, 21931–21936 (2010).

Rada-Iglesias, A. et al. A unique chromatin signature uncovers early developmental enhancers in humans. Nature 470, 279–283 (2011).

Kaikkonen, M.U. et al. Remodeling of the enhancer landscape during macrophage activation is coupled to enhancer transcription. Mol. Cell 51, 310–325 (2013).

Ivashkiv, L.B. & Donlin, L.T. Regulation of type I interferon responses. Nat. Rev. Immunol. 14, 36–49 (2014).

Andersson, R. et al. An atlas of active enhancers across human cell types and tissues. Nature 507, 455–461 (2014).

Pello, O.M. et al. Role of c-MYC in alternative activation of human macrophages and tumor-associated macrophage biology. Blood 119, 411–421 (2012).

Kress, T.R., Sabo, A. & Amati, B. MYC: connecting selective transcriptional control to global RNA production. Nat. Rev. Cancer 15, 593–607 (2015).

Jenkins, S.J. et al. Local macrophage proliferation, rather than recruitment from the blood, is a signature of TH2 inflammation. Science 332, 1284–1288 (2011).

Sieweke, M.H. & Allen, J.E. Beyond stem cells: self-renewal of differentiated macrophages. Science 342, 1242974 (2013).

Qiao, Y. et al. Synergistic activation of inflammatory cytokine genes by interferon-γ-induced chromatin remodeling and toll-like receptor signaling. Immunity 39, 454–469 (2013).

Austenaa, L.M. et al. Transcription of mammalian cis-regulatory elements is restrained by actively enforced early termination. Mol. Cell 60, 460–474 (2015).

Mancino, A. et al. A dual cis-regulatory code links IRF8 to constitutive and inducible gene expression in macrophages. Genes Dev. 29, 394–408 (2015).

Garber, M. et al. A high-throughput chromatin immunoprecipitation approach reveals principles of dynamic gene regulation in mammals. Mol. Cell 47, 810–822 (2012).

Langmead, B. & Salzberg, S.L. Fast gapped-read alignment with Bowtie 2. Nat. Methods 9, 357–359 (2012).

Zang, C. et al. A clustering approach for identification of enriched domains from histone modification ChIP-Seq data. Bioinformatics 25, 1952–1958 (2009).

Zhang, Y. et al. Model-based analysis of ChIP-Seq (MACS). Genome Biol. 9, R137 (2008).

Kim, D. et al. TopHat2: accurate alignment of transcriptomes in the presence of insertions, deletions and gene fusions. Genome Biol. 14, R36 (2013).

Robinson, M.D., McCarthy, D.J. & Smyth, G.K. edgeR: a Bioconductor package for differential expression analysis of digital gene expression data. Bioinformatics 26, 139–140 (2010).

Robinson, M.D. & Oshlack, A. A scaling normalization method for differential expression analysis of RNA-seq data. Genome Biol. 11, R25 (2010).

Robinson, M.D. & Smyth, G.K. Small-sample estimation of negative binomial dispersion, with applications to SAGE data. Biostatistics 9, 321–332 (2008).

McCarthy, D.J., Chen, Y. & Smyth, G.K. Differential expression analysis of multifactor RNA-Seq experiments with respect to biological variation. Nucleic Acids Res. 40, 4288–4297 (2012).
Acknowledgements
We thank Silvia Monticelli for critical feedback on the manuscript; L. Rotta, T. Capra and S. Bianchi for the preparation and processing of the sequencing libraries; F. Cilenti for help with immunofluorescence experiments; I. Amit (Weizmann Institute) for the shRNA vectors targeting Junb and Cebpb; and D. Voehringer (University Hospital Erlangen, Germany for the Stat6−/− bone marrow cells. Supported by the European Research Council (Advanced ERC grant to G.N.), the Italian Ministry of University and Research (FIRB RBAP11H2R9 to G.N.), the Telethon Foundation (SR-Tiget Grant Award TGT16F04 to R.O.), the Cariplo Foundation (Giovani Ricercatori, 2015-0990 to R.O.) and the Italian Association for Research on Cancer (B.A.).
Ethics declarations
Competing interests
The authors declare no competing financial interests.
Integrated supplementary information
Supplementary information
About this article
Cite this article
Piccolo, V., Curina, A., Genua, M. et al. Opposing macrophage polarization programs show extensive epigenomic and transcriptional cross-talk. Nat Immunol 18, 530–540 (2017). https://doi.org/10.1038/ni.3710
Received:

Accepted:

Published:

Issue Date:

DOI: https://doi.org/10.1038/ni.3710