Abstract
The aggregation of hypertrophic macrophages constitutes the basis of all granulomatous diseases, such as tuberculosis or sarcoidosis, and is decisive for disease pathogenesis. However, macrophage-intrinsic pathways driving granuloma initiation and maintenance remain elusive. We found that activation of the metabolic checkpoint kinase mTORC1 in macrophages by deletion of the gene encoding tuberous sclerosis 2 (Tsc2) was sufficient to induce hypertrophy and proliferation, resulting in excessive granuloma formation in vivo. TSC2-deficient macrophages formed mTORC1-dependent granulomatous structures in vitro and showed constitutive proliferation that was mediated by the neo-expression of cyclin-dependent kinase 4 (CDK4). Moreover, mTORC1 promoted metabolic reprogramming via CDK4 toward increased glycolysis while simultaneously inhibiting NF-κB signaling and apoptosis. Inhibition of mTORC1 induced apoptosis and completely resolved granulomas in myeloid TSC2-deficient mice. In human sarcoidosis patients, mTORC1 activation, macrophage proliferation and glycolysis were identified as hallmarks that correlated with clinical disease progression. Collectively, TSC2 maintains macrophage quiescence and prevents mTORC1-dependent granulomatous disease with clinical implications for sarcoidosis.
Relevant articles
Open Access articles citing this article.
Zhengping Huang

,

Xiaomeng You

…

Pui Y. Lee

Nature Communications Open Access 28 November 2022

Xue Liu

,

Yan Liu

…

Er-shun Liang

Cell Death & Disease Open Access 18 November 2022

Wanqiu Wang

,

Huan Wang

…

Liu Yang

BMC Endocrine Disorders Open Access 09 May 2022
Access options
Access Nature and 54 other Nature Portfolio journals
Get Nature+, our best-value online-access subscription
$29.99 / 30 days
cancel any time
Subscribe to this journal
Receive 12 print issues and online access
$209.00 per year
only $17.42 per issue
Rent or buy this article
Prices vary by article type
from$1.95
to$39.95
Prices may be subject to local taxes which are calculated during checkout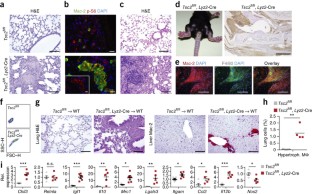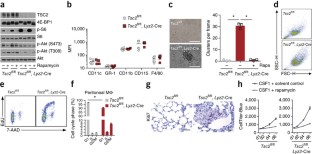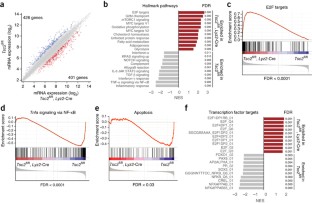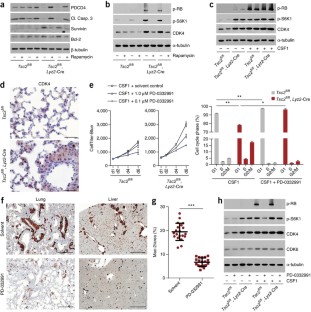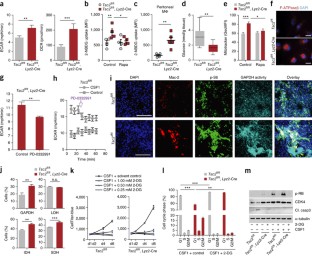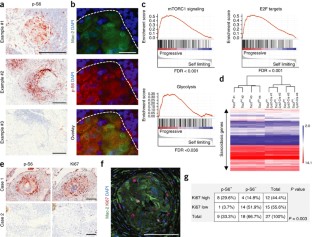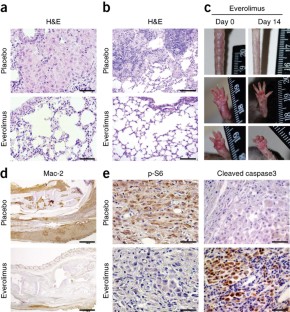 References
Cambier, C.J., Falkow, S. & Ramakrishnan, L. Host evasion and exploitation schemes of Mycobacterium tuberculosis. Cell 159, 1497–1509 (2014).

Russell, D.G., Cardona, P.J., Kim, M.J., Allain, S. & Altare, F. Foamy macrophages and the progression of the human tuberculosis granuloma. Nat. Immunol. 10, 943–948 (2009).

Orme, I.M. & Basaraba, R.J. The formation of the granuloma in tuberculosis infection. Semin. Immunol. 26, 601–609 (2014).

Hams, E., Aviello, G. & Fallon, P.G. The schistosoma granuloma: friend or foe? Front. Immunol. 4, 89 (2013).

Iannuzzi, M.C. & Fontana, J.R. Sarcoidosis: clinical presentation, immunopathogenesis, and therapeutics. J. Am. Med. Assoc. 305, 391–399 (2011).

Petersen, H.J. & Smith, A.M. The role of the innate immune system in granulomatous disorders. Front. Immunol. 4, 120 (2013).

Beegle, S.H., Barba, K., Gobunsuy, R. & Judson, M.A. Current and emerging pharmacological treatments for sarcoidosis: a review. Drug Des. Devel. Ther. 7, 325–338 (2013).

Zissel, G. & Müller-Quernheim, J. Cellular players in the immunopathogenesis of sarcoidosis. Clin. Chest Med. 36, 549–560 (2015).

Lockstone, H.E. et al. Gene set analysis of lung samples provides insight into pathogenesis of progressive, fibrotic pulmonary sarcoidosis. Am. J. Respir. Crit. Care Med. 181, 1367–1375 (2010).

Ehlers, S. & Schaible, U.E. The granuloma in tuberculosis: dynamics of a host-pathogen collusion. Front. Immunol. 3, 411 (2013).

Ramakrishnan, L. Revisiting the role of the granuloma in tuberculosis. Nat. Rev. Immunol. 12, 352–366 (2012).

Orme, I.M., Robinson, R.T. & Cooper, A.M. The balance between protective and pathogenic immune responses in the TB-infected lung. Nat. Immunol. 16, 57–63 (2015).

Ehlers, S., Kutsch, S., Ehlers, E.M., Benini, J. & Pfeffer, K. Lethal granuloma disintegration in mycobacteria-infected TNFRp55-/- mice is dependent on T cells and IL-12. J. Immunol. 165, 483–492 (2000).

North, R.J. & Jung, Y.J. Immunity to tuberculosis. Annu. Rev. Immunol. 22, 599–623 (2004).

Regev, D. et al. Heme oxygenase-1 promotes granuloma development and protects against dissemination of mycobacteria. Lab. Invest. 92, 1541–1552 (2012).

Dorhoi, A. & Kaufmann, S.H. Pathology and immune reactivity: understanding multidimensionality in pulmonary tuberculosis. Semin. Immunopathol. 38, 153–166 (2016).

Laplante, M. & Sabatini, D.M. mTOR signaling in growth control and disease. Cell 149, 274–293 (2012).

Inoki, K., Li, Y., Zhu, T., Wu, J. & Guan, K.L. TSC2 is phosphorylated and inhibited by Akt and suppresses mTOR signalling. Nat. Cell Biol. 4, 648–657 (2002).

Chi, H. Regulation and function of mTOR signalling in T cell fate decisions. Nat. Rev. Immunol. 12, 325–338 (2012).

Wang, Y. et al. Tuberous sclerosis 1 (Tsc1)-dependent metabolic checkpoint controls development of dendritic cells. Proc. Natl. Acad. Sci. USA 110, E4894–E4903 (2013).

Weichhart, T., Hengstschläger, M. & Linke, M. Regulation of innate immune cell function by mTOR. Nat. Rev. Immunol. 15, 599–614 (2015).

Byles, V. et al. The TSC-mTOR pathway regulates macrophage polarization. Nat. Commun. 4, 2834 (2013).

Pan, H., O'Brien, T.F., Zhang, P. & Zhong, X.P. The role of tuberous sclerosis complex 1 in regulating innate immunity. J. Immunol. 188, 3658–3666 (2012).

Fang, C. et al. Tsc1 is a Critical Regulator of Macrophage Survival and Function. Cell. Physiol. Biochem. 36, 1406–1418 (2015).

Hernandez, O., Way, S., McKenna, J. III & Gambello, M.J. Generation of a conditional disruption of the Tsc2 gene. Genesis 45, 101–106 (2007).

Prokop, S., Heppner, F.L., Goebel, H.H. & Stenzel, W. M2 polarized macrophages and giant cells contribute to myofibrosis in neuromuscular sarcoidosis. Am. J. Pathol. 178, 1279–1286 (2011).

Misharin, A.V., Morales-Nebreda, L., Mutlu, G.M., Budinger, G.R. & Perlman, H. Flow cytometric analysis of macrophages and dendritic cell subsets in the mouse lung. Am. J. Respir. Cell Mol. Biol. 49, 503–510 (2013).

Wong, D.J. et al. Module map of stem cell genes guides creation of epithelial cancer stem cells. Cell Stem Cell 2, 333–344 (2008).

Bertoli, C., Skotheim, J.M. & de Bruin, R.A. Control of cell cycle transcription during G1 and S phases. Nat. Rev. Mol. Cell Biol. 14, 518–528 (2013).

Hochegger, H., Takeda, S. & Hunt, T. Cyclin-dependent kinases and cell-cycle transitions: does one fit all? Nat. Rev. Mol. Cell Biol. 9, 910–916 (2008).

Sherr, C.J., Beach, D. & Shapiro, G.I. Targeting CDK4 and CDK6: from discovery to tTherapy. Cancer Discov. 6, 353–367 (2016).

Howell, J.J., Ricoult, S.J., Ben-Sahra, I. & Manning, B.D. A growing role for mTOR in promoting anabolic metabolism. Biochem. Soc. Trans. 41, 906–912 (2013).

Lebwohl, D. et al. Development of everolimus, a novel oral mTOR inhibitor, across a spectrum of diseases. Ann. NY Acad. Sci. 1291, 14–32 (2013).

Pforte, A. et al. Proliferating alveolar macrophages in BAL and lung function changes in interstitial lung disease. Eur. Respir. J. 6, 951–955 (1993).

Petzmann, S. et al. Enhanced proliferation and decreased apoptosis in lung lavage cells of sarcoidosis patients. Sarcoidosis Vasc. Diffuse Lung Dis. 23, 190–200 (2006).

Lan, H.Y., Nikolic-Paterson, D.J., Mu, W. & Atkins, R.C. Local macrophage proliferation in multinucleated giant cell and granuloma formation in experimental Goodpasture's syndrome. Am. J. Pathol. 147, 1214–1220 (1995).

Huaux, F. et al. IL-1α induces CD11b(low) alveolar macrophage proliferation and maturation during granuloma formation. J. Pathol. 235, 698–709 (2015).

Sieweke, M.H. & Allen, J.E. Beyond stem cells: self-renewal of differentiated macrophages. Science 342, 1242974 (2013).

Robbins, C.S. et al. Local proliferation dominates lesional macrophage accumulation in atherosclerosis. Nat. Med. 19, 1166–1172 (2013).

Haase, J. et al. Local proliferation of macrophages in adipose tissue during obesity-induced inflammation. Diabetologia 57, 562–571 (2014).

Fingar, D.C. & Blenis, J. Target of rapamycin (TOR): an integrator of nutrient and growth factor signals and coordinator of cell growth and cell cycle progression. Oncogene 23, 3151–3171 (2004).

Song, J., Salek-Ardakani, S., So, T. & Croft, M. The kinases aurora B and mTOR regulate the G1-S cell cycle progression of T lymphocytes. Nat. Immunol. 8, 64–73 (2007).

Miliani de Marval, P.L. et al. Transgenic expression of cyclin-dependent kinase 4 results in epidermal hyperplasia, hypertrophy, and severe dermal fibrosis. Am. J. Pathol. 159, 369–379 (2001).

Pearce, E.L. & Pearce, E.J. Metabolic pathways in immune cell activation and quiescence. Immunity 38, 633–643 (2013).

Rodríguez-Prados, J.C. et al. Substrate fate in activated macrophages: a comparison between innate, classic, and alternative activation. J. Immunol. 185, 605–614 (2010).

Hofmann, S. et al. Genome-wide association analysis reveals 12q13.3-q14.1 as new risk locus for sarcoidosis. Eur. Respir. J. 41, 888–900 (2013).

Teirstein, A.S. et al. Results of 188 whole-body fluorodeoxyglucose positron emission tomography scans in 137 patients with sarcoidosis. Chest 132, 1949–1953 (2007).

Judson, M.A. & Baughman, R.P. Worsening of pulmonary sarcoidosis. Curr. Opin. Pulm. Med. 20, 508–516 (2014).

Manzia, T.M. et al. Successful treatment of systemic de novo sarcoidosis with cyclosporine discontinuation and provision of rapamune after liver transplantation. Transpl. Int. 24, e69–e70 (2011).

Rosner, M. et al. Efficient siRNA-mediated prolonged gene silencing in human amniotic fluid stem cells. Nat. Protoc. 5, 1081–1095 (2010).

Van Noorden, C.J.F. & Frederiks, W.M. Enzyme Histochemistry: a Laboratory Manual of Current Methods (Oxford University Press, 1992).
Acknowledgements
We thank U. Reichart and T. Kolbe for support in mouse breeding. We are grateful to D. Georg for the possibility of using the XYLON Maxishot. We would also like to thank M. Stadler and H. Dolznig (Medical University of Vienna) for providing human-monocyte-derived macrophages. Tsc1+/+ MEFs were a kind gift of D.J. Kwiatkowski (Harvard Medical School). T.W. is supported by grants from the Austrian Science Fund (FWF) grant FWF-P27701-B20, the Else-Kröner-Fresenius-Stiftung (P2013_A149), and the Herzfelder'sche Familienstiftung. M.L. is supported by the [DOC] Doctoral Fellowship Programme of the Austrian Academy of Sciences. V.S. is funded by FWF SFB F28 and SBF F47. M. Müller is funded by FWF SFB F28. M. Mikula is supported by the FWF grant P25336-B13.
Ethics declarations
Competing interests
The authors declare no competing financial interests.
Integrated supplementary information
Supplementary information
Supplementary Figures 1–7 (PDF 1394 kb)
Uncropped gels (PDF 383 kb)
About this article
Cite this article
Linke, M., Pham, H., Katholnig, K. et al. Chronic signaling via the metabolic checkpoint kinase mTORC1 induces macrophage granuloma formation and marks sarcoidosis progression. Nat Immunol 18, 293–302 (2017). https://doi.org/10.1038/ni.3655
Received:

Accepted:

Published:

Issue Date:

DOI: https://doi.org/10.1038/ni.3655