Abstract
T lymphocytes and B lymphocytes integrate activating signals to control the size of their proliferative response. Here we report that such control was achieved by timed changes in the production rate of cell-cycle-regulating proto-oncoprotein Myc, with division cessation occurring when Myc levels fell below a critical threshold. The changing pattern of the level of Myc was not affected by cell division, which identified the regulating mechanism as a cell-intrinsic, heritable temporal controller. Overexpression of Myc in stimulated T cells and B cells did not sustain cell proliferation indefinitely, as a separate 'time-to-die' mechanism, also heritable, was programmed after lymphocyte activation and led to eventual cell loss. Together the two competing cell-intrinsic timed fates created the canonical T cell and B cell immune-response pattern of rapid growth followed by loss of most cells. Furthermore, small changes in these timed processes by regulatory signals, or by oncogenic transformation, acted in synergy to greatly enhance cell numbers over time.
Access options
Subscribe to this journal
Receive 12 print issues and online access
$209.00 per year
only $17.42 per issue
Rent or buy this article
Prices vary by article type
from$1.95
to$39.95
Prices may be subject to local taxes which are calculated during checkout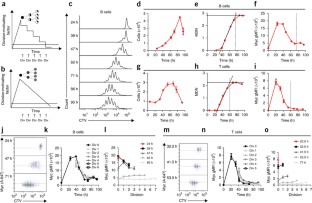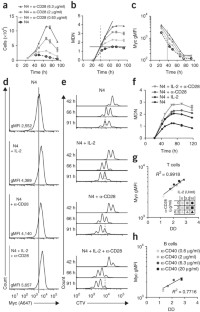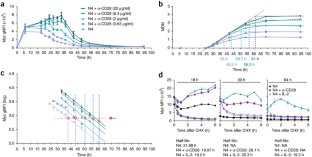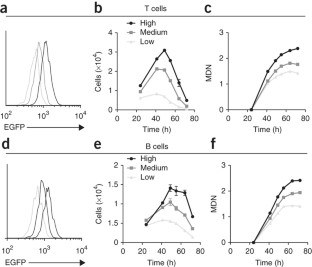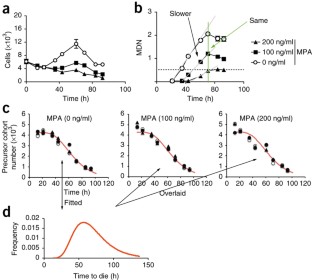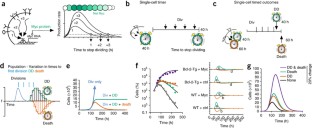 References
Marchingo, J.M. et al. T cell signaling. Antigen affinity, costimulation, and cytokine inputs sum linearly to amplify T cell expansion. Science 346, 1123–1127 (2014).

Mescher, M.F. et al. Signals required for programming effector and memory development by CD8+ T cells. Immunol. Rev. 211, 81–92 (2006).

Zehn, D., Lee, S.Y. & Bevan, M.J. Complete but curtailed T-cell response to very low-affinity antigen. Nature 458, 211–214 (2009).

Hawkins, E.D., Markham, J.F., McGuinness, L.P. & Hodgkin, P.D. A single-cell pedigree analysis of alternative stochastic lymphocyte fates. Proc. Natl. Acad. Sci. USA 106, 13457–13462 (2009).

Turner, M.L., Hawkins, E.D. & Hodgkin, P.D. Quantitative regulation of B cell division destiny by signal strength. J. Immunol. 181, 374–382 (2008).

Vervoorts, J., Lüscher-Firzlaff, J. & Lüscher, B. The ins and outs of MYC regulation by posttranslational mechanisms. J. Biol. Chem. 281, 34725–34729 (2006).

Laurenti, E. et al. Hematopoietic stem cell function and survival depend on c-Myc and N-Myc activity. Cell Stem Cell 3, 611–624 (2008).

Donnelly, R.P. & Finlay, D.K. Glucose, glycolysis and lymphocyte responses. Mol. Immunol. 68, 2 Pt C, 513–519 (2015).

Preston, G.C. et al. Single cell tuning of Myc expression by antigen receptor signal strength and interleukin-2 in T lymphocytes. EMBO J. 34, 2008–2024 (2015).

Wang, R. et al. The transcription factor Myc controls metabolic reprogramming upon T lymphocyte activation. Immunity 35, 871–882 (2011).

Liu, J. & Levens, D. Making myc. Curr. Top. Microbiol. Immunol. 302, 1–32 (2006).

Conacci-Sorrell, M., McFerrin, L. & Eisenman, R.N. An overview of MYC and its interactome. Cold Spring Harb. Perspect. Med. 4, a014357 (2014).

Dang, C.V. MYC on the path to cancer. Cell 149, 22–35 (2012).

Vita, M. & Henriksson, M. The Myc oncoprotein as a therapeutic target for human cancer. Semin. Cancer Biol. 16, 318–330 (2006).

Adams, J.M. et al. The c-myc oncogene driven by immunoglobulin enhancers induces lymphoid malignancy in transgenic mice. Nature 318, 533–538 (1985).

Ogilvy, S. et al. Constitutive Bcl-2 expression throughout the hematopoietic compartment affects multiple lineages and enhances progenitor cell survival. Proc. Natl. Acad. Sci. USA 96, 14943–14948 (1999).

Hawkins, E.D., Turner, M.L., Dowling, M.R., van Gend, C. & Hodgkin, P.D. A model of immune regulation as a consequence of randomized lymphocyte division and death times. Proc. Natl. Acad. Sci. USA 104, 5032–5037 (2007).

Gregory, M.A. & Hann, S.R. c-Myc proteolysis by the ubiquitin-proteasome pathway: stabilization of c-Myc in Burkitt's lymphoma cells. Mol. Cell. Biol. 20, 2423–2435 (2000).

Nie, Z. et al. c-Myc is a universal amplifier of expressed genes in lymphocytes and embryonic stem cells. Cell 151, 68–79 (2012).

Duffy, K.R. & Hodgkin, P.D. Intracellular competition for fates in the immune system. Trends Cell Biol. 22, 457–464 (2012).

Duffy, K.R. et al. Activation-induced B cell fates are selected by intracellular stochastic competition. Science 335, 338–341 (2012).

Hawkins, E.D. et al. Measuring lymphocyte proliferation, survival and differentiation using CFSE time-series data. Nat. Protoc. 2, 2057–2067 (2007).

Kinjyo, I. et al. Real-time tracking of cell cycle progression during CD8+ effector and memory T-cell differentiation. Nat. Commun. 6, 6301 (2015).

Marchingo, J.M. et al. T cell stimuli independently sum to regulate an inherited clonal division fate. Nat. Commun. (in the press).

Raff, M. The mystery of intracellular developmental programmes and timers. Biochem. Soc. Trans. 34, 663–670 (2006).

Burton, P.B.J., Raff, M.C., Kerr, P., Yacoub, M.H. & Barton, P.J.R. An intrinsic timer that controls cell-cycle withdrawal in cultured cardiac myocytes. Dev. Biol. 216, 659–670 (1999).

Link, J.M. & Hurlin, P.J. The activities of MYC, MNT and the MAX-interactome in lymphocyte proliferation and oncogenesis. Biochimica et Biophysica Acta. 1849, 554–562 (2015).

Prendergast, G.C. Mechanisms of apoptosis by c-Myc. Oncogene 18, 2967–2987 (1999).

Cory, S., Huang, D.C.S. & Adams, J.M. The Bcl-2 family: roles in cell survival and oncogenesis. Oncogene 22, 8590–8607 (2003).

Strasser, A., Harris, A.W., Bath, M.L. & Cory, S. Novel primitive lymphoid tumours induced in transgenic mice by cooperation between myc and bcl-2. Nature 348, 331–333 (1990).

Aukema, S.M. et al. Double-hit B-cell lymphomas. Blood 117, 2319–2331 (2011).

Hommel, M. & Hodgkin, P.D. TCR affinity promotes CD8+ T cell expansion by regulating survival. J. Immunol. 179, 2250–2260 (2007).

Bouillet, P. et al. Proapoptotic Bcl-2 relative Bim required for certain apoptotic responses, leukocyte homeostasis, and to preclude autoimmunity. Science 286, 1735–1738 (1999).

Smith, D.P., Bath, M.L., Metcalf, D., Harris, A.W. & Cory, S. MYC levels govern hematopoietic tumor type and latency in transgenic mice. Blood 108, 653–661 (2006).

Deenick, E.K., Gett, A.V. & Hodgkin, P.D. Stochastic model of T cell proliferation: a calculus revealing IL-2 regulation of precursor frequencies, cell cycle time, and survival. J. Immunol. 170, 4963–4972 (2003).

Liu, X. et al. Generation of mammalian cells stably expressing multiple genes at predetermined levels. Anal. Biochem. 280, 20–28 (2000).
Acknowledgements
We thank S. Cory (The Walter and Eliza Hall Institute) for vav-myc10 mice; P. Bouillet (The Walter and Eliza Hall Institute) for Bcl-2-Tg, Bcl2l11−/− and Eμ-Myc mice; M. Hancock and T. Kratina for technical assistance; J. Zhou for help in figure preparation; and S. Cory, M. Dowling, K. Duffy and A. Strasser for critical review of the manuscript. Supported by the National Health and Medical Research Council of Australia (Project Grants 1010654 and 1057831 and Program Grant 1054925; and fellowships to P.D.H. and L.M.C.), Victorian State Government Operational Infrastructure Support, an Australian Government NHMRC Independent Research Institutes Infrastructure Support Scheme (361646), The Australian Department of Education and Training (Australian Postgraduate Award to J.M.M.), The Walter and Eliza Hall Institute (Edith Moffat Scholarship to J.M.M.), the Cancer Council of Victoria (Sydney Parker Smith Postdoctoral Research Fellowship to J.M.M.) and The University of Melbourne (Melbourne International Research Scholarship for B.K.L. and Melbourne International Fee Remission Scholarship for B.K.L.).
Ethics declarations
Competing interests
The authors declare no competing financial interests.
Integrated supplementary information
Supplementary information
Supplementary Figures 1–6, Supplementary Table 1, and Supplementary Note (PDF 750 kb)
About this article
Cite this article
Heinzel, S., Binh Giang, T., Kan, A. et al. A Myc-dependent division timer complements a cell-death timer to regulate T cell and B cell responses. Nat Immunol 18, 96–103 (2017). https://doi.org/10.1038/ni.3598
Received:

Accepted:

Published:

Issue Date:

DOI: https://doi.org/10.1038/ni.3598