Abstract
The mammalian cytoplasmic multi-tRNA synthetase complex (MSC) is a depot system that regulates non-translational cellular functions. Here we found that the MSC component glutamyl-prolyl-tRNA synthetase (EPRS) switched its function following viral infection and exhibited potent antiviral activity. Infection-specific phosphorylation of EPRS at Ser990 induced its dissociation from the MSC, after which it was guided to the antiviral signaling pathway, where it interacted with PCBP2, a negative regulator of mitochondrial antiviral signaling protein (MAVS) that is critical for antiviral immunity. This interaction blocked PCBP2-mediated ubiquitination of MAVS and ultimately suppressed viral replication. EPRS-haploid (Eprs+/−) mice showed enhanced viremia and inflammation and delayed viral clearance. This stimulus-inducible activation of MAVS by EPRS suggests an unexpected role for the MSC as a regulator of immune responses to viral infection.
This is a preview of subscription content
Access options
Subscribe to Journal
Get full journal access for 1 year
$59.00
only $4.92 per issue
All prices are NET prices.
VAT will be added later in the checkout.
Tax calculation will be finalised during checkout.
Buy article
Get time limited or full article access on ReadCube.
$32.00
All prices are NET prices.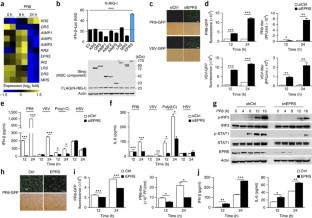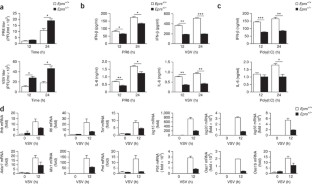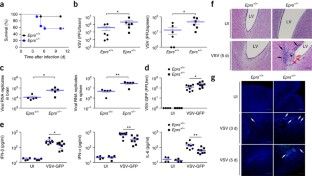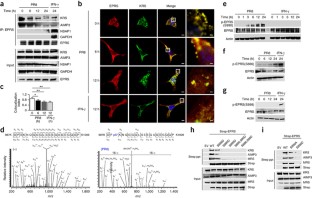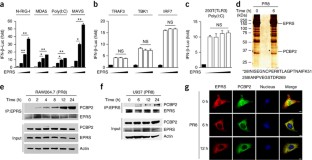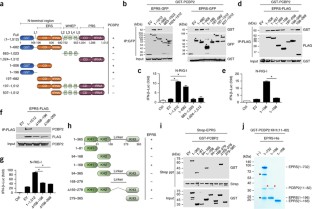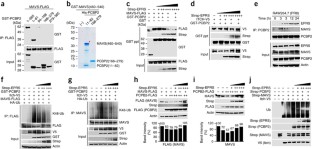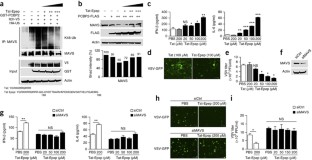 Accession codes
Primary accessions
Gene Expression Omnibus
References
Guo, M., Yang, X.L. & Schimmel, P. New functions of aminoacyl-tRNA synthetases beyond translation. Nat. Rev. Mol. Cell Biol. 11, 668–674 (2010).

Ray, P.S., Arif, A. & Fox, P.L. Macromolecular complexes as depots for releasable regulatory proteins. Trends Biochem. Sci. 32, 158–164 (2007).

Sampath, P. et al. Noncanonical function of glutamyl-prolyl-tRNA synthetase: gene-specific silencing of translation. Cell 119, 195–208 (2004).

Mukhopadhyay, R., Jia, J., Arif, A., Ray, P.S. & Fox, P.L. The GAIT system: a gatekeeper of inflammatory gene expression. Trends Biochem. Sci. 34, 324–331 (2009).

Guo, M. & Schimmel, P. Essential nontranslational functions of tRNA synthetases. Nat. Chem. Biol. 9, 145–153 (2013).

Tandle, A.T. et al. Endothelial monocyte activating polypeptide-II modulates endothelial cell responses by degrading hypoxia-inducible factor-1alpha through interaction with PSMA7, a component of the proteasome. Exp. Cell Res. 315, 1850–1859 (2009).

Kim, S., You, S. & Hwang, D. Aminoacyl-tRNA synthetases and tumorigenesis: more than housekeeping. Nat. Rev. Cancer 11, 708–718 (2011).

Kwon, N.H. et al. Dual role of methionyl-tRNA synthetase in the regulation of translation and tumor suppressor activity of aminoacyl-tRNA synthetase-interacting multifunctional protein-3. Proc. Natl. Acad. Sci. USA 108, 19635–19640 (2011).

Ofir-Birin, Y. et al. Structural switch of lysyl-tRNA synthetase between translation and transcription. Mol. Cell 49, 30–42 (2013).

Kim, D.G. et al. Interaction of two translational components, lysyl-tRNA synthetase and p40/37LRP, in plasma membrane promotes laminin-dependent cell migration. FASEB J. 26, 4142–4159 (2012).

Cho, H.Y. et al. Assembly of multi-tRNA synthetase complex via heterotetrameric glutathione transferase-homology domains. J. Biol. Chem. 290, 29313–29328 (2015).

Wolfe, C.L., Warrington, J.A., Treadwell, L. & Norcum, M.T. A three-dimensional working model of the multienzyme complex of aminoacyl-tRNA synthetases based on electron microscopic placements of tRNA and proteins. J. Biol. Chem. 280, 38870–38878 (2005).

Arif, A. et al. Two-site phosphorylation of EPRS coordinates multimodal regulation of noncanonical translational control activity. Mol. Cell 35, 164–180 (2009).

Jia, J., Arif, A., Ray, P.S. & Fox, P.L. WHEP domains direct noncanonical function of glutamyl-prolyl tRNA synthetase in translational control of gene expression. Mol. Cell 29, 679–690 (2008).

Vyas, K. et al. Genome-wide polysome profiling reveals an inflammation-responsive posttranscriptional operon in γ interferon-activated monocytes. Mol. Cell. Biol. 29, 458–470 (2009).

Schoenborn, J.R. & Wilson, C.B. Regulation of interferon-γ during innate and adaptive immune responses. Adv. Immunol. 96, 41–101 (2007).

Schroder, K., Hertzog, P.J., Ravasi, T. & Hume, D.A. Interferon-γ: an overview of signals, mechanisms and functions. J. Leukoc. Biol. 75, 163–189 (2004).

Akira, S., Uematsu, S. & Takeuchi, O. Pathogen recognition and innate immunity. Cell 124, 783–801 (2006).

McWhirter, S.M., Tenoever, B.R. & Maniatis, T. Connecting mitochondria and innate immunity. Cell 122, 645–647 (2005).

Gack, M.U. et al. TRIM25 RING-finger E3 ubiquitin ligase is essential for RIG-I-mediated antiviral activity. Nature 446, 916–920 (2007).

Belgnaoui, S.M. et al. Linear ubiquitination of NEMO negatively regulates the interferon antiviral response through disruption of the MAVS-TRAF3 complex. Cell Host Microbe 12, 211–222 (2012).

You, F. et al. PCBP2 mediates degradation of the adaptor MAVS via the HECT ubiquitin ligase AIP4. Nat. Immunol. 10, 1300–1308 (2009).

Yang, X.L. Structural disorder in expanding the functionome of aminoacyl-tRNA synthetases. Chem. Biol. 20, 1093–1099 (2013).

Sajish, M. et al. Trp-tRNA synthetase bridges DNA-PKcs to PARP-1 to link IFN-γ and p53 signaling. Nat. Chem. Biol. 8, 547–554 (2012).

Arif, A., Jia, J., Moodt, R.A., DiCorleto, P.E. & Fox, P.L. Phosphorylation of glutamyl-prolyl tRNA synthetase by cyclin-dependent kinase 5 dictates transcript-selective translational control. Proc. Natl. Acad. Sci. USA 108, 1415–1420 (2011).

Papatriantafyllou, M. Innate immunity: MAVS build-ups for defence. Nat. Rev. Immunol. 11, 570–571 (2011).

Xia, P. et al. IRTKS negatively regulates antiviral immunity through PCBP2 sumoylation-mediated MAVS degradation. Nat. Commun. 6, 8132 (2015).

Sekine, S. et al. ATP binding by glutamyl-tRNA synthetase is switched to the productive mode by tRNA binding. EMBO J. 22, 676–688 (2003).

Son, J. et al. Conformational changes in human prolyl-tRNA synthetase upon binding of the substrates proline and ATP and the inhibitor halofuginone. Acta Crystallogr. D Biol. Crystallogr. 69, 2136–2145 (2013).

van den Berg, A. & Dowdy, S.F. Protein transduction domain delivery of therapeutic macromolecules. Curr. Opin. Biotechnol. 22, 888–893 (2011).

Cahuzac, B., Berthonneau, E., Birlirakis, N., Guittet, E. & Mirande, M. A recurrent RNA-binding domain is appended to eukaryotic aminoacyl-tRNA synthetases. EMBO J. 19, 445–452 (2000).

Zhou, H., Sun, L., Yang, X.L. & Schimmel, P. ATP-directed capture of bioactive herbal-based medicine on human tRNA synthetase. Nature 494, 121–124 (2013).

Rubin, S.M. Deciphering the retinoblastoma protein phosphorylation code. Trends Biochem. Sci. 38, 12–19 (2013).

Burkhart, D.L. & Sage, J. Cellular mechanisms of tumour suppression by the retinoblastoma gene. Nat. Rev. Cancer 8, 671–682 (2008).

Yoneyama, M. et al. The RNA helicase RIG-I has an essential function in double-stranded RNA-induced innate antiviral responses. Nat. Immunol. 5, 730–737 (2004).

Takeuchi, O. & Akira, S. Pattern recognition receptors and inflammation. Cell 140, 805–820 (2010).

Wang, Y., Tong, X. & Ye, X. Ndfip1 negatively regulates RIG-I-dependent immune signaling by enhancing E3 ligase Smurf1-mediated MAVS degradation. J. Immunol. 189, 5304–5313 (2012).

Jacobs, J.L., Zhu, J., Sarkar, S.N. & Coyne, C.B. Regulation of mitochondrial antiviral signaling (MAVS) expression and signaling by the mitochondria-associated endoplasmic reticulum membrane (MAM) protein Gp78. J. Biol. Chem. 289, 1604–1616 (2014).

Castanier, C. et al. MAVS ubiquitination by the E3 ligase TRIM25 and degradation by the proteasome is involved in type I interferon production after activation of the antiviral RIG-I-like receptors. BMC Biol. 10, 44 (2012).

Rosen, B., Schick, J. & Wurst, W. Beyond knockouts: the International Knockout Mouse Consortium delivers modular and evolving tools for investigating mammalian genes. Mamm. Genome 26, 456–466 (2015).

Pascua, P.N. et al. Virulence and transmissibility of H1N2 influenza virus in ferrets imply the continuing threat of triple-reassortant swine viruses. Proc. Natl. Acad. Sci. USA 109, 15900–15905 (2012).

Kim, S.K. et al. A nineteen gene-based risk score classifier predicts prognosis of colorectal cancer patients. Mol. Oncol. 8, 1653–1666 (2014).

Han, J.M. et al. Leucyl-tRNA synthetase is an intracellular leucine sensor for the mTORC1-signaling pathway. Cell 149, 410–424 (2012).

French, A.P., Mills, S., Swarup, R., Bennett, M.J. & Pridmore, T.P. Colocalization of fluorescent markers in confocal microscope images of plant cells. Nat. Protoc. 3, 619–628 (2008).

Kim, K. et al. Reinvestigation of aminoacyl-tRNA synthetase core complex by affinity purification-mass spectrometry reveals TARSL2 as a potential member of the complex. PLoS One 8, e81734 (2013).
Acknowledgements
Supported by the KRIBB Initiative Program (KGM4541622 to M.H.K.), the National Research Foundation of Korea, funded by the Ministry of Science, ICT & Future Planning of Korea (NRF-2010-0029767 and 2014R1A2A1A01005971 to M.H.K.; NRF-M3A6A4-2010-0029785 to S.K.; and 2015020957 to J.-S.L.), the Korea Institute of Oriental Medicine (K12050 to J.-S.L.), the Ministry for Food, Agriculture, Forestry and Fisheries (315044031SB010 to J.-S.L.) and the Korea Health Industry Development Institute (HI14C3484 to C.L.).
Ethics declarations
Competing interests
The authors declare no competing financial interests.
Integrated supplementary information
Supplementary information
Supplementary Figures 1–8 and Supplementary Tables 1 and 2 (PDF 1905 kb)
About this article
Cite this article
Lee, EY., Lee, HC., Kim, HK. et al. Infection-specific phosphorylation of glutamyl-prolyl tRNA synthetase induces antiviral immunity. Nat Immunol 17, 1252–1262 (2016). https://doi.org/10.1038/ni.3542
Received:

Accepted:

Published:

Issue Date:

DOI: https://doi.org/10.1038/ni.3542