Abstract
Cyclic GMP-AMP synthase (cGAS) senses cytosolic DNA during viral infection and catalyzes synthesis of the dinucleotide cGAMP, which activates the adaptor STING to initiate antiviral responses. Here we found that deficiency in the carboxypeptidase CCP5 or CCP6 led to susceptibility to DNA viruses. CCP5 and CCP6 were required for activation of the transcription factor IRF3 and interferons. Polyglutamylation of cGAS by the enzyme TTLL6 impeded its DNA-binding ability, whereas TTLL4-mediated monoglutamylation of cGAS blocked its synthase activity. Conversely, CCP6 removed the polyglutamylation of cGAS, whereas CCP5 hydrolyzed the monoglutamylation of cGAS, which together led to the activation of cGAS. Therefore, glutamylation and deglutamylation of cGAS tightly modulate immune responses to infection with DNA viruses.
Access options
Subscribe to Journal
Get full journal access for 1 year
$225.00
only $18.75 per issue
All prices are NET prices.
VAT will be added later in the checkout.
Rent or Buy article
Get time limited or full article access on ReadCube.
from$8.99
All prices are NET prices.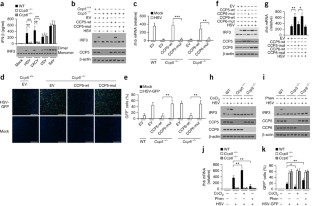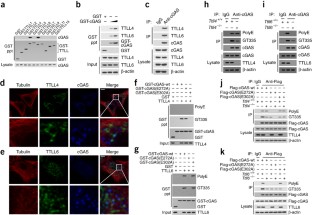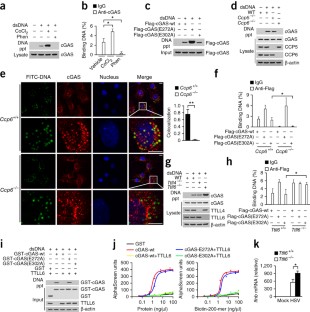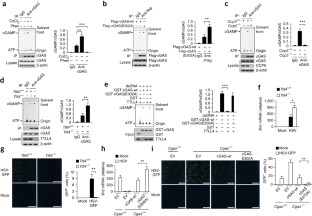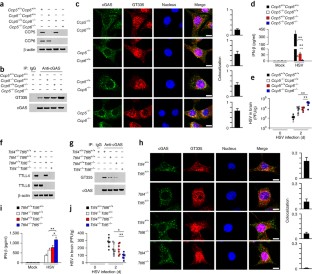 References
1

Wu, J. & Chen, Z.J. Innate immune sensing and signaling of cytosolic nucleic acids. Annu. Rev. Immunol. 32, 461–488 (2014).

2

Kumar, H., Kawai, T. & Akira, S. Pathogen recognition by the innate immune system. Int. Rev. Immunol. 30, 16–34 (2011).

3

Xia, P. et al. IRTKS negatively regulates antiviral immunity through PCBP2 sumoylation-mediated MAVS degradation. Nat. Commun. 6, 8132 (2015).

4

Hou, F. et al. MAVS forms functional prion-like aggregates to activate and propagate antiviral innate immune response. Cell 146, 448–461 (2011).

5

Loo, Y.M. & Gale, M. Jr. Immune signaling by RIG-I-like receptors. Immunity 34, 680–692 (2011).

6

Meylan, E. et al. Cardif is an adaptor protein in the RIG-I antiviral pathway and is targeted by hepatitis C virus. Nature 437, 1167–1172 (2005).

7

Xia, P. et al. Sox2 functions as a sequence-specific DNA sensor in neutrophils to initiate innate immunity against microbial infection. Nat. Immunol. 16, 366–375 (2015).

8

Bauer, M. et al. Bacterial CpG-DNA triggers activation and maturation of human CD11c−, CD123+ dendritic cells. J. Immunol. 166, 5000–5007 (2001).

9

Hornung, V. et al. AIM2 recognizes cytosolic dsDNA and forms a caspase-1-activating inflammasome with ASC. Nature 458, 514–518 (2009).

10

Takaoka, A. et al. DAI (DLM-1/ZBP1) is a cytosolic DNA sensor and an activator of innate immune response. Nature 448, 501–505 (2007).

11

Unterholzner, L. et al. IFI16 is an innate immune sensor for intracellular DNA. Nat. Immunol. 11, 997–1004 (2010).

12

Zhang, Z. et al. The helicase DDX41 senses intracellular DNA mediated by the adaptor STING in dendritic cells. Nat. Immunol. 12, 959–965 (2011).

13

Ablasser, A. et al. Cell intrinsic immunity spreads to bystander cells via the intercellular transfer of cGAMP. Nature 503, 530–534 (2013).

14

Li, X.D. et al. Pivotal roles of cGAS-cGAMP signaling in antiviral defense and immune adjuvant effects. Science 341, 1390–1394 (2013).

15

Sun, L., Wu, J., Du, F., Chen, X. & Chen, Z.J. Cyclic GMP-AMP synthase is a cytosolic DNA sensor that activates the type I interferon pathway. Science 339, 786–791 (2013).

16

Ablasser, A. et al. cGAS produces a 2-5-linked cyclic dinucleotide second messenger that activates STING. Nature 498, 380–384 (2013).

17

Hornung, V., Hartmann, R., Ablasser, A. & Hopfner, K.P. OAS proteins and cGAS: unifying concepts in sensing and responding to cytosolic nucleic acids. Nat. Rev. Immunol. 14, 521–528 (2014).

18

Gay, N.J., Symmons, M.F., Gangloff, M. & Bryant, C.E. Assembly and localization of Toll-like receptor signalling complexes. Nat. Rev. Immunol. 14, 546–558 (2014).

19

Popovic, D., Vucic, D. & Dikic, I. Ubiquitination in disease pathogenesis and treatment. Nat. Med. 20, 1242–1253 (2014).

20

Garnham, C.P. et al. Multivalent microtubule recognition by tubulin tyrosine ligase-like family glutamylases. Cell 161, 1112–1123 (2015).

21

Rogowski, K. et al. A family of protein-deglutamylating enzymes associated with neurodegeneration. Cell 143, 564–578 (2010).

22

Janke, C. et al. Tubulin polyglutamylase enzymes are members of the TTL domain protein family. Science 308, 1758–1762 (2005).

23

van Dijk, J. et al. A targeted multienzyme mechanism for selective microtubule polyglutamylation. Mol. Cell 26, 437–448 (2007).

24

Kubo, T., Yanagisawa, H.A., Yagi, T., Hirono, M. & Kamiya, R. Tubulin polyglutamylation regulates axonemal motility by modulating activities of inner-arm dyneins. Curr. Biol. 20, 441–445 (2010).

25

Ye, B. et al. Cytosolic carboxypeptidase CCP6 is required for megakaryopoiesis by modulating Mad2 polyglutamylation. J. Exp. Med. 211, 2439–2454 (2014).

26

Chiu, Y.H., Macmillan, J.B. & Chen, Z.J. RNA polymerase III detects cytosolic DNA and induces type I interferons through the RIG-I pathway. Cell 138, 576–591 (2009).

27

Berezniuk, I. et al. Cytosolic carboxypeptidase 1 is involved in processing α- and β-tubulin. J. Biol. Chem. 287, 6503–6517 (2012).

28

Civril, F. et al. Structural mechanism of cytosolic DNA sensing by cGAS. Nature 498, 332–337 (2013).

29

Gao, P. et al. Cyclic [G(2,5)pA(3,5)p] is the metazoan second messenger produced by DNA-activated cyclic GMP-AMP synthase. Cell 153, 1094–1107 (2013).

30

Gao, D. et al. Cyclic GMP-AMP synthase is an innate immune sensor of HIV and other retroviruses. Science 341, 903–906 (2013).

31

Ahn, J. & Barber, G.N. Self-DNA, STING-dependent signaling and the origins of autoinflammatory disease. Curr. Opin. Immunol. 31, 121–126 (2014).

32

Schoggins, J.W. et al. Pan-viral specificity of IFN-induced genes reveals new roles for cGAS in innate immunity. Nature 505, 691–695 (2014).

33

Kranzusch, P.J., Lee, A.S., Berger, J.M. & Doudna, J.A. Structure of human cGAS reveals a conserved family of second-messenger enzymes in innate immunity. Cell Rep 3, 1362–1368 (2013).

34

Berezniuk, I. et al. CCP1/Nna1 functions in protein turnover in mouse brain: Implications for cell death in Purkinje cell degeneration mice. FASEB J. 24, 1813–1823 (2010).

35

Garnham, C.P. & Roll-Mecak, A. The chemical complexity of cellular microtubules: tubulin post-translational modification enzymes and their roles in tuning microtubule functions. Cytoskeleton 69, 442–463 (2012).

36

Janke, C., Rogowski, K. & van Dijk, J. Polyglutamylation: a fine-regulator of protein function? 'Protein Modifications: beyond the usual suspects' review series. EMBO Rep. 9, 636–641 (2008).

37

Rodríguez de la Vega Otazo, M., Lorenzo, J., Tort, O., Aviles, F.X. & Bautista, J.M. Functional segregation and emerging role of cilia-related cytosolic carboxypeptidases (CCPs). FASEB J. 27, 424–431 (2013).

38

Fernandez-Gonzalez, A. et al. Purkinje cell degeneration (pcd) phenotypes caused by mutations in the axotomy-induced gene, Nna1. Science 295, 1904–1906 (2002).

39

Collins, A.C. et al. Cyclic GMP-AMP Synthase is an innate immune DNA sensor for Mycobacterium tuberculosis. Cell Host Microbe 17, 820–828 (2015).

40

Wassermann, R. et al. Mycobacterium tuberculosis differentially activates cGAS- and inflammasome-dependent intracellular immune responses through ESX-1. Cell Host Microbe 17, 799–810 (2015).

41

Watson, R.O. et al. The cytosolic sensor cGAS detects Mycobacterium tuberculosis DNA to induce type I interferons and activate autophagy. Cell Host Microbe 17, 811–819 (2015).

42

Zhu, X. et al. An efficient genotyping method for genome-modified animals and human cells generated with CRISPR/Cas9 system. Sci. Rep. 4, 6420 (2014).

43

Xia, P. et al. WASH inhibits autophagy through suppression of Beclin 1 ubiquitination. EMBO J. 32, 2685–2696 (2013).

44

Wang, S. et al. Transient activation of autophagy via Sox2-mediated suppression of mTOR is an important early step in reprogramming to pluripotency. Cell Stem Cell 13, 617–625 (2013).

45

Xia, P. et al. WASH is required for the differentiation commitment of hematopoietic stem cells in a c-Myc-dependent manner. J. Exp. Med. 211, 2119–2134 (2014).
Acknowledgements
We thank S. Meng, J. Cheng, M. Ding, J. Wang, X. Gao, X. Zhang, L. Zhou, X. Wu, J. Hao, D. Liu, J. Jia, C. Jiang and . Teng for technical support; J. Bennink (National Institute of Allergy and Infectious Diseases) for vesicular stomatits virus and VACV strains; H. Peng (Institute of Biophysics, Chinese Academy of Sciences) for Vero cells and HSV-1f virus. Supported by the National Natural Science Foundation of China (31530093, 91419308, 31300645, 31471386 and 31570892), the Strategic Priority Research Programs of the Chinese Academy of Sciences (XDA01010407 and XDA01020203), the Youth Innovation Promotion Association of Chinese Academy of Sciences (S.W.) and the China Postdoctoral Science Foundation (2015M571141 to P.X.).
Ethics declarations
Competing interests
The authors declare no competing financial interests.
Integrated supplementary information
Supplementary information
About this article
Cite this article
Xia, P., Ye, B., Wang, S. et al. Glutamylation of the DNA sensor cGAS regulates its binding and synthase activity in antiviral immunity. Nat Immunol 17, 369–378 (2016). https://doi.org/10.1038/ni.3356
Received:

Accepted:

Published:

Issue Date: