Abstract
Despite the importance of signaling lipids, many questions remain about their function because few tools are available for charting lipid gradients in vivo. Here we generated a sphingosine 1-phosphate (S1P) reporter mouse and used this mouse to define the distribution of S1P in the spleen. Unexpectedly, the presence of blood did not serve as a predictor of the concentration of signaling-available S1P. Large areas of the red pulp had low concentrations of S1P, while S1P was sensed by cells inside the white pulp near the marginal sinus. The lipid phosphate phosphatase LPP3 maintained low S1P concentrations in the spleen and enabled efficient shuttling of marginal zone B cells. The exquisitely tight regulation of S1P availability might explain how a single lipid can simultaneously orchestrate the movements of many cells of the immune system.
Access options
Subscribe to Journal
Get full journal access for 1 year
$225.00
only $18.75 per issue
All prices are NET prices.
VAT will be added later in the checkout.
Rent or Buy article
Get time limited or full article access on ReadCube.
from$8.99
All prices are NET prices.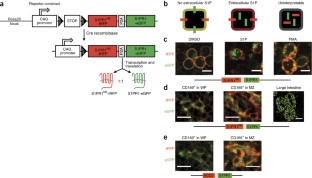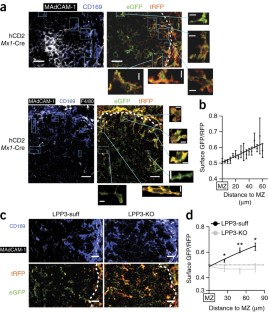 References
1

Sadik, C.D. & Luster, A.D. Lipid-cytokine-chemokine cascades orchestrate leukocyte recruitment in inflammation. J. Leukoc. Biol. 91, 207–215 (2012).

2

Kanda, H. et al. Autotaxin, an ectoenzyme that produces lysophosphatidic acid, promotes the entry of lymphocytes into secondary lymphoid organs. Nat. Immunol. 9, 415–423 (2008).

3

Bai, Z. et al. Constitutive lymphocyte transmigration across the basal lamina of high endothelial venules is regulated by the autotaxin/lysophosphatidic acid axis. J. Immunol. 190, 2036–2048 (2013).

4

Kabashima, K. et al. Thromboxane A2 modulates interaction of dendritic cells and T cells and regulates acquired immunity. Nat. Immunol. 4, 694–701 (2003).

5

Gatto, D. & Brink, R. B cell localization: regulation by EBI2 and its oxysterol ligand. Trends Immunol. 34, 336–341 (2013).

6

Cyster, J.G., Dang, E.V., Reboldi, A. & Yi, T. 25-Hydroxycholesterols in innate and adaptive immunity. Nat. Rev. Immunol. 14, 731–743 (2014).

7

Cyster, J.G. & Schwab, S.R. Sphingosine-1-phosphate and lymphocyte egress from lymphoid organs. Annu. Rev. Immunol. 30, 69–94 (2012).

8

Groom, J.R. et al. CXCR3 chemokine receptor-ligand interactions in the lymph node optimize CD4+ T helper 1 cell differentiation. Immunity 37, 1091–1103 (2012).

9

Ding, L. & Morrison, S.J. Haematopoietic stem cells and early lymphoid progenitors occupy distinct bone marrow niches. Nature 495, 231–235 (2013).

10

Sugiyama, T., Kohara, H., Noda, M. & Nagasawa, T. Maintenance of the hematopoietic stem cell pool by CXCL12-CXCR4 chemokine signaling in bone marrow stromal cell niches. Immunity 25, 977–988 (2006).

11

Saba, J.D. & Hla, T. Point-counterpoint of sphingosine 1-phosphate metabolism. Circ. Res. 94, 724–734 (2004).

12

Maceyka, M. & Spiegel, S. Sphingolipid metabolites in inflammatory disease. Nature 510, 58–67 (2014).

13

Pitson, S.M. et al. Activation of sphingosine kinase 1 by ERK1/2-mediated phosphorylation. EMBO J. 22, 5491–5500 (2003).

14

Mandala, S. et al. Alteration of lymphocyte trafficking by sphingosine-1-phosphate receptor agonists. Science 296, 346–349 (2002).

15

Liu, C.H. et al. Ligand-induced trafficking of the sphingosine-1-phosphate receptor EDG-1. Mol. Biol. Cell 10, 1179–1190 (1999).

16

Schwab, S.R. et al. Lymphocyte sequestration through S1P lyase inhibition and disruption of S1P gradients. Science 309, 1735–1739 (2005).

17

Chi, H. Sphingosine-1-phosphate and immune regulation: trafficking and beyond. Trends Pharmacol. Sci. 32, 16–24 (2011).

18

Mebius, R.E. & Kraal, G. Structure and function of the spleen. Nat. Rev. Immunol. 5, 606–616 (2005).

19

Groom, A.M.IC & Schmidt, E.E. in The Complete Spleen: Structure, Function, and Clinical Disorders (ed. Bowdler, A.J.) 23–50 (Humana Press, 2002).

20

Arnon, T.I. & Cyster, J.G. Blood, sphingosine-1-phosphate and lymphocyte migration dynamics in the spleen. Curr. Top. Microbiol. Immunol. 378, 107–128 (2014).

21

Pappu, R. et al. Promotion of lymphocyte egress into blood and lymph by distinct sources of sphingosine-1-phosphate. Science 316, 295–298 (2007).

22

Green, J.A. et al. The sphingosine 1-phosphate receptor S1P2 maintains the homeostasis of germinal center B cells and promotes niche confinement. Nat. Immunol. 12, 672–680 (2011).

23

Moriyama, S. et al. Sphingosine-1-phosphate receptor 2 is critical for follicular helper T cell retention in germinal centers. J. Exp. Med. 211, 1297–1305 (2014).

24

Czeloth, N. et al. Sphingosine-1 phosphate signaling regulates positioning of dendritic cells within the spleen. J. Immunol. 179, 5855–5863 (2007).

25

Kabashima, K. et al. Plasma cell S1P1 expression determines secondary lymphoid organ retention versus bone marrow tropism. J. Exp. Med. 203, 2683–2690 (2006).

26

Cortez-Retamozo, V. et al. Angiotensin II drives the production of tumor-promoting macrophages. Immunity 38, 296–308 (2013).

27

Parrill, A.L. et al. Identification of Edg1 receptor residues that recognize sphingosine 1-phosphate. J. Biol. Chem. 275, 39379–39384 (2000).

28

Thai, T.H. et al. Regulation of the germinal center response by microRNA-155. Science 316, 604–608 (2007).

29

Watterson, K.R. et al. Dual regulation of EDG1/S1P1 receptor phosphorylation and internalization by protein kinase C and G-protein-coupled receptor kinase 2. J. Biol. Chem. 277, 5767–5777 (2002).

30

Bankovich, A.J., Shiow, L.R. & Cyster, J.G. CD69 suppresses sphingosine 1-phosophate receptor-1 (S1P1) function through interaction with membrane helix 4. J. Biol. Chem. 285, 22328–22337 (2010).

31

Kühn, R., Schwenk, F., Aguet, M. & Rajewsky, K. Inducible gene targeting in mice. Science 269, 1427–1429 (1995).

32

Hahn, W.C. & Bierer, B.E. Separable portions of the CD2 cytoplasmic domain involved in signaling and ligand avidity regulation. J. Exp. Med. 178, 1831–1836 (1993).

33

Clausen, B.E., Burkhardt, C., Reith, W., Renkawitz, R. & Forster, I. Conditional gene targeting in macrophages and granulocytes using LysMcre mice. Transgenic Res. 8, 265–277 (1999).

34

Bréart, B. et al. Lipid phosphate phosphatase 3 enables efficient thymic egress. J. Exp. Med. 208, 1267–1278 (2011).

35

Escalante-Alcalde, D., Sanchez-Sanchez, R. & Stewart, C.L. Generation of a conditional Ppap2b/Lpp3 null allele. Genesis 45, 465–469 (2007).

36

Schmidt, E.E., MacDonald, I.C. & Groom, A.C. Comparative aspects of splenic microcirculatory pathways in mammals: the region bordering the white pulp. Scanning Microsc. 7, 613–628 (1993).

37

Schmidt, E.E., MacDonald, I.C. & Groom, A.C. Microcirculation in mouse spleen (nonsinusal) studied by means of corrosion casts. J. Morphol. 186, 17–29 (1985).

38

Cinamon, G. et al. Sphingosine 1-phosphate receptor 1 promotes B cell localization in the splenic marginal zone. Nat. Immunol. 5, 713–720 (2004).

39

Cinamon, G., Zachariah, M.A., Lam, O.M., Foss, F.W. Jr. & Cyster, J.G. Follicular shuttling of marginal zone B cells facilitates antigen transport. Nat. Immunol. 9, 54–62 (2008).

40

Arnon, T.I., Horton, R.M., Grigorova, I.L. & Cyster, J.G. Visualization of splenic marginal zone B-cell shuttling and follicular B-cell egress. Nature 493, 684–688 (2013).

41

Deng, L. et al. A novel mouse model of inflammatory bowel disease links mammalian target of rapamycin-dependent hyperproliferation of colonic epithelium to inflammation-associated tumorigenesis. Am. J. Pathol. 176, 952–967 (2010).

42

Hobeika, E. et al. Testing gene function early in the B cell lineage in mb1-cre mice. Proc. Natl. Acad. Sci. USA 103, 13789–13794 (2006).

43

Muinonen-Martin, A.J. et al. Melanoma cells break down LPA to establish local gradients that drive chemotactic dispersal. PLoS Biol. 12, e1001966 (2014).

44

Kono, M. et al. Sphingosine-1-phosphate receptor 1 reporter mice reveal receptor activation sites in vivo. J. Clin. Invest. 124, 2076–2086 (2014).

45

Cahalan, S.M. et al. Actions of a picomolar short-acting S1P1 agonist in S1P1-eGFP knock-in mice. Nat. Chem. Biol. 7, 254–256 (2011).

46

MacDonald, I.C., Schmidt, E.E. & Groom, A.C. The high splenic hematocrit: a rheological consequence of red cell flow through the reticular meshwork. Microvasc. Res. 42, 60–76 (1991).

47

López-Juárez, A. et al. Expression of LPP3 in Bergmann glia is required for proper cerebellar sphingosine-1-phosphate metabolism/signaling and development. Glia 59, 577–589 (2011).

48

Ruzankina, Y. et al. Deletion of the developmentally essential gene ATR in adult mice leads to age-related phenotypes and stem cell loss. Cell Stem Cell 1, 113–126 (2007).

49

Murata, K. et al. CD69-null mice protected from arthritis induced with anti-type II collagen antibodies. Int. Immunol. 15, 987–992 (2003).

50

Schaefer, B.C., Schaefer, M.L., Kappler, J.W., Marrack, P. & Kedl, R.M. Observation of antigen-dependent CD8+ T-cell/ dendritic cell interactions in vivo. Cell. Immunol. 214, 110–122 (2001).
Acknowledgements
We thank members of the Schwab laboratory, J. Cyster, T. Schmidt, J. Green, D. Littman, M. Dustin, S. Koralov, and T. Lu for discussions, and J. Cyster and L. Pitt for critical reading of the manuscript. Supported by the US National Institutes of Health (AI085166 to S.R.S.) and the Pew Charitable Trusts (S.R.S.).
Ethics declarations
Competing interests
The authors declare no competing financial interests.
Integrated supplementary information
Supplementary information
About this article
Cite this article
Ramos-Perez, W., Fang, V., Escalante-Alcalde, D. et al. A map of the distribution of sphingosine 1-phosphate in the spleen. Nat Immunol 16, 1245–1252 (2015) doi:10.1038/ni.3296
Received

Accepted

Published

Issue Date