Abstract
Upon recognition of antigen, B cells undertake a bifurcated response in which some cells rapidly differentiate into plasmablasts while others undergo affinity maturation in germinal centers (GCs). Here we identified a double-negative feedback loop between the transcription factors IRF4 and IRF8 that regulated the initial developmental bifurcation of activated B cells as well as the GC response. IRF8 dampened signaling via the B cell antigen receptor (BCR), facilitated antigen-specific interaction with helper T cells, and promoted antibody affinity maturation while antagonizing IRF4-driven differentiation of plasmablasts. Genomic analysis revealed concentration-dependent actions of IRF4 and IRF8 in regulating distinct gene-expression programs. Stochastic modeling suggested that the double-negative feedback was sufficient to initiate bifurcation of the B cell developmental trajectories.
Access options
Subscribe to Journal
Get full journal access for 1 year
$225.00
only $18.75 per issue
All prices are NET prices.
VAT will be added later in the checkout.
Rent or Buy article
Get time limited or full article access on ReadCube.
from$8.99
All prices are NET prices.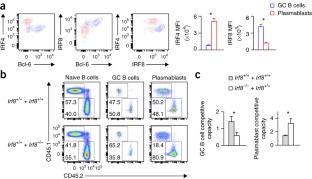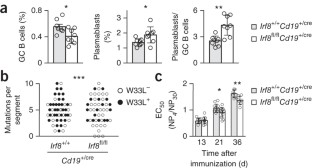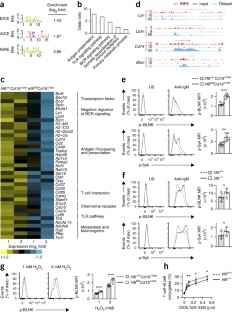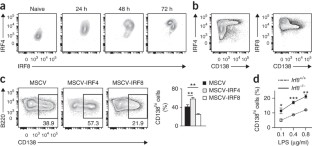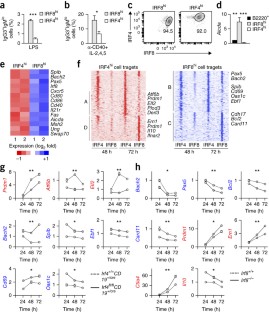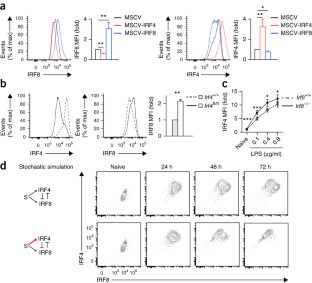 References
1

Jacob, J., Kassir, R. & Kelsoe, G. In situ studies of the primary immune response to (4-hydroxy-3-nitrophenyl)acetyl. I. The architecture and dynamics of responding cell populations. J. Exp. Med. 173, 1165–1175 (1991).

2

MacLennan, I.C. et al. Extrafollicular antibody responses. Immunol. Rev. 194, 8–18 (2003).

3

Victora, G.D. & Nussenzweig, M.C. Germinal centers. Annu. Rev. Immunol. 30, 429–457 (2012).

4

Sciammas, R. et al. Graded expression of interferon regulatory factor-4 coordinates isotype switching with plasma cell differentiation. Immunity 25, 225–236 (2006).

5

Sciammas, R. et al. An incoherent regulatory network architecture that orchestrates B cell diversification in response to antigen signaling. Mol. Syst. Biol. 7, 495 (2011).

6

Ochiai, K. et al. Transcriptional regulation of germinal center B and plasma cell fates by dynamical control of IRF4. Immunity 38, 918–929 (2013).

7

Singh, H., Glasmacher, E., Chang, A.B. & Vander Lugt, B. The molecular choreography of IRF4 and IRF8 with immune system partners. Cold Spring Harb. Symp. Quant. Biol. 78, 101–104 (2014).

8

Brüstle, A. et al. The development of inflammatory TH-17 cells requires interferon-regulatory factor 4. Nat. Immunol. 8, 958–966 (2007).

9

Ouyang, X. et al. Transcription factor IRF8 directs a silencing programme for TH17 cell differentiation. Nat. Commun. 2, 314 (2011).

10

Vander Lugt, B. et al. Transcriptional programming of dendritic cells for enhanced MHC class II antigen presentation. Nat. Immunol. 15, 161–167 (2014).

11

Carotta, S. et al. The transcription factors IRF8 and PU.1 negatively regulate plasma cell differentiation. J. Exp. Med. 211, 2169–2181 (2014).

12

Pathak, S., Ma, S., Shukla, V. & Lu, R. A role for IRF8 in B cell anergy. J. Immunol. 191, 6222–6230 (2013).

13

Lee, C.H. et al. Regulation of the germinal center gene program by interferon (IFN) regulatory factor 8/IFN consensus sequence-binding protein. J. Exp. Med. 203, 63–72 (2006).

14

Feng, J. et al. IFN regulatory factor 8 restricts the size of the marginal zone and follicular B cell pools. J. Immunol. 186, 1458–1466 (2011).

15

Kitamura, D., Roes, J., Kuhn, R. & Rajewsky, K.A. B cell-deficient mouse by targeted disruption of the membrane exon of the immunoglobulin μ chain gene. Nature 350, 423–426 (1991).

16

Burne-Taney, M.J. et al. B cell deficiency confers protection from renal ischemia reperfusion injury. J. Immunol. 171, 3210–3215 (2003).

17

Bajénoff, M. & Germain, R.N. B-cell follicle development remodels the conduit system and allows soluble antigen delivery to follicular dendritic cells. Blood 114, 4989–4997 (2009).

18

Pillai, S., Cariappa, A. & Moran, S.T. Marginal zone B cells. Annu. Rev. Immunol. 23, 161–196 (2005).

19

Liu, D. et al. T-B-cell entanglement and ICOSL-driven feed-forward regulation of germinal centre reaction. Nature 517, 214–218 (2015).

20

Allen, D., Simon, T., Sablitzky, F., Rajewsky, K. & Cumano, A. Antibody engineering for the analysis of affinity maturation of an anti-hapten response. EMBO J. 7, 1995–2001 (1988).

21

Cattoretti, G. et al. Nuclear and cytoplasmic AID in extrafollicular and germinal center B cells. Blood 107, 3967–3975 (2006).

22

Glasmacher, E. et al. A genomic regulatory element that directs assembly and function of immune-specific AP-1-IRF complexes. Science 338, 975–980 (2012).

23

Xu, Y., Harder, K.W., Huntington, N.D., Hibbs, M.L. & Tarlinton, D.M. Lyn tyrosine kinase: accentuating the positive and the negative. Immunity 22, 9–18 (2005).

24

Chew, V. & Lam, K.P. Leupaxin negatively regulates B cell receptor signaling. J. Biol. Chem. 282, 27181–27191 (2007).

25

Khalil, A.M., Cambier, J.C. & Shlomchik, M.J. B cell receptor signal transduction in the GC is short-circuited by high phosphatase activity. Science 336, 1178–1181 (2012).

26

Chu, C. et al. SAP-regulated T Cell-APC adhesion and ligation-dependent and -independent Ly108–CD3ζ interactions. J. Immunol. 193, 3860–3871 (2014).

27

Choe, J. & Choi, Y.S. IL-10 interrupts memory B cell expansion in the germinal center by inducing differentiation into plasma cells. Eur. J. Immunol. 28, 508–515 (1998).

28

Todd, D.J., Lee, A.H. & Glimcher, L.H. The endoplasmic reticulum stress response in immunity and autoimmunity. Nat. Rev. Immunol. 8, 663–674 (2008).

29

Gillespie, D.T. The chemical Langevin equation. J. Chem. Phys. 113, 297–306 (2000).

30

Kaern, M., Elston, T.C., Blake, W.J. & Collins, J.J. Stochasticity in gene expression: from theories to phenotypes. Nat. Rev. Genet. 6, 451–464 (2005).

31

Ettinger, R. et al. IL-21 induces differentiation of human naive and memory B cells into antibody-secreting plasma cells. J. Immunol. 175, 7867–7879 (2005).
Acknowledgements
We thank core facilities of the Cincinnati Children's Hospital Medical Center for help with mouse colony management, cell sorting and high-throughput DNA sequencing. Supported by the Cincinnati Children's Research Foundation (H.S.) and the Leukemia & Lymphoma Society Career Development Program (5442-16 for H.X.).
Ethics declarations
Competing interests
The authors declare no competing financial interests.
Integrated supplementary information
Supplementary information
About this article
Cite this article
Xu, H., Chaudhri, V., Wu, Z. et al. Regulation of bifurcating B cell trajectories by mutual antagonism between transcription factors IRF4 and IRF8. Nat Immunol 16, 1274–1281 (2015) doi:10.1038/ni.3287
Received

Accepted

Published

Issue Date