Abstract
Cytosolic DNA that emerges during infection with a retrovirus or DNA virus triggers antiviral type I interferon responses. So far, only double-stranded DNA (dsDNA) over 40 base pairs (bp) in length has been considered immunostimulatory. Here we found that unpaired DNA nucleotides flanking short base-paired DNA stretches, as in stem-loop structures of single-stranded DNA (ssDNA) derived from human immunodeficiency virus type 1 (HIV-1), activated the type I interferon–inducing DNA sensor cGAS in a sequence-dependent manner. DNA structures containing unpaired guanosines flanking short (12- to 20-bp) dsDNA (Y-form DNA) were highly stimulatory and specifically enhanced the enzymatic activity of cGAS. Furthermore, we found that primary HIV-1 reverse transcripts represented the predominant viral cytosolic DNA species during early infection of macrophages and that these ssDNAs were highly immunostimulatory. Collectively, our study identifies unpaired guanosines in Y-form DNA as a highly active, minimal cGAS recognition motif that enables detection of HIV-1 ssDNA.
Relevant articles
Open Access articles citing this article.
Amanda L. Gavin

,

Deli Huang

…

David Nemazee

Nature Communications Open Access 07 October 2021

Sunwoo Oh

,

Elodie Bournique

…

Rémi Buisson

Nature Communications Open Access 13 August 2021

Menghui Gao

,

Yuchen He

…

Yongguang Tao

Molecular Biomedicine Open Access 20 September 2020
Access options
Subscribe to this journal
Receive 12 print issues and online access
We are sorry, but there is no personal subscription option available for your country.
Rent or buy this article
Get just this article for as long as you need it
$39.95
Prices may be subject to local taxes which are calculated during checkout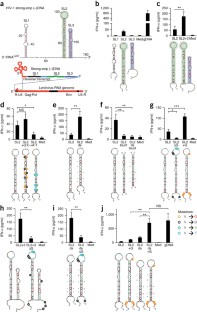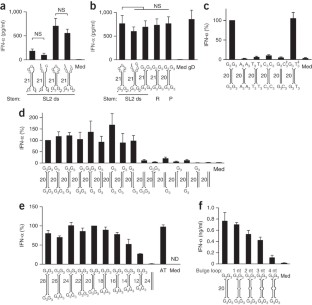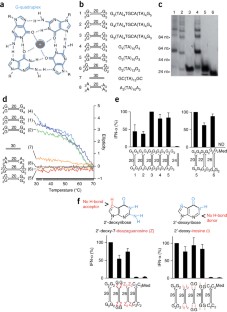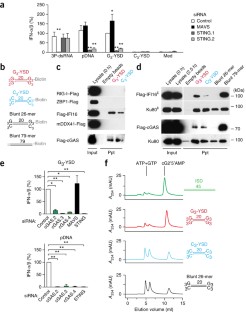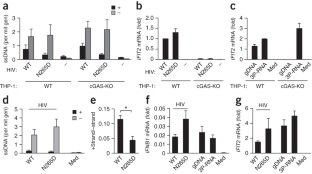 Accession codes
Accessions
NCBI Reference Sequence
References
Krieg, A.M. et al. CpG motifs in bacterial DNA trigger direct B-cell activation. Nature 374, 546–549 (1995).

Hemmi, H. et al. A Toll-like receptor recognizes bacterial DNA. Nature 408, 740–745 (2000).

Hartmann, G. et al. Rational design of new CpG oligonucleotides that combine B cell activation with high IFN-alpha induction in plasmacytoid dendritic cells. Eur. J. Immunol. 33, 1633–1641 (2003).

Hornung, V. et al. AIM2 recognizes cytosolic dsDNA and forms a caspase-1-activating inflammasome with ASC. Nature 458, 514–518 (2009).

Fernandes-Alnemri, T., Yu, J.W., Datta, P., Wu, J. & Alnemri, E.S. AIM2 activates the inflammasome and cell death in response to cytoplasmic DNA. Nature 458, 509–513 (2009).

Bürckstümmer, T. et al. An orthogonal proteomic-genomic screen identifies AIM2 as a cytoplasmic DNA sensor for the inflammasome. Nat. Immunol. 10, 266–272 (2009).

Ablasser, A. et al. RIG-I-dependent sensing of poly(dA:dT) through the induction of an RNA polymerase III-transcribed RNA intermediate. Nat. Immunol. 10, 1065–1072 (2009).

Chiu, Y.H., Macmillan, J.B. & Chen, Z.J. RNA polymerase III detects cytosolic DNA and induces type I interferons through the RIG-I pathway. Cell 138, 576–591 (2009).

Schlee, M. et al. Recognition of 5′ triphosphate by RIG-I helicase requires short blunt double-stranded RNA as contained in panhandle of negative-strand virus. Immunity 31, 25–34 (2009).

Cavlar, T., Ablasser, A. & Hornung, V. Induction of type I IFNs by intracellular DNA-sensing pathways. Immunol. Cell Biol. 90, 474–482 (2012).

Stetson, D.B. & Medzhitov, R. Recognition of cytosolic DNA activates an IRF3-dependent innate immune response. Immunity 24, 93–103 (2006).

Yang, P. et al. The cytosolic nucleic acid sensor LRRFIP1 mediates the production of type I interferon via a beta-catenin-dependent pathway. Nat. Immunol. 11, 487–494 (2010).

Bagashev, A. et al. Leucine-rich repeat (in Flightless I) interacting protein-1 regulates a rapid type I interferon response. J. Interferon Cytokine Res. 30, 843–852 (2010).

Zhang, X. et al. Cutting edge: Ku70 is a novel cytosolic DNA sensor that induces type III rather than type I IFN. J. Immunol. 186, 4541–4545 (2011).

Kim, T. et al. Aspartate-glutamate-alanine-histidine box motif (DEAH)/RNA helicase A helicases sense microbial DNA in human plasmacytoid dendritic cells. Proc. Natl. Acad. Sci. USA 107, 15181–15186 (2010).

Ishikawa, H., Ma, Z. & Barber, G.N. STING regulates intracellular DNA-mediated, type I interferon-dependent innate immunity. Nature 461, 788–792 (2009).

Zhong, B. et al. The adaptor protein MITA links virus-sensing receptors to IRF3 transcription factor activation. Immunity 29, 538–550 (2008).

Unterholzner, L. et al. IFI16 is an innate immune sensor for intracellular DNA. Nat. Immunol. 11, 997–1004 (2010).

Sun, L., Wu, J., Du, F., Chen, X. & Chen, Z.J. Cyclic GMP-AMP synthase is a cytosolic DNA sensor that activates the type I interferon pathway. Science 339, 786–791 (2013).

Jakobsen, M.R. & Paludan, S.R. IFI16: At the interphase between innate DNA sensing and genome regulation. Cytokine Growth Factor Rev. 25, 649–655 (2014).

Wu, J. et al. Cyclic GMP-AMP is an endogenous second messenger in innate immune signaling by cytosolic DNA. Science 339, 826–830 (2013).

Gao, P. et al. Cyclic [G(2′,5′)pA(3′,5′)p] is the metazoan second messenger produced by DNA-activated cyclic GMP-AMP synthase. Cell 153, 1094–1107 (2013).

Ablasser, A. et al. cGAS produces a 2′-5′-linked cyclic dinucleotide second messenger that activates STING. Nature 498, 380–384 (2013).

Civril, F. et al. Structural mechanism of cytosolic DNA sensing by cGAS. Nature 498, 332–337 (2013).

Kato, K. et al. Structural and functional analyses of DNA-sensing and immune activation by human cGAS. PLoS ONE 8, e76983 (2013).

Kranzusch, P.J., Lee, A.S., Berger, J.M. & Doudna, J.A. Structure of human cGAS reveals a conserved family of second-messenger enzymes in innate immunity. Cell Rep. 3, 1362–1368 (2013).

Gao, D. et al. Cyclic GMP-AMP synthase is an innate immune sensor of HIV and other retroviruses. Science 341, 903–906 (2013).

Zhang, X. et al. The cytosolic DNA sensor cGAS forms an oligomeric complex with DNA and undergoes switch-like conformational changes in the activation loop. Cell Rep. 6, 421–430 (2014).

Li, X. et al. Cyclic GMP-AMP synthase is activated by double-stranded DNA-induced oligomerization. Immunity 39, 1019–1031 (2013).

Li, X.D. et al. Pivotal roles of cGAS-cGAMP signaling in antiviral defense and immune adjuvant effects. Science 341, 1390–1394 (2013).

Lam, E., Stein, S. & Falck-Pedersen, E. Adenovirus detection by the cGAS/STING/TBK1 DNA sensing cascade. J. Virol. 88, 974–981 (2014).

Lahaye, X. et al. The capsids of HIV-1 and HIV-2 determine immune detection of the viral cDNA by the innate sensor cGAS in dendritic cells. Immunity 39, 1132–1142 (2013).

Rasaiyaah, J. et al. HIV-1 evades innate immune recognition through specific cofactor recruitment. Nature 503, 402–405 (2013).

Suzuki, K. et al. Activation of target-tissue immune-recognition molecules by double-stranded polynucleotides. Proc. Natl. Acad. Sci. USA 96, 2285–2290 (1999).

Ishii, K.J. et al. A Toll-like receptor-independent antiviral response induced by double-stranded B-form DNA. Nat. Immunol. 7, 40–48 (2006).

Jakobsen, M.R. et al. From the Cover: IFI16 senses DNA forms of the lentiviral replication cycle and controls HIV-1 replication. Proc. Natl. Acad. Sci. USA 110, E4571–E4580 (2013).

Galvis, A.E., Fisher, H.E., Nitta, T., Fan, H. & Camerini, D. Impairment of HIV-1 cDNA Synthesis by DBR1 Knockdown. J. Virol. 88, 7054–7069 (2014).

Gehrke, N. et al. Oxidative damage of DNA confers resistance to cytosolic nuclease TREX1 degradation and potentiates STING-dependent immune sensing. Immunity 39, 482–495 (2013).

Huppert, J.L. Four-stranded nucleic acids: structure, function and targeting of G-quadruplexes. Chem. Soc. Rev. 37, 1375–1384 (2008).

Murchie, A.I. & Lilley, D.M. Retinoblastoma susceptibility genes contain 5′ sequences with a high propensity to form guanine-tetrad structures. Nucleic Acids Res. 20, 49–53 (1992).

Hagmann, C.A. et al. RIG-I detects triphosphorylated RNA of Listeria monocytogenes during infection in non-immune cells. PLoS ONE 8, e62872 (2013).

Takaoka, A. et al. DAI (DLM-1/ZBP1) is a cytosolic DNA sensor and an activator of innate immune response. Nature 448, 501–505 (2007).

Zhang, Z. et al. The helicase DDX41 senses intracellular DNA mediated by the adaptor STING in dendritic cells. Nat. Immunol. 12, 959–965 (2011).

Fisher, T.S., Darden, T. & Prasad, V.R. Mutations proximal to the minor groove-binding track of human immunodeficiency virus type 1 reverse transcriptase differentially affect utilization of RNA versus DNA as template. J. Virol. 77, 5837–5845 (2003).

Mankan, A.K. et al. Cytosolic RNA:DNA hybrids activate the cGAS-STING axis. EMBO J. 33, 2937–2946 (2014).

Stetson, D.B., Ko, J.S., Heidmann, T. & Medzhitov, R. Trex1 prevents cell-intrinsic initiation of autoimmunity. Cell 134, 587–598 (2008).

Ablasser, A. et al. TREX1 deficiency triggers cell-autonomous immunity in a cGAS-dependent manner. J. Immunol. 192, 5993–5997 (2014).

Yoh, S.M. et al. PQBP1 Is a Proximal Sensor of the cGAS-Dependent Innate Response to HIV-1. Cell 161, 1293–1305 (2015).

Watts, J.M. et al. Architecture and secondary structure of an entire HIV-1 RNA genome. Nature 460, 711–716 (2009).

van der Kuyl, A.C. & Berkhout, B. The biased nucleotide composition of the HIV genome: a constant factor in a highly variable virus. Retrovirology 9, 92 (2012).

van Hemert, F.J., van der Kuyl, A.C. & Berkhout, B. The A-nucleotide preference of HIV-1 in the context of its structured RNA genome. RNA Biol. 10, 211–215 (2013).

Martin-Gayo, E. et al. Potent cell-intrinsic immune responses in dendritic cells facilitate HIV-1-specific T cell immunity in HIV-1 elite controllers. PLoS Pathog. 11, e1004930 (2015).

Gall, A. et al. Autoimmunity initiates in nonhematopoietic cells and progresses via lymphocytes in an interferon-dependent autoimmune disease. Immunity 36, 120–131 (2012).

Bauernfeind, F. et al. Cutting edge: reactive oxygen species inhibitors block priming, but not activation, of the NLRP3 inflammasome. J. Immunol. 187, 613–617 (2011).

Jin, T. et al. Structures of the HIN domain:DNA complexes reveal ligand binding and activation mechanisms of the AIM2 inflammasome and IFI16 receptor. Immunity 36, 561–571 (2012).
Acknowledgements
We thank C. Siering for help with circular dichroism spectroscopy, and S. Schmitt for discussions. Supported by Deutsche Forschungsgemeinschaft (SFB670 to M.S., W.B., V.H. and G.H.; DFG SCHL1930/1–1 to M.S.; SFB704 to G.H., V.H. and W.B.; and SFB832 and KFO177 to C.C. and G.H.), the Deutsche Forschungsgemeinschaft Excellence Cluster ImmunoSensation (G.H., M.S., V.H., E.B. and W.B.), BONFOR of the University of Bonn (E.B.) and the German Center of Infectious Disease (G.H., V.H. and W.B.).
Ethics declarations
Competing interests
The authors declare no competing financial interests.
Integrated supplementary information
Supplementary information
Supplementary Figures 1–6 (PDF 1519 kb)
Sequences of indicated DNA-structures (XLSX 57 kb)
Primers sequences (XLSX 45 kb)
About this article
Cite this article
Herzner, AM., Hagmann, C., Goldeck, M. et al. Sequence-specific activation of the DNA sensor cGAS by Y-form DNA structures as found in primary HIV-1 cDNA. Nat Immunol 16, 1025–1033 (2015). https://doi.org/10.1038/ni.3267
Received:

Accepted:

Published:

Issue Date:

DOI: https://doi.org/10.1038/ni.3267