Abstract
Secretory immunoglobulin A (SIgA) shields the gut epithelium from luminal antigens and contributes to host-microbe symbiosis. However, how antibody responses are regulated to achieve sustained host-microbe interactions is unknown. We found that mice and humans exhibited longitudinal persistence of clonally related B cells in the IgA repertoire despite major changes in the microbiota during antibiotic treatment or infection. Memory B cells recirculated between inductive compartments and were clonally related to plasma cells in gut and mammary glands. Our findings suggest that continuous diversification of memory B cells constitutes a central process for establishing symbiotic host-microbe interactions and offer an explanation of how maternal antibodies are optimized throughout life to protect the newborn.
Access options
Subscribe to this journal
Receive 12 print issues and online access
$189.00 per year
only $15.75 per issue
Rent or buy this article
Get just this article for as long as you need it
$39.95
Prices may be subject to local taxes which are calculated during checkout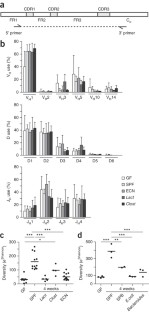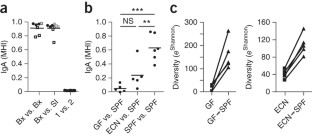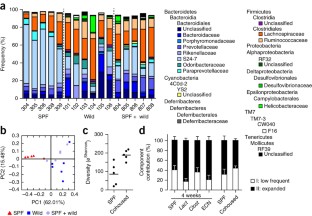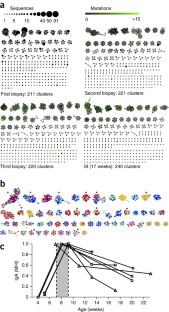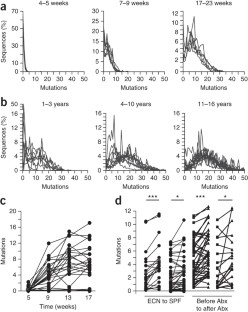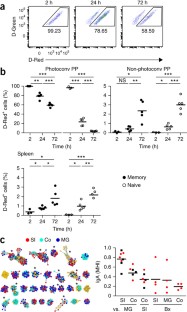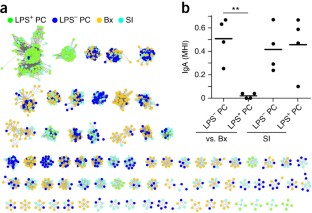 Accession codes
Primary accessions
European Nucleotide Archive
References
Kranich, J., Maslowski, K.M. & Mackay, C.R. Commensal flora and the regulation of inflammatory and autoimmune responses. Semin. Immunol. 23, 139–145 (2011).

Sommer, F. & Backhed, F. The gut microbiota—masters of host development and physiology. Nat. Rev. Microbiol. 11, 227–238 (2013).

Hooper, L.V., Littman, D.R. & Macpherson, A.J. Interactions between the microbiota and the immune system. Science 336, 1268–1273 (2012).

Shulzhenko, N. et al. Crosstalk between B lymphocytes, microbiota and the intestinal epithelium governs immunity versus metabolism in the gut. Nat. Med. 17, 1585–1593 (2011).

Kawamoto, S. et al. The inhibitory receptor PD-1 regulates IgA selection and bacterial composition in the gut. Science 336, 485–489 (2012).

Wei, M. et al. Mice carrying a knock-in mutation of Aicda resulting in a defect in somatic hypermutation have impaired gut homeostasis and compromised mucosal defense. Nat. Immunol. 12, 264–270 (2011).

Hapfelmeier, S. et al. Reversible microbial colonization of germ-free mice reveals the dynamics of IgA immune responses. Science 328, 1705–1709 (2010).

Lécuyer, E. et al. Segmented filamentous bacterium uses secondary and tertiary lymphoid tissues to induce gut IgA and specific T helper 17 cell responses. Immunity 40, 608–620 (2014).

Palm, N.W. et al. Immunoglobulin A coating identifies colitogenic bacteria in inflammatory bowel disease. Cell 158, 1000–1010 (2014).

Suzuki, K., Maruya, M., Kawamoto, S. & Fagarasan, S. Roles of B-1 and B-2 cells in innate and acquired IgA-mediated immunity. Immunol. Rev. 237, 180–190 (2010).

Pabst, O. New concepts in the generation and functions of IgA. Nat. Rev. Immunol. 12, 821–832 (2012).

Macpherson, A.J. et al. A primitive T cell-independent mechanism of intestinal mucosal IgA responses to commensal bacteria. Science 288, 2222–2226 (2000).

Slack, E., Balmer, M.L., Fritz, J.H. & Hapfelmeier, S. Functional flexibility of intestinal IgA—broadening the fine line. Front. Immunol. 3, 100 (2012).

Lefranc, M.P. et al. IMGT, the international ImMunoGeneTics information system. Nucleic Acids Res. 37, D1006–D1012 (2009).

Brochet, X., Lefranc, M.P. & Giudicelli, V. IMGT/V-QUEST: the highly customized and integrated system for IG and TR standardized V-J and V-D-J sequence analysis. Nucleic Acids Res. 36, W503–W508 (2008).

Lindner, C. et al. Age, microbiota, and T cells shape diverse individual IgA repertoires in the intestine. J. Exp. Med. 209, 365–377 (2012).

Larimore, K., McCormick, M.W., Robins, H.S. & Greenberg, P.D. Shaping of human germline IgH repertoires revealed by deep sequencing. J. Immunol. 189, 3221–3230 (2012).

Schloss, P.D. et al. Stabilization of the murine gut microbiome following weaning. Gut Microbes 3, 383–393 (2012).

Ben-Hamo, R. & Efroni, S. The whole-organism heavy chain B cell repertoire from Zebrafish self-organizes into distinct network features. BMC Syst. Biol. 5, 27 (2011).

Tomayko, M.M., Steinel, N.C., Anderson, S.M. & Shlomchik, M.J. Cutting edge: hierarchy of maturity of murine memory B cell subsets. J. Immunol. 185, 7146–7150 (2010).

Bergqvist, P. et al. Re-utilization of germinal centers in multiple Peyer's patches results in highly synchronized, oligoclonal, and affinity-matured gut IgA responses. Mucosal Immunol. 6, 122–135 (2013).

Ugur, M., Schulz, O., Menon, M.B., Krueger, A. & Pabst, O. Resident CD4+ T cells accumulate in lymphoid organs after prolonged antigen exposure. Nat. Commun. 5, 4821 (2014).

Schulz, O. et al. Hypertrophy of infected Peyer's patches arises from global, interferon-receptor, and CD69-independent shutdown of lymphocyte egress. Mucosal Immunol. 7, 892–904 (2014).

Brandtzaeg, P. The mucosal immune system and its integration with the mammary glands. J. Pediatr. 156, S8–S15 (2010).

Di Niro, R. et al. High abundance of plasma cells secreting transglutaminase 2–specific IgA autoantibodies with limited somatic hypermutation in celiac disease intestinal lesions. Nat. Med. 18, 441–445 (2012).

Di Niro, R. et al. Rapid generation of rotavirus-specific human monoclonal antibodies from small-intestinal mucosa. J. Immunol. 185, 5377–5383 (2010).

McHeyzer-Williams, L.J., Milpied, P.J., Okitsu, S.L. & McHeyzer-Williams, M.G. Class-switched memory B cells remodel BCRs within secondary germinal centers. Nat. Immunol. 16, 296–305 (2015).

Peterson, D.A., McNulty, N.P., Guruge, J.L. & Gordon, J.I. IgA response to symbiotic bacteria as a mediator of gut homeostasis. Cell Host Microbe 2, 328–339 (2007).

Wang, F. et al. Reshaping antibody diversity. Cell 153, 1379–1393 (2013).

Jenne, C.N., Kennedy, L.J. & Reynolds, J.D. Antibody repertoire development in the sheep. Dev. Comp. Immunol. 30, 165–174 (2006).

Spencer, J., Klavinskis, L.S. & Fraser, L.D. The human intestinal IgA response; burning questions. Front. Immunol. 3, 108 (2012).

Dunn-Walters, D.K., Boursier, L. & Spencer, J. Hypermutation, diversity and dissemination of human intestinal lamina propria plasma cells. Eur. J. Immunol. 27, 2959–2964 (1997).

Barone, F. et al. IgA-producing plasma cells originate from germinal centers that are induced by B-cell receptor engagement in humans. Gastroenterology 140, 947–956 (2011).

Bergqvist, P., Stensson, A., Lycke, N.Y. & Bemark, M. T cell-independent IgA class switch recombination is restricted to the GALT and occurs prior to manifest germinal center formation. J. Immunol. 184, 3545–3553 (2010).

Weller, S. et al. CD40–CD40L independent Ig gene hypermutation suggests a second B cell diversification pathway in humans. Proc. Natl. Acad. Sci. USA 98, 1166–1170 (2001).

Scheeren, F.A. et al. T cell-independent development and induction of somatic hypermutation in human IgM+ IgD+ CD27+ B cells. J. Exp. Med. 205, 2033–2042 (2008).

Vossenkämper, A. et al. A role for gut-associated lymphoid tissue in shaping the human B cell repertoire. J. Exp. Med. 210, 1665–1674 (2013).

Casola, S. et al. B cell receptor signal strength determines B cell fate. Nat. Immunol. 5, 317–327 (2004).

de Vinuesa, C.G. et al. Germinal centers without T cells. J. Exp. Med. 191, 485–494 (2000).

Shlomchik, M.J. & Weisel, F. Germinal center selection and the development of memory B and plasma cells. Immunol. Rev. 247, 52–63 (2012).

Boysen, P., Eide, D.M. & Storset, A.K. Natural killer cells in free-living Mus musculus have a primed phenotype. Mol. Ecol. 20, 5103–5110 (2011).

Gaboriau-Routhiau, V. et al. The key role of segmented filamentous bacteria in the coordinated maturation of gut helper T cell responses. Immunity 31, 677–689 (2009).

Edgar, R.C. Search and clustering orders of magnitude faster than BLAST. Bioinformatics 26, 2460–2461 (2010).

Shannon, P. et al. Cytoscape: a software environment for integrated models of biomolecular interaction networks. Genome Res. 13, 2498–2504 (2003).

Cline, M.S. et al. Integration of biological networks and gene expression data using Cytoscape. Nat. Protoc. 2, 2366–2382 (2007).

Magurran, A.E. Ecological Diversity and Its Measurement. (Princeton University Press, 1988).

Caporaso, J.G. et al. QIIME allows analysis of high-throughput community sequencing data. Nat. Methods 7, 335–336 (2010).

Wang, Q., Garrity, G.M., Tiedje, J.M. & Cole, J.R. Naive Bayesian classifier for rapid assignment of rRNA sequences into the new bacterial taxonomy. Appl. Environ. Microbiol. 73, 5261–5267 (2007).

Schulz, O. et al. Intestinal CD103+, but not CX3CR1+, antigen sampling cells migrate in lymph and serve classical dendritic cell functions. J. Exp. Med. 206, 3101–3114 (2009).

Naumov, Y.N., Naumova, E.N., Hogan, K.T., Selin, L.K. & Gorski, J. A fractal clonotype distribution in the CD8+ memory T cell repertoire could optimize potential for immune responses. J. Immunol. 170, 3994–4001 (2003).
Acknowledgements
We thank U. Kalinke (TWINCORE, Hannover, Germany), A. Krueger, I. Prinz, O. Schulz, S. Woltemate (Hannover Medical School, Hannover, Germany), M. Bemark (University of Gothenburg, Gothenburg, Sweden), B. Wabakken Hognestad and D. Ölsner (both at the Norwegian University of Life Sciences, Oslo, Norway), and R. Bharti (IKMB, University of Kiel, Kiel, Germany). This work was supported by the DFG Cluster of Excellence Inflammation at Interfaces (CL VIII to P.R., S.O. and S. Schreiber), the BMBF (grant SysINFLAME (TP3/4) to P.R.), the Israel Science Foundation (grant 270/09 to R.M.), the German Centre for Infection Research (DZIF), partner site Hannover-Braunschweig and Deutsche Forschungsgemeinschaft (grants PA921/4-1 (to O.P.) and SFB621-Z).
Ethics declarations
Competing interests
The authors declare no competing financial interests.
Integrated supplementary information
Supplementary information
Supplementary Figures 1–6, Supplementary Table 1 and Supplementary Note (PDF 2349 kb)
About this article
Cite this article
Lindner, C., Thomsen, I., Wahl, B. et al. Diversification of memory B cells drives the continuous adaptation of secretory antibodies to gut microbiota. Nat Immunol 16, 880–888 (2015). https://doi.org/10.1038/ni.3213
Received:

Accepted:

Published:

Issue Date:

DOI: https://doi.org/10.1038/ni.3213