Abstract
Interleukin 17–producing helper T cells (TH17 cells) have a major role in protection against infections and in mediating autoimmune diseases, yet the mechanisms involved are incompletely understood. We found that interleukin 26 (IL-26), a human TH17 cell–derived cytokine, is a cationic amphipathic protein that kills extracellular bacteria via membrane-pore formation. Furthermore, TH17 cell–derived IL-26 formed complexes with bacterial DNA and self-DNA released by dying bacteria and host cells. The resulting IL-26–DNA complexes triggered the production of type I interferon by plasmacytoid dendritic cells via activation of Toll-like receptor 9, but independently of the IL-26 receptor. These findings provide insights into the potent antimicrobial and proinflammatory function of TH17 cells by showing that IL-26 is a natural human antimicrobial that promotes immune sensing of bacterial and host cell death.
Relevant articles
Open Access articles citing this article.
Erin W. Meermeier

,

Christina L. Zheng

…

David M. Lewinsohn

Communications Biology Open Access 09 September 2022

Takumi Itoh

,

Ryo Hatano

…

Kei Ohnuma

Cell Death & Disease Open Access 21 May 2021

Pascal Rainard

,

Patricia Cunha

…

Gilles Foucras

Veterinary Research Open Access 15 October 2020
Access options
Subscribe to Journal
Get full journal access for 1 year
$79.00
only $6.58 per issue
All prices are NET prices.
VAT will be added later in the checkout.
Tax calculation will be finalised during checkout.
Buy article
Get time limited or full article access on ReadCube.
$32.00
All prices are NET prices.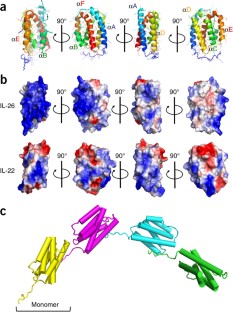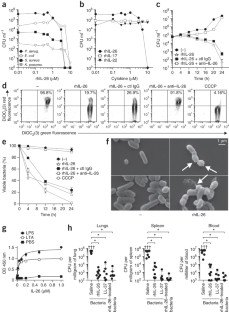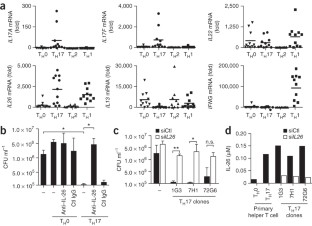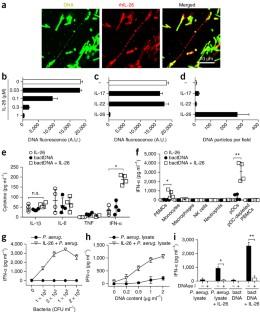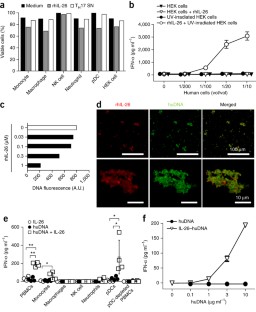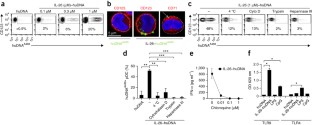 References
Wilson, N.J. et al. Development, cytokine profile and function of human interleukin 17–producing helper T cells. Nat. Immunol. 8, 950–957 (2007).

Manel, N., Unutmaz, D. & Littman, D.R. The differentiation of human T(H)-17 cells requires transforming growth factor–β and induction of the nuclear receptor RORγt. Nat. Immunol. 9, 641–649 (2008).

Bettelli, E., Korn, T., Oukka, M. & Kuchroo, V.K. Induction and effector functions of T(H)17 cells. Nature 453, 1051–1057 (2008).

Ma, C.S. et al. Deficiency of Th17 cells in hyper IgE syndrome due to mutations in STAT3. J. Exp. Med. 205, 1551–1557 (2008).

de Beaucoudrey, L. et al. Mutations in STAT3 and IL12RB1 impair the development of human IL-17-producing T cells. J. Exp. Med. 205, 1543–1550 (2008).

Gaffen, S.L., Jain, R., Garg, A.V. & Cua, D.J. The IL-23–IL-17 immune axis: from mechanisms to therapeutic testing. Nat. Rev. Immunol. 14, 585–600 (2014).

Ye, P. et al. Requirement of interleukin 17 receptor signaling for lung CXC chemokine and granulocyte colony-stimulating factor expression, neutrophil recruitment, and host defense. J. Exp. Med. 194, 519–527 (2001).

Wolk, K., Witte, E., Witte, K., Warszawska, K. & Sabat, R. Biology of interleukin-22. Semin. Immunopathol. 32, 17–31 (2010).

Nurieva, R. et al. Essential autocrine regulation by IL-21 in the generation of inflammatory T cells. Nature 448, 480–483 (2007).

Knappe, A., Hor, S., Wittmann, S. & Fickenscher, H. Induction of a novel cellular homolog of interleukin-10, AK155, by transformation of T lymphocytes with herpesvirus saimiri. J. Virol. 74, 3881–3887 (2000).

Donnelly, R.P. et al. Interleukin-26: an IL-10-related cytokine produced by Th17 cells. Cytokine Growth Factor Rev. 21, 393–401 (2010).

Dambacher, J. et al. The role of the novel Th17 cytokine IL-26 in intestinal inflammation. Gut 58, 1207–1217 (2009).

Corvaisier, M. et al. IL-26 is overexpressed in rheumatoid arthritis and induces proinflammatory cytokine production and Th17 cell generation. PLoS Biol. 10, e1001395 (2012).

Goris, A., Marrosu, M.G. & Vandenbroeck, K. Novel polymorphisms in the IL-10 related AK155 gene (chromosome 12q15). Genes Immun. 2, 284–286 (2001).

Vandenbroeck, K. et al. Polymorphisms in the interferon-gamma/interleukin-26 gene region contribute to sex bias in susceptibility to rheumatoid arthritis. Arthritis Rheum. 48, 2773–2778 (2003).

Silverberg, M.S. et al. Ulcerative colitis-risk loci on chromosomes 1p36 and 12q15 found by genome-wide association study. Nat. Genet. 41, 216–220 (2009).

Hör, S. et al. The T-cell lymphokine interleukin-26 targets epithelial cells through the interleukin-20 receptor 1 and interleukin-10 receptor 2 chains. J. Biol. Chem. 279, 33343–33351 (2004).

Sheikh, F. et al. Cutting edge: IL-26 signals through a novel receptor complex composed of IL-20 receptor 1 and IL-10 receptor 2. J. Immunol. 172, 2006–2010 (2004).

Nagem, R.A. et al. Crystal structure of recombinant human interleukin-22. Structure 10, 1051–1062 (2002).

Zdanov, A. et al. Crystal structure of interleukin-10 reveals the functional dimer with an unexpected topological similarity to interferon gamma. Structure 3, 591–601 (1995).

Zasloff, M. Antimicrobial peptides of multicellular organisms. Nature 415, 389–395 (2002).

Roger, T. et al. Macrophage migration inhibitory factor deficiency is associated with impaired killing of gram-negative bacteria by macrophages and increased susceptibility to Klebsiella pneumoniae sepsis. J. Infect. Dis. 207, 331–339 (2013).

Volpe, E. et al. A critical function for transforming growth factor–β, interleukin 23 and proinflammatory cytokines in driving and modulating human T(H)-17 responses. Nat. Immunol. 9, 650–657 (2008).

Lande, R. et al. Plasmacytoid dendritic cells sense self-DNA coupled with antimicrobial peptide. Nature 449, 564–569 (2007).

Chamilos, G. et al. Cytosolic sensing of extracellular self-DNA transported into monocytes by the antimicrobial peptide LL37. Blood 120, 3699–3707 (2012).

Lande, R. et al. Cationic antimicrobial peptides in psoriatic skin cooperate to break innate tolerance to self-DNA. Eur. J. Immunol. 45, 203–213 (2015).

Lande, R. et al. Neutrophils activate plasmacytoid dendritic cells by releasing self-DNA–peptide complexes in systemic lupus erythematosus. Sci. Transl. Med. 3, 73ra19 (2011).

Ghirelli, C., Zollinger, R. & Soumelis, V. Systematic cytokine receptor profiling reveals GM-CSF as a novel TLR-independent activator of human plasmacytoid predendritic cells. Blood 115, 5037–5040 (2010).

Sandgren, S. et al. The human antimicrobial peptide LL-37 transfers extracellular DNA plasmid to the nuclear compartment of mammalian cells via lipid rafts and proteoglycan-dependent endocytosis. J. Biol. Chem. 279, 17951–17956 (2004).

Nestle, F.O. et al. Plasmacytoid predendritic cells initiate psoriasis through interferon-α production. J. Exp. Med. 202, 135–143 (2005).

Raffatellu, M. et al. Simian immunodeficiency virus–induced mucosal interleukin-17 deficiency promotes Salmonella dissemination from the gut. Nat. Med. 14, 421–428 (2008).

O'Connell, R.M. et al. Type I interferon production enhances susceptibility to Listeria monocytogenes infection. J. Exp. Med. 200, 437–445 (2004).

Teles, R.M. et al. Type I interferon suppresses type II interferon-triggered human anti-mycobacterial responses. Science 339, 1448–1453 (2013).

Qiu, H. et al. Type I IFNs enhance susceptibility to Chlamydia muridarum lung infection by enhancing apoptosis of local macrophages. J. Immunol. 181, 2092–2102 (2008).

Parker, D. et al. Induction of type I interferon signaling by Pseudomonas aeruginosa is diminished in cystic fibrosis epithelial cells. Am. J. Respir. Cell Mol. Biol. 46, 6–13 (2012).

Mancuso, G. et al. Type I IFN signaling is crucial for host resistance against different species of pathogenic bacteria. J. Immunol. 178, 3126–3133 (2007).

Theofilopoulos, A.N., Baccala, R., Beutler, B. & Kono, D.H. Type I interferons (α/β) in immunity and autoimmunity. Annu. Rev. Immunol. 23, 307–336 (2005).

Santini, S.M. et al. Type I interferon as a powerful adjuvant for monocyte-derived dendritic cell development and activity in vitro and in Hu-PBL-SCID mice. J. Exp. Med. 191, 1777–1788 (2000).

Luft, T. et al. Type I IFNs enhance the terminal differentiation of dendritic cells. J. Immunol. 161, 1947–1953 (1998).

Le Bon, A. et al. Cross-priming of CD8+ T cells stimulated by virus-induced type I interferon. Nat. Immunol. 4, 1009–1015 (2003).

Hibbert, L., Pflanz, S., De Waal Malefyt, R. & Kastelein, R.A. IL-27 and IFN-α signal via Stat1 and Stat3 and induce T-Bet and IL-12Rβ2 in naive T cells. J. Interferon Cytokine Res. 23, 513–522 (2003).

Jego, G. et al. Plasmacytoid dendritic cells induce plasma cell differentiation through type I interferon and interleukin 6. Immunity 19, 225–234 (2003).

Venet, F., Huang, X., Chung, C.S., Chen, Y. & Ayala, A. Plasmacytoid dendritic cells control lung inflammation and monocyte recruitment in indirect acute lung injury in mice. Am. J. Pathol. 176, 764–773 (2010).

Lande, R. et al. Characterization and recruitment of plasmacytoid dendritic cells in synovial fluid and tissue of patients with chronic inflammatory arthritis. J. Immunol. 173, 2815–2824 (2004).

Baumgart, D.C. et al. Aberrant plasmacytoid dendritic cell distribution and function in patients with Crohn's disease and ulcerative colitis. Clin. Exp. Immunol. 166, 46–54 (2011).

Ganguly, D. et al. Self-RNA-antimicrobial peptide complexes activate human dendritic cells through TLR7 and TLR8. J. Exp. Med. 206, 1983–1994 (2009).

Opdenakker, G., Rudd, P.M., Wormald, M., Dwek, R.A. & Van Damme, J. Cells regulate the activities of cytokines by glycosylation. FASEB J. 9, 453–457 (1995).

Wang, G. Post-translational modifications of natural antimicrobial peptides and strategies for peptide engineering. Curr. Biotechnol. 1, 72–79 (2012).

Roy, A., Kucukural, A. & Zhang, Y. I-TASSER: a unified platform for automated protein structure and function prediction. Nat. Protoc. 5, 725–738 (2010).

Konarev, P.V., Petoukhov, M.V., Volkov, V.V. & Svergun, D.I. ATSAS 2.1, a program package for small-angle scattering data analysis. J. Appl. Crystallogr. 39, 277–286 (2006).
Acknowledgements
We thank K. Dunner for scanning electron microscopy at the HREM Facility, MD Anderson Cancer Center. We thank L. Bover and the Monoclonal Antibody Core Facility staff at the MD Anderson Cancer Center for assistance in generating monoclonal antibodies to IL-26. We thank the Berkeley Laboratory Advanced Light Source and the SIBYLS beamline staff at 12.3.1 for assistance with the collection of small-angle X-ray scattering data, and we thank K. Dyer for the mail-in service provided by SIBYLS. This work was funded by the Swiss National Science Foundation (grant 144072), the National Cancer Institute (PO1 grant CA128913) and the DANA Foundation (all to M.G.). S.M. was partly supported by the German Research Foundation and the research commission of the Medical Faculty of the University of Düsseldorf. Research by S.T.A. was supported by the King Abdullah University of Science and Technology (KAUST). T.R. is supported by the Swiss National Science Foundation (grant 149511).
Ethics declarations
Competing interests
The authors declare no competing financial interests.
Integrated supplementary information
Supplementary information
About this article
Cite this article
Meller, S., Di Domizio, J., Voo, K. et al. TH17 cells promote microbial killing and innate immune sensing of DNA via interleukin 26. Nat Immunol 16, 970–979 (2015). https://doi.org/10.1038/ni.3211
Received:

Accepted:

Published:

Issue Date:

DOI: https://doi.org/10.1038/ni.3211