Abstract
The sensing of microbe-associated molecular patterns (MAMPs) triggers innate immunity in animals and plants. Lipopolysaccharide (LPS) from Gram-negative bacteria is a potent MAMP for mammals, with the lipid A moiety activating proinflammatory responses via Toll-like receptor 4 (TLR4). Here we found that the plant Arabidopsis thaliana specifically sensed LPS of Pseudomonas and Xanthomonas. We isolated LPS-insensitive mutants defective in the bulb-type lectin S-domain-1 receptor–like kinase LORE (SD1-29), which were hypersusceptible to infection with Pseudomonas syringae. Targeted chemical degradation of LPS from Pseudomonas species suggested that LORE detected mainly the lipid A moiety of LPS. LORE conferred sensitivity to LPS onto tobacco after transient expression, which demonstrated a key function in LPS sensing and indicated the possibility of engineering resistance to bacteria in crop species.
Relevant articles
Open Access articles citing this article.
Diego Rebaque

,

Gemma López

…

Antonio Molina

Plant Molecular Biology Open Access 02 May 2023

Xin Wang

,

Ming-Hua Wu

…

Long-Fei He

BMC Plant Biology Open Access 21 June 2021

Wanhui Kim

,

Maxim Prokchorchik

…

Cécile Segonzac

Horticulture Research Open Access 01 November 2020
Access options
Subscribe to this journal
Receive 12 print issues and online access
$189.00 per year
only $15.75 per issue
Rent or buy this article
Get just this article for as long as you need it
$39.95
Prices may be subject to local taxes which are calculated during checkout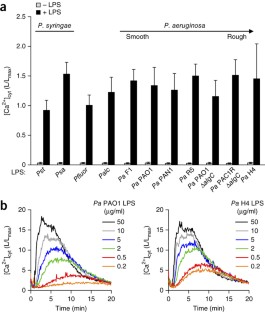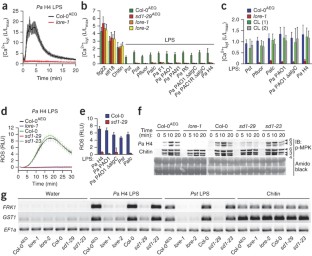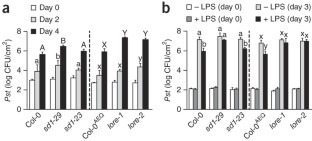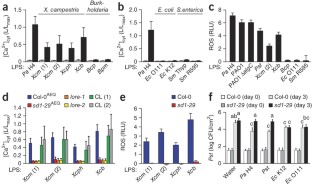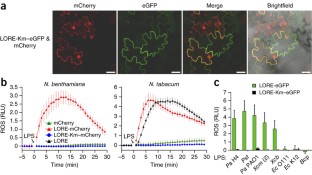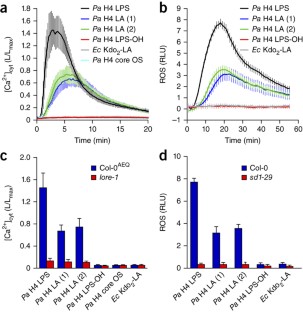 References
Jones, J.D. & Dangl, J.L. The plant immune system. Nature 444, 323–329 (2006).

Boller, T. & Felix, G. A renaissance of elicitors: perception of microbe-associated molecular patterns and danger signals by pattern-recognition receptors. Annu. Rev. Plant Biol. 60, 379–406 (2009).

Shiu, S. & Bleecker, A. Receptor-like kinases from Arabidopsis form a monophyletic gene family related to animal receptor kinases. Proc. Natl. Acad. Sci. USA 98, 10763–10768 (2001).

Shiu, S. & Bleecker, A. Expansion of the receptor-like kinase/Pelle gene family and receptor-like proteins in Arabidopsis. Plant Physiol. 132, 530–543 (2003).

Zipfel, C. Plant pattern-recognition receptors. Trends Immunol. 35, 345–351 (2014).

Wan, J. et al. LYK4, a lysin motif receptor-like kinase, is important for chitin signaling and plant innate immunity in Arabidopsis. Plant Physiol. 160, 396–406 (2012).

Cao, Y. et al. The kinase LYK5 is a major chitin receptor in Arabidopsis and forms a chitin-induced complex with related kinase CERK1. eLife doi:10.7554/eLife.03766 (2014).10.7554/eLife.03766

Knirel, Y.A., Bystrova, O.V., Kocharova, N.A., Zähringer, U. & Pier, G.B. Conserved and variable structural features in the lipopolysaccharide of Pseudomonas aeruginosa. J. Endotoxin Res. 12, 324–336 (2006).

Zipfel, C. & Felix, G. Plants and animals: a different taste for microbes? Curr. Opin. Plant Biol. 8, 353–360 (2005).

Schroeder, T.H. et al. CFTR is a pattern recognition molecule that extracts Pseudomonas aeruginosa LPS from the outer membrane into epithelial cells and activates NF-κB translocation. Proc. Natl. Acad. Sci. USA 99, 6907–6912 (2002).

McIsaac, S.M., Stadnyk, A.W. & Lin, T.-J. Toll-like receptors in the host defense against Pseudomonas aeruginosa respiratory infection and cystic fibrosis. J. Leukoc. Biol. doi:10.1189/jlb.0811410 (2012).10.1189/jlb.0811410

Tan, Y. & Kagan, J.C. A cross-disciplinary perspective on the innate immune responses to bacterial lipopolysaccharide. Mol. Cell 54, 212–223 (2014).

Shi, J. et al. Inflammatory caspases are innate immune receptors for intracellular LPS. Nature 514, 187–192 (2014).

Newman, M.A., Sundelin, T., Nielsen, J.T. & Erbs, G. MAMP (microbe-associated molecular pattern) triggered immunity in plants. Front. Plant Sci. 4, 139 (2013).

Silipo, A. et al. Glyco-conjugates as elicitors or suppressors of plant innate immunity. Glycobiology 20, 406–419 (2010).

Zeidler, D. et al. Innate immunity in Arabidopsis thaliana: lipopolysaccharides activate nitric oxide synthase (NOS) and induce defense genes. Proc. Natl. Acad. Sci. USA 101, 15811–15816 (2004).

Silipo, A. et al. The elicitation of plant innate immunity by lipooligosaccharide of Xanthomonas campestris. J. Biol. Chem. 280, 33660–33668 (2005).

Bedini, E. et al. Structure-dependent modulation of a pathogen response in plants by synthetic O-antigen polysaccharides. J. Am. Chem. Soc. 127, 2414–2416 (2005).

Madala, N.E., Molinaro, A. & Dubery, I.A. Distinct carbohydrate and lipid-based molecular patterns within lipopolysaccharides from Burkholderia cepacia contribute to defense-associated differential gene expression in Arabidopsis thaliana. Innate Immun. 18, 140–154 (2012).

Ranf, S., Eschen-Lippold, L., Pecher, P., Lee, J. & Scheel, D. Interplay between calcium signalling and early signalling elements during defence responses to microbe- or damage-associated molecular patterns. Plant J. 68, 100–113 (2011).

Bitter, W. et al. Species-specific functioning of the Pseudomonas XcpQ secretin: role for the C-terminal homology domain and lipopolysaccharide. J. Bacteriol. 189, 2967–2975 (2007).

Kocíncová, D. & Lam, J.S. Structural diversity of the core oligosaccharide domain of Pseudomonas aeruginosa lipopolysaccharide. Biochemistry (Mosc.) 76, 755–760 (2011).

Sánchez Carballo, P.M., Rietschel, E.T., Kosma, P. & Zähringer, U. Elucidation of the structure of an alanine-lacking core tetrasaccharide trisphosphate from the lipopolysaccharide of Pseudomonas aeruginosa mutant H4. Eur. J. Biochem. 261, 500–508 (1999).

Ranf, S. et al. Defense-related calcium signaling mutants uncovered via a quantitative high-throughput screen in Arabidopsis thaliana. Mol. Plant 5, 115–130 (2012).

Vaid, N., Pandey, P.K. & Tuteja, N. Genome-wide analysis of lectin receptor-like kinase family from Arabidopsis and rice. Plant Mol. Biol. 80, 365–388 (2012).

Zipfel, C. et al. Bacterial disease resistance in Arabidopsis through flagellin perception. Nature 428, 764–767 (2004).

Xing, S., Li, M. & Liu, P. Evolution of S-domain receptor-like kinases in land plants and origination of S-locus receptor kinases in Brassicaceae. BMC Evol. Biol. 13, 69 (2013).

Samuel, M.A. et al. Interactions between the S-domain receptor kinases and AtPUB-ARM E3 ubiquitin ligases suggest a conserved signaling pathway in Arabidopsis. Plant Physiol. 147, 2084–2095 (2008).

Mamat, U. et al. WaaA of the hyperthermophilic bacterium Aquifex aeolicus is a monofunctional 3-deoxy-D-manno-oct-2-ulosonic acid transferase involved in lipopolysaccharide biosynthesis. J. Biol. Chem. 284, 22248–22262 (2009).

Alexander, C. & Rietschel, E.T. Bacterial lipopolysaccharides and innate immunity. J. Endotoxin Res. 7, 167–202 (2001).

Miller, S.I., Ernst, R.K. & Bader, M.W. LPS, TLR4 and infectious disease diversity. Nat. Rev. Microbiol. 3, 36–46 (2005).

Zähringer, U. et al. NMR-based structural analysis of the complete rough-type lipopolysaccharide isolated from Capnocytophaga canimorsus. J. Biol. Chem. 289, 23963–23976 (2014).

Ittig, S. et al. The lipopolysaccharide from Capnocytophaga canimorsus reveals an unexpected role of the core-oligosaccharide in MD-2 binding. PLoS Pathog. 8, e1002667 (2012).

Silipo, A. et al. The acylation and phosphorylation pattern of lipid A from Xanthomonas campestris strongly influence its ability to trigger the innate immune response in Arabidopsis. ChemBioChem 9, 896–904 (2008).

Ciesielski, F., Griffin, D.C., Rittig, M., Moriyón, I. & Bonev, B.B. Interactions of lipopolysaccharide with lipid membranes, raft models - a solid state NMR study. Biochim. Biophys. Acta 1828, 1731–1742 (2013).

Ciesielski, F., Davis, B., Rittig, M., Bonev, B.B. & O'Shea, P. Receptor-independent interaction of bacterial lipopolysaccharide with lipid and lymphocyte membranes; the role of cholesterol. PLoS ONE 7, e38677 (2012).

Park, B.S. et al. The structural basis of lipopolysaccharide recognition by the TLR4-MD-2 complex. Nature 458, 1191–1195 (2009).

Nürnberger, T., Brunner, F., Kemmerling, B. & Piater, L. Innate immunity in plants and animals: striking similarities and obvious differences. Immunol. Rev. 198, 249–266 (2004).

Takasaki, T. et al. The S receptor kinase determines self-incompatibility in Brassica stigma. Nature 403, 913–916 (2000).

Ivanov, R., Fobis-Loisy, I. & Gaude, T. When no means no: guide to Brassicaceae self-incompatibility. Trends Plant Sci. 15, 387–394 (2010).

Knight, M.R., Campbell, A.K., Smith, S.M. & Trewavas, A.J. Transgenic plant aequorin reports the effects of touch and cold-shock and elicitors on cytoplasmic calcium. Nature 352, 524–526 (1991).

Gómez-Gómez, L., Felix, G. & Boller, T. A single locus determines sensitivity to bacterial flagellin in Arabidopsis thaliana. Plant J. 18, 277–284 (1999).

Kunze, G. et al. The N terminus of bacterial elongation factor Tu elicits innate immunity in Arabidopsis plants. Plant Cell 16, 3496–3507 (2004).

Westphal, O. & Jann, K. in Methods Carbohydr. Chem. vol. 5. (eds. Whistler. R. & Wolfan, M.) 83–91 (Academic Press, 1965).

Galanos, C., Lüderitz, O. & Westphal, O. A new method for the extraction of R lipopolysaccharides. Eur. J. Biochem. 9, 245–249 (1969).

Zähringer, U., Salvetzki, R., Wagner, F., Lindner, B. & Ulmer, A.J. Structural and biological characterisation of a novel tetra-acyl lipid A from Escherichia coli F515 lipopolysaccharide acting as endotoxin antagonist in human monocytes. J. Endotoxin Res. 7, 133–146 (2001).

Salathia, N. et al. Indel arrays: an affordable alternative for genotyping. Plant J. 51, 727–737 (2007).

Engler, C., Kandzia, R. & Marillonnet, S. A one pot, one step, precision cloning method with high throughput capability. PLoS ONE 3, e3647 (2008).

Voinnet, O., Rivas, S., Mestre, P. & Baulcombe, D. An enhanced transient expression system in plants based on suppression of gene silencing by the p19 protein of tomato bushy stunt virus. Plant J. 33, 949–956 (2003).
Acknowledgements
We thank W. Bitter (Utrecht University) for P. alcaligenes 537 bacterial mass; B.A. Dmitriev (Gamaleya Research Institute of Epidemiology and Microbiology) for LPS of P. aeruginosa Fisher type 1; E. Glawischnig (TU München) for E. salsugineum ecotype Shandong plants; K. Kawahara (The Kitasato Institute) for LPS of Burkholderia species; M. Knight (Durham University) for Col-0AEQ A. thaliana; U. Mamat (Research Center Borstel) for E. coli strain KPM 53; M. Quint (IPB Halle) for C. rubella seeds; K. Rudolph (Universität Göttingen) for P. syringe pv. apii bacterial mass; S.N. Senchenkova for the isolation of X. campestris LPS; G. Stacey (University of Missouri) for T-DNA–insertion lines cerk1-2 and lyk4; C. Hemetsberger for assistance with confocal imaging; N. Bauer, B. Buske, B. Kölbl, B. Kunz, H. Moll and U. Schombel for technical assistance; H. Schempp for discussions; and C. Schwechheimer for critical reading of the manuscript. Supported by the German Research Foundation (through Priority Program SPP1212 to J.L. and D.S.; and Collaborative Research Centre SFB924/TP-B10 to S.R.).
Ethics declarations
Competing interests
The authors declare no competing financial interests.
Integrated supplementary information
Supplementary information
Supplementary Figures 1–6 and Supplementary Tables 1 and 2 (PDF 1560 kb)
About this article
Cite this article
Ranf, S., Gisch, N., Schäffer, M. et al. A lectin S-domain receptor kinase mediates lipopolysaccharide sensing in Arabidopsis thaliana. Nat Immunol 16, 426–433 (2015). https://doi.org/10.1038/ni.3124
Received:

Accepted:

Published:

Issue Date:

DOI: https://doi.org/10.1038/ni.3124