Abstract
TRPV1 is a Ca2+-permeable channel studied mostly as a pain receptor in sensory neurons. However, its role in other cell types is poorly understood. Here we found that TRPV1 was functionally expressed in CD4+ T cells, where it acted as a non–store-operated Ca2+ channel and contributed to T cell antigen receptor (TCR)-induced Ca2+ influx, TCR signaling and T cell activation. In models of T cell–mediated colitis, TRPV1 promoted colitogenic T cell responses and intestinal inflammation. Furthermore, genetic and pharmacological inhibition of TRPV1 in human CD4+ T cells recapitulated the phenotype of mouse Trpv1−/− CD4+ T cells. Our findings suggest that inhibition of TRPV1 could represent a new therapeutic strategy for restraining proinflammatory T cell responses.
Relevant articles
Open Access articles citing this article.
Jérémie Joffre

,

Erika Wong

…

Judith Hellman

Journal of Neuroinflammation Open Access 24 May 2022

Yahui Zhang

,

Baohua Hou

…

Xiaohua He

Cell Death & Disease Open Access 14 December 2021

Zhongyang Lv

,

Xingquan Xu

…

Dongquan Shi

Cell Death & Disease Open Access 18 May 2021
Access options
Subscribe to Journal
Get full journal access for 1 year
$79.00
only $6.58 per issue
All prices are NET prices.
VAT will be added later in the checkout.
Tax calculation will be finalised during checkout.
Buy article
Get time limited or full article access on ReadCube.
$32.00
All prices are NET prices.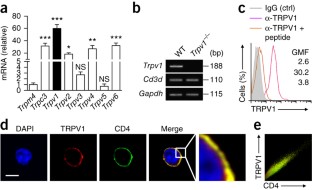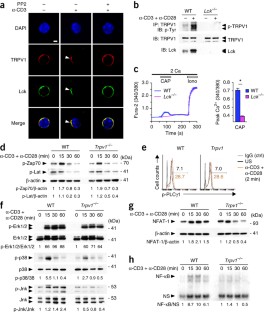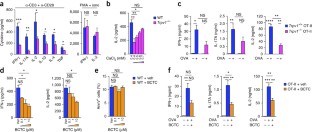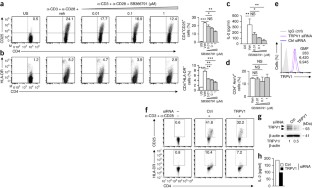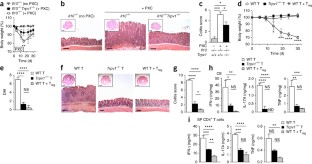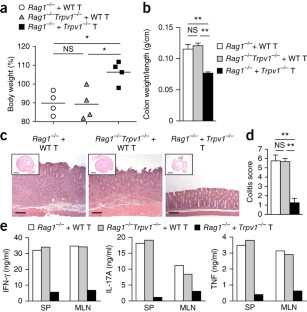 References
Oh-hora, M. & Rao, A. Calcium signaling in lymphocytes. Curr. Opin. Immunol. 20, 250–258 (2008).

Gallo, E.M., Cante-Barrett, K. & Crabtree, G.R. Lymphocyte calcium signaling from membrane to nucleus. Nat. Immunol. 7, 25–32 (2006).

Hogan, P.G., Lewis, R.S. & Rao, A. Molecular basis of calcium signaling in lymphocytes: STIM and ORAI. Annu. Rev. Immunol. 28, 491–533 (2010).

Omilusik, K. et al. The Ca(v)1.4 calcium channel is a critical regulator of T cell receptor signaling and naive T cell homeostasis. Immunity 35, 349–360 (2011).

Omilusik, K.D., Nohara, L.L., Stanwood, S. & Jefferies, W.A. Weft, warp, and weave: the intricate tapestry of calcium channels regulating T lymphocyte function. Front. Immunol. 4, 164 (2013).

Schwarz, E.C. et al. TRP channels in lymphocytes. Handb. Exp. Pharmacol. 179, 445–456 (2007).

Wenning, A.S. et al. TRP expression pattern and the functional importance of TRPC3 in primary human T-cells. Biochim. Biophys. Acta 1813, 412–423 (2011).

Venkatachalam, K. & Montell, C. TRP channels. Annu. Rev. Biochem. 76, 387–417 (2007).

Owsianik, G., Talavera, K., Voets, T. & Nilius, B. Permeation and selectivity of TRP channels. Annu. Rev. Physiol. 68, 685–717 (2006).

Caterina, M.J. et al. The capsaicin receptor: a heat-activated ion channel in the pain pathway. Nature 389, 816–824 (1997).

Touska, F., Marsakova, L., Teisinger, J. & Vlachova, V. A "cute" desensitization of TRPV1. Curr. Pharm. Biotechnol. 12, 122–129 (2011).

Gunthorpe, M.J. et al. Identification and characterisation of SB-366791, a potent and selective vanilloid receptor (VR1/TRPV1) antagonist. Neuropharmacology 46, 133–149 (2004).

Arenkiel, B.R., Klein, M.E., Davison, I.G., Katz, L.C. & Ehlers, M.D. Genetic control of neuronal activity in mice conditionally expressing TRPV1. Nat. Methods 5, 299–302 (2008).

Parekh, A.B. & Penner, R. Store depletion and calcium influx. Physiol. Rev. 77, 901–930 (1997).

Smith, G.D. et al. TRPV3 is a temperature-sensitive vanilloid receptor-like protein. Nature 418, 186–190 (2002).

Valenzano, K.J. et al. N-(4-tertiarybutylphenyl)-4-(3-chloropyridin-2-yl)tetrahydropyrazine-1(2H)-carbox-amide (BCTC), a novel, orally effective vanilloid receptor 1 antagonist with analgesic properties: I. in vitro characterization and pharmacokinetic properties. J. Pharmacol. Exp. Ther. 306, 377–386 (2003).

Wahl, P., Foged, C., Tullin, S. & Thomsen, C. Iodo-resiniferatoxin, a new potent vanilloid receptor antagonist. Mol. Pharmacol. 59, 9–15 (2001).

Barr, V.A., Bernot, K.M., Shaffer, M.H., Burkhardt, J.K. & Samelson, L.E. Formation of STIM and Orai complexes: puncta and distal caps. Immunol. Rev. 231, 148–159 (2009).

Oh-hora, M. Calcium signaling in the development and function of T-lineage cells. Immunol. Rev. 231, 210–224 (2009).

Hanke, J.H. et al. Discovery of a novel, potent, and Src family-selective tyrosine kinase inhibitor. Study of Lck- and FynT-dependent T cell activation. J. Biol. Chem. 271, 695–701 (1996).

Jin, X. et al. Modulation of TRPV1 by nonreceptor tyrosine kinase, c-Src kinase. Am. J. Physiol. Cell Physiol. 287, C558–C563 (2004).

Yao, X., Kwan, H.Y. & Huang, Y. Regulation of TRP channels by phosphorylation. Neurosignals 14, 273–280 (2005).

Zhang, X., Huang, J. & McNaughton, P.A. NGF rapidly increases membrane expression of TRPV1 heat-gated ion channels. EMBO J. 24, 4211–4223 (2005).

Straus, D.B. & Weiss, A. Genetic evidence for the involvement of the lck tyrosine kinase in signal transduction through the T cell antigen receptor. Cell 70, 585–593 (1992).

Wirtz, S. & Neurath, M.F. Mouse models of inflammatory bowel disease. Adv. Drug Deliv. Rev. 59, 1073–1083 (2007).

Berg, D.J. et al. Rapid development of colitis in NSAID-treated IL-10-deficient mice. Gastroenterology 123, 1527–1542 (2002).

Launay, P. et al. TRPM4 regulates calcium oscillations after T cell activation. Science 306, 1374–1377 (2004).

Philipp, S. et al. TRPC3 mediates T-cell receptor-dependent calcium entry in human T-lymphocytes. J. Biol. Chem. 278, 26629–26638 (2003).

Caterina, M.J. et al. Impaired nociception and pain sensation in mice lacking the capsaicin receptor. Science 288, 306–313 (2000).

Schumacher, M.A., Moff, I., Sudanagunta, S.P. & Levine, J.D. Molecular cloning of an N-terminal splice variant of the capsaicin receptor. Loss of N-terminal domain suggests functional divergence among capsaicin receptor subtypes. J. Biol. Chem. 275, 2756–2762 (2000).

Saunders, C.I., Kunde, D.A., Crawford, A. & Geraghty, D.P. Expression of transient receptor potential vanilloid 1 (TRPV1) and 2 (TRPV2) in human peripheral blood. Mol. Immunol. 44, 1429–1435 (2007).

Engler, A. et al. Expression of transient receptor potential vanilloid 1 (TRPV1) in synovial fibroblasts from patients with osteoarthritis and rheumatoid arthritis. Biochem. Biophys. Res. Commun. 359, 884–888 (2007).

Spinsanti, G. et al. Quantitative real-time PCR detection of TRPV1–4 gene expression in human leukocytes from healthy and hyposensitive subjects. Mol. Pain 4, 51 (2008).

Bachiocco, V. et al. Lymphocyte TRPV 1–4 gene expression and MIF blood levels in a young girl clinically diagnosed with HSAN IV. Clin. J. Pain 27, 631–634 (2011).

Shin, J.S. et al. Differences in sensitivity of vanilloid receptor 1 transfected to human embryonic kidney cells and capsaicin-activated channels in cultured rat dorsal root ganglion neurons to capsaicin receptor agonists. Neurosci. Lett. 299, 135–139 (2001).

Voolstra, O. & Huber, A. Post-translational modifications of TRP channels. Cells 3, 258–287 (2014).

Armstrong, D.L., Erxleben, C. & White, J.A. Patch clamp methods for studying calcium channels. Methods Cell Biol. 99, 183–197 (2010).

Gad, M., Pedersen, A.E., Kristensen, N.N., Fernandez Cde, F. & Claesson, M.H. Blockage of the neurokinin 1 receptor and capsaicin-induced ablation of the enteric afferent nerves protect SCID mice against T-cell-induced chronic colitis. Inflamm. Bowel Dis. 15, 1174–1182 (2009).

Moran, M.M., McAlexander, M.A., Biro, T. & Szallasi, A. Transient receptor potential channels as therapeutic targets. Nat. Rev. Drug Discov. 10, 601–620 (2011).

Kedei, N. et al. Analysis of the native quaternary structure of vanilloid receptor 1. J. Biol. Chem. 276, 28613–28619 (2001).

Moqrich, A. et al. Impaired thermosensation in mice lacking TRPV3, a heat and camphor sensor in the skin. Science 307, 1468–1472 (2005).

González-Navajas, J.M. et al. Interleukin 1 receptor signaling regulates DUBA expression and facilitates Toll-like receptor 9-driven antiinflammatory cytokine production. J. Exp. Med. 207, 2799–2807 (2010).

Franco, A., Shimizu, C., Tremoulet, A.H. & Burns, J.C. Memory T cells and characterization of peripheral T cell clones in acute Kawasaki disease. Autoimmunity 43, 317–324 (2010).

Srikanth, S., Jung, H.J., Ribalet, B. & Gwack, Y. The intracellular loop of Orai1 plays a central role in fast inactivation of Ca2+ release-activated Ca2+ channels. J. Biol. Chem. 285, 5066–5075 (2010).

Fu, G. & Gascoigne, N.R. Multiplexed labeling of samples with cell tracking dyes facilitates rapid and accurate internally controlled calcium flux measurement by flow cytometry. J. Immunol. Methods 350, 194–199 (2009).

Fu, G. et al. Themis controls thymocyte selection through regulation of T cell antigen receptor-mediated signaling. Nat. Immunol. 10, 848–856 (2009).

González-Navajas, J.M. et al. TLR4 signaling in effector CD4+ T cells regulates TCR activation and experimental colitis in mice. J. Clin. Invest. 120, 570–581 (2010).

Li, X. et al. Divergent requirement for Gαs and cAMP in the differentiation and inflammatory profile of distinct mouse Th subsets. J. Clin. Invest. 122, 963–973 (2012).
Acknowledgements
We thank C. Conche and K. Sauer for help with measurements of Ca2+; A. Patapoutian (The Scripps Research Institute) for Chinese hamster ovary cells transfected to express TRPV1; E. Garcia and T. Snutch for access to electrophysiological equipment; J. Lee and C. Quinley for discussions; M. Scholl for animal breeding; T. Rambaldo for cell sorting; S. Shenouda for tissue processing; N. Varki and L. Eckmann for help with histological evaluations; and J. Santini for technical assistance with confocal imaging at the Neuroscience microscopy shared facility of the University of California San Diego (supported by the National Institute of Neurological Disorders and Stroke of the US National Institutes of Health (P30 NS047101)). Supported by the US National Institutes of Health (U01 AI095623 and P01 DK35108 to E.R., and AI083432 to Y.G.), the Canadian Institutes of Health Research (MOP-102698 to W.A.J.), the Broad Foundation (IBD-0342R to E.R.), the Crohn's & Colitis Foundation of America (SRA 3038 to E.R., RFA 3574 to S.B., and RFA 2927 to P.R.d.J.), the European Molecular Biology Organization (ALTF 288-2009 to S.B.), the Fulbright Association (S.B.), the Philippe Foundation (S.B.) and the Japan Society for the Promotion of Science (Y.A.-N.).
Ethics declarations
Competing interests
H. Dong is cofounder of AddexBio.
Integrated supplementary information
Supplementary information
Supplementary Figures 1–10 and Supplementary Tables 1 and 2 (PDF 9432 kb)
About this article
Cite this article
Bertin, S., Aoki-Nonaka, Y., de Jong, P. et al. The ion channel TRPV1 regulates the activation and proinflammatory properties of CD4+ T cells. Nat Immunol 15, 1055–1063 (2014). https://doi.org/10.1038/ni.3009
Received:

Accepted:

Published:

Issue Date:

DOI: https://doi.org/10.1038/ni.3009