Abstract
Immune defenses are triggered by microbe-associated molecular patterns or as a result of damage to host cells. The elicitors of immune responses in the nematode Caenorhabditis elegans are unclear. Using a genome-wide RNA-mediated interference (RNAi) screen, we identified the G protein–coupled receptor (GPCR) DCAR-1 as being required for the response to fungal infection and wounding. DCAR-1 acted in the epidermis to regulate the expression of antimicrobial peptides via a conserved p38 mitogen-activated protein kinase pathway. Through targeted metabolomics analysis we identified the tyrosine derivative 4-hydroxyphenyllactic acid (HPLA) as an endogenous ligand. Our findings reveal DCAR-1 and its cognate ligand HPLA to be triggers of the epidermal innate immune response in C. elegans and highlight the ancient role of GPCRs in host defense.
Relevant articles
Open Access articles citing this article.
Dorota Raj

,

Bashar Kraish

…

Peter Naredi

Nature Communications Open Access 20 May 2023

Yicong Ma

,

Jing Xie

…

Suhong Xu

Cell Regeneration Open Access 03 February 2021
Access options
Subscribe to this journal
Receive 12 print issues and online access
$209.00 per year
only $17.42 per issue
Rent or buy this article
Prices vary by article type
from$1.95
to$39.95
Prices may be subject to local taxes which are calculated during checkout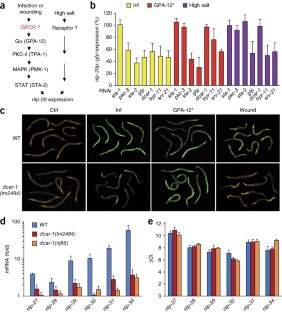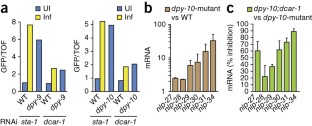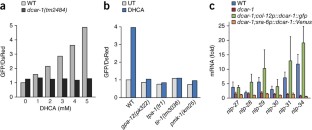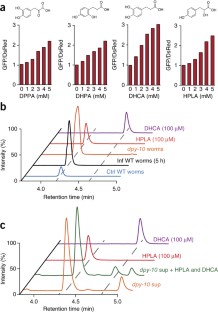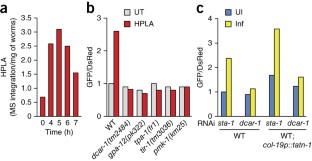 References
Ausubel, F.M. Are innate immune signaling pathways in plants and animals conserved? Nat. Immunol. 6, 973–979 (2005).

Mallo, G.V. et al. Inducible antibacterial defense system in C. elegans. Curr. Biol. 12, 1209–1214 (2002).

Kim, D.H. et al. A conserved p38 MAP kinase pathway in Caenorhabditis elegans innate immunity. Science 297, 623–626 (2002).

Visvikis, O. et al. Innate host defense requires TFEB-mediated transcription of cytoprotective and antimicrobial genes. Immunity 40, 896–909 (2014).

Shapira, M. et al. A conserved role for a GATA transcription factor in regulating epithelial innate immune responses. Proc. Natl. Acad. Sci. USA 103, 14086–14091 (2006).

Lee, K.A. et al. Bacterial-derived uracil as a modulator of mucosal immunity and gut-microbe homeostasis in Drosophila. Cell 153, 797–811 (2013).

Saunders, C.J., Christensen, M., Finger, T.E. & Tizzano, M. Cholinergic neurotransmission links solitary chemosensory cells to nasal inflammation. Proc. Natl. Acad. Sci. USA 111, 6075–6080 (2014).

Tizzano, M. et al. Nasal chemosensory cells use bitter taste signaling to detect irritants and bacterial signals. Proc. Natl. Acad. Sci. USA 107, 3210–3215 (2010).

Lee, R.J. et al. Bitter and sweet taste receptors regulate human upper respiratory innate immunity. J. Clin. Invest. 124, 1393–1405 (2014).

Reddy, K.C., Andersen, E.C., Kruglyak, L. & Kim, D.H. A polymorphism in npr-1 is a behavioral determinant of pathogen susceptibility in C. elegans. Science 323, 382–384 (2009).

Powell, J.R., Kim, D.H. & Ausubel, F.M. The G protein-coupled receptor FSHR-1 is required for the Caenorhabditis elegans innate immune response. Proc. Natl. Acad. Sci. USA 106, 2782–2787 (2009).

McEwan, D.L., Kirienko, N.V. & Ausubel, F.M. Host translational inhibition by Pseudomonas aeruginosa exotoxin A triggers an immune response in Caenorhabditis elegans. Cell Host Microbe 11, 364–374 (2012).

Melo, J.A. & Ruvkun, G. Inactivation of conserved C. elegans genes engages pathogen- and xenobiotic-associated defenses. Cell 149, 452–466 (2012).

Dunbar, T.L., Yan, Z., Balla, K.M., Smelkinson, M.G. & Troemel, E.R. C. elegans detects pathogen-induced translational inhibition to activate immune signaling. Cell Host Microbe 11, 375–386 (2012).

Partridge, F.A., Gravato-Nobre, M.J. & Hodgkin, J. Signal transduction pathways that function in both development and innate immunity. Dev. Dyn. 239, 1330–1336 (2010).

Pukkila-Worley, R. & Ausubel, F.M. Immune defense mechanisms in the Caenorhabditis elegans intestinal epithelium. Curr. Opin. Immunol. 24, 3–9 (2012).

Dijksterhuis, J., Veenhuis, M. & Harder, W. Ultrastructural study of adhesion and initial stages of infection of the nematode by conidia of Drechmeria coniospora. Mycol. Res. 94, 1–8 (1990).

Couillault, C. et al. TLR-independent control of innate immunity in Caenorhabditis elegans by the TIR domain adaptor protein TIR-1, an ortholog of human SARM. Nat. Immunol. 5, 488–494 (2004).

Pujol, N. et al. Anti-fungal innate immunity in C. elegans is enhanced by evolutionary diversification of antimicrobial peptides. PLoS Pathog. 4, e1000105 (2008).

Pujol, N. et al. Distinct innate immune responses to infection and wounding in the C. elegans epidermis. Curr. Biol. 18, 481–489 (2008).

Dierking, K. et al. Unusual regulation of a STAT protein by an SLC6 family transporter in C. elegans epidermal innate immunity. Cell Host Microbe 9, 425–435 (2011).

Ziegler, K. et al. Antifungal innate immunity in C. elegans: PKCdelta links G protein signaling and a conserved p38 MAPK cascade. Cell Host Microbe 5, 341–352 (2009).

Squiban, B., Belougne, J., Ewbank, J. & Zugasti, O. Quantitative and automated high-throughput genome-wide RNAi screens in C. elegans. J. Vis. Exp. 60, e3448 (2012).

Labed, S.A., Omi, S., Gut, M., Ewbank, J.J. & Pujol, N. The pseudokinase NIPI-4 is a novel regulator of antimicrobial peptide gene expression. PLoS ONE 7, e33887 (2012).

Aoki, R. et al. A seven-transmembrane receptor that mediates avoidance response to dihydrocaffeic acid, a water-soluble repellent in Caenorhabditis elegans. J. Neurosci. 31, 16603–16610 (2011).

Rohlfing, A.K., Miteva, Y., Hannenhalli, S. & Lamitina, T. Genetic and physiological activation of osmosensitive gene expression mimics transcriptional signatures of pathogen infection in C. elegans. PLoS ONE 5, e9010 (2010).

Wheeler, J.M. & Thomas, J.H. Identification of a novel gene family involved in osmotic stress response in Caenorhabditis elegans. Genetics 174, 1327–1336 (2006).

Cox, G.N., Laufer, J.S., Kusch, M. & Edgar, R.S. Genetic and Phenotypic Characterization of Roller Mutants of Caenorhabditis elegans. Genetics 95, 317–339 (1980).

Ferguson, A.A. et al. TATN-1 mutations reveal a novel role for tyrosine as a metabolic signal that influences developmental decisions and longevity in Caenorhabditis elegans. PLoS Genet. 9, e1004020 (2013).

Muir, R.E. & Tan, M.W. Virulence of Leucobacter chromiireducens subsp. solipictus to Caenorhabditis elegans: characterization of a novel host-pathogen interaction. Appl. Environ. Microbiol. 74, 4185–4198 (2008).

Hodgkin, J., Felix, M.A., Clark, L.C., Stroud, D. & Gravato-Nobre, M.J. Two Leucobacter strains exert complementary virulence on Caenorhabditis including death by worm-star formation. Curr. Biol. 23, 2157–2161 (2013).

Mrochek, J.E., Dinsmore, S.R. & Ohrt, D.W. Monitoring phenylalanine-tyrosine metabolism by high-resolution liquid chromatography of urine. Clin. Chem. 19, 927–936 (1973).

Mayatepek, E., Seppel, C.K. & Hoffmann, G.F. Increased urinary excretion of dicarboxylic acids and 4-hydroxyphenyllactic acid in patients with Zellweger syndrome. Eur. J. Pediatr. 154, 755–756 (1995).

Bargmann, C.I. in WormBook 1–29 〈http://www.wormbook.org〉 (2006).

Stewart, M.K., Clark, N.L., Merrihew, G., Galloway, E.M. & Thomas, J.H. High genetic diversity in the chemoreceptor superfamily of Caenorhabditis elegans. Genetics 169, 1985–1996 (2005).

Thomas, J.H., Kelley, J.L., Robertson, H.M., Ly, K. & Swanson, W.J. Adaptive evolution in the SRZ chemoreceptor families of Caenorhabditis elegans and Caenorhabditis briggsae. Proc. Natl. Acad. Sci. USA 102, 4476–4481 (2005).

Pradel, E. et al. Detection and avoidance of a natural product from the pathogenic bacterium Serratia marcescens by Caenorhabditis elegans. Proc. Natl. Acad. Sci. USA 104, 2295–2300 (2007).

Pujol, N. & Ewbank, J.J. in Toll Receptors (ed. Rich, T.) Ch. 7, (Landes Bioscience Press, 2003).

Kim, T.H., Hwang, S.B., Jeong, P.Y., Lee, J. & Cho, J.W. Requirement of tyrosylprotein sulfotransferase-A for proper cuticle formation in the nematode C. elegans. FEBS Lett. 579, 53–58 (2005).

Kamath, R.S. et al. Systematic functional analysis of the Caenorhabditis elegans genome using RNAi. Nature 421, 231–237 (2003).

Rual, J.F. et al. Toward improving Caenorhabditis elegans phenome mapping with an ORFeome-based RNAi library. Genome Res. 14, 2162–2168 (2004).

Xu, S. & Chisholm, A.D.A. Gα(q)-Ca2+ signaling pathway promotes actin-mediated epidermal wound closure in C. elegans. Curr. Biol. 21, 1960–1967 (2011).

Hobert, O. PCR fusion-based approach to create reporter gene constructs for expression analysis in transgenic C. elegans. Biotechniques 32, 728–730 (2002).

Stringham, E., Pujol, N., Vandekerckhove, J. & Bogaert, T. unc-53 controls longitudinal migration in C. elegans. Development 129, 3367–3379 (2002).

Pujol, N. et al. A reverse genetic analysis of components of the Toll signalling pathway in Caenorhabditis elegans. Curr. Biol. 11, 809–821 (2001).

Jansson, H.B. Attraction of nematodes to endo-parasitic nematophagous fungi. Trans. Br. Mycol. Soc. 79, 25–29 (1982).

Pulak, R. Techniques for analysis, sorting, and dispensing of C. elegans on the COPAS flow-sorting system. Methods Mol. Biol. 351, 275–286 (2006).

von Reuss, S.H. et al. Comparative metabolomics reveals biogenesis of ascarosides, a modular library of small-molecule signals in C. elegans. J. Am. Chem. Soc. 134, 1817–1824 (2012).
Acknowledgements
We thank A. Chisholm (University of California, San Diego) for vector pCZGY1434; S. Mitani (Tokyo Women's Medical University School of Medicine) for strain tir-1(tm3036); Y. Goshima (Yokohama City University) for strains dcar-1(nj66) and dcar-1(tm2484), dcar-1 cDNA, and plasmids sra-6p∷dcar-1∷Venus and sra-6p∷dcar-1; C. Bargmann, A. Chisholm, C. Couillault, P. Golstein and E. Vivier for critical reading of the manuscript; M. Metwaly, F. Montañana-Sanchis, S. Omi, J. Soulé and the staff at WormBase and ModulBio for technical support; and C. Melon for advice. Nematode strains pmk-1(km25) and gpa-12(pk322) were provided by the Caenorhabditis Genetics Center, which is funded by the Office of Research Infrastructure Programs of the US National Institutes of Health (P40 OD010440); dcar1(tm2484) was provided by the National Bioresource Project coordinated by S. Mitani. Supported by INSERM, CNRS, the PACA Regional Council, the Agence Nationale de Recherche (MIME-2007, ANR-12-BSV3-0001-01, ANR-11-LABX-0054 (Investissements d'Avenir–Labex INFORM) and ANR-11-IDEX-0001-02 (Investissements d'Avenir–A*MIDEX)), the US National Institutes of Health (GM088290 to F.C.S.) and the Fondation Association pour la Recherche sur le Cancer (B.S.).
Ethics declarations
Competing interests
The authors declare no competing financial interests.
Integrated supplementary information
Supplementary information
About this article
Cite this article
Zugasti, O., Bose, N., Squiban, B. et al. Activation of a G protein–coupled receptor by its endogenous ligand triggers the innate immune response of Caenorhabditis elegans. Nat Immunol 15, 833–838 (2014). https://doi.org/10.1038/ni.2957
Received:

Accepted:

Published:

Issue Date:

DOI: https://doi.org/10.1038/ni.2957