Abstract
Regulatory T (Treg) cells suppress the development of inflammatory disease, but our knowledge of transcriptional regulators that control this function remains incomplete. Here we show that expression of Id2 and Id3 in Treg cells was required to suppress development of fatal inflammatory disease. We found that T cell antigen receptor (TCR)-driven signaling initially decreased the abundance of Id3, which led to the activation of a follicular regulatory T (TFR) cell–specific transcription signature. However, sustained lower abundance of Id2 and Id3 interfered with proper development of TFR cells. Depletion of Id2 and Id3 expression in Treg cells resulted in compromised maintenance and localization of the Treg cell population. Thus, Id2 and Id3 enforce TFR cell checkpoints and control the maintenance and homing of Treg cells.
This is a preview of subscription content
Access options
Subscribe to Journal
Get full journal access for 1 year
$59.00
only $4.92 per issue
All prices are NET prices.
VAT will be added later in the checkout.
Tax calculation will be finalised during checkout.
Rent or Buy article
Get time limited or full article access on ReadCube.
from$8.99
All prices are NET prices.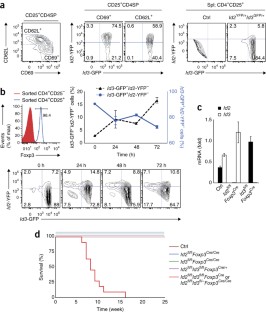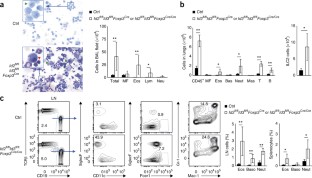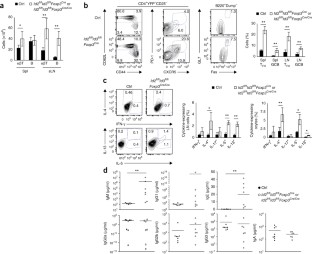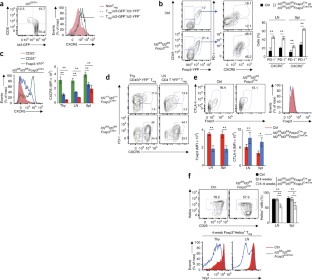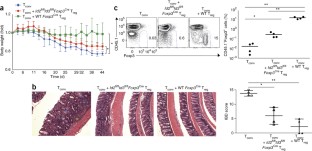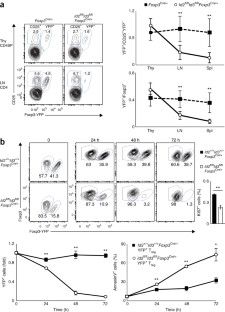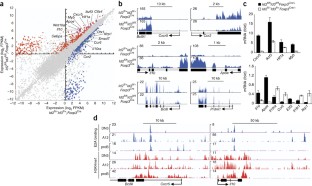 Accession codes
Primary accessions
Gene Expression Omnibus
References
1

Josefowicz, S.Z., Lu, L.F. & Rudensky, A.Y. Regulatory T cells: mechanisms of differentiation and function. Annu. Rev. Immunol. 30, 531–564 (2012).

2

Sakaguchi, S., Yamaguchi, T., Nomura, T. & Ono, M. Regulatory T cells and immune tolerance. Cell 133, 775–787 (2008).

3

Vignali, D.A.A., Collison, L.W. & Workman, C.J. How regulatory T cells work. Nat. Rev. Immunol. 8, 523–532 (2008).

4

Locksley, R.M. Asthma and allergic inflammation. Cell 140, 777–783 (2010).

5

Rothenberg, M.E. & Hogan, S.P. The eosinophil. Annu. Rev. Immunol. 24, 147–174 (2006).

6

Sakaguchi, S. et al. Immunologic self-tolerance maintained by activated T cells expressing Il2-receptor alpha-chains (CD25). Breakdown of a single mechanism of self-tolerance causes various autoimmune diseases. J. Immunol. 155, 1151–1164 (1995).

7

Bennett, C.L. et al. The immune dysregulation, polyendocrinopahty, X-linked syndrome (IPEX) is caused by mutations of Foxp3. Nat. Genet. 27, 20–21 (2001).

8

Wildin, R.S. et al. X-linked neonatal diabetes, emteropathy and endocrinopathy syndrome is the human equivalent of mouse scurfy. Nat. Genet. 27, 18–20 (2001).

9

Hori, S., Nomura, T. & Sakaguchi, S. Control of regulatory T cell development by the transcription factor Foxp3. Science 299, 1057–1061 (2003).

10

Fontenot, J.D., Gavin, M.A. & Rudensky, A.Y. Foxp3 programs the development and function of CD4+CD25+ regulatory T cells. Nat. Immunol. 4, 330–336 (2003).

11

Khattri, R., Cox, T., Yasayko, S.A. & Ramsdell, F. An essential role for Scurfin in CD4+CD25+ T regulatory cells. Nat. Immunol. 4, 337–342 (2003).

12

Josefowicz, S.Z. et al. Extratymically generated regulatory T cells control mucosal Th2 inflammation. Nature 482, 395–399 (2012).

13

Wing, J.B. & Sakaguchi, S. Foxp3+ Treg cells in humoral immunity. Int. Immunol. 26, 61–69 (2014).

14

Chung, Y. et al. Follicular regulatory T cells expressing Foxp3 and Bcl-6 suppress germinal center reactions. Nat. Med. 17, 983–988 (2011).

15

Linterman, M.A. et al. Foxp3 follicular regulatory T cells control the germinal center response. Nat. Med. 17, 975–982 (2011).

16

Sage, P.T., Francisco, L.M., Carman, C.V. & Sharpe, A.H. The receptor PD-1 controls follicular regulatory T cells in the lymph nodes and blood. Nat. Immunol. 14, 152–161 (2013).

17

Murre, C. Helix-loop-helix proteins and lymphocyte development. Nat. Immunol. 6, 1079–1086 (2005).

18

Murre, C., McCaw, P.S. & Baltimore, D. A new DNA binding and dimerization motif. Cell 56, 777–783 (1989).

19

Benezra, R., Davis, R.L., Lockshon, D., Turner, D.L. & Weintraub, H. The protein Id: A negative regulator of helix-loop-helix DNA binding proteins. Cell 61, 49–59 (1990).

20

Yokota, Y. et al. Development of peripheral lymphoid organs and natural killer cells depends on the helix-loop-helix protein Id2. Nature 397, 702–706 (1999).

21

Rivera, R.R., Johns, C.P., Quan, J., Johnson, R.S. & Murre, C. Thymocyte selection is regulated by the helix-loop-helix inhibitor protein, Id3. Immunity 12, 17–26 (2000).

22

Verykokakis, M., Boos, M.D., Bendelac, A. & Kee, B.L. SAP protein-dependent natural killer T-like cells regulate the development of CD8(+) T cells with innate lymphocyte characteristics. Immunity 33, 203–215 (2010).

23

Jones-Mason, M.E. et al. E protein transcription factors are required for the development of CD4(+) lineage T cells. Immunity 36, 348–361 (2012).

24

Li, H., Dai, M. & Zhuang, Y.A. T cell intrinsic role of Id3 in a mouse model for primary Sjogren's syndrome. Immunity 21, 551–560 (2004).

25

Maruyama, T. et al. Control of the differentiation of regulatory T cells and TH17 cells by the DNA-binding inhibitor Id3. Nat. Immunol. 12, 86–95 (2011).

26

Miyazaki, M. et al. The opposing roles of the transcription factor E2A and its antagonist Id3 that orchestrate and enforce the naive fate of T cells. Nat. Immunol. 12, 992–1001 (2011).

27

Yang, C.Y. et al. The transcriptional regulators Id2 and Id3 control the formation of distinct memory CD8+ T cell subsets. Nat. Immunol. 12, 1221–1229 (2011).

28

Niola, F. et al. Id proteins synchronize stemness and anchorage to the niche of neural stem cells. Nat. Cell Biol. 14, 477–487 (2012).

29

Rubtsov, Y.P. et al. Regulatory T cell-derived interleukin-10 limits inflammation at environmental interfaces. Immunity 28, 546–558 (2008).

30

Liston, A., Lu, L.F., O'Carroll, D., Tarakhovsky, A. & Rudensky, A.Y. Dicer-dependent microRNA pathway safeguards regulatory T cell function. J. Exp. Med. 205, 1993–2004 (2008).

31

Nussbaum, J.C. et al. Type 2 Innate lymphoid cells control eosinophil homeostasis. Nature 502, 245–248 (2013).

32

Monticelli, L.A., Sonnenberg, G.F. & Artis, D. Innate lymphoid cells: critical regulators of allergic inflammation and tissue repair in the lung. Curr. Opin. Immunol. 24, 284–289 (2012).

33

Chang, Y.J. et al. Innate lymphoid cells mediate influenza-induced airway hyper-reactivity independently of adaptive immunity. Nat. Immunol. 12, 631–638 (2011).

34

Cretney, E., Kallies, A. & Nutt, S.L. Differentiation and function of Foxp3+ effector regulatory T cells. Trends Immunol. 34, 74–80 (2013).

35

Cretney, E. et al. The transcription factors, Blimp-1 and IRF4 jointly control the differentiation and function of effector regulatory T cells. Nat. Immunol. 12, 304–311 (2011).

36

Smigiel, K.S. et al. CCR7 provides localized access to IL-2 and defines homeostatically distinct regulatory T cell subsets. J. Exp. Med. 211, 121–136 (2014).

37

Thornton, A.M. et al. Expression of Helios, an Ikaros transcription factor family member, differentiates thymic-derived from peripherally induced Foxp3+ T regulatory cells. J. Immunol. 184, 3433–3441 (2010).

38

Weiss, J.M. et al. Neuropilin 1 is expressed on thymus-derived natural regulatory T cells, but not mucosa-generated induced Foxp3+ Treg cells. J. Exp. Med. 209, 1723–1742 (2012).

39

Delgoffe, G.M. et al. Stability of regulatory T cells is maintained by a neuropilin-1-semaphorin-4a axis. Nature 501, 252–256 (2013).

40

Lin, Y.C. et al. A global network of transcription factors, involving E2A, EBF1, and Foxo1, that orchestrates B cell fate. Nat. Immunol. 11, 635–643 (2010).

41

Xu, H. et al. Follicular T-helper cell recruitment governed by bystanding B cells and ICOS-driven motility. Nature 496, 523–527 (2013).

42

Choi, Y.S. et al. ICOS receptor instructs T follicular helper cell versus effector cell differentiation via induction of the transcriptional repressor Bcl6. Immunity 34, 932–946 (2011).

43

Liu, X. et al. Transcription factor achaete-scute homologue 2 initiates follicular T-helper-cell development. Nature 507, 513–518 (2014).

44

Murre, C. et al. Interactions between heterologous helix-loop-helix proteins generate complexes that bind specifically to a common DNA sequence. Cell 58, 537–544 (1989).

45

Bain, G. et al. Thymocyte maturation is regulated by the activity of the helix-loop-helix protein, E47. J. Exp. Med. 190, 1605–1616 (1999).

46

Engel, I., Johns, C., Bain, G., Rivera, R.R. & Murre, C. Early thymocyte development is regulated by modulation of E2A protein activity. J. Exp. Med. 194, 733–745 (2001).

47

Quong, M. et al. Receptor editing and marginal zone B cell development are regulated by the helix-loop-helix protein, E2A. J. Exp. Med. 199, 1101–1112 (2004).

48

Masson, F. et al. Id2-mediated inhibition of E2A represses memory CD8+ T cell differentiation. J. Immunol. 190, 4585–4594 (2013).

49

Knell, J. et al. Id2 influences differentiation of killer cell lectin-like receptor G1(hi) short-lived CD8+ effector T cells. J. Immunol. 190, 1501–1509 (2013).

50

Burich, A. et al. Helicobacter-induced inflammatory bowel disease in IL-10- and T cell-deficient mice. Am. J. Physiol. Gastrointest. Liver Physiol. 281, G764–G778 (2001).

51

Suzukawa, M. et al. Sialyltransferase ST3Gal-III regulates SiglecF ligand formation and eosinophilic lung inflammation in mice. J. Immunol. 190, 5939–5948 (2013).

52

Smith, K.G.C. et al. bcl-2 transgene expression Inhibits apoptosis in the germinal center and reveals differences in the selection of memory B cells and bone marrow antibody-forming cells. J. Exp. Med. 191, 475–484 (2000).

53

Miyazaki, K. et al. The role of the basic helix-loop-helix transcription factor Dec1 in the regulatory T cells. J. Immunol. 185, 7330–7339 (2010).
Acknowledgements
We thank A. Bortnick for critical reading of the manuscript, S. Kuan, B. Lin and Z. Ye for help with Illumina DNA sequencing, B. Ren for access to the Illumina Hi-Seq instrumentation, A. Goldrath (University of California San Diego) for Id2-YFP mice, Y. Zhuang for Id3fl/fl mice (Duke University), A. Lasorella (Columbia University) for Id2fl/fl mice, Y. Zheng (Salk Institute) for Foxp3-deficient organs, C. Katayama, M. Suzukawa, L. Deng, P. Rosenthal, T. Katakai, A. Beppu and A. Coddington for technical advice, J. Lee (Mayo Clinic) for providing the MBP antibodies, and members of the University of California, San Diego Histology Core for performing histology. This work was supported by US National Institutes of Health (AI 38425, AI 70535 and AI 7211 to D.H.B. and CA054198, CA78384 and 1P01AI102853 to C.M.).
Ethics declarations
Competing interests
The authors declare no competing financial interests.
Integrated supplementary information
Supplementary information
Supplementary Figures 1–10 (PDF 2327 kb)
Rapid development of dermatitis in mice depleted for the expression of Id2 and Id3 in Treg cells. (MOV 12098 kb)
About this article
Cite this article
Miyazaki, M., Miyazaki, K., Chen, S. et al. Id2 and Id3 maintain the regulatory T cell pool to suppress inflammatory disease. Nat Immunol 15, 767–776 (2014). https://doi.org/10.1038/ni.2928
Received:

Accepted:

Published:

Issue Date: