Abstract
The catalytic activity of Zap70 is crucial for T cell antigen receptor (TCR) signaling, but the quantitative and temporal requirements for its function in thymocyte development are not known. Using a chemical-genetic system to selectively and reversibly inhibit Zap70 catalytic activity in a model of synchronized thymic selection, we showed that CD4+CD8+ thymocytes integrate multiple, transient, Zap70-dependent signals over more than 36 h to reach a cumulative threshold for positive selection, whereas 1 h of signaling was sufficient for negative selection. Titration of Zap70 activity resulted in graded reductions in positive and negative selection but did not decrease the cumulative TCR signals integrated by positively selected OT-I cells, which revealed heterogeneity, even among CD4+CD8+ thymocytes expressing identical TCRs undergoing positive selection.
Relevant articles
Open Access articles citing this article.
Ioana Sandu

,

Dario Cerletti

…

Annette Oxenius

Nature Communications Open Access 08 September 2020

Ryunosuke Muro

,

Hiroshi Takayanagi

&

Takeshi Nitta

Inflammation and Regeneration Open Access 28 March 2019

Meng Zhao

,

Mattias N. D. Svensson

…

Mitchell Kronenberg

Nature Communications Open Access 06 July 2018
Access options
Subscribe to Journal
Get full journal access for 1 year
$79.00
only $6.58 per issue
All prices are NET prices.
VAT will be added later in the checkout.
Tax calculation will be finalised during checkout.
Buy article
Get time limited or full article access on ReadCube.
$32.00
All prices are NET prices.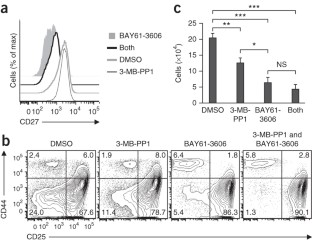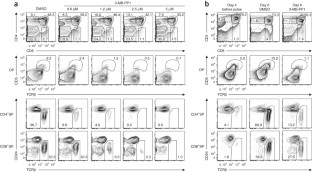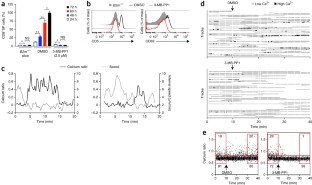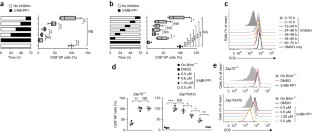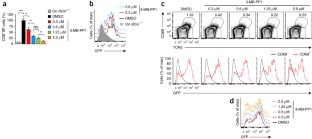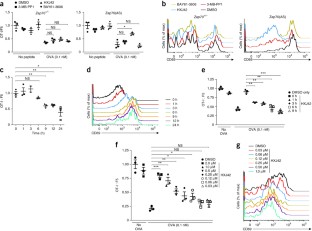 References
Au-Yeung, B.B. et al. The structure, regulation, and function of Zap70. Immunol. Rev. 228, 41–57 (2009).

Fuller, D.M. & Zhang, W. Regulation of lymphocyte development and activation by the LAT family of adapter proteins. Immunol. Rev. 232, 72–83 (2009).

Jordan, M.S. & Koretzky, G.A. Coordination of receptor signaling in multiple hematopoietic cell lineages by the adaptor protein SLP-76. Cold Spring Harb. Perspect. Biol. 2, a002501 (2010).

Palacios, E.H. & Weiss, A. Distinct roles for Syk and Zap70 during early thymocyte development. J. Exp. Med. 204, 1703–1715 (2007).

Kadlecek, T.A. et al. Differential requirements for Zap70 in TCR signaling and T cell development. J. Immunol. 161, 4688–4694 (1998).

Negishi, I. et al. Essential role for Zap70 in both positive and negative selection of thymocytes. Nature 376, 435–438 (1995).

Hsu, L.Y., Tan, Y.X., Xiao, Z., Malissen, M. & Weiss, A. A hypomorphic allele of Zap70 reveals a distinct thymic threshold for autoimmune disease versus autoimmune reactivity. J. Exp. Med. 206, 2527–2541 (2009).

Siggs, O.M. et al. Opposing functions of the T cell receptor kinase Zap70 in immunity and tolerance differentially titrate in response to nucleotide substitutions. Immunity 27, 912–926 (2007).

Wiest, D.L. et al. A spontaneously arising mutation in the DLAARN motif of murine Zap70 abrogates kinase activity and arrests thymocyte development. Immunity 6, 663–671 (1997).

Liu, X. et al. Restricting Zap70 expression to CD4+CD8+ thymocytes reveals a T cell receptor-dependent proofreading mechanism controlling the completion of positive selection. J. Exp. Med. 197, 363–373 (2003).

Saini, M. et al. Regulation of Zap70 expression during thymocyte development enables temporal separation of CD4 and CD8 repertoire selection at different signaling thresholds. Sci. Signal. 3, ra23 (2010).

Levin, S.E., Zhang, C., Kadlecek, T.A., Shokat, K.M. & Weiss, A. Inhibition of Zap70 kinase activity via an analog-sensitive allele blocks T cell receptor and CD28 superagonist signaling. J. Biol. Chem. 283, 15419–15430 (2008).

Au-Yeung, B.B. et al. A genetically selective inhibitor demonstrates a function for the kinase Zap70 in regulatory T cells independent of its catalytic activity. Nat. Immunol. 11, 1085–1092 (2010).

Yamamoto, N. et al. The orally available spleen tyrosine kinase inhibitor 2-[7-(3,4-dimethoxyphenyl)-imidazo[1,2-c]pyrimidin-5-ylamino]nicotinamide dihydrochloride (BAY 61–3606) blocks antigen-induced airway inflammation in rodents. J. Pharmacol. Exp. Ther. 306, 1174–1181 (2003).

Taghon, T., Yui, M.A., Pant, R., Diamond, R.A. & Rothenberg, E.V. Developmental and molecular characterization of emerging beta- and gammadelta-selected pre-T cells in the adult mouse thymus. Immunity 24, 53–64 (2006).

Azzam, H.S. et al. CD5 expression is developmentally regulated by T cell receptor (TCR) signals and TCR avidity. J. Exp. Med. 188, 2301–2311 (1998).

Bhakta, N.R., Oh, D.Y. & Lewis, R.S. Calcium oscillations regulate thymocyte motility during positive selection in the three-dimensional thymic environment. Nat. Immunol. 6, 143–151 (2005).

Melichar, H.J., Ross, J.O., Herzmark, P., Hogquist, K.A. & Robey, E.A. Distinct temporal patterns of T cell receptor signaling during positive versus negative selection in situ. Sci. Signal. 6, ra92 (2013).

Zikherman, J., Parameswaran, R. & Weiss, A. Endogenous antigen tunes the responsiveness of naive B cells but not T cells. Nature 489, 160–164 (2012).

Huang, J. et al. A single peptide-major histocompatibility complex ligand triggers digital cytokine secretion in CD4(+) T cells. Immunity 39, 846–857 (2013).

Stritesky, G.L. et al. Murine thymic selection quantified using a unique method to capture deleted T cells. Proc. Natl. Acad. Sci. USA 110, 4679–4684 (2013).

Dzhagalov, I.L., Chen, K.G., Herzmark, P. & Robey, E.A. Elimination of self-reactive T cells in the thymus: a timeline for negative selection. PLoS Biol. 11, e1001566 (2013).

Kisielow, P. & Miazek, A. Positive selection of T cells: rescue from programmed cell death and differentiation require continual engagement of the T cell receptor. J. Exp. Med. 181, 1975–1984 (1995).

Ebert, P.J., Ehrlich, L.I. & Davis, M.M. Low ligand requirement for deletion and lack of synapses in positive selection enforce the gauntlet of thymic T cell maturation. Immunity 29, 734–745 (2008).

Marangoni, F. et al. The transcription factor NFAT exhibits signal memory during serial T cell interactions with antigen-presenting cells. Immunity 38, 237–249 (2013).

Clark, C.E., Hasan, M. & Bousso, P. A role for the immediate early gene product c-fos in imprinting T cells with short-term memory for signal summation. PLoS One 6, e18916 (2011).

Ross, J.O. et al. Distinct phases in the positive selection of CD8+ T cells distinguished by intrathymic migration and TCR signaling patterns. Proc. Natl. Acad. Sci. USA (in the press).

Mingueneau, M. et al. The transcriptional landscape of alphabeta T cell differentiation. Nat. Immunol. 14, 619–632 (2013).

Daniels, M.A. et al. Thymic selection threshold defined by compartmentalization of Ras/MAPK signalling. Nature 444, 724–729 (2006).

Mukherjee, S. et al. Monovalent and multivalent ligation of the B cell receptor exhibit differential dependence upon Syk and Src family kinases. Sci. Signal. 6, ra1 (2013).

Rolli, V. et al. Amplification of B cell antigen receptor signaling by a Syk/ITAM positive feedback loop. Mol. Cell 10, 1057–1069 (2002).

Chu, D.H. et al. The Syk protein tyrosine kinase can function independently of CD45 or Lck in T cell antigen receptor signaling. EMBO J. 15, 6251–6261 (1996).

Brdicka, T., Kadlecek, T.A., Roose, J.P., Pastuszak, A.W. & Weiss, A. Intramolecular regulatory switch in Zap70: analogy with receptor tyrosine kinases. Mol. Cell. Biol. 25, 4924–4933 (2005).

Van Laethem, F. et al. Lck availability during thymic selection determines the recognition specificity of the T cell repertoire. Cell 154, 1326–1341 (2013).

Mamalaki, C. et al. Thymic depletion and peripheral activation of class I major histocompatibility complex-restricted T cells by soluble peptide in T-cell receptor transgenic mice. Proc. Natl. Acad. Sci. USA 89, 11342–11346 (1992).

Lourido, S. et al. Optimizing small molecule inhibitors of calcium-dependent protein kinase 1 to prevent infection by Toxoplasma gondii. J. Med. Chem. 56, 3068–3077 (2013).

Dzhagalov, I.L., Melichar, H.J., Ross, J.O., Herzmark, P. & Robey, E.A. Two-photon imaging of the immune system. Curr. Protoc. Cytom. 12, 26 (2012).

Moreau, H.D. et al. Dynamic in situ cytometry uncovers T cell receptor signaling during immunological synapses and kinapses in vivo. Immunity 37, 351–363 (2012).
Acknowledgements
We thank A. Roque for animal husbandry and C. Zhang for synthesis of 3-MB-PP1 and HXJ42. This work was supported by the Arthritis Foundation postdoctoral fellowship 5476 (to B.B.A.-Y.), the California Institute of Regenerative Medicine postdoctoral training grant T1-00007 (to H.J.M.), graduate student training grant TG2-01164 (to J.O.R.), the Rosalind Russell Medical Research Foundation Bechtel Award (to J.Z.), Arthritis National Research Foundation grant (to J.Z.), and US National Institutes of Health grants K08 AR059723 (to J.Z.), AI064227 (to E.A.R.), AI091580 (to A.W.) and RC2AR058947 (to A.W.).
Ethics declarations
Competing interests
The authors declare no competing financial interests.
Integrated supplementary information
Supplementary information
Supplementary Figures 1–5 (PDF 3501 kb)
Supplementary software. (ZIP 17 kb)
Left, OT-I thymocytes in nonselecting (B2m–/–) slices in the absence of inhibitor. Middle, OT-I thymocytes under positive selecting (WT slice) conditions with DMSO addition after 10 min of a 40-min movie. Right, positive selecting (WT slice) conditions with the addition of 3-MB-PP1 after 10 min of a 40-min movie. Top, z-projection of fluorescence emission of Indo-1 dye in unbound (green) and calcium bound (red) forms. Bottom, intracellular calcium ratio of calcium bound/unbound Indo-1 dye represented as a heat map. Frames were collected every 20 s for 40 min, 2-4 h after cells were added to the slice. Imaging data are representative of three movies from two independent experiments. (MOV 2219 kb)
About this article
Cite this article
Au-Yeung, B., Melichar, H., Ross, J. et al. Quantitative and temporal requirements revealed for Zap70 catalytic activity during T cell development. Nat Immunol 15, 687–694 (2014). https://doi.org/10.1038/ni.2918
Received:

Accepted:

Published:

Issue Date:

DOI: https://doi.org/10.1038/ni.2918