Abstract
Obesity and resistance to insulin are closely associated with the development of low-grade inflammation. Interleukin 6 (IL-6) is linked to obesity-associated inflammation; however, its role in this context remains controversial. Here we found that mice with an inactivated gene encoding the IL-6Rα chain of the receptor for IL-6 in myeloid cells (Il6raΔmyel mice) developed exaggerated deterioration of glucose homeostasis during diet-induced obesity, due to enhanced resistance to insulin. Tissues targeted by insulin showed increased inflammation and a shift in macrophage polarization. IL-6 induced expression of the receptor for IL-4 and augmented the response to IL-4 in macrophages in a cell-autonomous manner. Il6raΔmyel mice were resistant to IL-4-mediated alternative polarization of macrophages and exhibited enhanced susceptibility to lipopolysaccharide (LPS)-induced endotoxemia. Our results identify signaling via IL-6 as an important determinant of the alternative activation of macrophages and assign an unexpected homeostatic role to IL-6 in limiting inflammation.
Relevant articles
Open Access articles citing this article.
Maria Peshkova

,

Alexander Korneev

…

Peter Timashev

Stem Cell Research & Therapy Open Access 25 May 2023

Limin Yang

,

Panpan Guo

…

Jianghuai Liu

Scientific Reports Open Access 01 February 2023

Andrew Folick

,

Rachel T. Cheang

…

Suneil K. Koliwad

Experimental & Molecular Medicine Open Access 26 April 2022
Access options
Subscribe to this journal
Receive 12 print issues and online access
$189.00 per year
only $15.75 per issue
Rent or buy this article
Get just this article for as long as you need it
$39.95
Prices may be subject to local taxes which are calculated during checkout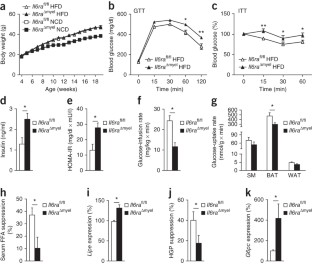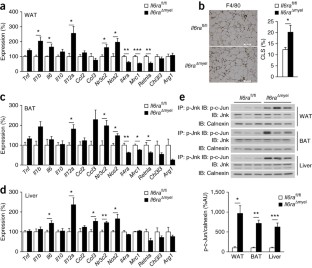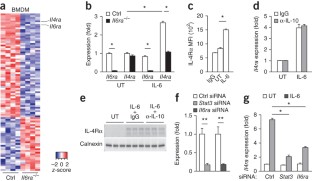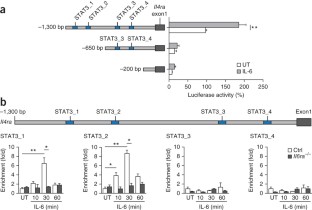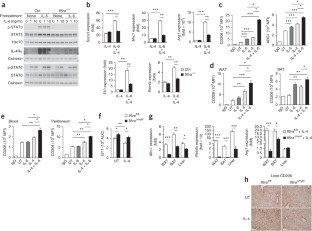 Accession codes
Primary accessions
Gene Expression Omnibus
References
Swinburn, B.A. et al. The global obesity pandemic: shaped by global drivers and local environments. Lancet 378, 804–814 (2011).

Xu, H. Chronic inflammation in fat plays a crucial role in the development of obesity-related insulin resistance. J. Clin. Invest. 112, 1821–1830 (2003).

Wellen, K.E. Obesity-induced inflammatory changes in adipose tissue. J. Clin. Invest. 112, 1785–1788 (2003).

Lumeng, C.N. & Saltiel, A.R. Inflammatory links between obesity and metabolic disease. J. Clin. Invest. 121, 2111–2117 (2011).

Arkan, M.C. et al. IKK-β links inflammation to obesity-induced insulin resistance. Nat. Med. 11, 191–198 (2005).

Cai, D. et al. Local and systemic insulin resistance resulting from hepatic activation of IKK-β and NF-κB. Nat. Med. 11, 183–190 (2005).

Kleinridders, A. et al. MyD88 signaling in the CNS is required for development of fatty acid-induced leptin resistance and diet-induced obesity. Cell Metab. 10, 249–259 (2009).

Donath, M.Y. & Shoelson, S.E. Type 2 diabetes as an inflammatory disease. Nat. Rev. Immunol. 11, 98–107 (2011).

Kahn, S.E., Hull, R.L. & Utzschneider, K.M. Mechanisms linking obesity to insulin resistance and type 2 diabetes. Nature 444, 840–846 (2006).

Pedersen, B.K. & Febbraio, M.A. Point: Interleukin-6 does have a beneficial role in insulin sensitivity and glucose homeostasis. J. Appl. Physiol. 102, 814–816 (2007).

Weiss, R. et al. Obesity and the metabolic syndrome in children and adolescents. N. Engl. J. Med. 350, 2362–2374 (2004).

Kim, H.-J. et al. Differential effects of interleukin-6 and -10 on skeletal muscle and liver insulin action in vivo. Diabetes 53, 1060–1067 (2004).

Wallenius, V. et al. Interleukin-6-deficient mice develop mature-onset obesity. Nat. Med. 8, 75–79 (2002).

Wunderlich, F.T. et al. Interleukin-6 signaling in liver-parenchymal cells suppresses hepatic inflammation and improves systemic insulin action. Cell Metab. 12, 237–249 (2010).

Clausen, B.E., Burkhardt, C., Reith, W., Renkawitz, R. & Förster, I. Conditional gene targeting in macrophages and granulocytes using LysMcre mice. Transgenic Res. 8, 265–277 (1999).

Vogt, M.C. & Brüning, J.C. CNS insulin signaling in the control of energy homeostasis and glucose metabolism—from embryo to old age. Trends Endocrinol. Metab. 24, 76–84 (2013).

Matthews, V.B. et al. Interleukin-6-deficient mice develop hepatic inflammation and systemic insulin resistance. Diabetologia 53, 2431–2441 (2010).

Belgardt, B.F. et al. Hypothalamic and pituitary c-Jun N-terminal kinase 1 signaling coordinately regulates glucose metabolism. Proc. Natl. Acad. Sci. USA 107, 6028–6033 (2010).

Hutchins, A.P., Poulain, S. & Miranda-Saavedra, D. Genome-wide analysis of STAT3 binding in vivo predicts effectors of the anti-inflammatory response in macrophages. Blood 119, e110–e119 (2012).

Portales-Casamar, E. et al. JASPAR 2010: the greatly expanded open-access database of transcription factor binding profiles. Nucleic Acids Res. 38, D105–D110 (2010).

Baumgartl, J. et al. Myeloid lineage cell-restricted insulin resistance protects apolipoproteinE-deficient mice against atherosclerosis. Cell Metab. 3, 247–256 (2006).

Mosser, D.M. & Edwards, J.P. Exploring the full spectrum of macrophage activation. Nat. Rev. Immunol. 8, 958–969 (2008).

Ricardo-Gonzalez, R.R. et al. IL-4/STAT6 immune axis regulates peripheral nutrient metabolism and insulin sensitivity. Proc. Natl. Acad. Sci. USA 107, 22617–22622 (2010).

Hirosumi, J. et al. A central role for JNK in obesity and insulin resistance. Nature 420, 333–336 (2002).

Lumeng, C.N., Bodzin, J.L. & Saltiel, A.R. Obesity induces a phenotypic switch in adipose tissue macrophage polarization. J. Clin. Invest. 117, 175–184 (2007).

Patsouris, D. et al. Ablation of CD11c-positive cells normalizes insulin sensitivity in obese insulin resistant animals. Cell Metab. 8, 301–309 (2008).

Odegaard, J.I. et al. Macrophage-specific PPARγ controls alternative activation and improves insulin resistance. Nature 447, 1116–1120 (2007).

Ouchi, N., Parker, J.L., Lugus, J.J. & Walsh, K. Adipokines in inflammation and metabolic disease. Nat. Rev. Immunol. 11, 85–97 (2011).

Scheller, J., Chalaris, A., Schmidt-Arras, D. & Rose-John, S. The pro- and anti-inflammatory properties of the cytokine interleukin-6. Biochim. Biophys. Acta 1813, 878–888 (2011).

Sadagurski, M. et al. Human IL6 enhances leptin action in mice. Diabetologia 53, 525–535 (2009).

Ellingsgaard, H. et al. Interleukin-6 enhances insulin secretion by increasing glucagon-like peptide-1 secretion from L cells and alpha cells. Nat. Med. 17, 1481–1489 (2011).

Herbert, D.R. et al. Alternative macrophage activation is essential for survival during schistosomiasis and downmodulates T helper 1 responses and immunopathology. Immunity 20, 623–635 (2004).

Vats, D. et al. Oxidative metabolism and PGC-1beta attenuate macrophage-mediated inflammation. Cell Metab. 4, 13–24 (2006).

Wermeling, F., Anthony, R.M., Brombacher, F. & Ravetch, J.V. Acute inflammation primes myeloid effector cells for anti-inflammatory STAT6 signaling. Proc. Nat. Acad. Sci. 110, 13487–13491 (2013).

Duluc, D. et al. Tumor-associated leukemia inhibitory factor and IL-6 skew monocyte differentiation into tumor-associated macrophage-like cells. Blood 110, 4319–4330 (2007).

Xing, Z. et al. IL-6 is an antiinflammatory cytokine required for controlling local or systemic acute inflammatory responses. J. Clin. Invest. 101, 311–320 (1998).

Spence, S. et al. Suppressors of cytokine signaling 2 and 3 diametrically control macrophage polarization. Immunity 38, 66–78 (2013).

Edgar, R., Domrachev, M. & Lash, A.E. Gene Expression Omnibus: NCBI gene expression and hybridization array data repository. Nucleic Acids Res. 30, 207–210 (2002).

Wunderlich, C.M. et al. Cutting edge: Inhibition of IL-6 trans-signaling protects from malaria-induced lethality in mice. J. Immunol. 188, 4141–4144 (2012).

Mauer, J. et al. Myeloid cell-restricted insulin receptor deficiency protects against obesity-induced inflammation and systemic insulin resistance. PLoS Genet. 6, e1000938 (2010).

Jordan, S.D. et al. Obesity-induced overexpression of miRNA-143 inhibits insulin-stimulated AKT activation and impairs glucose metabolism. Nat. Cell Biol. 13, 434–446 (2011).

Könner, A.C. et al. Insulin action in AgRP-expressing neurons is required for suppression of hepatic glucose production. Cell Metab. 5, 438–449 (2007).

Ferré, P., Leturque, A., Burnol, A.F., Pénicaud, L. & Girard, J. A method to quantify glucose utilization in vivo in skeletal muscle and white adipose tissue of the anaesthetized rat. Biochem. J. 228, 103–110 (1985).

Chaurasia, B. et al. Phosphoinositide-dependent kinase 1 provides negative feedback inhibition to Toll-like receptor-mediated NF-κB activation in macrophages. Mol. Cell. Biol. 30, 4354–4366 (2010).

Ruud, J. et al. Inflammation- and tumor-induced anorexia and weight loss require MyD88 in hematopoietic/myeloid cells but not in brain endothelial or neural cells. FASEB J. 27, 1973–1980 (2013).

Norris, A.W. et al. Muscle-specific PPARγ-deficient mice develop increased adiposity and insulin resistance but respond to thiazolidinediones. J. Clin. Invest. 112, 608–618 (2003).

Nguyen, K.D. et al. Alternatively activated macrophages produce catecholamines to sustain adaptive thermogenesis. Nature 480, 104–108 (2011).

Schneider, C.A., Rasband, W.S. & Eliceiri, K.W. NIH Image to ImageJ: 25 years of image analysis. Nat. Methods 9, 671–675 (2012).

Günschmann, C. et al. Insulin/IGF-1 controls epidermal morphogenesis via regulation of FoxO-mediated p63 inhibition. Dev. Cell 26, 176–187 (2013).
Acknowledgements
We thank G. Schmall and T. Rayle for secretarial assistance, and B. Hampel and D. Kutyniok for technical assistance. Supported by the Deutsche Forschungsgemeinschaft (SFB 612 and SFB 670 to J.C.B.), the Leibniz Preis (BR 1492/7-1 to J.C.B.), the Cologne Excellence Cluster on Cellular Stress Responses in Aging Associated Diseases (funded by the Deutsche Forschungsgemeinschaft within the Excellence Initiative by German Federal and State Governments), the US National Institutes of Health (DP1AR064158, HL076746 and DK094641 to A.C.) and the National Health and Medical Research Council of Australia (APP1041760, APP1042465 and SPRF APP1021168 to M.A.F.).
Ethics declarations
Competing interests
The authors declare no competing financial interests.
Integrated supplementary information
Supplementary information
About this article
Cite this article
Mauer, J., Chaurasia, B., Goldau, J. et al. Signaling by IL-6 promotes alternative activation of macrophages to limit endotoxemia and obesity-associated resistance to insulin. Nat Immunol 15, 423–430 (2014). https://doi.org/10.1038/ni.2865
Received:

Accepted:

Published:

Issue Date:

DOI: https://doi.org/10.1038/ni.2865