Abstract
Interactions of T cell antigen receptors (TCRs) with complexes of self peptide and major histocompatibility complex (MHC) are crucial to T cell development, but their role in peripheral T cell responses remains unclear. Specific and nonspecific stimulation of LLO56 and LLO118 T cells, which transgenically express a TCR specific for the same Listeria monocytogenes epitope, elicited distinct interleukin 2 (IL-2) and phosphorylated kinase Erk responses, the strength of which was set in the thymus and maintained in the periphery in proportion to the avidity of the binding of the TCR to the self peptide–MHC complex. Deprivation of self peptide–MHC substantially compromised the population expansion of LLO56 T cells in response to L. monocytogenes in vivo. Despite their very different self-reactivity, LLO56 T cells and LLO118 T cells bound cognate peptide–MHC with an identical affinity, which challenges associations made between these parameters. Our findings highlight a crucial role for selecting ligands encountered during thymic 'education' in determining the intrinsic functionality of CD4+ T cells.
Relevant articles
Open Access articles citing this article.
Darren B. McAffee

,

Mark K. O'Dair

…

Jay T. Groves

Nature Communications Open Access 02 December 2022

Lei Xu

,

Chuan Wei

…

Xiaojun Chen

Nature Communications Open Access 12 November 2022

Young-Jun Ju

,

Sung-Woo Lee

…

Jae-Ho Cho

Nature Communications Open Access 18 October 2021
Access options
Subscribe to Journal
Get full journal access for 1 year
$79.00
only $6.58 per issue
All prices are NET prices.
VAT will be added later in the checkout.
Tax calculation will be finalised during checkout.
Buy article
Get time limited or full article access on ReadCube.
$32.00
All prices are NET prices.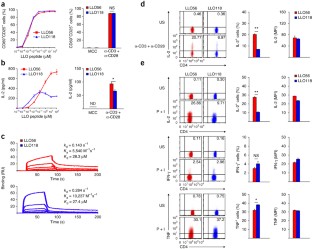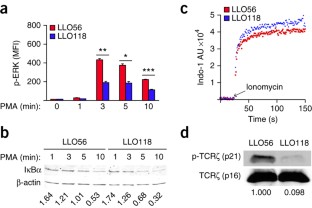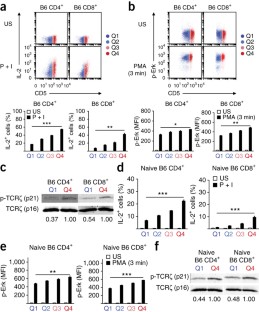 References
van der Merwe, P.A. & Davis, S.J. Molecular interactions mediating T cell antigen recognition. Annu. Rev. Immunol. 21, 659–684 (2003).

Davis, M.M. et al. Ligand recognition by αβ T cell receptors. Annu. Rev. Immunol. 16, 523–544 (1998).

Morris, G.P. & Allen, P.M. How the TCR balances sensitivity and specificity for the recognition of self and pathogens. Nat. Immunol. 13, 121–128 (2012).

Ernst, B., Lee, D.S., Chang, J.M., Sprent, J. & Surh, C.D. The peptide ligands mediating positive selection in the thymus control T cell survival and homeostatic proliferation in the periphery. Immunity 11, 173–181 (1999).

Krogsgaard, M. et al. Agonist/endogenous peptide-MHC heterodimers drive T cell activation and sensitivity. Nature 434, 238–243 (2005).

Lo, W.L. et al. An endogenous peptide positively selects and augments the activation and survival of peripheral CD4+ T cells. Nat. Immunol. 10, 1155–1161 (2009).

Kirberg, J., Berns, A. & von Boehmer, H. Peripheral T cell survival requires continual ligation of the T cell receptor to major histocompatibility complex-encoded molecules. J. Exp. Med. 186, 1269–1275 (1997).

Cho, J.H., Kim, H.O., Surh, C.D. & Sprent, J. T cell receptor-dependent regulation of lipid rafts controls naive CD8+ T cell homeostasis. Immunity 32, 214–226 (2010).

Kersh, G.J. et al. Structural and functional consequences of altering a peptide MHC anchor residue. J. Immunol. 166, 3345–3354 (2001).

Hataye, J., Moon, J.J., Khoruts, A., Reilly, C. & Jenkins, M.K. Naive and memory CD4+ T cell survival controlled by clonal abundance. Science 312, 114–116 (2006).

Obar, J.J., Khanna, K.M. & Lefrancois, L. Endogenous naive CD8+ T cell precursor frequency regulates primary and memory responses to infection. Immunity 28, 859–869 (2008).

Malherbe, L., Hausl, C., Teyton, L. & McHeyzer-Williams, M.G. Clonal selection of helper T cells is determined by an affinity threshold with no further skewing of TCR binding properties. Immunity 21, 669–679 (2004).

Busch, D.H. & Pamer, E.G. T cell affinity maturation by selective expansion during infection. J. Exp. Med. 189, 701–710 (1999).

Moon, J.J. et al. Naive CD4+ T cell frequency varies for different epitopes and predicts repertoire diversity and response magnitude. Immunity 27, 203–213 (2007).

Zehn, D., Lee, S.Y. & Bevan, M.J. Complete but curtailed T-cell response to very low-affinity antigen. Nature 458, 211–214 (2009).

Azzam, H.S. et al. CD5 expression is developmentally regulated by T cell receptor (TCR) signals and TCR avidity. J. Exp. Med. 188, 2301–2311 (1998).

Mandl, J.N., Monteiro, J.P., Vrisekoop, N. & Germain, R.N. T cell-positive selection uses self-ligand binding strength to optimize repertoire recognition of foreign antigens. Immunity 38, 263–274 (2013).

Weber, K.S. et al. Distinct CD4+ helper T cells involved in primary and secondary responses to infection. Proc. Natl. Acad. Sci. USA 109, 9511–9516 (2012).

Lenardo, M. et al. Mature T lymphocyte apoptosis–immune regulation in a dynamic and unpredictable antigenic environment. Annu. Rev. Immunol. 17, 221–253 (1999).

Hochweller, K. et al. Dendritic cells control T cell tonic signaling required for responsiveness to foreign antigen. Proc. Natl. Acad. Sci. USA 107, 5931–5936 (2010).

Stefanová, I., Dorfman, J.R. & Germain, R.N. Self-recognition promotes the foreign antigen sensitivity of naive T lymphocytes. Nature 420, 429–434 (2002).

Lo, W.L., Donermeyer, D.L. & Allen, P.M. A voltage-gated sodium channel is essential for the positive selection of CD4+ T cells. Nat. Immunol. 13, 880–887 (2012).

Kaye, J., Kersh, G., Engel, I. & Hedrick, S.M. Structure and specificity of the T cell antigen receptor. Semin. Immunol. 3, 269–281 (1991).

Moran, A.E. et al. T cell receptor signal strength in Treg and iNKT cell development demonstrated by a novel fluorescent reporter mouse. J. Exp. Med. 208, 1279–1289 (2011).

Smith, K. et al. Sensory adaptation in naive peripheral CD4 T cells. J. Exp. Med. 194, 1253–1261 (2001).

Skoberne, M., Holtappels, R., Hof, H. & Geginat, G. Dynamic antigen presentation patterns of Listeria monocytogenes-derived CD8 T cell epitopes in vivo. J. Immunol. 167, 2209–2218 (2001).

Tarakhovsky, A. et al. A role for CD5 in TCR-mediated signal transduction and thymocyte selection. Science 269, 535–537 (1995).

Zhou, X.Y. et al. CD5 costimulation up-regulates the signaling to extracellular signal-regulated kinase activation in CD4+CD8+ thymocytes and supports their differentiation to the CD4 lineage. J. Immunol. 164, 1260–1268 (2000).

Peña-Rossi, C. et al. Negative regulation of CD4 lineage development and responses by CD5. J. Immunol. 163, 6494–6501 (1999).

Azzam, H.S. et al. Fine tuning of TCR signaling by CD5. J. Immunol. 166, 5464–5472 (2001).

Gapin, L., Matsuda, J.L., Surh, C.D. & Kronenberg, M. NKT cells derive from double-positive thymocytes that are positively selected by CD1d. Nat. Immunol. 2, 971–978 (2001).

Lio, C.W. & Hsieh, C.S. A two-step process for thymic regulatory T cell development. Immunity 28, 100–111 (2008).

Stritesky, G.L., Jameson, S.C. & Hogquist, K.A. Selection of self-reactive T cells in the thymus. Annu. Rev. Immunol. 30, 95–114 (2012).

Zikherman, J., Parameswaran, R. & Weiss, A. Endogenous antigen tunes the responsiveness of naive B cells but not T cells. Nature 489, 160–164 (2012).

Daniels, M.A. et al. Thymic selection threshold defined by compartmentalization of Ras/MAPK signalling. Nature 444, 724–729 (2006).

Huang, J. et al. The kinetics of two-dimensional TCR and pMHC interactions determine T-cell responsiveness. Nature 464, 932–936 (2010).

Sabatino, J.J. Jr., Huang, J., Zhu, C. & Evavold, B.D. High prevalence of low affinity peptide-MHC II tetramer-negative effectors during polyclonal CD4+ T cell responses. J. Exp. Med. 208, 81–90 (2011).

Tubo, N.J. et al. Single naive CD4+ T cells from a diverse repertoire produce different effector cell types during infection. Cell 153, 785–796 (2013).

Kim, C., Wilson, T., Fischer, K.F. & Williams, M.A. Sustained interactions between T cell receptors and antigens promote the differentiation of CD4+ memory T cells. Immunity 39, 508–520 (2013).

Martin, B. et al. Highly self-reactive naive CD4 T cells are prone to differentiate into regulatory T cells. Nat. Commun. 4, 2209 (2013).

Kersh, E.N., Shaw, A.S. & Allen, P.M. Fidelity of T cell activation through multistep T cell receptor zeta phosphorylation. Science 281, 572–575 (1998).

Persaud, S.P., Donermeyer, D.L., Weber, K.S., Kranz, D.M. & Allen, P.M. High-affinity T cell receptor differentiates cognate peptide-MHC and altered peptide ligands with distinct kinetics and thermodynamics. Mol. Immunol. 47, 1793–1801 (2010).

Weber, K.S., Donermeyer, D.L., Allen, P.M. & Kranz, D.M. Class II-restricted T cell receptor engineered in vitro for higher affinity retains peptide specificity and function. Proc. Natl. Acad. Sci. USA 102, 19033–19038 (2005).

Garcia, K.C., Radu, C.G., Ho, J., Ober, R.J. & Ward, E.S. Kinetics and thermodynamics of T cell receptor- autoantigen interactions in murine experimental autoimmune encephalomyelitis. Proc. Natl. Acad. Sci. USA 98, 6818–6823 (2001).

Hallaq, H. et al. Activation of protein kinase C alters the intracellular distribution and mobility of cardiac Na+ channels. Am. J. Physiol. Heart Circ. Physiol. 302, H782–H789 (2012).

Moon, J.J. et al. Tracking epitope-specific T cells. Nat. Protoc. 4, 565–581 (2009).
Acknowledgements
We thank E. Huseby (University of Massachusetts Medical School) for soluble I-Ab; Q.J. Li for generating the LLO56 and LLO118 TCR-encoding transgene constructs; J. Ting (University of North Carolina Chapel Hill School of Medicine) for mice doubly deficient in H-2M and β2-microglobulin; K. Murray (Vanderbilt University School of Medicine) for the SCN5A–green fluorescent protein construct; D. Kreamalmeyer for mouse breeding and care; S. Horvath for peptide synthesis; D. Brinja and E. Lantelme for assistance with sorting by flow cytometry; D. Donermeyer, A. Shaw, E. Unanue and E. Brown for comments on the manuscript; and A. Chakraborty, M. Davis, M. Dustin, M. Kardar, E. Pamer, A. Perelson, D. Portnoy and A. Shaw (members of the program project (AI-071195) under which this work was initiated). Supported by the US National Institutes of Health (AI-24157).
Ethics declarations
Competing interests
The authors declare no competing financial interests.
Integrated supplementary information
Supplementary information
About this article
Cite this article
Persaud, S., Parker, C., Lo, WL. et al. Intrinsic CD4+ T cell sensitivity and response to a pathogen are set and sustained by avidity for thymic and peripheral complexes of self peptide and MHC. Nat Immunol 15, 266–274 (2014). https://doi.org/10.1038/ni.2822
Received:

Accepted:

Published:

Issue Date:

DOI: https://doi.org/10.1038/ni.2822