Abstract
STAT1 is an indispensable component of a heterotrimer (ISGF3) and a STAT1 homodimer (GAF) that function as transcription regulators in type 1 and type 2 interferon signaling, respectively. To investigate the importance of STAT1-cooperative DNA binding, we generated gene-targeted mice expressing cooperativity-deficient STAT1 with alanine substituted for Phe77. Neither ISGF3 nor GAF bound DNA cooperatively in the STAT1F77A mouse strain, but type 1 and type 2 interferon responses were affected differently. Type 2 interferon–mediated transcription and antibacterial immunity essentially disappeared owing to defective promoter recruitment of GAF. In contrast, STAT1 recruitment to ISGF3 binding sites and type 1 interferon–dependent responses, including antiviral protection, remained intact. We conclude that STAT1 cooperativity is essential for its biological activity and underlies the cellular responses to type 2, but not type 1 interferon.
Your institute does not have access to this article
Relevant articles
Open Access articles citing this article.
Priyanka Rajeev Menon

,

Julia Staab

…

Thomas Meyer

Cell Communication and Signaling Open Access 31 March 2022

Tracy Tabib

,

Mengqi Huang

…

Robert Lafyatis

Nature Communications Open Access 19 July 2021

Xiaoling Tian

,

Wencai Guan

…

Guoxiong Xu

Journal of Experimental & Clinical Cancer Research Open Access 11 May 2018
Access options
Subscribe to Journal
Get full journal access for 1 year
$59.00
only $4.92 per issue
All prices are NET prices.
VAT will be added later in the checkout.
Tax calculation will be finalised during checkout.
Buy article
Get time limited or full article access on ReadCube.
$32.00
All prices are NET prices.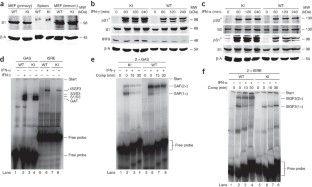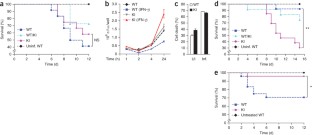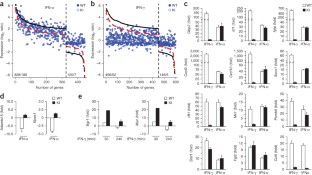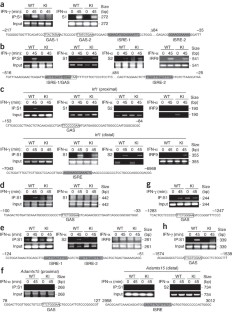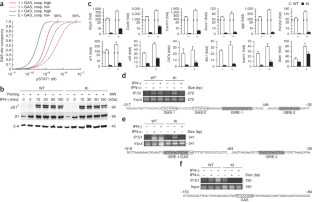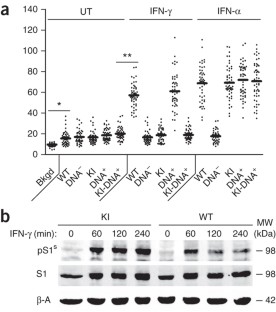 Accession codes
Primary accessions
Gene Expression Omnibus
References
Stark, G.R., Kerr, I.M., Williams, B.R., Silverman, R.H. & Schreiber, R.D. How cells respond to interferons. Annu. Rev. Biochem. 67, 227–264 (1998).

Stark, G.R. & Darnell, J.E. Jr. The JAK-STAT pathway at twenty. Immunity 36, 503–514 (2012).

Platanias, L.C. Mechanisms of type-I- and type-II-interferon-mediated signalling. Nat. Rev. Immunol. 5, 375–386 (2005).

Vinkemeier, U. et al. DNA binding of in vitro activated Stat1 alpha, Stat1 beta and truncated Stat1: interaction between NH2-terminal domains stabilizes binding of two dimers to tandem DNA sites. EMBO J. 15, 5616–5626 (1996).

Li, X., Leung, S., Burns, C. & Stark, G.R. Cooperative binding of Stat1-2 heterodimers and ISGF3 to tandem DNA elements. Biochimie 80, 703–710 (1998).

Vinkemeier, U., Moarefi, I., Darnell, J.E. Jr. & Kuriyan, J. Structure of the amino-terminal protein interaction domain of STAT-4. Science 279, 1048–1052 (1998).

Xu, X., Sun, Y.L. & Hoey, T. Cooperative DNA binding and sequence-selective recognition conferred by the STAT amino-terminal domain. Science 273, 794–797 (1996).

Bonham, A.J. et al. STAT1:DNA sequence-dependent binding modulation by phosphorylation, protein:protein interactions and small-molecule inhibition. Nucleic Acids Res. 41, 754–763 (2013).

Meyer, T., Hendry, L., Begitt, A., John, S. & Vinkemeier, U. A single residue modulates tyrosine dephosphorylation, oligomerization, and nuclear accumulation of Stat transcription factors. J. Biol. Chem. 279, 18998–19007 (2004).

Mao, X. et al. Structural bases of unphosphorylated STAT1 association and receptor binding. Mol. Cell 17, 761–771 (2005).

Wenta, N., Strauss, H., Meyer, S. & Vinkemeier, U. Tyrosine phosphorylation regulates the partitioning of STAT1 between different dimer conformations. Proc. Natl. Acad. Sci. USA 105, 9238–9243 (2008).

Ptashne, M. A Genetic Switch: Phage Lambda Revisited (Cold Spring Harbor Laboratory Press, Plainview, New York, USA, 2004).

Lebrecht, D. et al. Bicoid cooperative DNA binding is critical for embryonic patterning in Drosophila. Proc. Natl. Acad. Sci. USA 102, 13176–13181 (2005).

Spitz, F. & Furlong, E.E. Transcription factors: from enhancer binding to developmental control. Nat. Rev. Genet. 13, 613–626 (2012).

Lin, J.-X. et al. Critical Role of STAT5 transcription factor tetramerization for cytokine responses and normal immune function. Immunity 36, 586–599 (2012).

Giorgetti, L. et al. Noncooperative interactions between transcription factors and clustered DNA binding sites enable graded transcriptional responses to environmental inputs. Mol. Cell 37, 418–428 (2010).

Durbin, J.E., Hackenmiller, R., Simon, M.C. & Levy, D.E. Targeted disruption of the mouse Stat1 gene results in compromised innate immunity to viral disease. Cell 84, 443–450 (1996).

Zhong, M. et al. Implications of an antiparallel dimeric structure of nonphosphorylated STAT1 for the activation-inactivation cycle. Proc. Natl. Acad. Sci. USA 102, 3966–3971 (2005).

Qing, Y. & Stark, G.R. Alternative activation of STAT1 and STAT3 in response to interferon-gamma. J. Biol. Chem. 279, 41679–41685 (2004).

Boisson-Dupuis, S. et al. Inborn errors of human STAT1: allelic heterogeneity governs the diversity of immunological and infectious phenotypes. Curr. Opin. Immunol. 24, 364–378 (2012).

Müller, U. et al. Functional role of type I and type II interferons in antiviral defense. Science 264, 1918–1921 (1994).

Buchmeier, N.A. & Schreiber, R.D. Requirement of endogenous interferon-gamma production for resolution of Listeria monocytogenes infection. Proc. Natl. Acad. Sci. USA 82, 7404–7408 (1985).

Lorsbach, R.B., Murphy, W.J., Lowenstein, C.J., Snyder, S.H. & Russell, S.W. Expression of the nitric oxide synthase gene in mouse macrophages activated for tumor cell killing. Molecular basis for the synergy between interferon-gamma and lipopolysaccharide. J. Biol. Chem. 268, 1908–1913 (1993).

Stockinger, S. et al. Production of type I IFN sensitizes macrophages to cell death induced by Listeria monocytogenes. J. Immunol. 169, 6522–6529 (2002).

Karaghiosoff, M. et al. Central role for type I interferons and Tyk2 in lipopolysaccharide-induced endotoxin shock. Nat. Immunol. 4, 471–477 (2003).

Hartman, S.E. et al. Global changes in STAT target selection and transcription regulation upon interferon treatments. Genes Dev. 19, 2953–2968 (2005).

Ramana, C.V., Gil, M.P., Schreiber, R.D. & Stark, G.R. Stat1-dependent and -independent pathways in IFN-gamma-dependent signaling. Trends Immunol. 23, 96–101 (2002).

Schmid, C.D. & Bucher, P. MER41 repeat sequences contain inducible STAT1 binding sites. PLoS ONE 5, e11425 (2010).

Hu, X. et al. Sensitization of IFN-gamma Jak-STAT signaling during macrophage activation. Nat. Immunol. 3, 859–866 (2002).

Vinkemeier, U. Getting the message across, STAT! Design principles of a molecular signaling circuit. J. Cell Biol. 167, 197–201 (2004).

Lödige, I. et al. Nuclear export determines the cytokine sensitivity of STAT transcription factors. J. Biol. Chem. 280, 43087–43099 (2005).

Meyer, T., Marg, A., Lemke, P., Wiesner, B. & Vinkemeier, U. DNA binding controls inactivation and nuclear accumulation of the transcription factor Stat1. Genes Dev. 17, 1992–2005 (2003).

Bluyssen, H.A. & Levy, D.E. Stat2 is a transcriptional activator that requires sequence-specific contacts provided by Stat1 and p48 for stable interaction with DNA. J. Biol. Chem. 272, 4600–4605 (1997).

Sadzak, I. et al. Recruitment of Stat1 to chromatin is required for interferon-induced serine phosphorylation of Stat1 transactivation domain. Proc. Natl. Acad. Sci. USA 105, 8944–8949 (2008).

Wormald, S., Hilton, D.J., Smyth, G.K. & Speed, T.P. Proximal genomic localization of STAT1 binding and regulated transcriptional activity. BMC Genomics 7, 254 (2006).

Segal, E. & Widom, J. From DNA sequence to transcriptional behaviour: a quantitative approach. Nat. Rev. Genet. 10, 443–456 (2009).

Kessler, D.S., Veals, S.A., Fu, X.Y. & Levy, D.E. Interferon-alpha regulates nuclear translocation and DNA-binding affinity of ISGF3, a multimeric transcriptional activator. Genes Dev. 4, 1753–1765 (1990).

Qureshi, S.A., Salditt-Georgieff, M. & Darnell, J.E. Jr. Tyrosine-phosphorylated Stat1 and Stat2 plus a 48-kDa protein all contact DNA in forming interferon-stimulated-gene factor 3. Proc. Natl. Acad. Sci. USA 92, 3829–3833 (1995).

Speil, J. et al. Activated STAT1 transcription factors conduct distinct saltatory movements in the cell nucleus. Biophys. J. 101, 2592–2600 (2011).

Cheon, H. et al. IFNβ-dependent increases in STAT1, STAT2, and IRF9 mediate resistance to viruses and DNA damage. EMBO J. 32, 2751–2763 (2013).

Dölken, L. et al. High-resolution gene expression profiling for simultaneous kinetic parameter analysis of RNA synthesis and decay. RNA 14, 1959–1972 (2008).

Mandal, M. et al. Epigenetic repression of the Igk locus by STAT5-mediated recruitment of the histone methyltransferase Ezh2. Nat. Immunol. 12, 1212–1220 (2011).

Chen, X. et al. A reinterpretation of the dimerization interface of the N-terminal domains of STATs. Protein Sci. 12, 361–365 (2003).

Stockinger, S. et al. Characterization of the interferon-producing cell in mice infected with Listeria monocytogenes. PLoS Pathog. 5, e1000355 (2009).

Detje, C.N. et al. Local type I IFN receptor signaling protects against virus spread within the central nervous system. J. Immunol. 182, 2297–2304 (2009).

Begitt, A., Droescher, M., Knobeloch, K.P. & Vinkemeier, U. SUMO conjugation of STAT1 protects cells from hyperresponsiveness to IFNγ. Blood 118, 1002–1007 (2011).

Zwaferink, H., Stockinger, S., Reipert, S. & Decker, T. Stimulation of inducible nitric oxide synthase expression by beta interferon increases necrotic death of macrophages upon Listeria monocytogenes infection. Infect. Immun. 76, 1649–1656 (2008).

Pelzel, C., Begitt, A., Wenta, N. & Vinkemeier, U. Evidence against a role for β-arrestin1 in STAT1 dephosphorylation and the inhibition of interferon-γ signaling. Mol. Cell 50, 149–156 (2013).

Antunes, F., Marg, A. & Vinkemeier, U. STAT1 signaling is not regulated by a phosphorylation-acetylation switch. Mol. Cell. Biol. 31, 3029–3037 (2011).

Meyer, T., Begitt, A. & Vinkemeier, U. Green fluorescent protein-tagging reduces the nucleocytoplasmic shuttling specifically of unphosphorylated STAT1. FEBS J. 274, 815–826 (2007).

Meyer, L.R. et al. The UCSC Genome Browser database: extensions and updates 2013. Nucleic Acids Res. 41, D64–D69 (2013).
Acknowledgements
We thank M. Mee, C. Pelzel and N. Wenta for immunoblot or EMSA results; N. Salhat for data on Listeria-infected macrophages; V. Ruppert and J. Staab for animal data; U. Kalinke (Universität Hannover) for VSV; L. Olohan (University of Liverpool) for microarray scanning; and K. Weber, E. Louis and I. Macdonald for manuscript review. Supported by University of Nottingham Pump Priming (U.V.), Deutsche Forschungsgemeinschaft (VI 218/3 to U.V. and ME 1648/4-1 to T.M.), Austrian Science Foundation (SFB28 to T.D.), Biotechnology and Biological Sciences Research Council (BB/G019290/1 to U.V. and BB/I532353/1 to M.B.), Pfizer (M.B.) and the Wellcome Trust (A.B.).
Ethics declarations
Competing interests
The authors declare no competing financial interests.
Integrated supplementary information
Supplementary information
Supplementary Figures 1–9, Supplementary Tables 1–6 and Supplementary Note (PDF 5952 kb)
About this article
Cite this article
Begitt, A., Droescher, M., Meyer, T. et al. STAT1-cooperative DNA binding distinguishes type 1 from type 2 interferon signaling. Nat Immunol 15, 168–176 (2014). https://doi.org/10.1038/ni.2794
Received:

Accepted:

Published:

Issue Date:

DOI: https://doi.org/10.1038/ni.2794