Abstract
IFNL3, which encodes interferon-λ3 (IFN-λ3), has received considerable attention in the hepatitis C virus (HCV) field, as many independent genome-wide association studies have identified a strong association between polymorphisms near IFNL3 and clearance of HCV. However, the mechanism underlying this association has remained elusive. In this study, we report the identification of a functional polymorphism (rs4803217) in the 3′ untranslated region (UTR) of IFNL3 mRNA that dictated transcript stability. We found that this polymorphism influenced AU-rich element (ARE)-mediated decay (AMD) of IFNL3 mRNA, as well as the binding of HCV-induced microRNAs during infection. Together these pathways mediated robust repression of the unfavorable IFNL3 polymorphism. Our data reveal a previously unknown mechanism by which HCV attenuates the antiviral response and indicate new potential therapeutic targets for HCV treatment.
Relevant articles
Open Access articles citing this article.
Lingfang Wang

,

Xing Du

…

Qifa Li

Cell Death Discovery Open Access 18 September 2021

Qian Chen

,

Mairene Coto-Llerena

…

Markus H. Heim

Nature Communications Open Access 12 August 2021

Ludmila Prokunina-Olsson

,

Robert D. Morrison

…

Patrick E. Duffy

Genes & Immunity Open Access 13 April 2021
Access options
Subscribe to this journal
Receive 12 print issues and online access
$189.00 per year
only $15.75 per issue
Rent or buy this article
Get just this article for as long as you need it
$39.95
Prices may be subject to local taxes which are calculated during checkout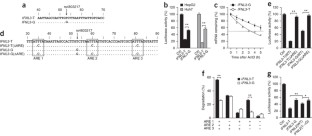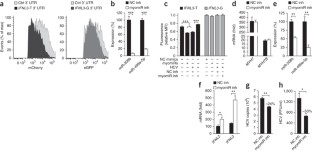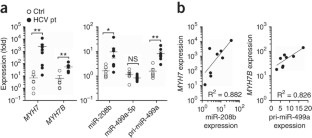 References
Ghany, M.G. et al. An update on treatment of genotype 1 chronic hepatitis C virus infection: 2011 practice guideline by the American Association for the Study of Liver Diseases. Hepatology 54, 1433–1444 (2011).

Pearlman, B.L. Protease inhibitors for the treatment of chronic hepatitis C genotype-1 infection: the new standard of care. Lancet Infect. Dis. 12, 717–728 (2012).

Suppiah, V. et al. IL28B is associated with response to chronic hepatitis C interferon-α and ribavirin therapy. Nat. Genet. 41, 1100–1104 (2009).

Tanaka, Y. et al. Genome-wide association of IL28B with response to pegylated interferon-alpha and ribavirin therapy for chronic hepatitis C. Nat. Genet. 41, 1105–1109 (2009).

Ge, D. et al. Genetic variation in IL28B predicts hepatitis C treatment-induced viral clearance. Nature 461, 399–401 (2009).

Rauch, A. et al. Genetic variation in IL28B is associated with chronic hepatitis C and treatment failure: a genome-wide association study. Gastroenterology 138, 1338–1345 (2010).

Thomas, D.L. et al. Genetic variation in IL28B and spontaneous clearance of hepatitis C virus. Nature 461, 798–801 (2009).

Kotenko, S.V. et al. IFN-λs mediate antiviral protection through a distinct class II cytokine receptor complex. Nat. Immunol. 4, 69–77 (2003).

Sheppard, P. et al. IL-28, IL-29 and their class II cytokine receptor IL-28R. Nat. Immunol. 4, 63–68 (2003).

Witte, K., Witte, E., Sabat, R. & Wolk, K. IL-28A, IL-28B, and IL-29: promising cytokines with type I interferon-like properties. Cytokine Growth Factor Rev. 21, 237–251 (2010).

Sommereyns, C., Paul, S., Staeheli, P. & Michiels, T. IFN-lambda (IFN-λ) is expressed in a tissue-dependent fashion and primarily acts on epithelial cells in vivo. PLoS Pathog. 4, e1000017 (2008).

Balagopal, A., Thomas, D.L. & Thio, C.L. IL28B and the control of hepatitis C virus infection. Gastroenterology 139, 1865–1876 (2010).

Friborg, J. et al. Combinations of λ interferon with direct-acting antiviral agents are highly efficient in suppressing hepatitis C virus replication. Antimicrob. Agents Chemother. 57, 1312–1322 (2013).

Dickensheets, H., Sheikh, F., Park, O., Gao, B. & Donnelly, R.P. Interferon-lambda (IFN-λ) induces signal transduction and gene expression in human hepatocytes but not in lymphocytes or monocytes. J. Leukoc. Biol. 93, 377–385 (2012).

Honda, M. et al. Hepatic ISG expression is associated with genetic variation in interleukin 28B and the outcome of IFN therapy for chronic hepatitis C. Gastroenterology 139, 499–509 (2010).

McGilvray, I. et al. Hepatic cell-type specific gene expression better predicts HCV treatment outcome than IL28B genotype. Gastroenterology 142, 1122–1131 (2012).

Naggie, S. et al. Dysregulation of innate immunity in hepatitis C virus genotype 1 IL28B-unfavorable genotype patients: impaired viral kinetics and therapeutic response. Hepatology 56, 444–454 (2012).

Langhans, B. et al. Interferon-λ serum levels in hepatitis C. J. Hepatol. 54, 859–865 (2011).

Raglow, Z., Thoma-Perry, C., Gilroy, R. & Wan, Y.J. IL28B genotype and the expression of ISGs in normal liver. Liver Int. 33, 991–998 (2013).

Yoshio, S. et al. Human blood dendritic cell antigen 3 (BDCA3)+ dendritic cells are a potent producer of interferon-λ in response to hepatitis C virus. Hepatology 57, 1705–1715 (2013).

Urban, T.J. et al. IL28B genotype is associated with differential expression of intrahepatic interferon-stimulated genes in patients with chronic hepatitis C. Hepatology 52, 1888–1896 (2010).

di Iulio, J. et al. Estimating the net contribution of interleukin-28B variation to spontaneous hepatitis C virus clearance. Hepatology 53, 1446–1454 (2011).

de Castellarnau, M. et al. Deciphering the interleukin 28B variants that better predict response to pegylated interferon-α and ribavirin therapy in HCV/HIV-1 coinfected patients. PLoS ONE 7, e31016 (2012).

Pedergnana, V. et al. Analysis of IL28B variants in an Egyptian population defines the 20 kilobases minimal region involved in spontaneous clearance of hepatitis C virus. PLoS ONE 7, e38578 (2012).

Seko, Y., Cole, S., Kasprzak, W., Shapiro, B.A. & Ragheb, J.A. The role of cytokine mRNA stability in the pathogenesis of autoimmune disease. Autoimmun. Rev. 5, 299–305 (2006).

Chen, J.M., Ferec, C. & Cooper, D.N. A systematic analysis of disease-associated variants in the 3′ regulatory regions of human protein-coding genes II: the importance of mRNA secondary structure in assessing the functionality of 3′ UTR variants. Hum. Genet. 120, 301–333 (2006).

Meisner, N.C. et al. mRNA openers and closers: modulating AU-rich element-controlled mRNA stability by a molecular switch in mRNA secondary structure. Chembiochem. 5, 1432–1447 (2004).

Manry, J. et al. Evolutionary genetic dissection of human interferons. J. Exp. Med. 208, 2747–2759 (2011).

Kulkarni, S. et al. Differential microRNA regulation of HLA-C expression and its association with HIV control. Nature 472, 495–498 (2011).

Guo, H., Ingolia, N.T., Weissman, J.S. & Bartel, D.P. Mammalian microRNAs predominantly act to decrease target mRNA levels. Nature 466, 835–840 (2010).

O'Neill, L.A., Sheedy, F.J. & McCoy, C.E. MicroRNAs: the fine-tuners of Toll-like receptor signalling. Nat. Rev. Immunol. 11, 163–175 (2011).

van Rooij, E. et al. A family of microRNAs encoded by myosin genes governs myosin expression and muscle performance. Dev. Cell 17, 662–673 (2009).

Schnell, G., Loo, Y.M., Marcotrigiano, J. & Gale, M. Jr. Uridine composition of the poly-U/UC tract of HCV RNA defines non-self recognition by RIG-I. PLoS Pathog. 8, e1002839 (2012).

Foy, E. et al. Control of antiviral defenses through hepatitis C virus disruption of retinoic acid-inducible gene-I signaling. Proc. Natl. Acad. Sci. USA 102, 2986–2991 (2005).

Li, X.-D., Sun, L., Seth, R.B., Pineda, G. & Chen, Z.J. Hepatitis C virus protease NS3/4A cleaves mitochondrial antiviral signaling protein off the mitochondria to evade innate immunity. Proc. Natl. Acad. Sci. USA 102, 17717–17722 (2005).

Sumpter, R. Jr. et al. Regulating intracellular antiviral defense and permissiveness to hepatitis C virus RNA replication through a cellular RNA helicase, RIG-I. J. Virol. 79, 2689–2699 (2005).

Saito, T. et al. Regulation of innate antiviral defenses through a shared repressor domain in RIG-I and LGP2. Proc. Natl. Acad. Sci. USA 104, 582–587 (2007).

Chugh, P. & Dittmer, D.P. Potential pitfalls in microRNA profiling. Wiley Interdiscip. Rev. RNA 3, 601–616 (2012).

Leshkowitz, D., Horn-Saban, S., Parmet, Y. & Feldmesser, E. Differences in microRNA detection levels are technology and sequence dependent. RNA 19, 527–538 (2013).

Janssen, H.L.A. et al. Treatment of HCV infection by targeting microRNA. N. Engl. J. Med. 368, 1685–1694 (2013).

Matsumori, A. Hepatitis C virus infection and cardiomyopathies. Circ. Res. 96, 144–147 (2005).

Lauer, B., Schannwell, M., Kuhl, U., Strauer, B.E. & Schultheiss, H.P. Antimyosin autoantibodies are associated with deterioration of systolic and diastolic left ventricular function in patients with chronic myocarditis. J. Am. Coll. Cardiol. 35, 11–18 (2000).

Caforio, A.L. et al. Clinical implications of anti-heart autoantibodies in myocarditis and dilated cardiomyopathy. Autoimmunity 41, 35–45 (2008).

Dellgren, C., Gad, H.H., Hamming, O.J., Melchjorsen, J. & Hartmann, R. Human interferon-lambda3 is a potent member of the type III interferon family. Genes Immun. 10, 125–131 (2009).

Prokunina-Olsson, L. et al. A variant upstream of IFNL3 (IL28B) creating a new interferon gene IFNL4 is associated with impaired clearance of hepatitis C virus. Nat. Genet. 45, 164–171 (2013).

Lorenz, R. et al. ViennaRNA package 2.0. Algorithms Mol. Biol. 6, 26 (2011).

Saito, T., Owen, D.M., Jiang, F., Marcotrigiano, J. & Gale, M. Jr. Innate immunity induced by composition-dependent RIG-I recognition of hepatitis C virus RNA. Nature 454, 523–527 (2008).

Savan, R., Chan, T. & Young, H.A. Lentiviral gene transduction in human and mouse NK cell lines. Methods Mol. Biol. 612, 209–221 (2010).10.1007/978-1-60761-362-6_14

Peritz, T. et al. Immunoprecipitation of mRNA-protein complexes. Nat. Protoc. 1, 577–580 (2006).

Kato, T. et al. Cell culture and infection system for hepatitis C virus. Nat. Protoc. 1, 2334–2339 (2006).

Keller, B.C. et al. Resistance to α/β interferon is a determinant of West Nile virus replication fitness and virulence. J. Virol. 80, 9424–9434 (2006).

Diamond, M.S., Shrestha, B., Marri, A., Mahan, D. & Engle, M. B cells and antibody play critical roles in the immediate defense of disseminated infection by West Nile encephalitis virus. J. Virol. 77, 2578–2586 (2003).
Acknowledgements
We thank P. Fink, D. Stetson, E. Clark and C. Lim for critical reading of the manuscript, and S. Badil and M. Hong for technical assistance. Supported by the Department of Immunology of the University of Washington (R.S.), the US National Institutes of Health (AI060389 and AI88778 to M.G., and CA148068 to C.H.H.) and federal funds from the Frederick National Laboratory for Cancer Research of the US National Institutes of Health (HHSN261200800001E) and the Intramural Research Program of the US National Institutes of Health, Frederick National Laboratory for Cancer Research and the National Cancer Institute, Center for Cancer Research (E.B., B.A.S. and M.C.).
Ethics declarations
Competing interests
The authors declare no competing financial interests.
Integrated supplementary information
Supplementary information
About this article
Cite this article
McFarland, A., Horner, S., Jarret, A. et al. The favorable IFNL3 genotype escapes mRNA decay mediated by AU-rich elements and hepatitis C virus–induced microRNAs. Nat Immunol 15, 72–79 (2014). https://doi.org/10.1038/ni.2758
Received:

Accepted:

Published:

Issue Date:

DOI: https://doi.org/10.1038/ni.2758