Abstract
The transcription factor GATA-3 is expressed and required for differentiation and function throughout the T lymphocyte lineage. Despite evidence it may also be expressed in multipotent hematopoietic stem cells (HSCs), any role for GATA-3 in these cells has remained unclear. Here we found GATA-3 was in the cytoplasm in quiescent long-term stem cells from steady-state bone marrow but relocated to the nucleus when HSCs cycled. Relocation depended on signaling via the mitogen-activated protein kinase p38 and was associated with a diminished capacity for long-term reconstitution after transfer into irradiated mice. Deletion of Gata3 enhanced the repopulating capacity and augmented the self-renewal of long-term HSCs in cell-autonomous fashion without affecting the cell cycle. Our observations position GATA-3 as a regulator of the balance between self-renewal and differentiation in HSCs that acts downstream of the p38 signaling pathway.
Relevant articles
Open Access articles citing this article.
Xiong Xiao

,

Weifeng Lai

…

Hongkui Deng

Cell Discovery Open Access 08 January 2019

T F O'Brien

,

K Bao

…

R L Reinhardt

Mucosal Immunology Open Access 01 May 2016

Juehua Gao

,

Yi-Hua Chen

&

LoAnn C. Peterson

Experimental Hematology & Oncology Open Access 06 October 2015
Access options
Subscribe to this journal
Receive 12 print issues and online access
$209.00 per year
only $17.42 per issue
Rent or buy this article
Prices vary by article type
from$1.95
to$39.95
Prices may be subject to local taxes which are calculated during checkout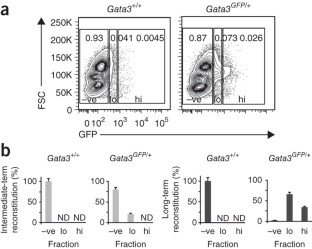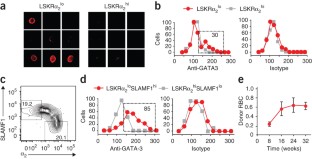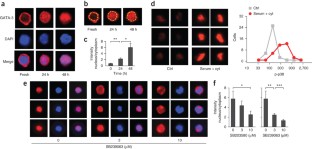 References
Ho, I.C., Tai, T.S. & Pai, S.Y. GATA3 and the T-cell lineage: essential functions before and after T-helper-2-cell differentiation. Nat. Rev. Immunol. 9, 125–135 (2009).

Lange, A. et al. Classical nuclear localization signals: definition, function, and interaction with importin α. J. Biol. Chem. 282, 5101–5105 (2007).

Maneechotesuwan, K. et al. Regulation of Th2 cytokine genes by p38 MAPK-mediated phosphorylation of GATA-3. J. Immunol. 178, 2491–2498 (2007).

Zhong, J.F. et al. Gene expression profile of murine long-term reconstituting vs. short-term reconstituting hematopoietic stem cells. Proc. Natl. Acad. Sci. USA 102, 2448–2453 (2005).

Kent, D.G. et al. Prospective isolation and molecular characterization of hematopoietic stem cells with durable self-renewal potential. Blood 113, 6342–6350 (2009).

Benveniste, P. et al. Intermediate-term hematopoietic stem cells with extended but time-limited reconstitution potential. Cell Stem Cell 6, 48–58 (2010).

Hosoya, T. et al. GATA-3 is required for early T lineage progenitor development. J. Exp. Med. 206, 2987–3000 (2009).

Buza-Vidas, N. et al. GATA3 is redundant for maintenance and self-renewal of hematopoietic stem cells. Blood 118, 1291–1293 (2011).

Ku, C.J., Hosoya, T., Maillard, I. & Engel, J.D. GATA-3 regulates hematopoietic stem cell maintenance and cell cycle entry. Blood 119, 2242–2251 (2012).

Benveniste, P., Cantin, C., Hyam, D. & Iscove, N.N. Hematopoietic stem cells engraft in mice with absolute efficiency. Nat. Immunol. 4, 708–713 (2003).

Kiel, M.J. et al. SLAM family receptors distinguish hematopoietic stem and progenitor cells and reveal endothelial niches for stem cells. Cell 121, 1109–1121 (2005).

Wilson, A. et al. Hematopoietic stem cells reversibly switch from dormancy to self-renewal during homeostasis and repair. Cell 135, 1118–1129 (2008).

Foudi, A. et al. Analysis of histone 2B-GFP retention reveals slowly cycling hematopoietic stem cells. Nat. Biotechnol. 27, 84–90 (2009).

Dykstra, B. et al. Long-term propagation of distinct hematopoietic differentiation programs in vivo. Cell Stem Cell 1, 218–229 (2007).

Trumpp, A., Essers, M. & Wilson, A. Awakening dormant haematopoietic stem cells. Nat. Rev. Immunol. 10, 201–209 (2010).

Grote, D., Souabni, A., Busslinger, M. & Bouchard, M. Pax 2/8-regulated Gata 3 expression is necessary for morphogenesis and guidance of the nephric duct in the developing kidney. Development 133, 53–61 (2006).

Wang, Y., Kellner, J., Liu, L. & Zhou, D. Inhibition of p38 mitogen-activated protein kinase promotes ex vivo hematopoietic stem cell expansion. Stem Cells Dev. 20, 1143–1152 (2011).

Adams, J.L. et al. Pyrimidinylimidazole inhibitors of CSBP/p38 kinase demonstrating decreased inhibition of hepatic cytochrome P450 enzymes. Bioorg. Med. Chem. Lett. 8, 3111–3116 (1998).

Adams, J.L. et al. Pyrimidinylimidazole inhibitors of p38: cyclic N-1 imidazole substituents enhance p38 kinase inhibition and oral activity. Bioorg. Med. Chem. Lett. 11, 2867–2870 (2001).

Boehm, J.C. et al. Phenoxypyrimidine inhibitors of p38alpha kinase: synthesis and statistical evaluation of the p38 inhibitory potencies of a series of 1-(piperidin-4-yl)-4-(4-fluorophenyl)-5-(2-phenoxypyrimidin-4-yl) imidazoles. Bioorg. Med. Chem. Lett. 11, 1123–1126 (2001).

Yamashita, M., Chattopadhyay, S., Fensterl, V., Zhang, Y. & Sen, G.C. A TRIF-independent branch of TLR3 signaling. J. Immunol. 188, 2825–2833 (2012).

Essers, M.A. et al. IFNalpha activates dormant haematopoietic stem cells in vivo. Nature 458, 904–908 (2009).

Spangrude, G.J. & Johnson, G.R. Resting and activated subsets of mouse multipotent hematopoietic stem cells. Proc. Natl. Acad. Sci. USA 87, 7433–7437 (1990).

Sato, T. et al. Interferon regulatory factor-2 protects quiescent hematopoietic stem cells from type I interferon-dependent exhaustion. Nat. Med. 15, 696–700 (2009).

Grote, D. et al. Gata3 acts downstream of β-catenin signaling to prevent ectopic metanephric kidney induction. PLoS Genet. 4, e1000316 (2008).

Pawliuk, R., Eaves, C. & Humphries, R.K. Evidence of both ontogeny and transplant dose-regulated expansion of hematopoietic stem cells in vivo. Blood 88, 2852–2858 (1996).

Iscove, N.N. & Nawa, K. Hematopoietic stem cells expand during serial transplantation in vivo without apparent exhaustion. Curr. Biol. 7, 805–808 (1997).

Kouros-Mehr, H., Slorach, E.M., Sternlicht, M.D. & Werb, Z. GATA-3 maintains the differentiation of the luminal cell fate in the mammary gland. Cell 127, 1041–1055 (2006).

Eeckhoute, J. et al. Positive cross-regulatory loop ties GATA-3 to estrogen receptor alpha expression in breast cancer. Cancer Res. 67, 6477–6483 (2007).

Kong, S.L., Li, G., Loh, S.L., Sung, W.K. & Liu, E.T. Cellular reprogramming by the conjoint action of ERalpha, FOXA1, and GATA3 to a ligand-inducible growth state. Mol. Syst. Biol. 7, 526 (2011).

Sérandour, A.A. et al. Epigenetic switch involved in activation of pioneer factor FOXA1-dependent enhancers. Genome Res. 21, 555–565 (2011).

Zaret, K.S. & Carroll, J.S. Pioneer transcription factors: establishing competence for gene expression. Genes Dev. 25, 2227–2241 (2011).

Harrison, D.E. & Lerner, C.P. Most primitive hematopoietic stem cells are stimulated to cycle rapidly after treatment with 5-fluorouracil. Blood 78, 1237–1240 (1991).

Quesniaux, V.F. et al. Use of 5-fluorouracil to analyze the effect of macrophage inflammatory protein-1α on long-term reconstituting stem cells in vivo. Blood 81, 1497–1504 (1993).

Randall, T.D. & Weissman, I.L. Phenotypic and functional changes induced at the clonal level in hematopoietic stem cells after 5-fluorouracil treatment. Blood 89, 3596–3606 (1997).

Barone, F.C. et al. SB 239063, a second-generation p38 mitogen-activated protein kinase inhibitor, reduces brain injury and neurological deficits in cerebral focal ischemia. J. Pharmacol. Exp. Ther. 296, 312–321 (2001).

Jia, Y.T. et al. Activation of p38 MAPK by reactive oxygen species is essential in a rat model of stress-induced gastric mucosal injury. J. Immunol. 179, 7808–7819 (2007).

Pisegna, S. et al. p38 MAPK activation controls the TLR3-mediated up-regulation of cytotoxicity and cytokine production in human NK cells. Blood 104, 4157–4164 (2004).

Bohnenkamp, H.R., Papazisis, K.T., Burchell, J.M. & Taylor-Papadimitriou, J. Synergism of Toll-like receptor-induced interleukin-12p70 secretion by monocyte-derived dendritic cells is mediated through p38 MAPK and lowers the threshold of T-helper cell type 1 responses. Cell. Immunol. 247, 72–84 (2007).

Kapur, R., Chandra, S., Cooper, R., McCarthy, J. & Williams, D.A. Role of p38 and ERK MAP kinase in proliferation of erythroid progenitors in response to stimulation by soluble and membrane isoforms of stem cell factor. Blood 100, 1287–1293 (2002).

Katsoulidis, E. et al. Role of the p38 mitogen-activated protein kinase pathway in cytokine-mediated hematopoietic suppression in myelodysplastic syndromes. Cancer Res. 65, 9029–9037 (2005).

Ito, K. et al. Reactive oxygen species act through p38 MAPK to limit the lifespan of hematopoietic stem cells. Nat. Med. 12, 446–451 (2006).

Trevisan, M. & Iscove, N.N. Phenotypic analysis of murine long-term hemopoietic reconstituting cells quantitated competitively in vivo and comparison with more advanced colony-forming progeny. J. Exp. Med. 181, 93–103 (1995).

Brady, G. et al. Analysis of gene expression in a complex differentiation hierarchy by global amplification of cDNA from single cells. Curr. Biol. 5, 909–922 (1995).

Billia, F., Barbara, M., McEwen, J., Trevisan, M. & Iscove, N.N. Resolution of pluripotential intermediates in murine hematopoietic differentiation by global complementary DNA amplification from single cells: confirmation of assignments by expression profiling of cytokine receptor transcripts. Blood 97, 2257–2268 (2001).

Hardy, R.R., Carmack, C.E., Shinton, S.A., Kemp, J.D. & Hayakawa, K. Resolution and characterization of pro-B and pre-pro-B cell stages in normal mouse bone marrow. 1991. J. Immunol. 189, 3271–3283 (2012).

Schwarz, B.A. et al. Selective thymus settling regulated by cytokine and chemokine receptors. J. Immunol. 178, 2008–2017 (2007).

Iscove, N.N. et al. Representation is faithfully preserved in global cDNA amplified exponentially from sub-picogram quantities of mRNA. Nat. Biotechnol. 20, 940–943 (2002).

Muro, E.M. et al. Identification of gene 3′ ends by automated EST cluster analysis. Proc. Natl. Acad. Sci. USA 105, 20286–20290 (2008).
Acknowledgements
We thank F. Melchers (Max Planck Institute for Infection Biology) for conditioned medium from transduced mouse cells that produce IL-7; P.A. Penttilä for assistance with flow cytometry and M.F. Monroy for help with animal procedures. Supported by the Terry Fox Foundation, the Canadian Cancer Research Institute, the Canadian Institutes of Health Research, the Stem Cell Network, the Fondation de France (C.F.), the Fondation pour la Recherche Médicale (C.F.), the McEwen Centre for Regenerative Medicine, the Princess Margaret Hospital Foundation, the Campbell Family Institute for Cancer Research and the Ontario Ministry of Health and Long Term Care. The views expressed do not necessarily reflect those of the Ontario Ministry of Health and Long Term Care.
Ethics declarations
Competing interests
The authors declare no competing financial interests.
Supplementary information
About this article
Cite this article
Frelin, C., Herrington, R., Janmohamed, S. et al. GATA-3 regulates the self-renewal of long-term hematopoietic stem cells. Nat Immunol 14, 1037–1044 (2013). https://doi.org/10.1038/ni.2692
Received:

Accepted:

Published:

Issue Date:

DOI: https://doi.org/10.1038/ni.2692