Abstract
The induction of type I interferons by the bacterial secondary messengers cyclic di-GMP (c-di-GMP) or cyclic di-AMP (c-di-AMP) is dependent on a signaling axis that involves the adaptor STING, the kinase TBK1 and the transcription factor IRF3. Here we identified the heliase DDX41 as a pattern-recognition receptor (PRR) that sensed both c-di-GMP and c-di-AMP. DDX41 specifically and directly interacted with c-di-GMP. Knockdown of DDX41 via short hairpin RNA in mouse or human cells inhibited the induction of genes encoding molecules involved in the innate immune response and resulted in defective activation of STING, TBK1 and IRF3 in response to c-di-GMP or c-di-AMP. Our results suggest a mechanism whereby c-di-GMP and c-di-AMP are detected by DDX41, which forms a complex with STING to signal to TBK1-IRF3 and activate the interferon response.
Relevant articles
Open Access articles citing this article.
Colleen P. Nofi

,

Ping Wang

&

Monowar Aziz

Cell Death & Disease Open Access 12 August 2022

Aditya Kumar Pal

&

Anirban Ghosh

Scientific Reports Open Access 30 July 2022

Siji Li

,

Lili Cao

…

Fuping You

Molecular Biomedicine Open Access 10 October 2021
Access options
Subscribe to Journal
Get full journal access for 1 year
$79.00
only $6.58 per issue
All prices are NET prices.
VAT will be added later in the checkout.
Tax calculation will be finalised during checkout.
Buy article
Get time limited or full article access on ReadCube.
$32.00
All prices are NET prices.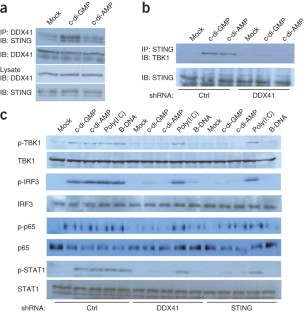 References
McCoy, C.E. & O'Neill, L.A. The role of toll-like receptors in macrophages. Front. Biosci. 13, 62–70 (2008).

Plüddemann, A., Mukhopadhyay, S. & Gordon, S. Innate immunity to intracellular pathogens: macrophage receptors and responses to microbial entry. Immunol. Rev. 240, 11–24 (2011).

Medzhitov, R. Recognition of microorganisms and activation of the immune response. Nature 449, 819–826 (2007).

Mills, E., Pultz, I.S., Kulasekara, H.D. & Miller, S.I. The bacterial second messenger c-di-GMP: mechanisms of signalling. Cell. Microbiol. 13, 1122–1129 (2011).

Hengge, R. Principles of c-di-GMP signalling in bacteria. Nat. Rev. Microbiol. 7, 263–273 (2009).

Pesavento, C. & Hengge, R. Bacterial nucleotide-based second messengers. Curr. Opin. Microbiol. 12, 170–176 (2009).

Hengge, R. Cyclic-di-GMP reaches out into the bacterial RNA world. Sci. Signal. 3, pe44 (2010).

Woodward, J.J., Iavarone, A.T. & Portnoy, D.A. c-di-AMP secreted by intracellular Listeria monocytogenes activates a host type I interferon response. Science 328, 1703–1705 (2010).

McWhirter, S.M. et al. A host type I interferon response is induced by cytosolic sensing of the bacterial second messenger cyclic-di-GMP. J. Exp. Med. 206, 1899–1911 (2009).

Jin, L. et al. MPYS is required for IFN response factor 3 activation and type I IFN production in the response of cultured phagocytes to bacterial second messengers cyclic-di-AMP and cyclic-di-GMP. J. Immunol. 187, 2595–2601 (2011).

Sauer, J.D. et al. The N-ethyl-N-nitrosourea-induced Goldenticket mouse mutant reveals an essential function of Sting in the in vivo interferon response to Listeria monocytogenes and cyclic dinucleotides. Infect. Immun. 79, 688–694 (2011).

Ishikawa, H. & Barber, G.N. STING is an endoplasmic reticulum adaptor that facilitates innate immune signalling. Nature 455, 674–678 (2008).

Zhong, B. et al. The adaptor protein MITA links virus-sensing receptors to IRF3 transcription factor activation. Immunity 29, 538–550 (2008).

Sun, W. et al. ERIS, an endoplasmic reticulum IFN stimulator, activates innate immune signaling through dimerization. Proc. Natl. Acad. Sci. USA 106, 8653–8658 (2009).

Kumar, H., Kawai, T. & Akira, S. Pathogen recognition by the innate immune system. Int. Rev. Immunol. 30, 16–34 (2011).

Hayden, M.S. & Ghosh, S. NF-κB in immunobiology. Cell Res. 21, 223–244 (2011).

Zhang, Z. et al. The helicase DDX41 senses intracellular DNA mediated by the adaptor STING in dendritic cells. Nat. Immunol. 12, 959–965 (2011).

Ishikawa, H., Ma, Z. & Barber, G.N. STING regulates intracellular DNA-mediated, type I interferon-dependent innate immunity. Nature 461, 788–792 (2009).

Saitoh, T. et al. Atg9a controls dsDNA-driven dynamic translocation of STING and the innate immune response. Proc. Natl. Acad. Sci. USA 106, 20842–20846 (2009).

Burdette, D.L. et al. STING is a direct innate immune sensor of cyclic di-GMP. Nature 478, 515–518 (2011).

Unterholzner, L. et al. IFI16 is an innate immune sensor for intracellular DNA. Nat. Immunol. 11, 997–1004 (2010).

Stein, S.C. & Falck-Pedersen, E. Sensing adenovirus infection: activation of interferon regulatory factor 3 in RAW 264.7 cells. J. Virol. 86, 4527–4537 (2012).

Tanaka, Y. & Chen, Z.J. STING specifies IRF3 phosphorylation by TBK1 in the cytosolic DNA signaling pathway. Sci. Signal. 5, ra20 (2012).

Ouyang, S. et al. Structural analysis of the STING adaptor protein reveals a hydrophobic dimer interface and mode of cyclic di-GMP binding. Immunity 36, 1073–1086 (2012).

Yin, Q. et al. Cyclic di-GMP sensing via the innate immune signaling protein STING. Mol. Cell 46, 735–745 (2012).

Shang, G. et al. Crystal structures of STING protein reveal basis for recognition of cyclic di-GMP. Nat. Struct. Mol. Biol. 19, 725–727 (2012).

Huang, Y.H., Liu, X.Y., Du, X.X., Jiang, Z.F. & Su, X.D. The structural basis for the sensing and binding of cyclic di-GMP by STING. Nat. Struct. Mol. Biol. 19, 728–730 (2012).

Shu, C., Yi, G., Watts, T., Kao, C.C. & Li, P. Structure of STING bound to cyclic di-GMP reveals the mechanism of cyclic dinucleotide recognition by the immune system. Nat. Struct. Mol. Biol. 19, 722–724 (2012).

Perry, A.K., Chen, G., Zheng, D., Tang, H. & Cheng, G. The host type I interferon response to viral and bacterial infections. Cell Res. 15, 407–422 (2005).

Ishii, K.J., Koyama, S., Nakagawa, A., Coban, C. & Akira, S. Host innate immune receptors and beyond: making sense of microbial infections. Cell Host Microbe 3, 352–363 (2008).

Auerbuch, V., Brockstedt, D.G., Meyer-Morse, N., O'Riordan, M. & Portnoy, D.A. Mice lacking the type I interferon receptor are resistant to Listeria monocytogenes. J. Exp. Med. 200, 527–533 (2004).

Negishi, H. et al. Cross-interference of RLR and TLR signaling pathways modulates antibacterial T cell responses. Nat. Immunol. 13, 659–666 (2012).

Brodsky, I.E. & Medzhitov, R. Targeting of immune signalling networks by bacterial pathogens. Nat. Cell Biol. 11, 521–526 (2009).

Roy, C.R. & Mocarski, E.S. Pathogen subversion of cell-intrinsic innate immunity. Nat. Immunol. 8, 1179–1187 (2007).

Hajishengallis, G. & Lambris, J.D. Microbial manipulation of receptor crosstalk in innate immunity. Nat. Rev. Immunol. 11, 187–200 (2011).

Krutzik, S.R. et al. TLR activation triggers the rapid differentiation of monocytes into macrophages and dendritic cells. Nat. Med. 11, 653–660 (2005).
Acknowledgements
We thank K. Kelly-Scumpia for technical assistance; A. Dev for critical reading of the manuscript; and members of the Cheng and Modlin laboratories for discussion. Supported by the US National Institutes of Health (T32-AR058921 to K.P.; and P50 AR063020, R01 AI022553 and R01 AI073539, AI056154, AI067769, AI047868 and AR63020). Also supported in part by the Ministry of Science and Technology of China (2009DFB30310, 2013CB911103) and the National Natural Science Foundation of China (31070660, 31200559).
Ethics declarations
Competing interests
The authors declare no competing financial interests.
Supplementary information
About this article
Cite this article
Parvatiyar, K., Zhang, Z., Teles, R. et al. The helicase DDX41 recognizes the bacterial secondary messengers cyclic di-GMP and cyclic di-AMP to activate a type I interferon immune response. Nat Immunol 13, 1155–1161 (2012). https://doi.org/10.1038/ni.2460
Received:

Accepted:

Published:

Issue Date:

DOI: https://doi.org/10.1038/ni.2460