Abstract
Nuocytes are essential in innate type 2 immunity and contribute to the exacerbation of asthma responses. Here we found that nuocytes arose in the bone marrow and differentiated from common lymphoid progenitors, which indicates they are distinct, previously unknown members of the lymphoid lineage. Nuocytes required interleukin 7 (IL-7), IL-33 and Notch signaling for development in vitro. Pro-T cell progenitors at double-negative stage 1 (DN1) and DN2 maintained nuocyte potential in vitro, although the thymus was not essential for nuocyte development. Notably, the transcription factor RORα was critical for the development of nuocytes and their role in the expulsion of parasitic worms.
Relevant articles
Open Access articles citing this article.
Jana H. Badrani

,

Allyssa N. Strohm

…

Taylor A. Doherty

Nature Communications Open Access 30 July 2022

Carys A. Croft

,

Anna Thaller

…

James P. Di Santo

Nature Communications Open Access 27 July 2022

Pablo de Lucía Finkel

,

Christopher Sherwood

…

Wilfred A. Jefferies

Scientific Reports Open Access 10 June 2021
Access options
Subscribe to Journal
Get full journal access for 1 year
$79.00
only $6.58 per issue
All prices are NET prices.
VAT will be added later in the checkout.
Tax calculation will be finalised during checkout.
Buy article
Get time limited or full article access on ReadCube.
$32.00
All prices are NET prices.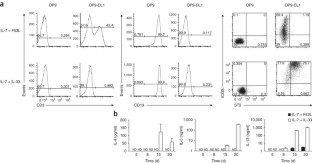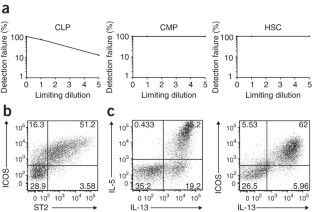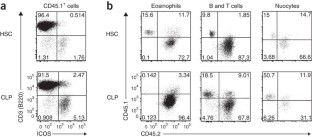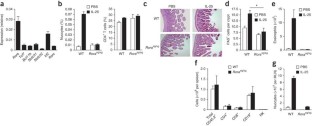 References
Neill, D.R. et al. Nuocytes represent a new innate effector leukocyte that mediates type-2 immunity. Nature 464, 1367–1370 (2010).

Moro, K. et al. Innate production of TH2 cytokines by adipose tissue-associated c-Kit+Sca-1+ lymphoid cells. Nature 463, 540–544 (2010).

Neill, D.R. & McKenzie, A.N. Nuocytes and beyond: new insights into helminth expulsion. Trends Parasitol. 27, 214–221 (2011).

Price, A.E. et al. Systemically dispersed innate IL-13-expressing cells in type 2 immunity. Proc. Natl. Acad. Sci. USA 107, 11489–11494 (2010).

Fallon, P.G. et al. Identification of an interleukin (IL)-25-dependent cell population that provides IL-4, IL-5, and IL-13 at the onset of helminth expulsion. J. Exp. Med. 203, 1105–1116 (2006).

Barlow, J.L. et al. Innate IL-13-producing nuocytes arise during allergic lung inflammation and contribute to airways hyperreactivity. J. Allergy Clin. Immunol. 129, 191–198 (2012).

Chang, Y.J. et al. Innate lymphoid cells mediate influenza-induced airway hyper-reactivity independently of adaptive immunity. Nat. Immunol. 12, 631–638 (2011).

Fallon, P.G. et al. IL-4 induces characteristic Th2 responses even in the absence of IL-5, IL-9 and IL-13: analysis of functional redundancy using a novel panel of compound cytokine-deficient mice. Immunity 17, 7–17 (2002).

Grünig, G. et al. Requirement for IL-13 independently of IL-4 in experimental asthma. Science 282, 2261–2263 (1998).

Mjösberg, J.M. et al. Human IL-25- and IL-33-responsive type 2 innate lymphoid cells are defined by expression of CRTH2 and CD161. Nat. Immunol. 12, 1055–1062 (2011).

Angkasekwinai, P. et al. Interleukin 25 promotes the initiation of proallergic type 2 responses. J. Exp. Med. 204, 1509–1517 (2007).

Wang, Y.H. et al. IL-25 augments type 2 immune responses by enhancing the expansion and functions of TSLP-DC-activated Th2 memory cells. J. Exp. Med. 204, 1837–1847 (2007).

Schmitz, J. et al. IL-33, an interleukin-1-like cytokine that signals via the IL-1 receptor-related protein ST2 and induces T helper type 2-associated cytokines. Immunity 23, 479–490 (2005).

Buonocore, S. et al. Innate lymphoid cells drive interleukin-23-dependent innate intestinal pathology. Nature 464, 1371–1375 (2010).

Cella, M. et al. A human natural killer cell subset provides an innate source of IL-22 for mucosal immunity. Nature 457, 722–725 (2009).

Cupedo, T. et al. Human fetal lymphoid tissue-inducer cells are interleukin 17-producing precursors to RORC+CD127+ natural killer-like cells. Nat. Immunol. 10, 66–74 (2009).

Luci, C. et al. Influence of the transcription factor RORγt on the development of NKp46+ cell populations in gut and skin. Nat. Immunol. 10, 75–82 (2009).

Sanos, S.L. et al. RORγt and commensal microflora are required for the differentiation of mucosal interleukin 22-producing NKp46+ cells. Nat. Immunol. 10, 83–91 (2009).

Sun, Z. et al. Requirement for RORγ in thymocyte survival and lymphoid organ development. Science 288, 2369–2373 (2000).

Vonarbourg, C. et al. Regulated expression of nuclear receptor RORγt confers distinct functional fates to NK cell receptor-expressing RORγt+ innate lymphocytes. Immunity 33, 736–751 (2010).

Morrison, S.J. & Weissman, I.L. The long-term repopulating subset of hematopoietic stem cells is deterministic and isolatable by phenotype. Immunity 1, 661–673 (1994).

Osawa, M., Hanada, K., Hamada, H. & Nakauchi, H. Long-term lymphohematopoietic reconstitution by a single CD34-low/negative hematopoietic stem cell. Science 273, 242–245 (1996).

He, Y.W. & Malek, T.R. Interleukin-7 receptor α is essential for the development of γδ+ T cells, but not natural killer cells. J. Exp. Med. 184, 289–293 (1996).

Peschon, J.J. et al. Early lymphocyte expansion is severely impaired in interleukin 7 receptor-deficient mice. J. Exp. Med. 180, 1955–1960 (1994).

Schlenner, S.M. et al. Fate mapping reveals separate origins of T cells and myeloid lineages in the thymus. Immunity 32, 426–436 (2010).

Karsunky, H., Inlay, M.A., Serwold, T., Bhattacharya, D. & Weissman, I.L. Flk2+ common lymphoid progenitors possess equivalent differentiation potential for the B and T lineages. Blood 111, 5562–5570 (2008).

Nakano, T., Kodama, H. & Honjo, T. Generation of lymphohematopoietic cells from embryonic stem cells in culture. Science 265, 1098–1101 (1994).

Schmitt, T.M. & Zuniga-Pflucker, J.C. Induction of T cell development from hematopoietic progenitor cells by delta-like-1 in vitro. Immunity 17, 749–756 (2002).

Franco, C.B., Chen, C.C., Drukker, M., Weissman, I.L. & Galli, S.J. Distinguishing mast cell and granulocyte differentiation at the single-cell level. Cell Stem Cell 6, 361–368 (2010).

Radtke, F., Wilson, A., Mancini, S.J. & MacDonald, H.R. Notch regulation of lymphocyte development and function. Nat. Immunol. 5, 247–253 (2004).

Rothenberg, E.V., Moore, J.E. & Yui, M.A. Launching the T-cell-lineage developmental programme. Nat. Rev. Immunol. 8, 9–21 (2008).

Yang, X.O. et al. T helper 17 lineage differentiation is programmed by orphan nuclear receptors RORα and RORγ. Immunity 28, 29–39 (2008).

Hamilton, B.A. et al. Disruption of the nuclear hormone receptor RORα in staggerer mice. Nature 379, 736–739 (1996).

Dzhagalov, I., Giguere, V. & He, Y.W. Lymphocyte development and function in the absence of retinoic acid-related orphan receptor α. J. Immunol. 173, 2952–2959 (2004).

Radtke, F., Fasnacht, N. & Macdonald, H.R. Notch signaling in the immune system. Immunity 32, 14–27 (2010).

Maillard, I. et al. Canonical notch signaling is dispensable for the maintenance of adult hematopoietic stem cells. Cell Stem Cell 2, 356–366 (2008).

Han, H. et al. Inducible gene knockout of transcription factor recombination signal binding protein-J reveals its essential role in T versus B lineage decision. Int. Immunol. 14, 637–645 (2002).

Radtke, F. et al. Deficient T cell fate specification in mice with an induced inactivation of Notch1. Immunity 10, 547–558 (1999).

Feyerabend, T.B. et al. Deletion of Notch1 converts pro-T cells to dendritic cells and promotes thymic B cells by cell-extrinsic and cell-intrinsic mechanisms. Immunity 30, 67–79 (2009).

Wada, H. et al. Adult T-cell progenitors retain myeloid potential. Nature 452, 768–772 (2008).

Hozumi, K. et al. Delta-like 4 is indispensable in thymic environment specific for T cell development. J. Exp. Med. 205, 2507–2513 (2008).

Koch, U. et al. Delta-like 4 is the essential, nonredundant ligand for Notch1 during thymic T cell lineage commitment. J. Exp. Med. 205, 2515–2523 (2008).

Amsen, D. et al. Instruction of distinct CD4 T helper cell fates by different notch ligands on antigen-presenting cells. Cell 117, 515–526 (2004).

Tanigaki, K. et al. Regulation of αβ/γδ T cell lineage commitment and peripheral T cell responses by Notch/RBP-J signaling. Immunity 20, 611–622 (2004).

Okamoto, M. et al. Jagged1 on dendritic cells and Notch on CD4+ T cells initiate lung allergic responsiveness by inducing IL-4 production. J. Immunol. 183, 2995–3003 (2009).

Possot, C. et al. Notch signaling is necessary for adult, but not fetal, development of RORγt+ innate lymphoid cells. Nat. Immunol. 12, 949–958 (2011).

Spits, H. & Di Santo, J.P. The expanding family of innate lymphoid cells: regulators and effectors of immunity and tissue remodeling. Nat. Immunol. 12, 21–27 (2011).

Moffatt, M.F. et al. A large-scale, consortium-based genomewide association study of asthma. N. Engl. J. Med. 363, 1211–1221 (2010).

Jaradat, M. et al. Modulatory role for retinoid-related orphan receptor α in allergen-induced lung inflammation. Am. J. Respir. Crit. Care Med. 174, 1299–1309 (2006).

Shinkai, Y. et al. RAG-2-deficient mice lack mature lymphocytes owing to inability to initiate V(D)J rearrangement. Cell 68, 855–867 (1992).
Acknowledgements
We thank S. Bell for critical reading of the manuscript; A. Corcoran (Babraham Institute) for IL-7Rα-deficient mice; M. Turner and E. Vigorito (Babraham Institute) for B6/SJL mice; J.C. Zuniga-Pflucker (University of Toronto) for OP9-DL1 cells; T. Honjo (Kyoto University) for mice with loxP-flanked alleles encoding Rbpjκ; M. Daly for flow cytometry and J. Cruickshank and the staff of the animal facility for experimental support. Supported by Centocor (S.H.W., J.L.B. and A.N.J.M.), the American Asthma Foundation (J.A.W.), Science Foundation Ireland (P.G.F.), the National Children's Research Centre (P.G.F.), the Medical Research Council (A.N.J.M.) and the American Asthma Foundation (A.N.J.M.).
Ethics declarations
Competing interests
S.H.W., J.L.B. and A.N.J.M. received support from Centocor.
Supplementary information
About this article
Cite this article
Wong, S., Walker, J., Jolin, H. et al. Transcription factor RORα is critical for nuocyte development. Nat Immunol 13, 229–236 (2012). https://doi.org/10.1038/ni.2208
Received:

Accepted:

Published:

Issue Date:

DOI: https://doi.org/10.1038/ni.2208