Abstract
Interferon-γ (IFN-γ) has a critical role in immune responses to intracellular bacterial infection. MicroRNAs (miRNAs) are important in the regulation of innate and adaptive immunity. However, whether miRNAs can directly target IFN-γ and regulate IFN-γ production post-transcriptionally remains unknown. Here we show that infection of mice with Listeria monocytogenes or Mycobacterium bovis bacillus Calmette-Guérin (BCG) downregulated miR-29 expression in IFN-γ-producing natural killer cells, CD4+ T cells and CD8+ T cells. Moreover, miR-29 suppressed IFN-γ production by directly targeting IFN-γ mRNA. We developed mice with transgenic expression of a 'sponge' target to compete with endogenous miR-29 targets (GS29 mice). We found higher serum concentrations of IFN-γ and lower L. monocytogenes burdens in L. monocytogenes–infected GS29 mice than in their littermates. GS29 mice had enhanced T helper type 1 (TH1) responses and greater resistance to infection with BCG or Mycobacterium tuberculosis. Therefore, miR-29 suppresses immune responses to intracellular pathogens by targeting IFN-γ.
Relevant articles
Open Access articles citing this article.
Jia Wang

,

Jinshu Yin

…

Aizhu Liu

Allergy, Asthma & Clinical Immunology Open Access 06 March 2021

Thiago Augusto Azevedo Maranhão Cardoso

,

Gudrun Kunst

…

Mario Hiroyuki Hirata

Trials Open Access 06 January 2021

Mélanie A. Cron

,

Cloé A. Payet

…

Rozen Le Panse

Journal of Neuroinflammation Open Access 08 October 2020
Access options
Subscribe to Journal
Get full journal access for 1 year
$99.00
only $8.25 per issue
All prices are NET prices.
VAT will be added later in the checkout.
Tax calculation will be finalised during checkout.
Buy article
Get time limited or full article access on ReadCube.
$32.00
All prices are NET prices.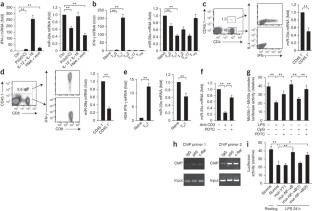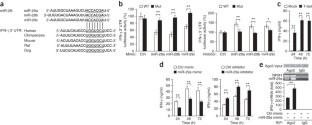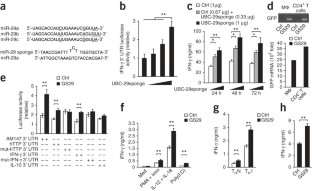 References
He, L. & Hannon, G.J. MicroRNAs: small RNAs with a big role in gene regulation. Nat. Rev. Genet. 5, 522–531 (2004).

Baltimore, D., Boldin, M.P., O'Connell, R.M., Rao, D.S. & Taganov, K.D. MicroRNAs: new regulators of immune cell development and function. Nat. Immunol. 9, 839–845 (2008).

O'Connell, R.M., Rao, D.S., Chaudhuri, A.A. & Baltimore, D. Physiological and pathological roles for microRNAs in the immune system. Nat. Rev. Immunol. 10, 111–122 (2010).

Monticelli, S. et al. MicroRNA profiling of the murine hematopoietic system. Genome Biol. 6, R71 (2005).

Wu, H. et al. miRNA profiling of naive, effector and memory CD8 T cells. PLoS ONE 2, e1020 (2007).

Sandberg, R., Neilson, J.R., Sarma, A., Sharp, P.A. & Burge, C.B. Proliferating cells express mRNAs with shortened 3′ untranslated regions and fewer microRNA target sites. Science 320, 1643–1647 (2008).

Li, Q.J. et al. miR-181a is an intrinsic modulator of T cell sensitivity and selection. Cell 129, 147–161 (2007).

Ebert, P.J., Jiang, S., Xie, J., Li, Q.J. & Davis, M.M. An endogenous positively selecting peptide enhances mature T cell responses and becomes an autoantigen in the absence of microRNA miR-181a. Nat. Immunol. 10, 1162–1169 (2009).

Stittrich, A.B. et al. The microRNA miR-182 is induced by IL-2 and promotes clonal expansion of activated helper T lymphocytes. Nat. Immunol. 11, 1057–1062 (2010).

Lu, L.F. et al. Function of miR-146a in controlling Treg cell-mediated regulation of Th1 responses. Cell 142, 914–929 (2010).

Du, C. et al. MicroRNA miR-326 regulates TH-17 differentiation and is associated with the pathogenesis of multiple sclerosis. Nat. Immunol. 10, 1252–1259 (2009).

O'Connell, R.M. et al. MicroRNA-155 promotes autoimmune inflammation by enhancing inflammatory T cell development. Immunity 33, 607–619 (2010).

Taganov, K.D., Boldin, M.P., Chang, K.J. & Baltimore, D. NF-κB-dependent induction of microRNA miR-146, an inhibitor targeted to signaling proteins of innate immune responses. Proc. Natl. Acad. Sci. USA 103, 12481–12486 (2006).

O'Connell, R.M., Taganov, K.D., Boldin, M.P., Cheng, G. & Baltimore, D. MicroRNA-155 is induced during the macrophage inflammatory response. Proc. Natl. Acad. Sci. USA 104, 1604–1609 (2007).

Bezman, N.A. et al. Distinct requirements of microRNAs in NK cell activation, survival, and function. J. Immunol. 185, 3835–3846 (2010).

Schoenborn, J.R. & Wilson, C.B. Regulation of interferon-γ during innate and adaptive immune responses. Adv. Immunol. 96, 41–101 (2007).

Pamer, E.G. Immune responses to Listeria monocytogenes. Nat. Rev. Immunol. 4, 812–823 (2004).

North, R.J. & Jung, Y.J. Immunity to tuberculosis. Annu. Rev. Immunol. 22, 599–623 (2004).

Redford, P.S. et al. Enhanced protection to Mycobacterium tuberculosis infection in IL-10-deficient mice is accompanied by early and enhanced Th1 responses in the lung. Eur. J. Immunol. 40, 2200–2210 (2010).

Young, H.A. & Bream, J.H. IFN-γ: recent advances in understanding regulation of expression, biological functions, and clinical applications. Curr. Top. Microbiol. Immunol. 316, 97–117 (2007).

Muljo, S.A. et al. Aberrant T cell differentiation in the absence of Dicer. J. Exp. Med. 202, 261–269 (2005).

Chong, M.M., Rasmussen, J.P., Rudensky, A.Y. & Littman, D.R. The RNAseIII enzyme Drosha is critical in T cells for preventing lethal inflammatory disease. J. Exp. Med. 205, 2005–2017 (2008).

Dai, R. et al. Suppression of LPS-induced Interferon-gamma and nitric oxide in splenic lymphocytes by select estrogen-regulated microRNAs: a novel mechanism of immune modulation. Blood 112, 4591–4597 (2008).

Hou, J. et al. MicroRNA-146a feedback inhibits RIG-I-dependent Type I IFN production in macrophages by targeting TRAF6, IRAK1, and IRAK2. J. Immunol. 183, 2150–2158 (2009).

Wang, P. et al. Inducible microRNA-155 feedback promotes type I IFN signaling in antiviral innate immunity by targeting suppressor of cytokine signaling 1. J. Immunol. 185, 6226–6233 (2010).

Barrett, T. et al. NCBI GEO: mining millions of expression profiles–database and tools. Nucleic Acids Res. 33, D562–D566 (2005).

Betel, D., Wilson, M., Gabow, A., Marks, D.S. & Sander, C. The microRNA.org resource: targets and expression. Nucleic Acids Res. 36, D149–D153 (2008).

Wang, H. et al. NF-kappaB-YY1-miR-29 regulatory circuitry in skeletal myogenesis and rhabdomyosarcoma. Cancer Cell 14, 369–381 (2008).

Park, S.Y., Lee, J.H., Ha, M., Nam, J.W. & Kim, V.N. miR-29 miRNAs activate p53 by targeting p85α and CDC42. Nat. Struct. Mol. Biol. 16, 23–29 (2009).

Xiong, Y. et al. Effects of microRNA-29 on apoptosis, tumorigenicity, and prognosis of hepatocellular carcinoma. Hepatology 51, 836–845 (2010).

Nathans, R. et al. Cellular microRNA and P bodies modulate host-HIV-1 interactions. Mol. Cell 34, 696–709 (2009).

Landgraf, P. et al. A mammalian microRNA expression atlas based on small RNA library sequencing. Cell 129, 1401–1414 (2007).

Mott, J.L. et al. Transcriptional suppression of mir-29b-1/mir-29a promoter by c-Myc, hedgehog, and NF-κB. J. Cell. Biochem. 110, 1155–1164 (2010).

Szabo, S.J. et al. A novel transcription factor, T-bet, directs Th1 lineage commitment. Cell 100, 655–669 (2000).

Gebeshuber, C.A., Zatloukal, K. & Martinez, J. miR-29a suppresses tristetraprolin, which is a regulator of epithelial polarity and metastasis. EMBO Rep. 10, 400–405 (2009).

Serbina, N.V., Jia, T., Hohl, T.M. & Pamer, E.G. Monocyte-mediated defense against microbial pathogens. Annu. Rev. Immunol. 26, 421–452 (2008).

Franco-Zorrilla, J.M. et al. Target mimicry provides a new mechanism for regulation of microRNA activity. Nat. Genet. 39, 1033–1037 (2007).

Ebert, M.S., Neilson, J.R. & Sharp, P.A. MicroRNA sponges: competitive inhibitors of small RNAs in mammalian cells. Nat. Methods 4, 721–726 (2007).

Gentner, B. et al. Stable knockdown of microRNA in vivo by lentiviral vectors. Nat. Methods 6, 63–66 (2009).

Loya, C.M., Lu, C.S., Van Vactor, D. & Fulga, T.A. Transgenic microRNA inhibition with spatiotemporal specificity in intact organisms. Nat. Methods 6, 897–903 (2009).

Dorhoi, A. et al. The adaptor molecule CARD9 is essential for tuberculosis control. J. Exp. Med. 207, 777–792 (2010).

Mogues, T., Goodrich, M.E., Ryan, L., LaCourse, R. & North, R.J. The relative importance of T cell subsets in immunity and immunopathology of airborne Mycobacterium tuberculosis infection in mice. J. Exp. Med. 193, 271–280 (2001).

Bafica, A. et al. TLR9 regulates Th1 responses and cooperates with TLR2 in mediating optimal resistance to Mycobacterium tuberculosis. J. Exp. Med. 202, 1715–1724 (2005).

Wang, C. et al. The E3 ubiquitin ligase Nrdp1 'preferentially' promotes TLR-mediated production of type I interferon. Nat. Immunol. 10, 744–752 (2009).
Acknowledgements
We thank T. Chen, J. Hou and C. Han for discussions; Y. Li and M. Jin for technical support; C. Ni for pathological analysis; and H. Shen (University of Pennsylvania School of medicine) for L. monocytogenes. Supported by the National Key Basic Research Program of China (2007CB512403 and 2009CB521902), the National Natural Science Foundation of China (30721091, 30731160623), the Shanghai Committee of Science and Technology (10dz1910300) and the National High Biotechnology Development Program of China (2009ZX09503-003, 2009ZX09503-023).
Ethics declarations
Competing interests
The authors declare no competing financial interests.
Supplementary information
About this article
Cite this article
Ma, F., Xu, S., Liu, X. et al. The microRNA miR-29 controls innate and adaptive immune responses to intracellular bacterial infection by targeting interferon-γ. Nat Immunol 12, 861–869 (2011). https://doi.org/10.1038/ni.2073
Received:

Accepted:

Published:

Issue Date:

DOI: https://doi.org/10.1038/ni.2073