Abstract
E3 ubiquitin ligases are important in both innate and adaptive immunity. Here we report that Nrdp1, an E3 ubiquitin ligase, inhibited the production of proinflammatory cytokines but increased interferon-β production in Toll-like receptor–triggered macrophages by suppressing adaptor MyD88–dependent activation of transcription factors NF-κB and AP-1 while promoting activation of the kinase TBK1 and transcription factor IRF3. Nrdp1 directly bound and polyubiquitinated MyD88 and TBK1, which led to degradation of MyD88 and activation of TBK1. Knockdown of Nrdp1 inhibited the degradation of MyD88 and the activation of TBK1 and IRF3. Nrdp1-transgenic mice showed resistance to lipopolysaccharide-induced endotoxin shock and to infection with vesicular stomatitis virus. Our data suggest that Nrdp1 functions as both an adaptor protein and an E3 unbiquitin ligase to regulate TLR responses in different ways.
Relevant articles
Open Access articles citing this article.
Chunmei Cai

,

Yan-Dong Tang

…

Chunfu Zheng

Signal Transduction and Targeted Therapy Open Access 30 August 2022

Austin P. Runde

,

Ryan Mack

…

Jiwang Zhang

Journal of Experimental & Clinical Cancer Research Open Access 09 April 2022

María Martín-Vicente

,

Salvador Resino

&

Isidoro Martínez

Journal of Biomedical Science Open Access 13 February 2022
Access options
Subscribe to this journal
Receive 12 print issues and online access
$209.00 per year
only $17.42 per issue
Rent or buy this article
Prices vary by article type
from$1.95
to$39.95
Prices may be subject to local taxes which are calculated during checkout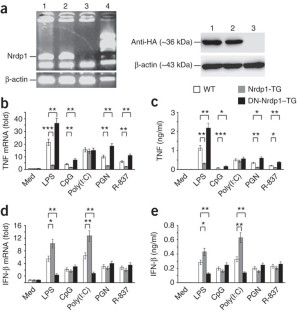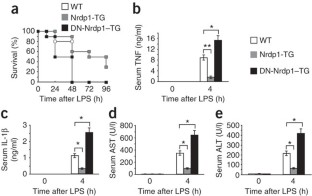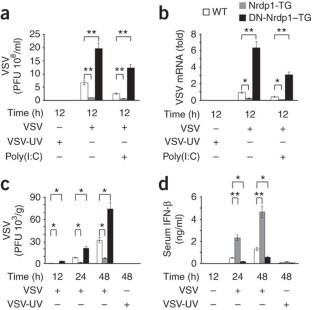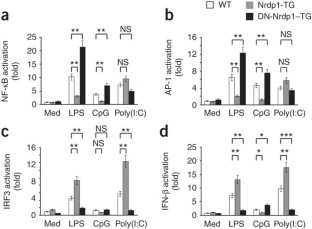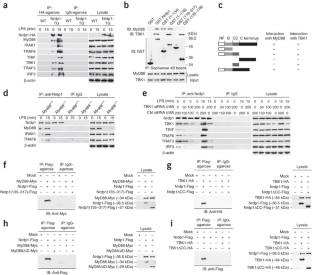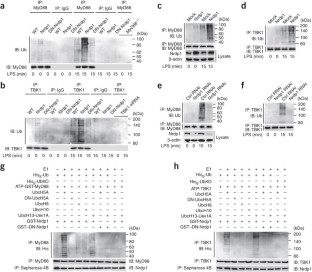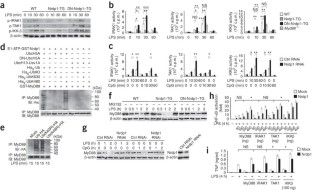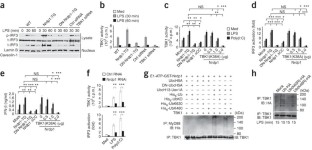 References
Akira, S. & Takeda, K. Toll-like receptor signalling. Nat. Rev. Immunol. 4, 499–511 (2004).

Liew, F.Y., Xu, D., Brint, E.K. & O'Neill, L.A. Negative regulation of toll-like receptor-mediated immune responses. Nat. Rev. Immunol. 5, 446–458 (2005).

Iwasaki, A. & Medzhitov, R. Toll-like receptor control of the adaptive immune responses. Nat. Immunol. 5, 987–995 (2004).

Boone, D.L. et al. The ubiquitin-modifying enzyme A20 is required for termination of Toll-like receptor responses. Nat. Immunol. 5, 1052–1060 (2004).

Wertz, I.E. et al. De-ubiquitination and ubiquitin ligase domains of A20 downregulate NF-κB signalling. Nature 430, 694–699 (2004).

Turer, E.E. et al. Homeostatic MyD88-dependent signals cause lethal inflammation in the absence of A20. J. Exp. Med. 205, 451–464 (2008).

Kovalenko, A. et al. The tumour suppressor CYLD negatively regulates NF-κB signalling by deubiquitination. Nature 424, 801–805 (2003).

Yoshida, H., Jono, H., Kai, H. & Li, J.D. The tumor suppressor cylindromatosis (CYLD) acts as a negative regulator for toll-like receptor 2 signaling via negative cross-talk with TRAF6 and TRAF7. J. Biol. Chem. 280, 41111–41121 (2005).

Zhang, M. et al. Regulation of IκB kinase-related kinases and antiviral responses by tumor suppressor CYLD. J. Biol. Chem. 283, 18621–18626 (2008).

Kayagaki, N. et al. DUBA: a deubiquitinase that regulates type I interferon production. Science 318, 1628–1632 (2007).

An, H. et al. Phosphatase SHP-1 promotes TLR- and RIG-I-activated production of type I interferon by inhibiting the kinase IRAK1. Nat. Immunol. 9, 542–550 (2008).

Liu, Y.C., Penninger, J. & Karin, M. Immunity by ubiquitylation: a reversible process of modification. Nat. Rev. Immunol. 5, 941–952 (2005).

Chen, Z.J. Ubiquitin signalling in the NF-κB pathway. Nat. Cell Biol. 7, 758–765 (2005).

Sun, S.C. Deubiquitylation and regulation of the immune response. Nat. Rev. Immunol. 8, 501–511 (2008).

Deng, L. et al. Activation of the IκB kinase complex by TRAF6 requires a dimeric ubiquitin-conjugating enzyme complex and a unique polyubiquitin chain. Cell 103, 351–361 (2000).

Ea, C.K., Deng, L., Xia, Z.P., Pineda, G. & Chen, Z.J. Activation of IKK by TNFα requires site-specific ubiquitination of RIP1 and polyubiquitin binding by NEMO. Mol. Cell 22, 245–257 (2006).

Wang, C. et al. TAK1 is a ubiquitin-dependent kinase of MKK and IKK. Nature 412, 346–351 (2001).

Takaesu, G. et al. TAB2, a novel adaptor protein, mediates activation of TAK1 MAPKKK by linking TAK1 to TRAF6 in the IL-1 signal transduction pathway. Mol. Cell 5, 649–658 (2000).

Oganesyan, G. et al. Critical role of TRAF3 in the Toll-like receptor-dependent and -independent antiviral response. Nature 439, 208–211 (2006).

Häcker, H. et al. Specificity in Toll-like receptor signalling through distinct effector functions of TRAF3 and TRAF6. Nature 439, 204–207 (2006).

Gatot, J.S. et al. Lipopolysaccharide-mediated interferon regulatory factor activation involves TBK1-IKKε-dependent Lys(63)-linked polyubiquitination and phosphorylation of TANK/I-TRAF. J. Biol. Chem. 282, 31131–31146 (2007).

Tanaka, T., Grusby, M.J. & Kaisho, T. PDLIM2-mediated termination of transcription factor NF-κB activation by intranuclear sequestration and degradation of the p65 subunit. Nat. Immunol. 8, 584–591 (2007).

Bachmaier, K. et al. E3 ubiquitin ligase Cblb regulates the acute inflammatory response underlying lung injury. Nat. Med. 13, 920–926 (2007).

Shembade, N. et al. The E3 ligase Itch negatively regulates inflammatory signaling pathways by controlling the function of the ubiquitin-editing enzyme A20. Nat. Immunol. 9, 254–262 (2008).

Venuprasad, K. et al. The E3 ubiquitin ligase Itch regulates expression of transcription factor Foxp3 and airway inflammation by enhancing the function of transcription factor TIEG1. Nat. Immunol. 9, 245–253 (2008).

Abdullah, J.M., Li, X., Nachtman, R.G. & Jurecic, R. FLRF, a novel evolutionarily conserved RING finger gene, is differentially expressed in mouse fetal and adult hematopoietic stem cells and progenitors. Blood Cells Mol. Dis. 27, 320–333 (2001).

Diamonti, A.J. et al. An RBCC protein implicated in maintenance of steady-state neuregulin receptor levels. Proc. Natl. Acad. Sci. USA 99, 2866–2871 (2002).

Qiu, X.B. & Goldberg, A.L. Nrdp1/FLRF is a ubiquitin ligase promoting ubiquitination and degradation of the epidermal growth factor receptor family member, ErbB3. Proc. Natl. Acad. Sci. USA 99, 14843–14848 (2002).

Qiu, X.B., Markant, S.L., Yuan, J. & Goldberg, A.L. Nrdp1-mediated degradation of the gigantic IAP, BRUCE, is a novel pathway for triggering apoptosis. EMBO J. 23, 800–810 (2004).

Cao, Z., Wu, X., Yen, L., Sweeney, C. & Carraway, K.L., III. Neuregulin-induced ErbB3 downregulation is mediated by a protein stability cascade involving the E3 ubiquitin ligase Nrdp1. Mol. Cell. Biol. 27, 2180–2188 (2007).

Yen, L. et al. Loss of Nrdp1 enhances ErbB2/ErbB3-dependent breast tumor cell growth. Cancer Res. 66, 11279–11286 (2006).

Burns, K. et al. Inhibition of interleukin 1 receptor/Toll-like receptor signaling through the alternatively spliced, short form of MyD88 is due to its failure to recruit IRAK-4. J. Exp. Med. 197, 263–268 (2003).

Pomerantz, J.L. & Baltimore, D. NF-κB activation by a signaling complex containing TRAF2, TANK and TBK1, a novel IKK-related kinase. EMBO J. 18, 6694–6704 (1999).

Kawai, T., Adachi, O., Ogawa, T., Takeda, K. & Akira, S. Unresponsiveness of MyD88-deficient mice to endotoxin. Immunity 11, 115–122 (1999).

Adachi, O. et al. Targeted disruption of the MyD88 gene results in loss of IL-1- and IL-18-mediated function. Immunity 9, 143–150 (1998).

Baccala, R., Hoebe, K., Kono, D.H., Beutler, B. & Theofilopoulos, A.N. TLR-dependent and TLR-independent pathways of type I interferon induction in systemic autoimmunity. Nat. Med. 13, 543–551 (2007).

Fitzgerald, K.A. et al. IKKε and TBK1 are essential components of the IRF3 signaling pathway. Nat. Immunol. 4, 491–496 (2003).

McWhirter, S.M. et al. IFN-regulatory factor 3-dependent gene expression is defective in Tbk1-deficient mouse embryonic fibroblasts. Proc. Natl. Acad. Sci. USA 101, 233–238 (2004).

Sato, M. et al. Distinct and essential roles of transcription factors IRF-3 and IRF-7 in response to viruses for IFN-α/β gene induction. Immunity 13, 539–548 (2000).

Chu, W.M. et al. JNK2 and IKKβ are required for activating the innate response to viral infection. Immunity 11, 721–731 (1999).

Zhao, T. et al. The NEMO adaptor bridges the nuclear factor-κB and interferon regulatory factor signaling pathways. Nat. Immunol. 8, 592–600 (2007).

Wang, Y. et al. Lysosome-associated small Rab GTPase Rab7b negatively regulates TLR4 signaling in macrophages by promoting lysosomal degradation of TLR4. Blood 110, 962–971 (2007).

Yoneyama, M. et al. The RNA helicase RIG-I has an essential function in double-stranded RNA-induced innate antiviral responses. Nat. Immunol. 5, 730–737 (2004).

Xu, L.G. et al. VISA is an adapter protein required for virus-triggered IFN-β signaling. Mol. Cell 19, 727–740 (2005).

Ciavarra, R.P. et al. Impact of macrophage and dendritic cell subset elimination on antiviral immunity, viral clearance and production of type 1 interferon. Virology 342, 177–189 (2005).
Acknowledgements
We thank S. Akira (Research Institute for Microbial Diseases) for Myd88−/− mice; X. Yang (Beijing Institute of Biotechnology) for pIRES2-EGFP vector; Z.J. Chen (University of Texas Southwestern Medical Center) for TAK1 plasmid; T. Maniatis (Harvard University) for TBK1 and kinase-inactive TBK1 plasmids; S.J. Martin (Trinity College) for pGL3.5XêB-luciferase reporter plasmid; T Fujita (Tokyo Metropolitan Institute of Medical Science) for IRF3 reporter plasmids; Z. Wang for help in preparing Nrdp1-TG mice; H. An and W. Zhang for discussions; and Y. Li and M. Jin for technical assistance. Supported by the National Natural Science Foundation of China (30721091, 30572122 and 30771118), the Foundation for the Author of National Excellent Doctoral Dissertation of China (200775), the 973 National Key Basic Research Program of China (2007CB512403) and the Shanghai Committee of Science and Technology (06DJ14011 and 07QA14067).
Supplementary information
About this article
Cite this article
Wang, C., Chen, T., Zhang, J. et al. The E3 ubiquitin ligase Nrdp1 'preferentially' promotes TLR-mediated production of type I interferon. Nat Immunol 10, 744–752 (2009). https://doi.org/10.1038/ni.1742
Received:

Accepted:

Published:

Issue Date:

DOI: https://doi.org/10.1038/ni.1742