Abstract
The southwest corner of Western Australia has been subject to a serious drought in recent decades. A range of factors, such as natural variability and changes in land use, ocean temperatures and atmospheric circulation, have been implicated in this drought, but the ultimate cause and the relative importance of the various factors remain unclear. Here we report a significant inverse correlation between the records of precipitation at Law Dome, East Antarctica and southwest Western Australia over the instrumental period, including the most recent decades. This relationship accounts for up to 40% of the variability on interannual to decadal timescales, and seems to be driven by the meridional circulation south of Australia that simultaneously produces a northward flow of relatively cool, dry air to southwest Western Australia and a southward flow of warm, moist air to East Antarctica. This pattern of meridional flow is consistent with some projections of circulation changes arising from anthropogenic climate change. The precipitation anomaly of the past few decades in Law Dome is the largest in 750 years, and lies outside the range of variability for the record as a whole, suggesting that the drought in Western Australia may be similarly unusual.
This is a preview of subscription content
Access options
Subscribe to Journal
Get full journal access for 1 year
$99.00
only $8.25 per issue
All prices are NET prices.
VAT will be added later in the checkout.
Tax calculation will be finalised during checkout.
Buy article
Get time limited or full article access on ReadCube.
$32.00
All prices are NET prices.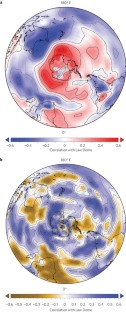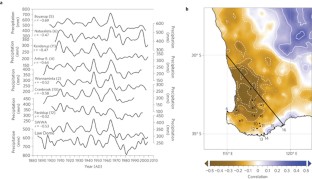 References
Indian Ocean Climate Initiative Panel Climate Variability and Change in South West Western Australia (Department of Environment, Australia, 2002).

Cai, W. & Cowan, T. SAM and regional rainfall in IPCC AR4 models: Can anthropogenic forcing account for southwest Western Australian winter rainfall reduction? Geophys. Res. Lett. 33, L24708 (2006).

Pitman, A. J., Narisma, G. T., Pielke, R. A. Sr & Holbrook, N. J. Impact of land cover change on the climate of southwest Western Australia. J. Geophys. Res. 109, D18109 (2004).

England, M. H., Ummenhofer, C. C. & Santoso, A. Interannual rainfall extremes over southwest Western Australia linked to Indian Ocean climate variability. J. Clim. 19, 1948–1969 (2006).

Ummenhofer, C. C., Gupta, A. S., Pook, M. J. & England, M. H. Anomalous rainfall over southwest Western Australia forced by Indian Ocean sea surface temperatures. J. Clim. 21, 5113–5134 (2008).

Cai, W. J., Whetton, P. H. & Karoly, D. J. The response of the Antarctic oscillation to increasing and stabilized atmospheric CO2 . J. Clim. 16, 1525–1538 (2003).

Karoly, D. J. Ozone and climate change. Science 302, 236–237 (2003).

Cai, W. & Cowan, T. Trends in Southern Hemisphere circulation in IPCC AR4 models over 1950–1999: Ozone depletion versus greenhouse forcing. J. Clim. 20, 681–693 (2007).

Wright, P. B. Seasonal rainfall in southwestern Australia and the general circulation. Mon. Weath. Rev. 102, 219–232 (1974).

Hope, P. K., Drosdowsky, W. & Nicholls, N. Shifts in the synoptic systems influencing southwest Western Australia. Clim. Dyn. 26, 751–764 (2006).

Treble, P., Shelley, J. M. G. & Chappell, J. Comparison of high resolution sub-annual records of trace elements in a modern (1911–1992) speleothem with instrumental climate data from southwest Australia. Earth Planet. Sci. Lett. 216, 141–153 (2003).

Cullen, L. E. & Grierson, P. F. Multi-decadal scale variability in autumn–winter rainfall in south-western Australia since AD 1655 as reconstructed from tree rings of Callitris columellaris. Clim. Dyn. 33, 433–444 (2009).

Allan, R. J. & Haylock, M. R. Circulation features associated with the winter rainfall decrease in southwestern Australia. J. Clim. 6, 1356–1367 (1993).

Frederiksen, J. S. & Frederiksen, C. S. Interdecadal changes in Southern Hemisphere winter storm track modes. Tellus A 59, 599–617 (2007).

Pezza, A. B., Durrant, T., Simmonds, I. & Smith, I. Southern Hemisphere synoptic behavior in extreme phases of SAM, ENSO, sea ice extent, and Southern Australia rainfall. J. Clim. 21, 5566–5584 (2008).

McMorrow, A. J. et al. Intercomparison of firn core and meteorological data. Antarct. Sci. 13, 329–337 (2001).

Souney, J. M. et al. A 700-year record of atmospheric circulation developed from the Law Dome ice core, East Antarctica. J. Geophys. Res. 107, 4608–4616 (2002).

Goodwin, I. D., van Ommen, T. D., Curran, M. A. J. & Mayewski, P. A. Mid latitude winter climate variability in the South Indian and southwest Pacific regions since 1300 AD. Clim. Dyn. 22, 783–794 (2004).

Schneider, D. P. et al. Antarctic temperatures over the past two centuries from ice cores. Geophys. Res. Lett. 33, L16707 (2006).

Curran, M. A. J., van Ommen, T. D., Morgan, V. I., Phillips, K. L. & Palmer, A. S. Ice core evidence for Antarctic sea ice decline since the 1950s. Science 302, 1203–1206 (2003).

Morgan, V. I., Goodwin, I. D., Etheridge, D. M. & Wookey, C. W. Evidence from Antarctic ice cores for recent increases in snow accumulation. Nature 354, 58–60 (1991).

Monaghan, A. J. et al. Insignificant change in Antarctic snowfall since the international geophysical year. Science 313, 827–31 (2006).

Kalnay, E. et al. The NCEP/NCAR 40-year reanalysis project. Bull. Am. Meteorol. Soc. 77, 437–471 (1996).

Massom, R. et al. Precipitation over the Interior East Antarctic ice sheet related to midlatitude blocking-high activity. J. Clim. 17, 1914–1928 (2004).

van Ommen, T. D. & Morgan, V. Calibrating the ice core paleothermometer using seasonality. J. Geophys. Res. 102, 9351–9357 (1997).

Ansell, C., Reason, C. J. C., Smith, I. N. & Keay, K. Evidence for decadal variability in southern Australian rainfall and relationships with regional pressure and sea surface temperature. Int. J. Climatol. 20, 1113–1129 (2000).

Marshall, G. J. Trends in the Southern Annular Mode from observations and reanalyses. J. Clim. 16, 4134–4143 (2003).

Raphael, M. N. The influence of atmospheric zonal wave three on Antarctic sea ice variability. J. Geophys. Res. 112, D12112 (2007).

Reason, C. J. C. Multidecadal climate variability in the subtropics/midlatitudes of the Southern Hemisphere oceans. Tellus A 52, 203–233 (2000).

Raphael, M. N. A zonal wave 3 index for the Southern Hemisphere. Geophys. Res. Lett. 31, L23212 (2004).

Raphael, M. N. & Holland, M. M. Twentieth century simulation of the Southern Hemisphere climate in coupled models. Part 1: Large scale circulation variability. Clim. Dyn. 26, 217–228 (2006).

Steig, E. J. et al. Warming of the Antarctic ice-sheet surface since the 1957 International Geophysical Year. Nature 457, 459–462 (2009).

Turner, J. et al. Non-annular atmospheric circulation change induced by stratospheric ozone depletion and its role in the recent increase of Antarctic sea ice extent. Geophys. Res. Lett. 36, L08502 (2009).

Palmer, A. S. et al. High-precision dating of volcanic events (AD 1301–1995) using ice cores from Law Dome, Antarctica. J. Geophys. Res. 106, 28,089–28,095 (2001).

van Ommen, T. D. & Morgan, V. Peroxide concentrations in the Dome Summit South ice core, Law Dome, Antarctica. J. Geophys. Res. 101, 15,147–15,152 (1996).

van Ommen, T. D., Morgan, V. I., Jacka, T. H., Woon, S. & Elcheikh, A. Near-surface temperatures in the Dome Summit South (Law Dome, East Antarctica) borehole. Ann. Glaciol. 29, 141–144 (1999).

van Ommen, T. D., Morgan, V. & Curran, M. A. J. Deglacial and Holocene changes in accumulation at Law Dome, East Antarctica. Ann. Glaciol. 39, 359–365 (2004).

Bretherton, C. S., Widmann, M., Dymnikov, V. P., Wallace, J. M. & Bladé, I. The effective number of spatial degrees of freedom of a time-varying field. J. Clim. 12, 1990–2009 (1999).
Acknowledgements
This work was assisted by the Australian Government's Cooperative Research Centres Programme, through the Antarctic Ecosystems and Climate Cooperative Research Centre (ACE CRC). NCEP correlations and composites provided by the NOAA/ESRL Physical Sciences Division, Boulder Colorado from their web site (http://www.esrl.noaa.gov/psd/). We thank N. Adams, M. Pook, E. Steig, D. Shindell, W. Cai, M. Raphael and J. Turner.
Ethics declarations
Competing interests
The authors declare no competing financial interests.
Supplementary information
About this article
Cite this article
van Ommen, T., Morgan, V. Snowfall increase in coastal East Antarctica linked with southwest Western Australian drought. Nature Geosci 3, 267–272 (2010). https://doi.org/10.1038/ngeo761
Received:

Accepted:

Published:

Issue Date:

DOI: https://doi.org/10.1038/ngeo761