Mountain landscapes are shaped by tectonics and climate. A series of laboratory experiments has documented a mechanism by which mountain river networks split as the geometry of a mountain evolves in response to an orographic precipitation gradient.
Access options
Subscribe to Journal
Get full journal access for 1 year
$119.00
only $9.92 per issue
All prices are NET prices.
VAT will be added later in the checkout.
Tax calculation will be finalised during checkout.
Buy article
Get time limited or full article access on ReadCube.
$32.00
All prices are NET prices.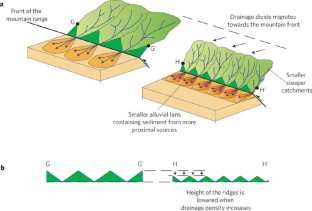 References
Perron, J. T., Kirchner, J. W. & Dietrich, W. E. Nature 460, 502–505 (2009).

Hovius, N. Basin Res. 8, 29–44 (1996).

Talling, P. J., Stewart, M. D., Stark, C. P., Gupta, S. & Vincent, S. J. Basin Res. 9, 275–302 (1997).

Bonnet, S. Nature Geosci. 2, 766–771 (2009).

Burbank, D. W. et al. Nature 379, 505–510 (1996).

Roe, G. H. Annu. Rev. Earth Planet. Sci. 33, 645–671 (2005).

Roe, G. H., Montgomery, D. R. & Hallet, B. J. Geophy. Res. 108, 2315 (2003).

Bishop, P. Prog. Phys. Geog. 19, 449–473 (1995).

Bookhagen, B. & Burbank, B. W. Geophys. Res. Lett. 33, L08405 (2006).

Kleinert, K. & Strecker, M. R. Geol. Soc. Am. Bull. 113, 728–742 (2001).

Simpson, G. D. H. J. Geophys. Res. 109, F03007 (2004).

Simpson, G. D. H. Basin Res. 18, 125–143 (2006).
About this article
Cite this article
Attal, M. Rivers split as mountains grow. Nature Geosci 2, 747–748 (2009). https://doi.org/10.1038/ngeo675
Issue Date:

DOI: https://doi.org/10.1038/ngeo675